JoyRidesAZ Scottsdale Tours
$10 Off Scottsdale Wine Tasting Tour
Savor the desert flavors while learning about Old Town Scottsdale in an open-air vehicle
Want to get the most out of the Sonoran Desert and Old Town Scottsdale's wine tasting rooms? There is no better way to immerse yourself than experiencing the beauty of the city and flavors on our JoyRidesAz Scottsdale vehicle Tours. Sit back and relax as we take care of all the planning and take you on a tour of a lifetime! Learn about history, culture and public art.
Our local experts will accompany you to Old Town's BEST tasting rooms and share local favorite restaurants, boutiques, galleries, and museum recommendations. While cruising in an open-air electric vehicle from the tasting room to tasting room. Let's stop for a couple of Instagram-worthy photos. Experience the beautiful colors of the desert and the stunning cactus blossoms of the Valley all while learning about Old Town Scottsdale!
Experience the Taste of the City with a Local Expert
PROMO CODE: ES10WT
PRIVATE TOUR:
Minimum Booking: 4 guests
Price Per Person: $125 per
Booking Fee and Tax: Will be added at the time of invoice
Group 6 or More: 20% Gratuity will be added
Duration: 2.5-3 Hours
Group: 12 or more call or text (480)675-7857
Start Time: 11:00AM and 3:00PM
Seats: 6 guests comfortably with seat belts
Photo ID: Be prepared to show ID, no one under 21 will be served
Included in Price: Three (3) tasting rooms, three (3) flights and a shared food, air-dropped photos ($250 Value), your choice Bluetooth music, City tour, restaurants, galleries, shops, and Hot Spot recommendations. Learn about City's activities and events
Clean Vehicle: Open air electric and/or gas
Visit: Covid-19 Protocols and FAQ to learn about restrictions and safety.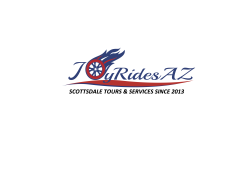 Offer Valid
04/18/2023 - 09/15/2023