A Family-Friendly Weekend at Hyatt Regency Scottsdale
I am a person who doesn't like a lot of "stuff." I am fine with having empty drawers in my house. I like white space on my walls, and I don't believe in having more than one of something: One set of dining plates, one good handbag, one solid pair of running shoes.
My travel style is no different. I hate being bogged down by luggage. For trips that are three weeks or less, I prefer to travel with only a single carry-on and one personal item.
Then I had a baby.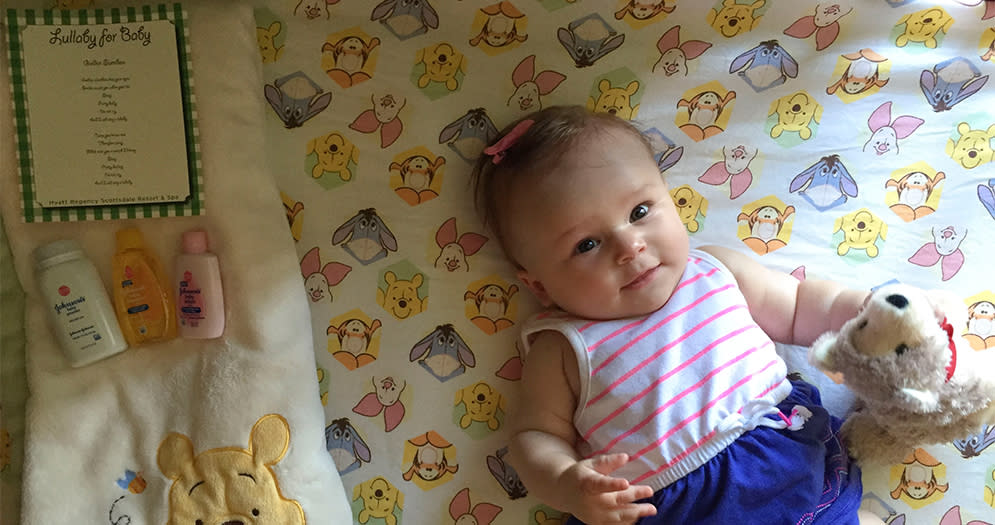 Suddenly a weekend stay at a local resort – the Hyatt Regency Scottsdale Resort & Spa at Gainey Ranch – seemed like an episode of Running Wild with Bear Grylls. I went from steadfast minimalist to paranoid survivalist.
"What if she pops a tooth while we're there? I better bring the Baby Motrin…"
"Let's just pack the entire Costco-sized box of diapers."
"How hard do you think it would be to take her blackout curtains?"
Luckily, I got a rundown of Hyatt Regency's baby-friendly amenities before I swam too far into the deep-end. Our one-bedroom with connected parlor suite came prepped with a crib (cross the Pack n Play off the list), baby bath and body products (nix the shampoo and body wash) and a sweet and cuddly stuffed animal (forget the extra toys).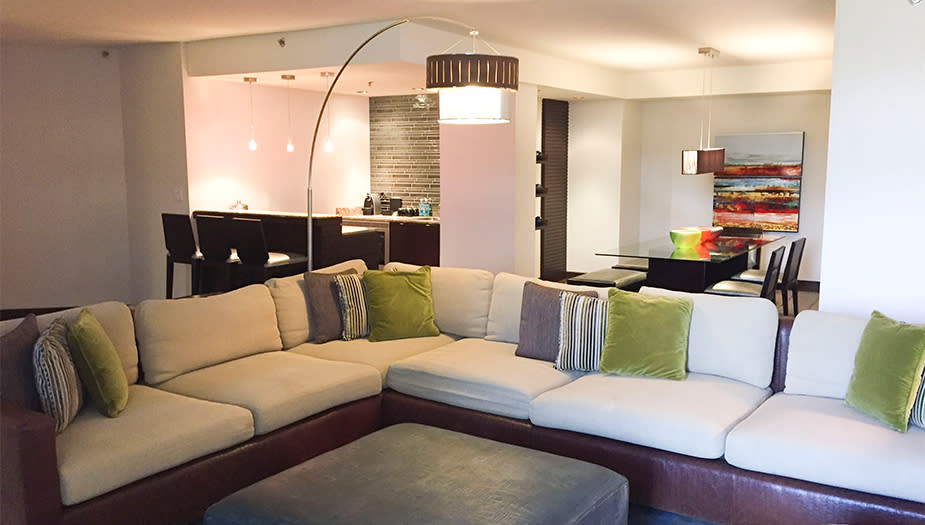 The additional space (so much space!) also helped with sleeping arrangements. We could tuck the nugget into bed by 7 p.m. each night and enjoy a glass of wine (or two) in our room. We also had plenty of room to set up a designated "baby area" – an ottoman turned into a makeshift changing table… her stroller, clothes and knick-knacks all neatly arranged nearby.
Everything was unpacked and organized before we could even finish our complimentary welcome cocktails (Sonoran sangria, by the way). That left plenty of time to enjoy the resort's pool before the baby's nap. And when I say "pool," I mean water park. In actuality, there are 10 swimming pools, 20 fountains, 45 waterfalls and one 30-foot waterslide. All of that, plus a sandy beach and poolside giant versions of classic games like Chess and Jenga.
We opted for a cabana at the kid's pool, which made things especially convenient with dedicated food and drink service, and came with sunblock (didn't have to pack ours!), water, a fruit tray and, of course, plenty of shade. Hyatt's poolside concierge even brought over a pint-sized pool float for baby to safely splash around... and splash, she did!
I'm prepared to make necessary compromises now that we're traveling as a family, but one thing I'm not willing to give up on is a good dining experience. I love food and I love a leisurely meal. Hyatt Regency's SWB, a southwest bistro was the perfect option. And while our meal wasn't exactly "leisurely" (we have a 6-month-old, after all), it was delicious – rainbow ceviche with fresh ahi tuna and avocado, a delicious Heirloom Beet salad and perfectly grilled Carne Asada with a beer glaze and chimichurri.
(Side note: You can even call down for a "to-go" order to take back to your room, which we did the next day... cocktails and all.)
I love the Hyatt Regency Scottsdale because it is truly a luxury, family-friendly resort. You're not compromising quality for convenience. The rooms are updated and modern, the food and drink are top-notch and there's plenty to keep everyone busy. On Fridays, you can take the kids to watch the free evening Native American song and dance performances and then kick back with a glass of champagne in the lobby bar for some live music.
You can send the littles (ages 3 to 12) to Camp Hyatt for some hands-on fun and hightail it to Spa Avania for a facial or massage. For kiddos of all ages, the resort will help to arrange a certified sitter. The husband and I just took turns escaping to the spa. While he and baby napped, I settled in for a personalized Avania Therapeutic Massage and took a dip in the spa's Celtic mineral pool.
Hyatt Regency Scottsdale has a rock climbing wall, a playground, biking and running trails, gondola rides, educational Native American cultural activities, a concierge, an adjacent golf course... they, quite literally, have it all. You can do almost anything you want during your stay.
All you need is time... and, if you're traveling with a baby, a little patience.
But you won't need a lot of "stuff." Leave the stuff at home.