Restaurant Spotlight: Bryan's Black Mountain BBQ
The songs and stories may tell you to head west for a taste of the cowboy lifestyle, but when you're coming from Scottsdale, the direction to go is north. 
Just 40 minutes north of downtown Scottsdale, you'll find the town of Cave Creek, a cozy community filled with honky-tonk bars, Western shops and one of the best-kept-secrets in Southwestern barbecue.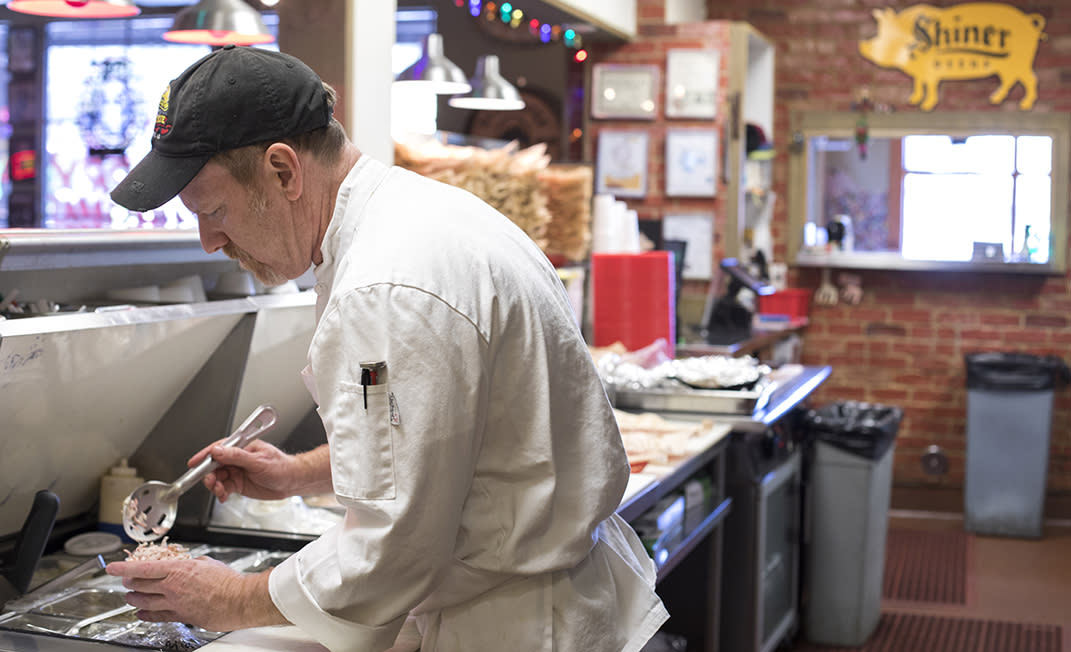 Headed by chef and owner Bryan Dooley, the award-winning Bryan's Black Mountain BBQ is a Cave Creek gem, where slow-smoked meats benefit from the skills of a professionally trained chef. To dig into one of the best pulled pork sandwiches this side of the Mississippi while you watch real-deal cowboys saunter down the street is a singular experience—and it's no coincidence Dooley chose this place to set up shop.
"We just love the town of Cave Creek," he says. "It's got a great Western attitude, just laid back. There are a lot of times of the year when you walk into Bryan's and see a sea of cowboy hats."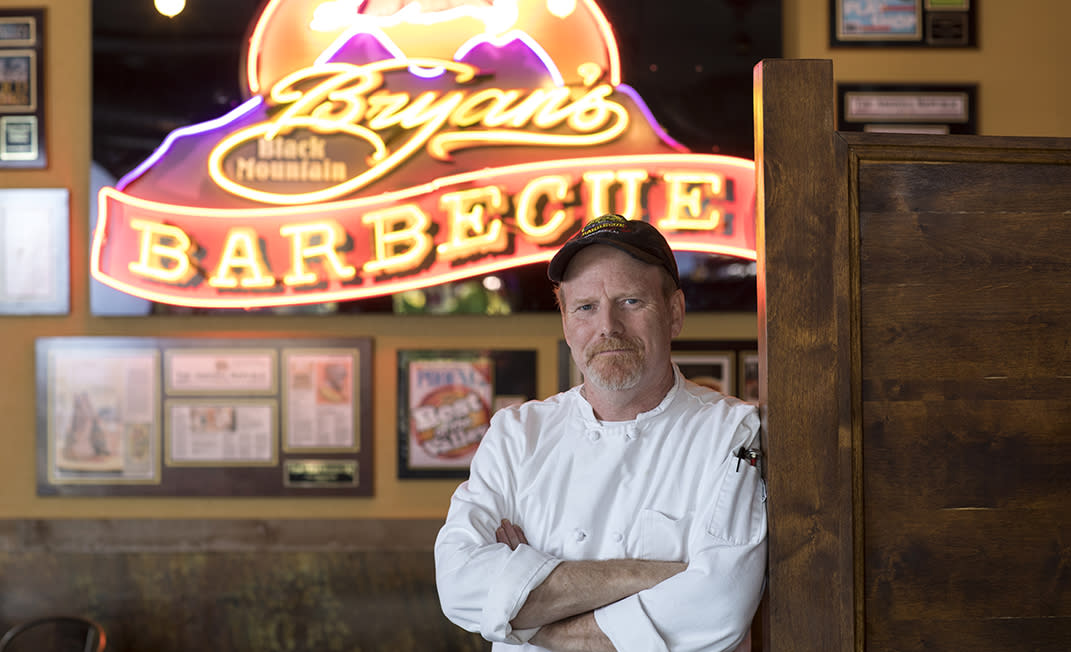 Dooley graduated from the prestigious Culinary Institute of America in Hyde Park, then spent 13 years working at the Fairmont Scottsdale Princess resort before opening his own restaurant. But in spite of his fine-dining background, barbecue is what Dooley loves. As a child, he spent summers at his grandparents sprawling Illinois property, where his Alabama-born grandfather instilled in him an early appreciation of Southern pit-style barbecue.
"We knew we wanted to be in Cave Creek and we knew we wanted to do something Western-style," Dooley recalls. "Barbecue seemed like a real obvious choice. It was just kind of in my blood I guess."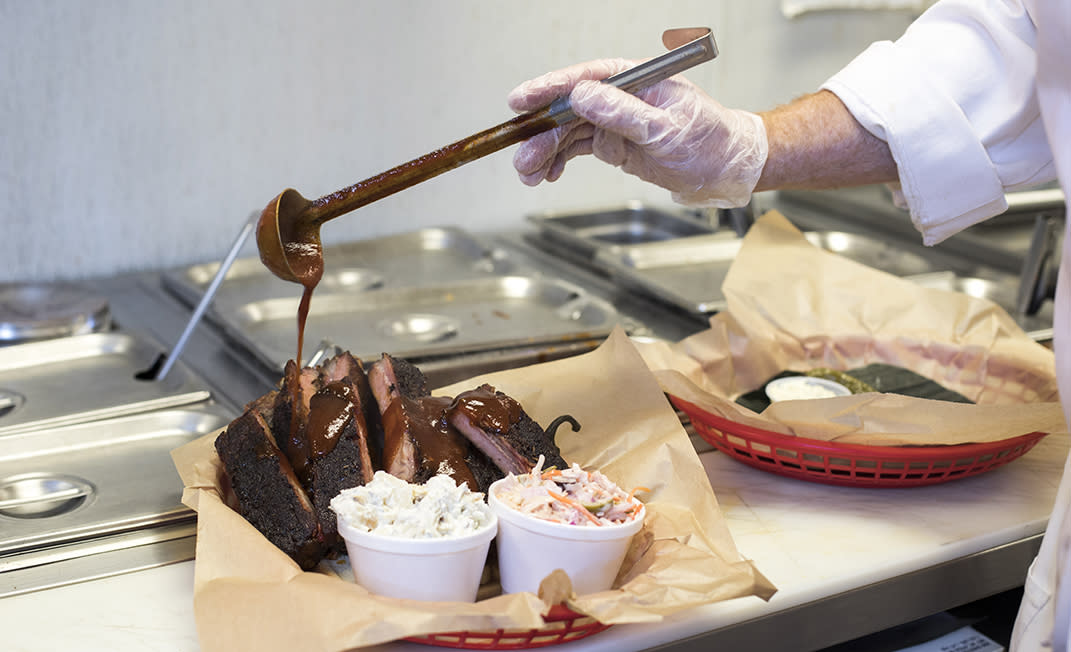 You'll see the influence of his family history in the menu, along with inspiration from Dooley's Midwestern roots and a few touches that are all his own. Alongside the chef's famous pulled pork, there's slow-cooked brisket and pork ribs, all served with a vinegar-based sauce that's a far cry from the sticky-sweet stuff with which you might be familiar. 
"I grew up in Chicago, so for me, barbecue is ribs," Dooley says. "When I was a kid, I don't know if I knew there was anything else."
Dooley also says he tries to "mix it up around the edges," rounding out the menu with one-of-a-kind sides like his famous coleslaw studded with sliced olives and a baked potato salad that is both creamy and rich. Perhaps most unique is the restaurant's Friday special: mesquite flour-dusted fried frog legs, a dish Dooley says he's loved since he was a kid.
"I've always tried to do something a little bit different," Dooley says. "I've never tried to be a specific type of barbecue. It's traditional—but it's not."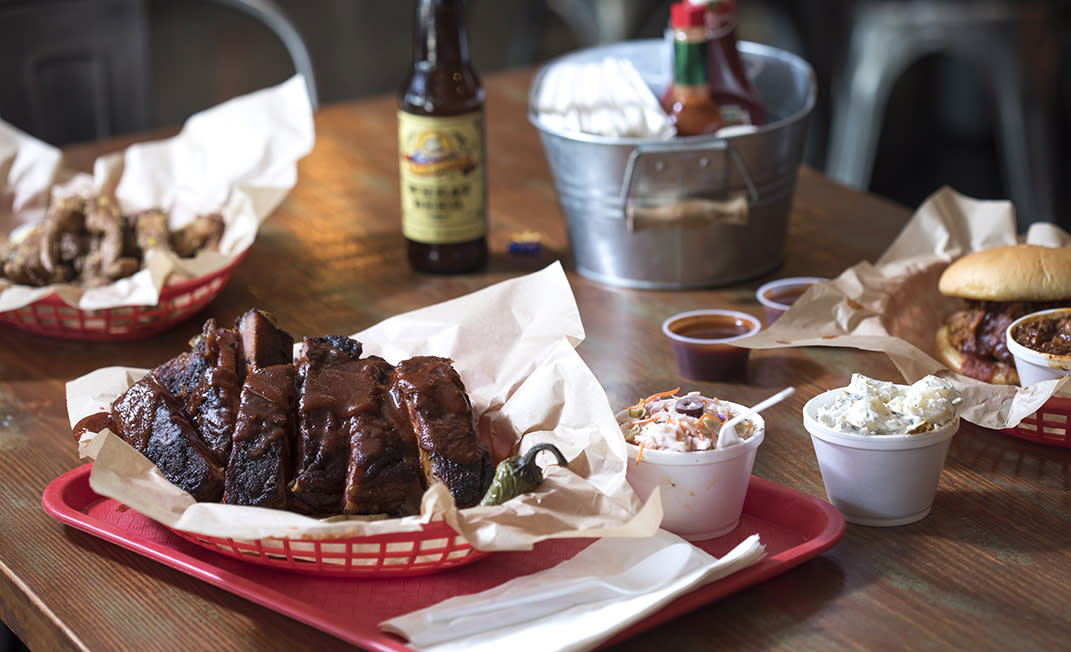 Dooley still applies the tenants of fine dining—things like attention to detail and using only the best ingredients—to everything he does at Bryan's. Which is perhaps why diners continue to flock to the restaurant for a taste of his western-style barbecue.
"Barbecue is one of those things people drive for anyway," Dooley says. "But we are a destination barbecue joint."
Photography by Mark Lipczynski