Explore Scottsdale by Air, Water, and Land
Ready for the ultimate Sonoran Desert adventure? I'll show you firsthand how you can, in one single, exciting day, savor the sunrise from a hot-air balloon, paddle the cool waters of the Salt River in a kayak, and ride an Arabian horse into the sunset – all while soaking in breathtaking Sonoran Desert vistas.
---
UP, UP AND AWAY
---
My dream adventure day began with Hot Air Expeditions, whose balloons bear distinctive saguaro designs and feature roomy baskets for extra comfort. The wind decides our path as we float 3,000 feet above saguaro-studded ridges, with clear views of Lake Pleasant. John Bagwell, our veteran pilot, treats us to rich balloon humor and lore as we soar, silent as the wind, watching other balloons in a 360- degree live theatre.
When suddenly we drift into another balloon's shadow, Bagwell quips, "We're in a ballooner eclipse!" After landing, we enjoy a catered breakfast, complete with mimosas and Champagne, on a linen-covered table in the middle of the desert.
---
WATERWORLD, DESERT STYLE
---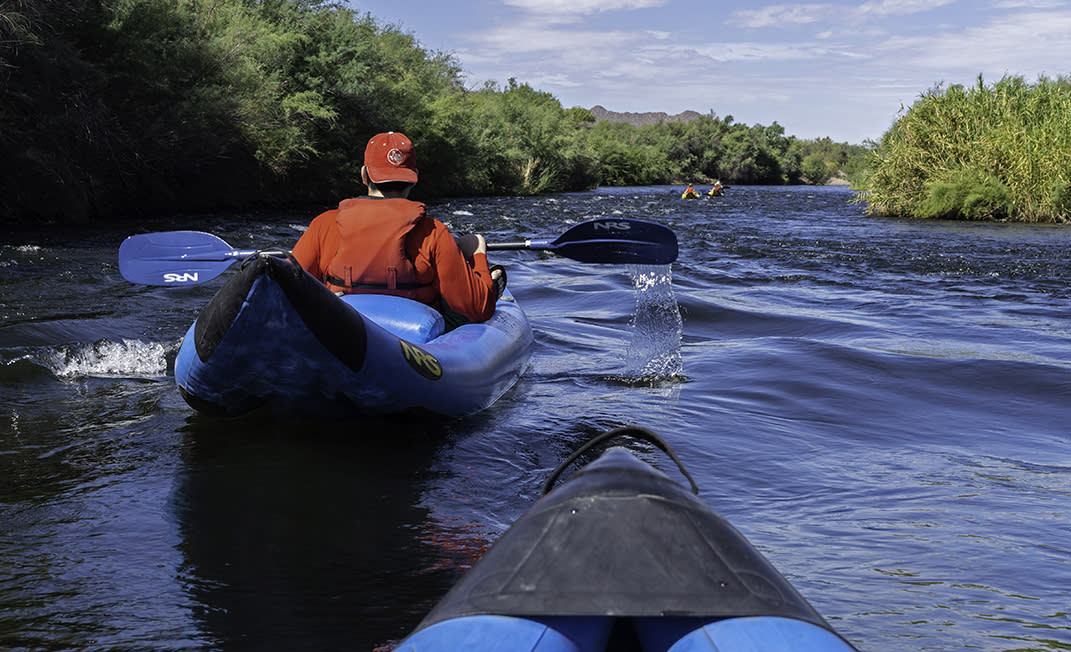 Next up is kayaking on a lovely stretch of the Salt River with expert guides from REI Co-Op Experiences. Our inflatable kayaks, called duckies, are stable and easy to paddle, and we relax as a light current pushes us below stands of saguaros just above the clear river, with sheer volcanic cliffs towering to the south. Rounding a bend, we glimpse a band of wild horses – including playful young foals – dining on river plants. Red-tailed hawks ride the thermals above, and way too soon our time on the water is over.
---
RIDE THROUGH HISTORY
---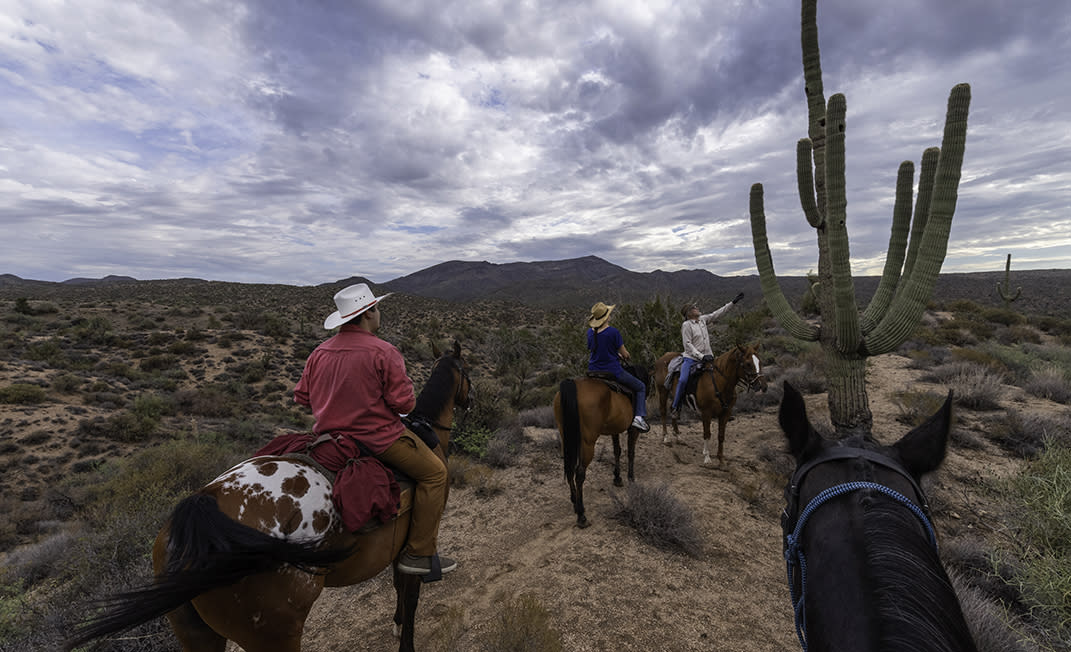 Later that afternoon I meet Milton Joseph of Windwalker Expeditions, an artist with paint, poetry and horses, who also has a thirst for local history. Windwalker has permits for 1,000+ miles of trail in the Tonto National Forest and offers only custom excursions, meaning you choose where, when and for how long you'd like to ride. Their mounts include real Arabians who are surefooted; can trot, canter or gallop, as you wish; and ride like the wind! We meander through Blue Wash up into Camp Creek. Native American tribes and pioneers knew this place, and we feel the pull of Western history tugging at our reins. The day turns cloudy and moody, and as we head back we glimpse the Superstitions and Four Peaks in the day's last rays of sunlight. Dovetailing these soft adventures into one singular day takes a bit of advance planning, but they also can be enjoyed individually at your leisure. Reservations are always recommended.