Fairmont for all Seasons: Walking in a Winter Wonderland
This series explores the exciting events at the Fairmont Scottsdale Princess, a luxury resort set in the pristine natural landscape of the Sonoran Desert. This sunny vacation playground draws locals and visitors year-round to its renowned spa, restaurants and stylish rooms. But the perfect retreat doesn't stop there. With the Fairmont's full calendar of activities, you'll want to plan your stay to experience a few seasonal surprises.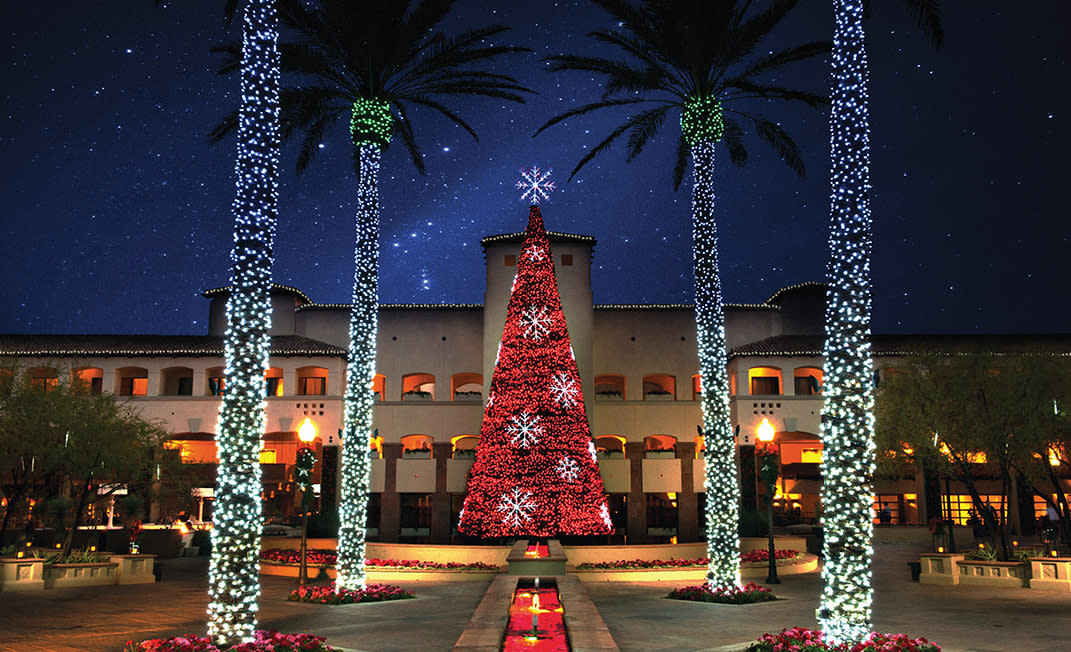 When you're in Scottsdale for the holidays, you don't have to shovel sunshine! Our warm days and pleasant nights make this winter wonderland a first choice for families celebrating the season together. And although we don't have snow, we don't skimp on the festive cheer. The Fairmont Scottsdale Princess keeps the splendor of the season bright with its annual Christmas at the Princess, a beloved local holiday tradition.
Now in its 10th year, Christmas at the Princess transforms the resort into a magical festival of twinkling lights, lovable holiday characters and attractions for kids – and grown-ups – of all ages. It's a destination for remembering beloved classics and creating new memories, from the guest-favorite outdoor ice-skating rink and s'mores fire pits to the surprises in Santa's Secret Headquarters. Enchanting photo ops, musical entertainment and plenty of treats keep it sweet every night of the holiday season.
The festivities kick off with a community tree lighting on Nov. 26, as the resort's four-story Christmas tree comes to life in a sparkle of music and lights. You can gather in the Enchanted Plaza every night to see the musical tree twinkling to your favorite holiday songs while the resort facade lights up for a stunning five-minute show. And the spectating doesn't stop there. Wander around the resort's lagoons or hop aboard the Princess Express to enjoy more than 4 million LED lights in fanciful shapes.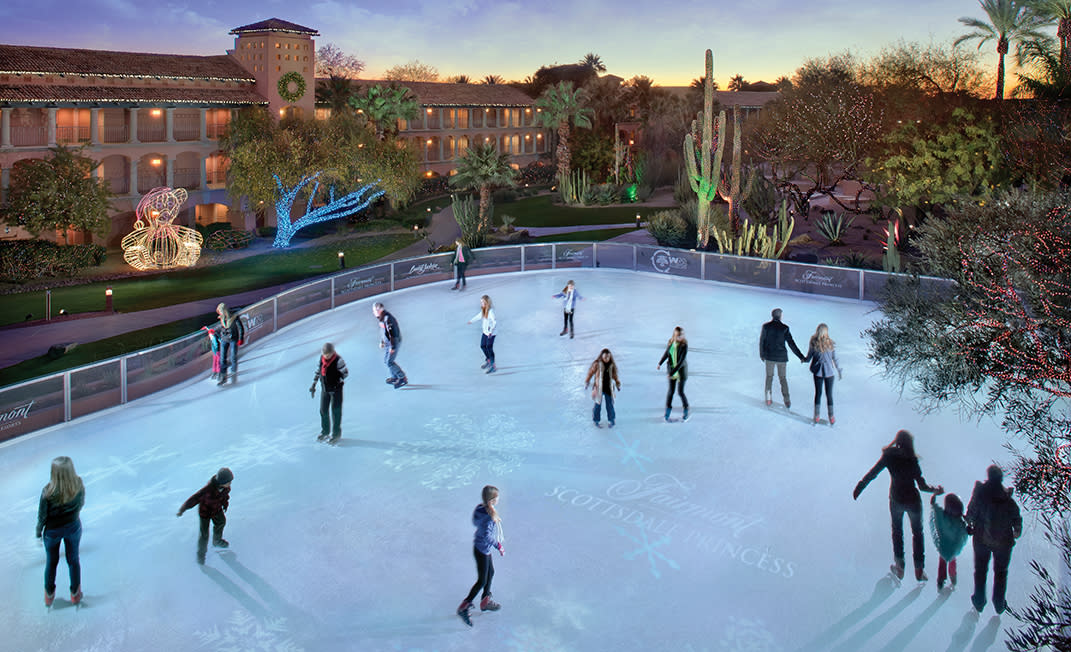 As you explore and savor a gorgeous Scottsdale winter night, you'll notice something interesting among the saguaros: A real ice-skating rink, in the desert! After a twirl on the ice, families can sip hot cocoa and relax by the fire pit rentals to soak up the music and holiday cheer. The rink also gets a nightly snowfall – just a bit of the Christmas magic you'll find around the resort.
Kids are all smiles for Santa's holiday friends, a cast of characters visiting from the North Pole to spread some cheer. Santa Claus himself spends time at his headquarters, where families can snap a photo and even create wish lists to share. Come for a favorite childhood treat and stay for the fun in S'mores Land, a family-friendly area with campfires to roast marshmallows and a Christmas-themed carousel, Ferris wheel and four-lane slide.
And if you're in Scottsdale with your partner and looking for a mistletoe moment, couples can bundle up for a romantic night in Winterland. New this year is the village of twinkling lights, an ice bar, three-story tree and live music. Toast with champagne or warm up with hot wassail for a pic under a beautiful arbor, then head over for a bit of Christmas shopping at the seasonal pop-up shop and Mrs. Claus' Corner. Make it a dinner date and savor holiday restaurant specials at the resort's fine-dining restaurants.
Anyone can enjoy the attractions with paid parking, but staying at the resort adds an extra touch of magic to the tradition. Guests and staycationers can book the Christmas at the Princess Experience for VIP access to rides and attractions. The Sip, Savor & Celebrate package includes $75 in food and beverage credit, while the Family Moments package offers half-off a second room at the resort, perfect for families gathering together for the holidays. It's a no-hassle option for a family or friend reunion – and you've got the magic of Christmas at the Princess right outside your door.
Christmas at the Princess is happening nightly November 26 through December 31, 2019. Get more festive details and plan your walk through this Scottsdale winter wonderland online at Fairmont Scottsdale Princess.