Getting Loaded with Sofia
My new golf pro is called Sofia. Born in Germany, she lived in California briefly before coming to Scottsdale in 2015. She works long hours, has no social life and favors actions rather than words to get her point across. In less than a year on the job, she's helped improve the swings of hundreds of golfers, becoming one of the city's most respected teaching pros. And just a few minutes into my first lesson, she told me to sit down and get loaded.
Technically, she didn't actually say that. But then again she is a nine-foot tall, 1,000-pound Robo Golf Swing Trainer who can be found at Boccieri Golf in Scottsdale. Her human colleague, Blake Isakson, explained exactly what Sofia wanted me to do to reach my goal of a repeatable swing that would lead to more consistent shots. And a little extra distance wouldn't hurt, either. You see Sofia, for all her talents, is nothing without Blake, an experienced instructor who inputs important information via a computer to help Sofia do her job.
In fact, I had to go through Blake before I met Sofia. He watched me hit some balls in the facility's indoor hitting bay, then put me through a quick physical evaluation and discussed my goals. Only after that did I finally take hold of the golf club attached to Sofia's mechanical arms. Then Blake programmed her to move that club into the positions that would make up my ideal swing. It's all done in slow motion at first – thankfully, because she was taking my arms, shoulders and back to places I never quite reached before during my swing.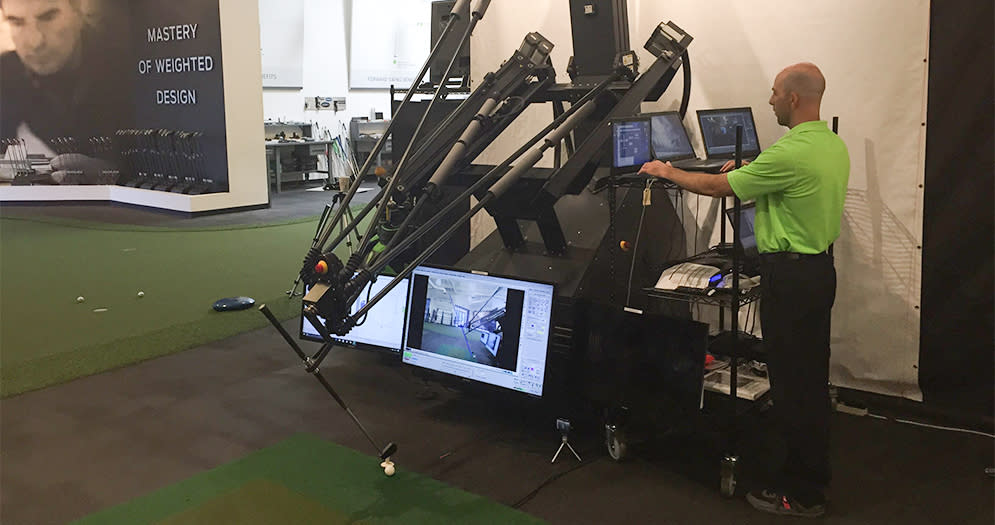 Halfway through the swing was the point where I sat down and got loaded; or in golf terms, I shifted most of my weight onto my back foot, effectively "sitting" into the backswing. It felt weird until Blake sped up Sofia's swing motion and then it made sense. My bad habit of swinging mostly with my arms and hardly at all with my lower body was exposed; a cardinal sin when it comes to generating power and distance. That also was clear when I looked at the monitor showing my swing. I felt what I should be doing, saw the position I should be in, and then repeated the motion at increased speeds to reinforce the message. Then I went to hit some more balls in the hitting bay, came back to Sofia, and repeated the process over again. All with Blake's expert guidance.
Another thing: while you hold hands with Sofia (so to speak) you're standing on a force plate, which shows exactly where your weight is placed through your feet during the entire swing. That's another eye-opener. I was leaning way too far forward on the balls of my feet, leading to an off-balance swing. Looking at the force plate monitor, I could adjust my stance to a point where the weight was perfectly centered. That was an added bonus I would have never known otherwise. You can also wear a K-Vest that provides biofeedback on how your body is moving (or not) during your swing.
"The response to the two Robo Swing Trainers we have has been overwhelming," said company founder and CEO Steven Boccieri. "The average golfer coming in here is seeing improvement. They are doing a series of lessons multiple times, and some guys have done that 10 times."
An avid golfer himself, Boccieri has learned a lot from what he calls a self-correcting tool. "When I make a bad swing out on the course now, I know what I did wrong," he said. "I never knew why before."
Sofia is available for an hour lesson, a three-pack of lessons, or an all-day intensive session that also includes a putter fitting. You can also go through a three-day boot camp that includes a round of golf with an instructor. The human kind that is. See, Sofia would love to join you out on the course, but she's pretty much bolted to her office.