How to Holiday in Scottsdale
Celebrate the Holiday season in Scottsdale! We've put together 12 ways to experience the Holidays the Scottsdale way, so follow along over the next 12 days to see something new released every morning! 
---
DAY ONE – DEC. 2
---
HOLIDAY COCKTAILS AT BLUE CLOVER
What better way to start off this Holiday season than with a fun Scottsdale holiday cocktail! We paired up with local distillery, Blue Clover, to showcase their Scottsdale Sunrise cocktail made with their proprietary infused Grapefruit Vodka! You can purchase Blue Clover's vodka in-store only, so grab a bottle and the following ingredients to make this tasty drink at home!
Ingredients (Serving Size: 1 Drink):
2 oz Blue Clover Grapefruit Vodka
¾ oz Aperol Liqueur
¾ oz Lemon Juice
3 Dashes of Lavender Bitters
½ cup Prosecco
1 Small Blood Orange or Grapefruit (sliced for garnish)
            Instructions:
Add Blue Clover Grapefruit Vodka, Aperol, Lemon Juice and Lavender Bitters to shaker cup. Add ice and shake. Strain evenly into two coupe glasses. Top each glass off with Prosecco and a slice of blood orange for garnish. Enjoy with a friend or spoil yourself with two glasses! Pro note, if you don't have lavender bitters try with other floral or citrus-flavored bitters instead.
---
DAY TWO – DEC. 3
---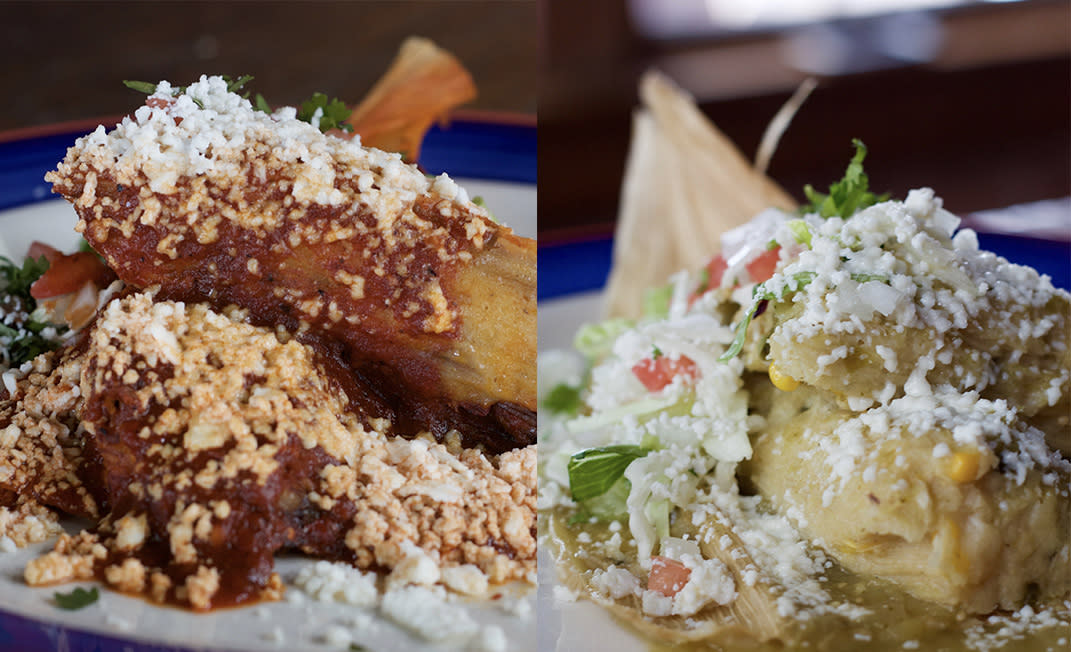 A SCOTTSDALE HOLIDAY FAVORITE: TAMALES
Looking for a true taste of the Southwest? Look no further than the humble tamale! These palm-sized labors of love are a Southwestern holiday tradition, typically enjoyed on Christmas Eve. Inside the steaming corn husks they're cooked in, you'll find delicate masa (corn-flour dough) stuffed with a variety of savory meats, chilies and spices.
Scottsdale's Los Sombreros restaurant is well-known for their delicious tamales. Each year, two longtime employees make more than 3,600 tamales to fulfill holiday orders. This year's flavors include Chipotle Pork, Tomatillo Chicken, Red Chili Beef, Green Corn and, for dessert, Canela (cinnamon). Order early, as they sell out fast!
You'll find another of our favorite tamale connections, The Tamale Store, at the Old Town Scottsdale Farmers Market (Saturdays, Oct. – May). Their seasonal specialties include Chicken Mole, Pork Green Chile, vegetarian Green Corn with cream cheese, and Pumpkin Pie. All are made from scratch daily with love by Martha Castillo and her family. Pick up a handful at the market or order a bunch online – it's the tastiest way to add Southwestern flair to your holidays!
---
DAY THREE – DEC. 4
---
VISIT SANTA ON CAMELBACK MOUNTAIN
Who said you had to wait until Christmas Eve to see Santa? Take a hike to the summit of iconic Camelback Mountain and be greeted by Santa, sitting beside a Christmas tree waiting to make all your Holiday wishes come true. If you have never hiked Camelback Mountain, make sure you check out the first-timers' recommendations before making the climb – it's rated extremely difficult and is best for experienced hikers in excellent health.
---
DAY FOUR – DEC. 5
---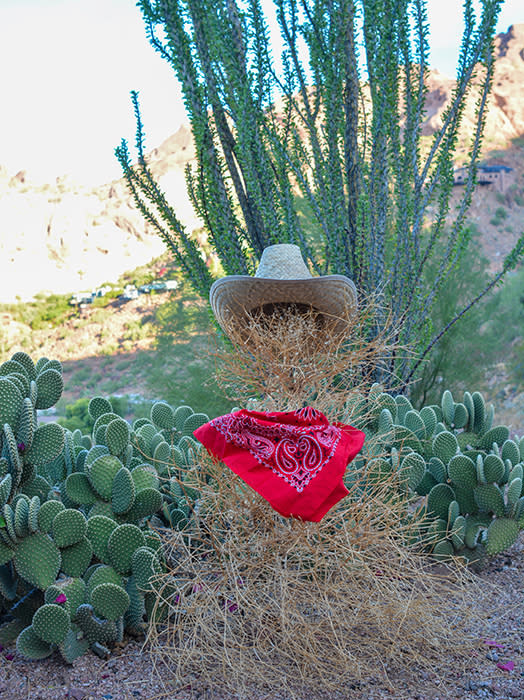 HOW TO BUILD A SCOTTSDALE SNOWMAN
When you live in the desert and have a snowless winter, you have to get creative when it comes to building a snowman. Here's our best attempt at a Scottsdale "snowman" – a sad pile of tumbleweeds adorned with Western flare that was much harder to put together than we thought it would be! Which got us thinking, let's see if our Scottsdale locals can do any better! Show us what you've got and post your best Scottsdale Snowman! Head to Instagram and tag us in your version of a Scottsdale Snowman with @ScottsdaleAriz and hashtag #ScottsdaleSnowman2019. Good luck and happy building!
---
DAY FIVE – DEC. 6
---

HOLIDAY AFTERNOON TEA AT THE PHOENICIAN
Get in the spirit of the season with a special Holiday Afternoon Tea at The Phoenician. This English tradition includes finger sandwiches, scones with Devonshire cream and preserves, pastries and a selection of fine tea blends. Added sparkling enhancements and delicious holiday-inspired treats will make this unforgettable experience even more enchanting. Reservations are required – call 480-423-2530.
November 29 – December 30, daily from 2:00pm – 3:00pm
Pricing: Tuesday – Thursday from $70 per person; Friday – Sunday from $75 per person
---
DAY SIX – DEC. 7
---
HOLIDAYS AT COACH HOUSE
Deck the halls, walls and any other space you can think of! Coach House is the oldest bar in Scottsdale and is famous for its over-the-top display of Christmas lights that cover nearly every square inch of the place. Coach House is a longtime local favorite and a must-see on any adult's itinerary. Grab your drink of choice from the bar, then pull up a stool and soak up all the holiday cheer you can handle at the Coach House!
---
DAY SEVEN – DEC. 8
---
THE LARGEST CHRISTMAS TREE IN ARIZONA
The Outlets at Anthem brings you Arizona's tallest fresh-cut Christmas Tree, direct from Shasta Trinity Forest on the California/Oregon border. This stately tree stands 80-feet tall and 20 feet wide, and is topped with a three-foot handmade copper star. A tree this large must have lots of lights and ornaments, right? Absolutely! It is decorated from top to bottom with more than 2 miles of LED lights (approximately 10,000 bulbs) and more than 5,000 ornaments and bows. Completely decorated, the tree weighs almost four tons! You can observe this spectacular tree from mid-November to the first of the year.
---
DAY EIGHT – DEC. 9
---

LIGHT UP WITH LUMINARIAS
A charming Southwestern tradition, luminarias are a lovely way to enhance any outdoor event and also can be used to create festive light displays at home. Residents in Scottsdale often line their yards, fences and sidewalks with luminarias, especially on Christmas Eve.
Want to get in on the fun? It is easy to make your own! Luminarias are made from brown paper bags weighted down with sand and illuminated from within by a candle nestled in the center. If you don't have access to all the elements for homemade luminarias, electrically lit luminarias also can be used. Simply arrange them in rows to create a warm and welcoming holiday display.
If you need some inspiration (or are looking for a fun event the whole family can enjoy), check out Las Noches de Las Luminarias at the Desert Botanical Garden, taking place on select evenings through December 31, 2019.
---
DAY NINE – DEC. 10
---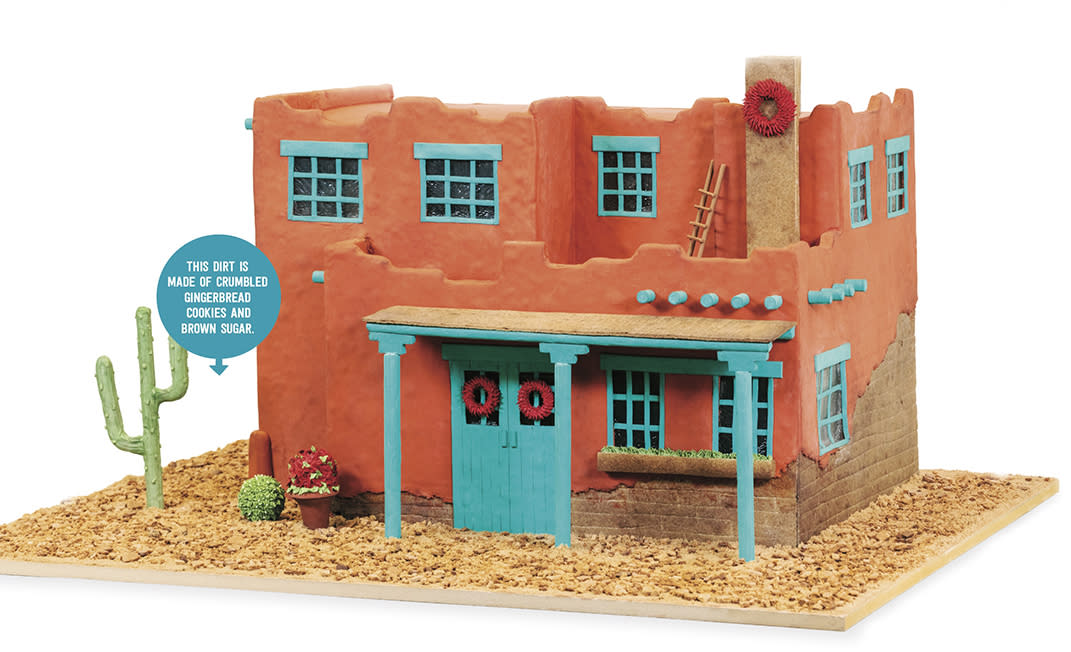 Photo Courtesy of Classic Cakes and Confections via Food Network
SCOTTSDALE INSPIRED GINGERBREAD HOUSE
A quick stroll into Classic Cakes and Confections storefront might lead you to believe that they only serve coffee, tea and pastries. But, a closer look reveals that owners Ella and Neil Levinson have been carefully creating award-winning, jaw-dropping cakes for more than 10 years.  The dynamic duo behind the counter has been retained to make Will Smith's 50th birthday cake and has been named one of Martha Stewart's top "Wedding Pastry Pros." But, our favorite confection from them is one that's not even edible.
This accurate replica of a Southwest-style adobe home (featured in Food Network Magazine) pulls out all the stops – cactus-studded front yard, turquoise embellishments and chile pepper wreaths. To help hold the structure, the team used dough that was so firm, it had to be cut with a band saw. If you want your own masterpiece, be sure to order in advance – some cakes take hours to construct!
---
DAY TEN – DEC. ELEVEN
---

WRAP YOUR PRESENTS THE SCOTTSDALE WAY
When it comes to gift-giving, what's on the outside is just as important as what's on the inside. Here are some tips for gussying up your holiday packages while adding a little Scottsdale flair.
Look to nature for inspiration! Scottsdale's Sonoran Desert provides endless ideas for au naturale embellishments. Wildflowers, mesquite pods or even cotton sprigs wrapped with natural ribbon add the perfect decorative touch.
You also can play off Scottsdale's Western heritage by utilizing a bandana as your wrapping "paper." Add a fun Western ornament and you have the perfect gift for the cowboy (or cowgirl) in your life.
Tap into Scottsdale's Native American culture by incorporating materials such as turquoise, silver, feathers and wood into your packaging.
Combine your creativity with sprigs of creosote, hints of turquoise, bits of raffia and you'll have beautiful holiday gifts wrapped in Scottsdale style!
---
DAY ELEVEN – DEC. TWELVE
---

HOTEL VALLEY HO'S HOLIDAY SHOWSTOPPER SHAKE
Every month for the past three years, Pastry Chef Clarissa Robinson creates a one-of-kind shake for ZuZu, Hotel Valley Ho's signature restaurant. This year, Chef Robinson's inspiration came from her favorite holiday drink – the Peppermint Mocha.
Introducing the incredible White Chocolate Peppermint Mocha shake! As you can see, this isn't your typical milkshake. This showstopper is topped with an entire ice cream sandwich, three candy canes, and edible glitter. There's even an option to make it an adult beverage by adding a shot of your favorite holiday alcohol.
These shakes are huge, so bring a friend and sweeten your holidays as you share a whimsical Show Stopper Shake!
---
DAY TWELVE – DEC. THIRTEEN
---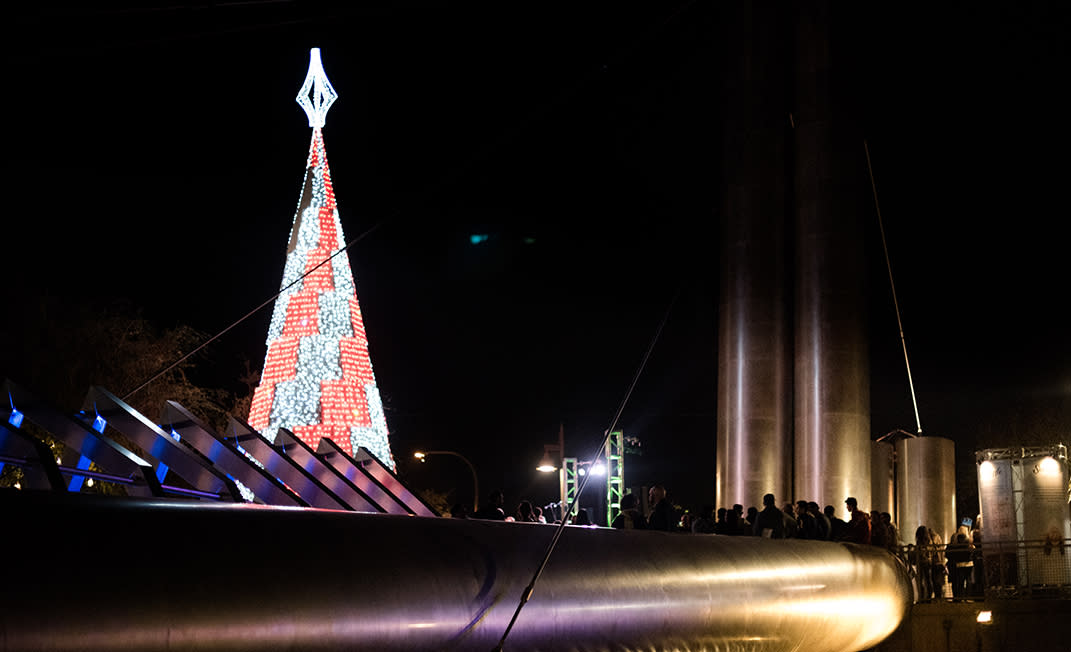 THE SCOTTSDAZZLE HOLIDAY TREE
From ancient Puebloan potters to today's cutting-edge art installations, Scottsdale has long been a draw for artists and creative thinkers. So, it should come as no surprise that the heart of our holiday celebrations – a 34-foot Christmas tree with countless color combinations – is nothing short of an artistic masterpiece.
Manufactured in Italy, this silver tree is covered with nearly 10,000 LED lights, all tied to an electronic programming system. The result is a stunning, shimmering tree that lights up the night sky in Old Town Scottsdale from the official tree-lighting ceremony on Nov. 30, 2019, through Jan. 2, 2020.