How to Holiday in Scottsdale
Celebrate the Holiday season in Scottsdale! We've put together 12 ways to experience the Holidays the Scottsdale way, so follow along over the next 12 days to see something new released every morning! 
---
DAY ONE – DEC. 2
---
HOLIDAY COCKTAILS AT BLUE CLOVER
What better way to start off this Holiday season than with a fun Scottsdale holiday cocktail! We paired up with local distillery, Blue Clover, to showcase their Scottsdale Sunrise cocktail made with their proprietary infused Grapefruit Vodka! You can purchase Blue Clover's vodka in-store only, so grab a bottle and the following ingredients to make this tasty drink at home!
Ingredients (Serving Size: 1 Drink):
2 oz Blue Clover Grapefruit Vodka
¾ oz Aperol Liqueur
¾ oz Lemon Juice
3 Dashes of Lavender Bitters
½ cup Prosecco
1 Small Blood Orange or Grapefruit (sliced for garnish)
            Instructions:
Add Blue Clover Grapefruit Vodka, Aperol, Lemon Juice and Lavender Bitters to shaker cup. Add ice and shake. Strain evenly into two coupe glasses. Top each glass off with Prosecco and a slice of blood orange for garnish. Enjoy with a friend or spoil yourself with two glasses! Pro note, if you don't have lavender bitters try with other floral or citrus-flavored bitters instead.
---
DAY TWO – DEC. 3
---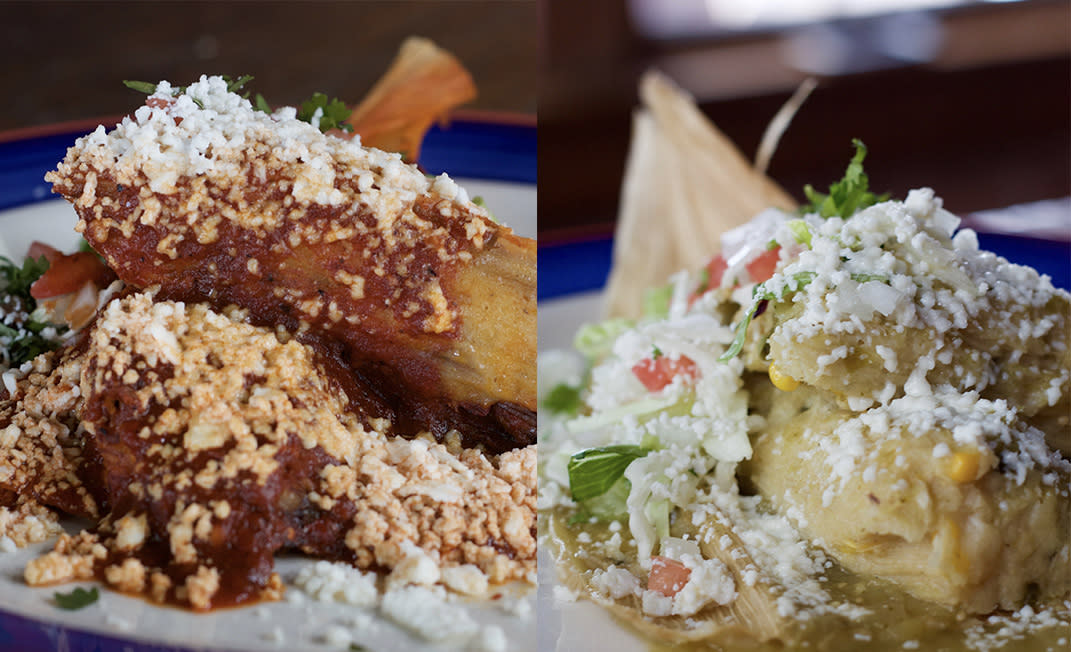 A SCOTTSDALE HOLIDAY FAVORITE: TAMALES
Looking for a true taste of the Southwest? Look no further than the humble tamale! These palm-sized labors of love are a Southwestern holiday tradition, typically enjoyed on Christmas Eve. Inside the steaming corn husks they're cooked in, you'll find delicate masa (corn-flour dough) stuffed with a variety of savory meats, chilies and spices.
Scottsdale's Los Sombreros restaurant is well-known for their delicious tamales. Each year, two longtime employees make more than 3,600 tamales to fulfill holiday orders. This year's flavors include Chipotle Pork, Tomatillo Chicken, Red Chili Beef, Green Corn and, for dessert, Canela (cinnamon). Order early, as they sell out fast!
You'll find another of our favorite tamale connections, The Tamale Store, at the Old Town Scottsdale Farmers Market (Saturdays, Oct. – May). Their seasonal specialties include Chicken Mole, Pork Green Chile, vegetarian Green Corn with cream cheese, and Pumpkin Pie. All are made from scratch daily with love by Martha Castillo and her family. Pick up a handful at the market or order a bunch online – it's the tastiest way to add Southwestern flair to your holidays!
---
DAY THREE – DEC. 4
---
VISIT SANTA ON CAMELBACK MOUNTAIN
Who said you had to wait until Christmas Eve to see Santa? Take a hike to the summit of iconic Camelback Mountain and be greeted by Santa, sitting beside a Christmas tree waiting to make all your Holiday wishes come true. If you have never hiked Camelback Mountain, make sure you check out the first-timers' recommendations before making the climb – it's rated extremely difficult and is best for experienced hikers in excellent health.
---
DAY FOUR – DEC. 5
---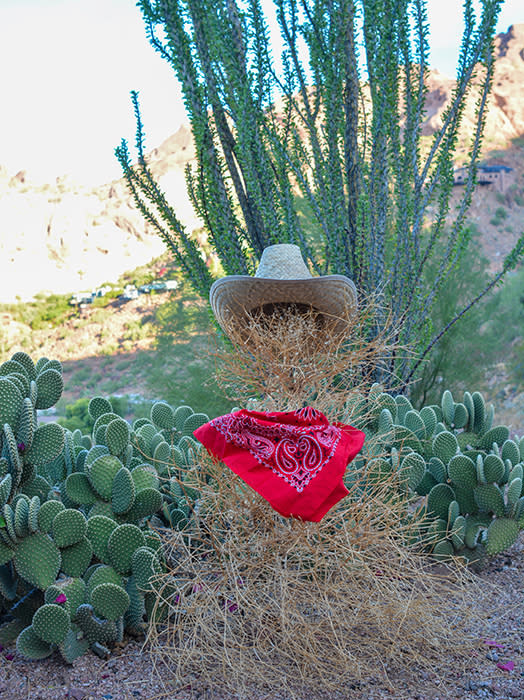 HOW TO BUILD A SCOTTSDALE SNOWMAN
When you live in the desert and have a snowless winter, you have to get creative when it comes to building a snowman. Here's our best attempt at a Scottsdale "snowman" – a sad pile of tumbleweeds adorned with Western flare that was much harder to put together than we thought it would be! Which got us thinking, let's see if our Scottsdale locals can do any better! Show us what you've got and post your best Scottsdale Snowman! Head to Instagram and tag us in your version of a Scottsdale Snowman with @ScottsdaleAriz and hashtag #ScottsdaleSnowman2019. Good luck and happy building!