Restaurant Spotlight: Fat Ox
Chef Matt Carter admits he started his career with a big chip on his shoulder.
Believing French food was the best, it may seem like his latest venture Fat Ox, an Italian fine dining restaurant, is merely a vanity project.
The truth is, Carter has been tossing around the idea of opening a modern Italian eatery for some time, even before he launched his first restaurant Zinc Bistro, a French-themed café.
"I have always been interested in pasta making, but the last 10 years, I've ramped up my focus," he says.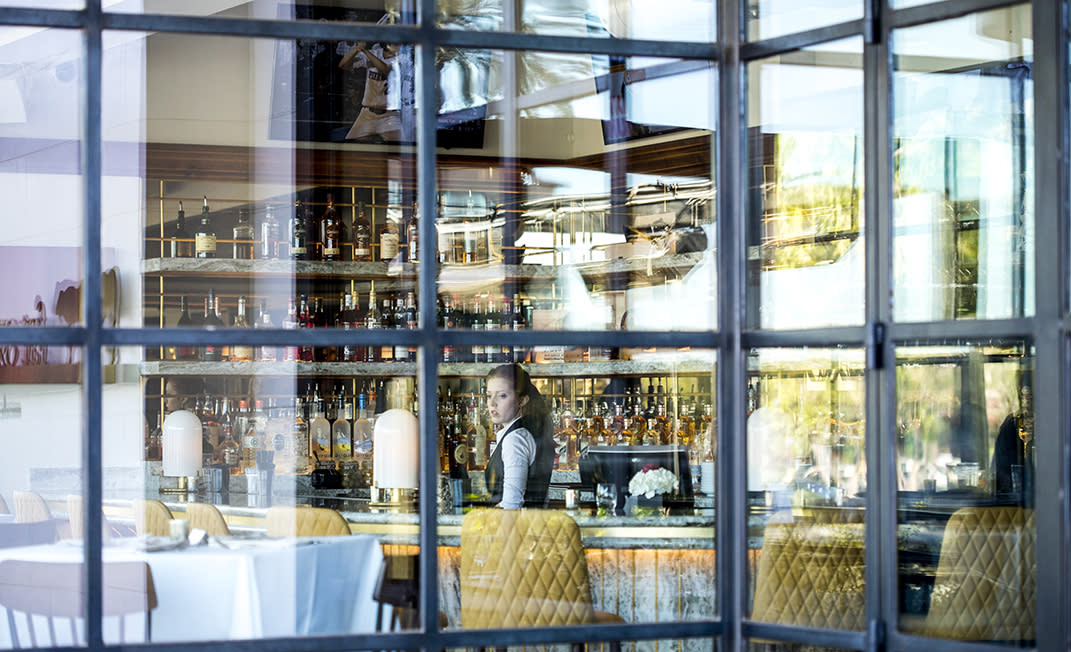 For all his restaurant concepts — which include The Mission, and Zinc Bistro — Carter's culinary focus has always evolved from a deep and universal interest in food. Particularly cuisine he's discovered elsewhere that's made him think: "I've never tasted food like this before. I want that in my city."
Fat Ox fulfills that need. Pizza, chicken Parmesan, and veal osso buco are noticeably absent from the menu. "Pasta is the beginning and end of the story," explains Carter, whose more than a dozen types of the Italian staple are freshly extruded and sheeted in-house daily, and made in new ways with unconventional sauces.
Before opening Fat Ox, Carter used a test kitchen to practice and hone his skills with pasta dough. He started with a variety of flours, semolinas and water, and experimented with different mixing and resting methods.
"We came up with our favorite combinations of these doughs to produce different pastas: hand rolled, extruded and hand cut, and doughs like cavatelli, gnocchi, gnudi. The combinations are endless and we're still coming up with more," he says.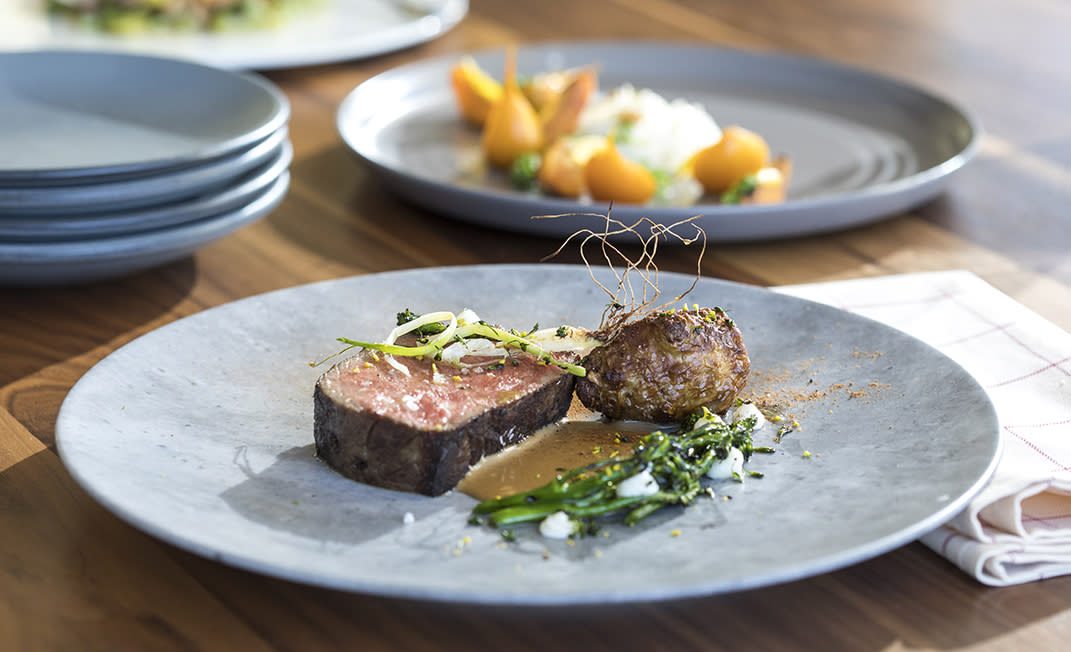 But Fat Ox's contemporary food arch, which starts with antipasti and salami courses, also features slow-roasted, large-format steaks and seafood entrées often cooked on a wood-burning grill, spans a simple, but bold narrative that can't be found at typical Italian restaurants in the U.S.
"I want the food to be more reflective of what's happening in Italy than New Jersey," he says of Fat Ox, a reference to La Fiera del Bue Grasso, a food and wine festival held in Piedmont, Italy. So what exactly is Carter's riff on classic Italian?
"The modern takeaway is reflected in a couple of ways. It's preparing and using ingredients more closely resembling traditional Italian products and techniques in ways that are used in Italy, not in American-Italian ways," he says, adding that using current cooking techniques, like sous vide fermentation, also makes the difference.
"Basically, we take a product, roast it, add salt, vacuum out the air, then put it in a dark place at room temperature for 10 to 18 days," he explains. "This allows the fermentation process to happen in a vacuum with no oxygen. It really changes the flavor of any fruit or vegetable, from banana to garlic."
Yet dining at Fat Ox is not entirely a one-way culinary ticket to a particular region or flavor of Italy. On occasion, Carter takes a food detour back to his native Southwestern roots in his interpretation of traditional Italian dishes.
"We use local products our way, in an Italian way," he says "For example, the rosso crest di gallo pasta is a riff on classic orecchiette with sausage and broccoli rabe. We changed the pasta shape to a cox comb, and are using duck sausage with dandelion greens, red wine in the dough and sauce to go with the duck — minor tweaks on a classic pasta recipe done correctly with fantastic results."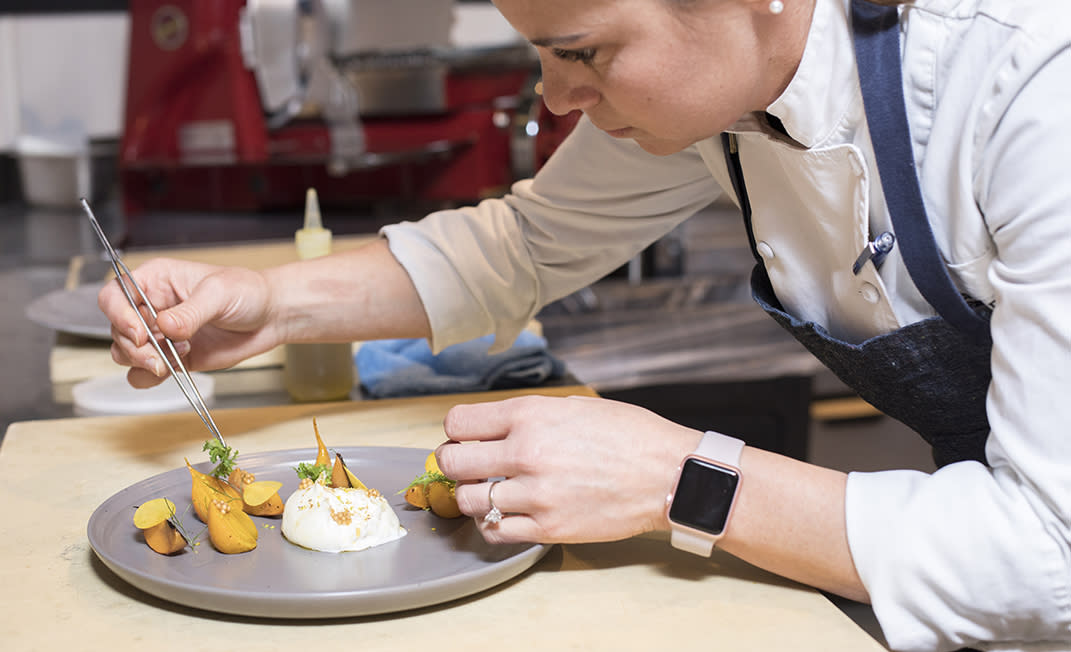 While he embraces the Italian spin, Carter also respects the time-honored connection between Italian cooking and la familia. Working alongside him is executive chef Rochelle Daniel, who apprenticed at Zinc Bistro and was formerly executive chef for Cress on Oak Creek at L'Auberge de Sedona. And like all classic Italian doing spots, there's something comforting about knowing there is a skilled woman in charge of the back of house.
"Rochelle is very talented and brings a high level of professionalism to the board. She is much better at organization than I am," says Carter. "She also, not to be cliché, brings some feminism to the food. I'm a big, bold flavor guy. She can be more subtle and clean with flavors, textures and plate-ups."
For Daniel, the feeling is mutual. "Matt demonstrates a contagious work ethic that never settles," she says. "It's humbling, because you can never stop growing as a chef."
Photography by Mark Lipczynski