Kid Friendly Dining at the Four Seasons Resort Scottsdale
Four Seasons may not be one of the first names that come to mind when you think "kid-friendly," but it should be – especially the Four Seasons Resort Scottsdale at Troon North. On a recent weekend stay with our 10-month old, we were surprised to see just how accommodating the resort was to little ones.
I'd be lying if I said I wasn't nervous going into the weekend. Te has stayed in some nice places in her short not-even-year on this planet, but the Four Seasons Resort Scottsdale is definitely at the top of the "swank" meter.
My fears completely dissipated once we pulled up to the resort. Not only did the staff greet her with a warm smile, but she was also gifted a new stuffed friend and our room was completely stocked with the baby essentials . . . crib, diaper necessities and even safety padding around the tables.
But one thing I was really impressed by was the family-friendly dining experience at Proof, the resort's American canteen-style eatery where food is sourced entirely from the 50 states. We ate at Proof as a family for every breakfast and one night for dinner during our stay.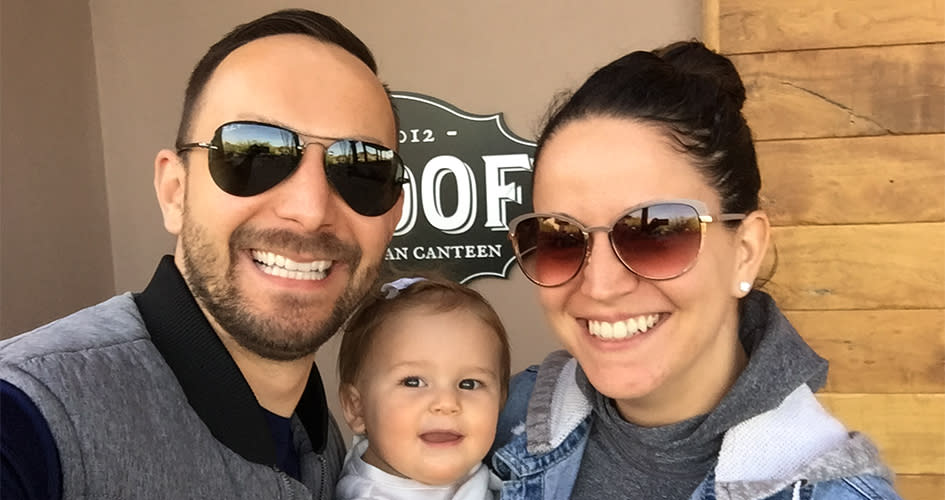 For breakfast, you can choose from varied on-the-menu dishes like huevos rancheros or s'mores waffles, but we opted for the sprawling buffet. Now, typically when I choose the buffet while traveling with the family, it's only because I can handpick certain items that I know Te will eat. It's convenient, but not always exciting for the adults in the group because – let's face it – many breakfast buffets are just so-so.
Not so at the Four Seasons Resort Scottsdale. Each morning's lineup was different and delicious. While we grownups had our choice of breakfast specialties – chocolate bourbon waffles and egg white frittatas with spinach and crab – Te enjoyed freshly-made scrambled eggs and a smorgasbord of cheese and seasonal fruit every morning. And did I mention the kid-friendly dishes and cutlery? Oh, and the oversized bib that was waiting for Te in our room?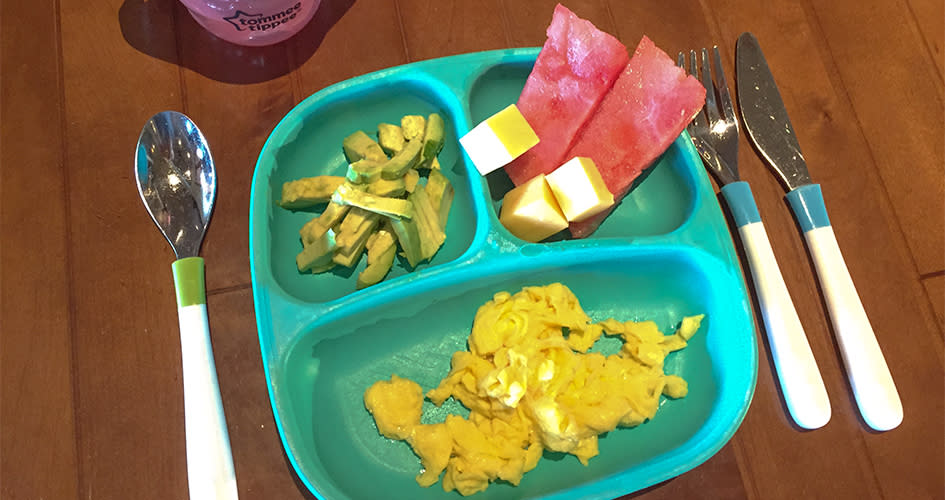 These amenities are more than just a convenience factor; they show that the Four Seasons Resort Scottsdale has really thought through the parent and child's experience. It makes things easy but, more importantly, it makes parents with young kids feel welcome, not like an after-thought. (By the way, kids 4 and under eat free at the resort, too.)
One other thing I really loved at Proof was the kid's dinner menu. Tried and true go-to's like chicken fingers were mixed in with more sophisticated options like steak and smoked salmon. The side dishes – mashed potatoes and broccoli on our visit – were tasty and wholesome. (Yes, I ate Te's leftovers.)
My husband, Stjepan, and I split a round of appetizers – pretzel knots with spicy cheese sauce, a house-smoked salmon board and melt-off-the-bone rib bites with a Dr. Pepper BBQ sauce – plus an ancient grains and harvest vegetable salad, and a main course of short ribs with a bacon-wrapped "exploding" potato (because, short ribs and bacon). All the while, Te kicked back and played with (ate) her box of crayons and played peek-a-boo with staff and the other diners.
Older kids will love Proof's vibe, too. There's a shuffleboard game and an old-fashioned soda fountain along with a candy shop of old-timey treats. And, there's plenty of Americana memorabilia on the walls to keep tykes intrigued throughout the meal. But it's all done in Four Seasons style, so the experience is upscale and never hokey.
I will say this: Any positive experience that's worth sharing is made so by the people who created it. The staff at Four Seasons Resort Scottsdale was so attentive, friendly and kind to us and to Te. So, I'd like to take a moment and give a special shout out to the service staff at the resort.
And thanks especially to Anthony, who remembered Te's affinity for avocado from our first day's lunch and made sure to have fresh slices waiting for her at breakfast. We'll never forget you!