Putting Diaper Duty On Hold For A Trip To The Boulders Resort & Spa
When is daycare worth its semi-painful monthly bill?
When you find yourself at the Spa at The Boulders on a Thursday afternoon.
Yes, that's right. Stjepan and I conspired to play hooky from our role as parents and spend an entire afternoon as just husband and wife. The time alone is a rarity these days, and what's the point in working hard if you can't also play hard?
We booked a couple's massage in the spa's Sun Suite, which has its own outdoor whirlpool, fireplace and steam shower. Outside, the suite's private veranda looks out onto the 12-million-year-old rock formations for which "The Boulders" Resort is named. You could spend a full day in just this room, even ordering up a private gourmet lunch to enjoy al fresco.
But because we were only here for an afternoon – and because there's so much to do at this spa – we stayed for just our treatments and then went about enjoying the other amenities.
First, a healthy but delicious lunch at the Spa Café. The chef here is known for his creative soup skills; I'm told the cheeseburger-inspired one he once whipped-up for The Boulders' golf club was sinfully good. His dishes for the spa are lighter, of course. On our visit, it was a more wholesome version of Thai Tom Kha Gai – a velvety coconut, ginger and lemongrass concoction with chicken and mushrooms.
And because we were both "good" and ordered salads as our mains – Asian quinoa and cabbage with ginger-soy dressing for him, summer peach with local greens, wheat berries and white balsamic for me – we decided that a slice of chocolate cake and glass of sparkling wine was also a smart decision. We were right.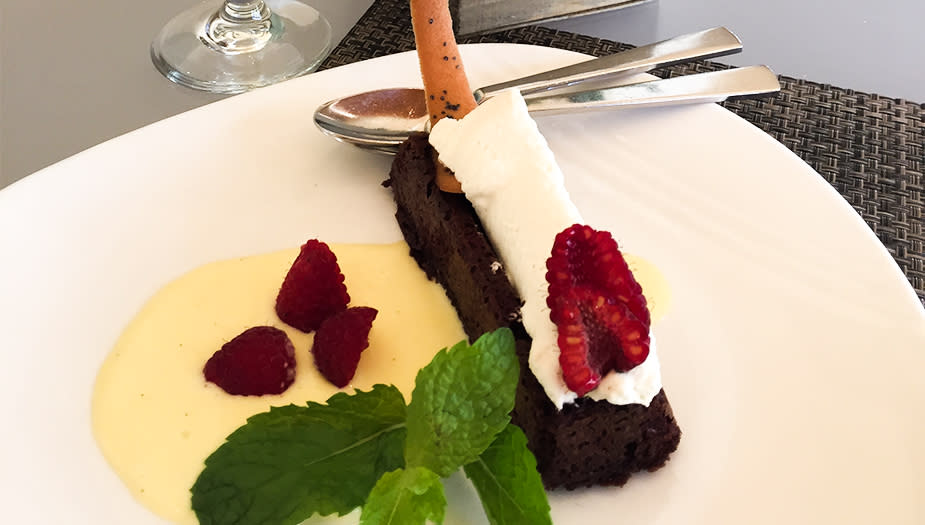 To give ourselves time to digest before jumping into the spa's private pool, we took a walk around its desert grounds. We picked fresh herbs from its organic garden (what Stjepan did with these when we got home, I'm still not sure, but I know you can arrange to have the trimmings used in a spa treatment, if that's your bag), and meandered along a quiet path that led to a Native American TiPi (for Shaman meditation) and swirling labyrinth (for self-guided discovery).
The Spa at The Boulders is big on the spiritual angle. Its massages, facials and body treatments are some of the best in Arizona, but they barely scratch the surface of your R&R options. You can book private meditations, astrological readings and even reiki therapies. Couples can bond over everything from chakra readings to private rock-climbing lessons and even nighttime bike tours.
It's very much a grown-up's escape, which makes it an ideal choice if you're looking for a romantic spa experience. The Boulders is quiet, charming and – thanks to its Sonoran Desert surroundings – feels very exotic. There is no kid's club and no lazy river . . . it is an adult playground. A very plush, very beautiful, adult playground.
With the hours ticking away, we decided to spend our last moments at The Boulders as "just husband and wife" separately. (Because, let's be honest, time by yourself is practically non-existent when you're a parent.) In the women's lounge, I followed the recommended Spa Purification Ritual:
- 5 minutes in the spiral steam room
- A cup of green tea
- 5 minutes in the dry sauna
- A cool shower
- 10 minutes in the Japanese-inspired O'furo warm soaking tub (I stayed longer . . . parents can break the rules, too.)
By the time I was done, I felt rested and ready to brave rush hour traffic back to reality. I had fun being just a wife again, but I was ready to go back to being a mom . . . not the most relaxing part of my "job," but definitely the most rewarding.