Like everything in life, wildflowers don't come with a guarantee. Maybe their ethereal nature inspires such passion. Some years they erupt in Scottsdale and across the Arizona desert with a profound sense of purpose, sweeping across hillsides in endless waves. Other years, the color is spotty. It all depends on the amount of rain and the timing of rain during fall and winter.
Here's a suggestion: Don't worry about whether it will be a banner season or not. Go forth in search of wildflowers. What's the absolute worst thing that can happen? While the rest of the country shovels snow, you'll spend a balmy afternoon walking around in short sleeves surrounded by only a few bouquets of blossoms instead of endless fields. Boo-hoo.
Flowers can start appearing in mid-February, with color peaking in March and continuing into April. Here are some suggestions for where to go petal peeping. 
Here are some of the top wildflower sites near Scottsdale to go petal peeping.
---
---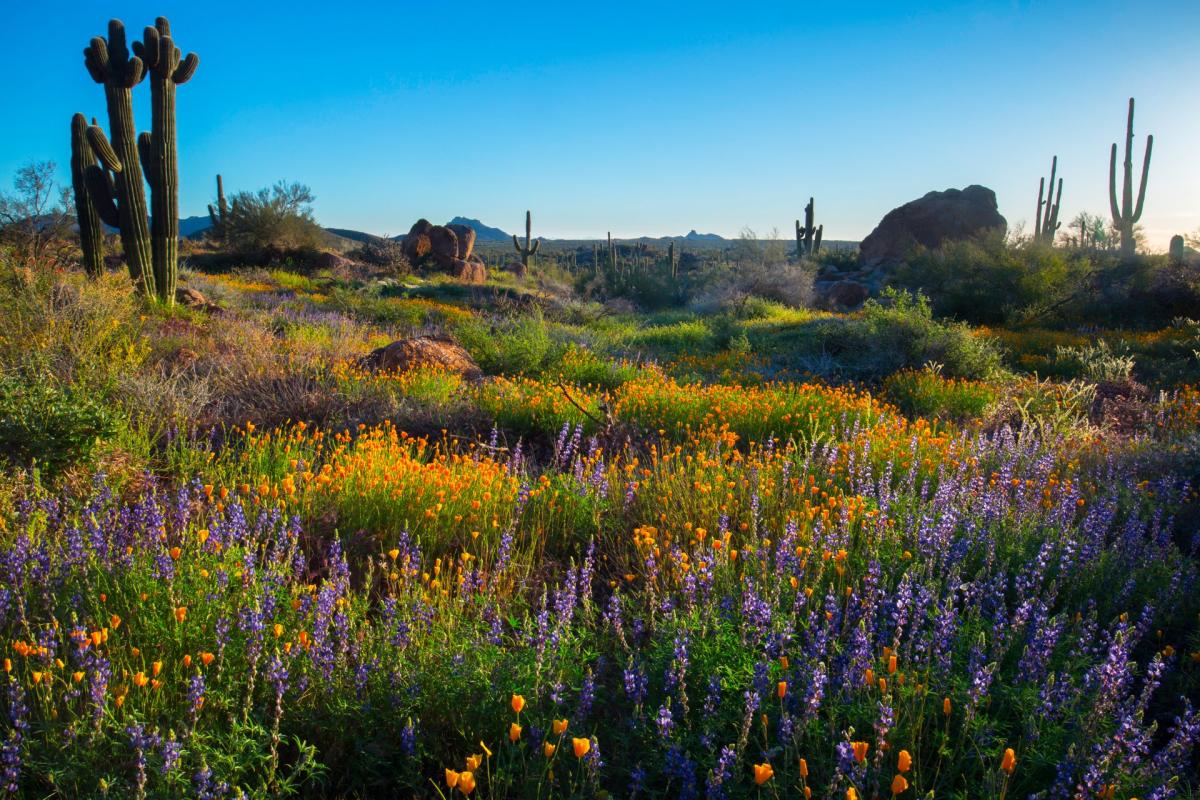 More than 200 miles of trails fan out across Scottsdale's McDowell Sonoran Preserve making, it the ideal location for a wildflower hike. Here are some that are reliable wildflower hotspots: Taliesin Overlook (Lost Dog Trailhead), Marcus Landslide Trail (Tom's Thumb Trailhead), Cone Mountain Loop (Brown's Ranch Trailhead), and the loop around Granite Mountain (Granite Mountain Trailhead). Be sure to check the calendar for guided hikes (once the pandemic is over).
---
---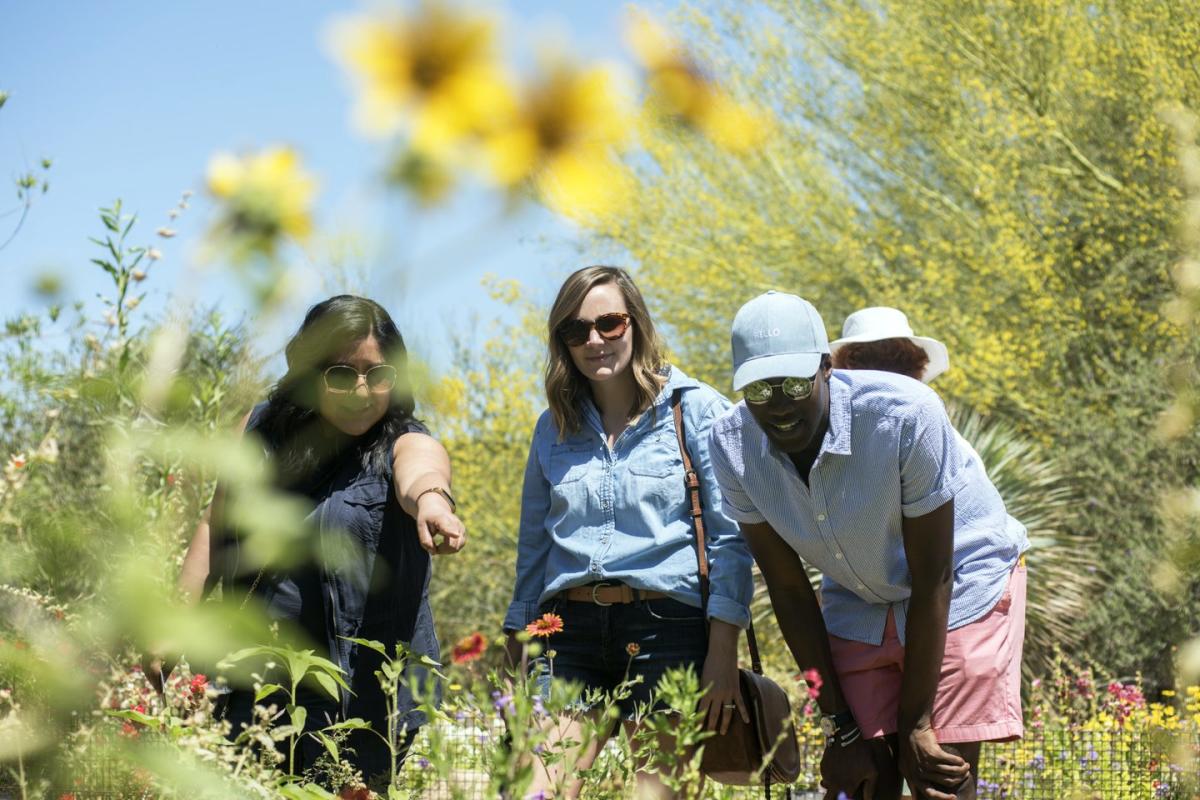 The Desert Botanical Garden can almost always be relied on for a vivid display of wildflowers. When winter rains falter, the Garden staff drag out their secret weapon—a hose—and pick up the slack. The Harriet K. Maxwell Desert Wildflower Loop Trail circles past beds overflowing with poppies, penstemon, owl clover, bee bush, desert milkweed and more.
---
---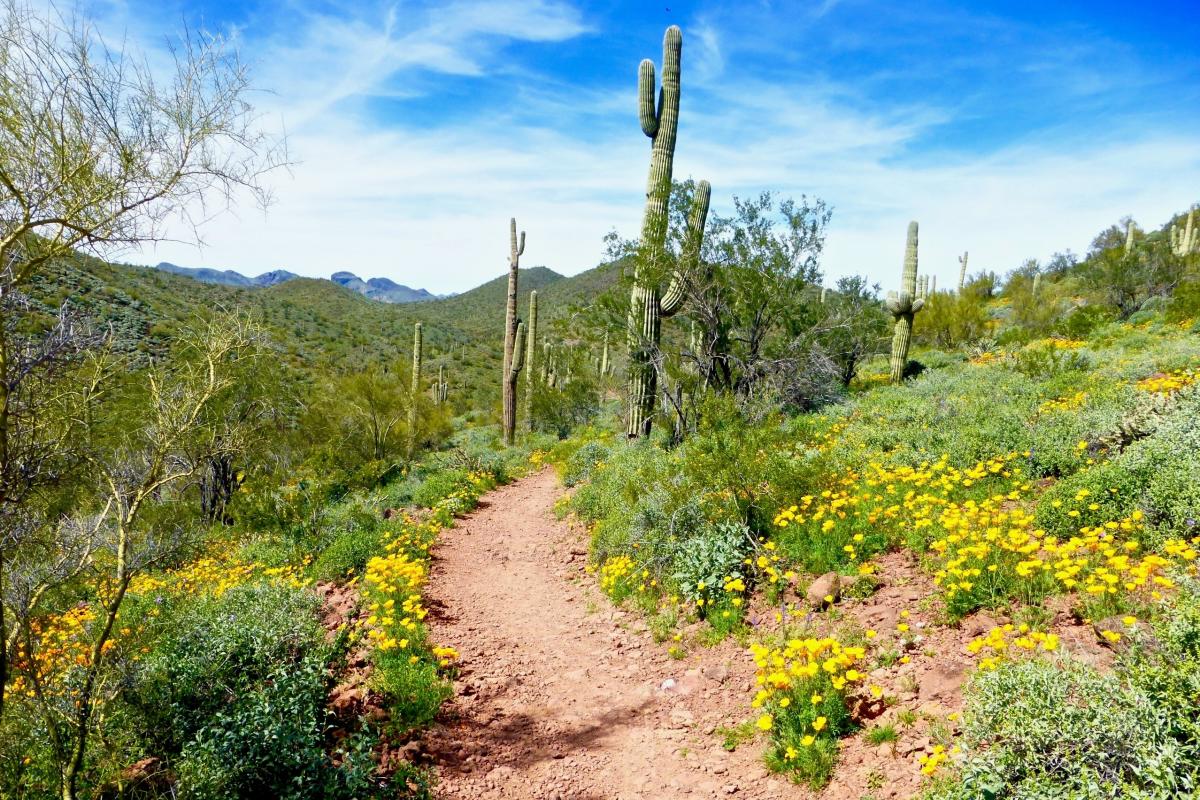 There's always a bit of magic where desert and water meet. Add flowers to the mix and that's a great way to spend a day. At Lake Pleasant, the heaviest concentration of golden poppies can be found on Pipeline Canyon Trail, especially from the southern trailhead to the floating bridge a half-mile away. The bridge is guarded by some extremely robust globemallows the size of landscape shrubs. A nice assortment of blooms also lines the Beardsley, Wild Burro and Cottonwood trails.
---
---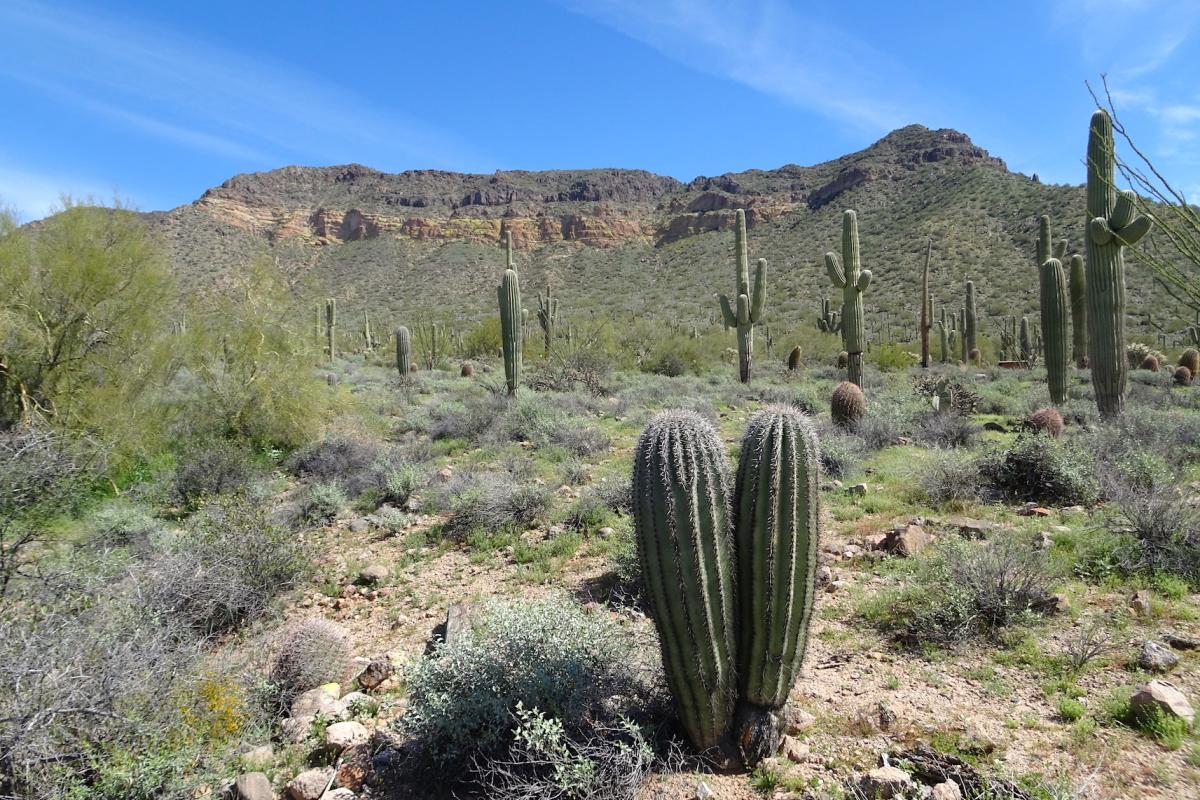 Poppies, primrose, lupines, rock daisies, fairy dusters, and the flame-orange tips of ocotillo add drama to the rising mountains east of Scottsdale. Hike the slopes to Wind Cave for broad panoramas while wading through bands of flowers.
---
---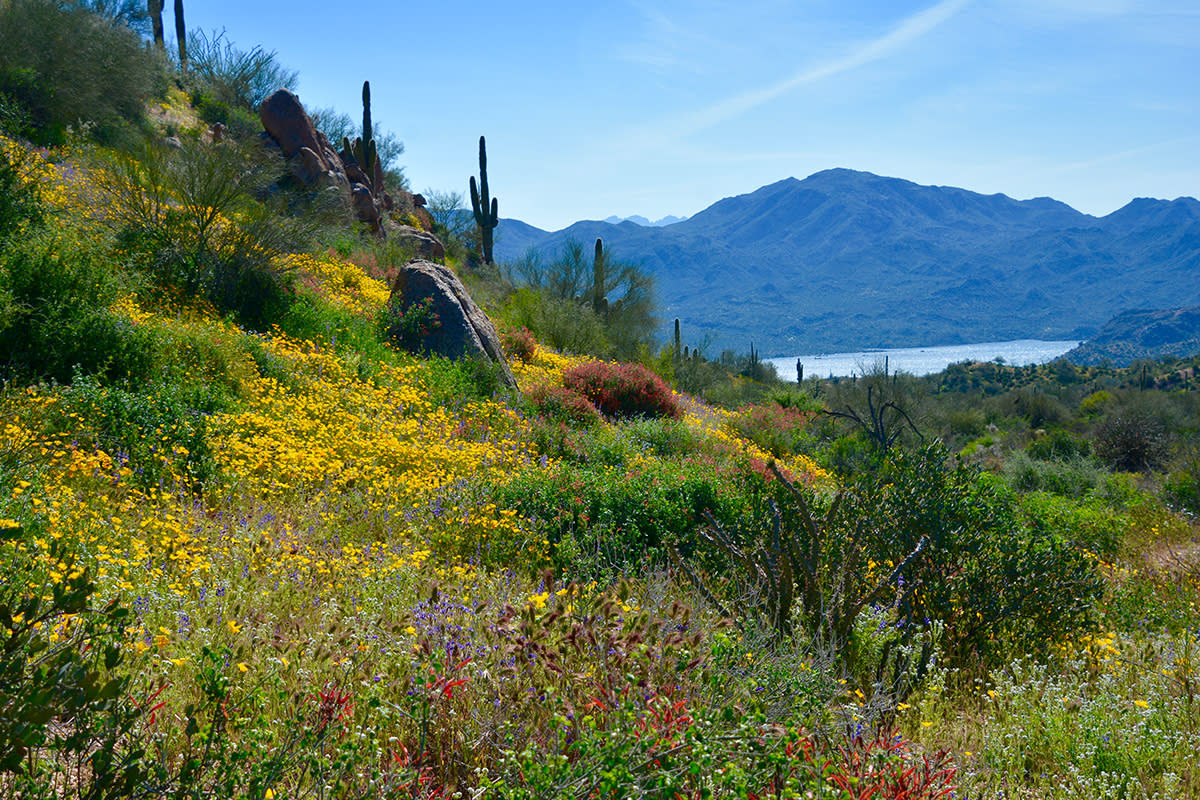 The road to Bartlett Lake quickly leaves civilization behind and winds past rolling hills to the sparkling reservoir cradled by mountains. Be sure to keep an eye peeled for rare white poppies; this is a good spot for them. Some of the best flower sightings are along the road to Rattlesnake Cove. The Palo Verde Trail parallels the shoreline, pinning hikers between flowers and the lake, a wonderful place to be on a warm March day.
---
---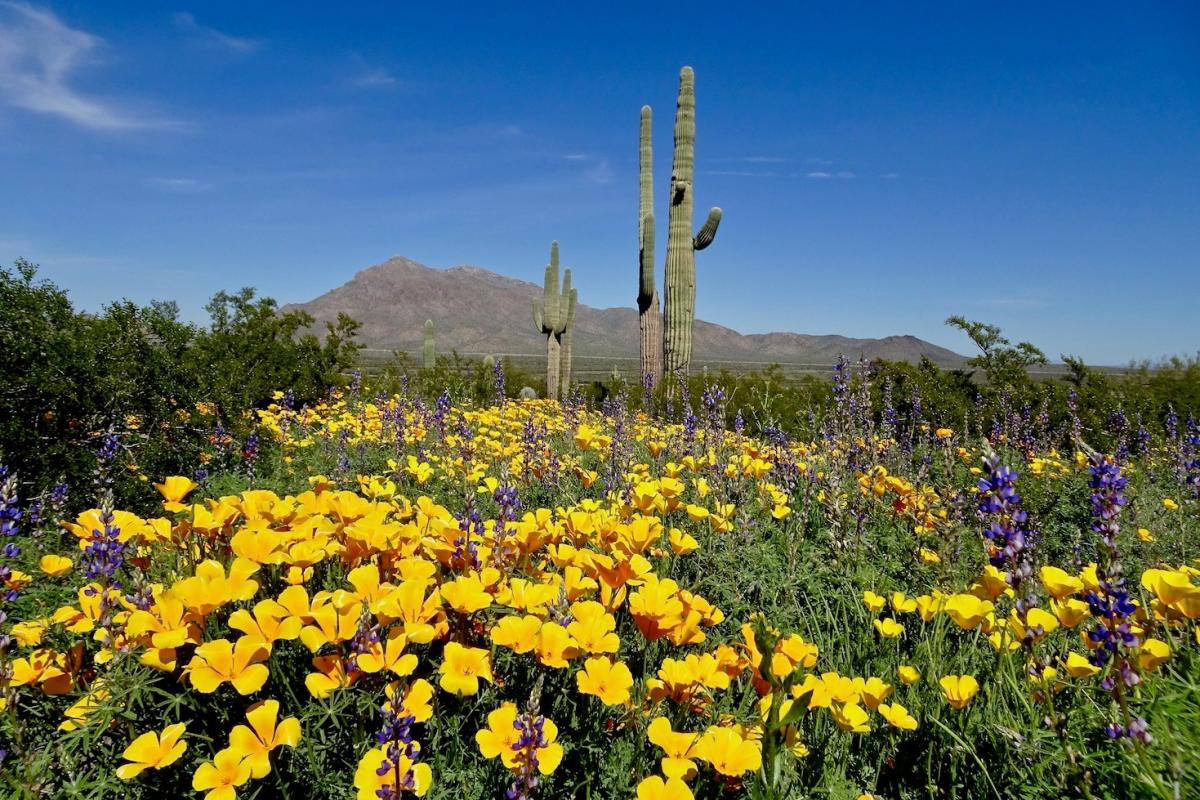 Located 75 miles southeast of Scottsdale, the sudden thrust of Picacho Peak resembles a jaunty ship slicing through clear desert air. This lonely pinnacle served as the site of the westernmost battle of the Civil War. In spring, fields of poppies spill down the flanks of the mountain, a blaze of yellow like a satin fire visible for miles. Try the easy Nature Trail or the lower half of Calloway Trail.  
---
---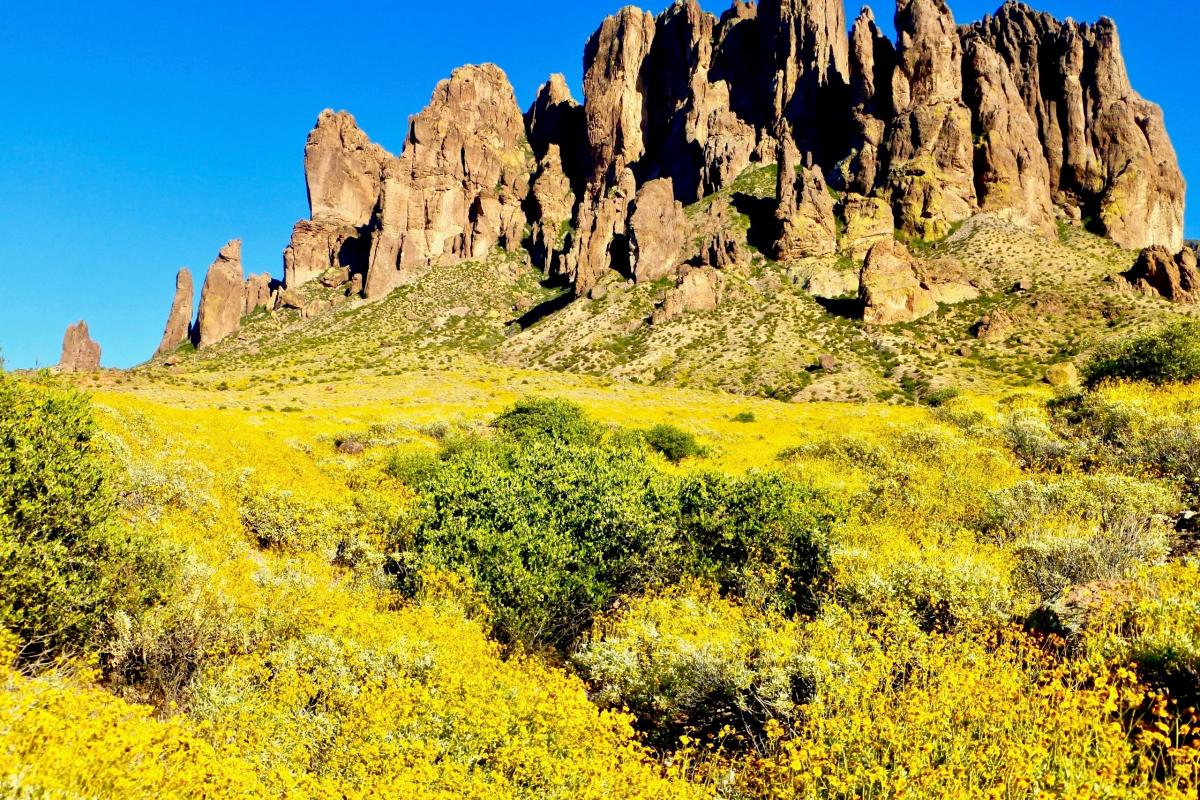 This scenic park laps at the base of the Superstition Mountains, a sudden and savage wall of dark stone that rises from the desert floor. Wet winters create a stunning visual as those ragged volcanic cliffs seem to be floating in a sea of poppies. It feels like a scene plucked from The Wizard of Oz, except with Gila monsters instead of flying monkeys. Even if the poppies are sporadic, there's usually nice color at Lost Dutchman due to perennials like chuparosa, globemallow and brittlebush, which require less moisture to burst into bloom.   
---
US 60 to Globe
---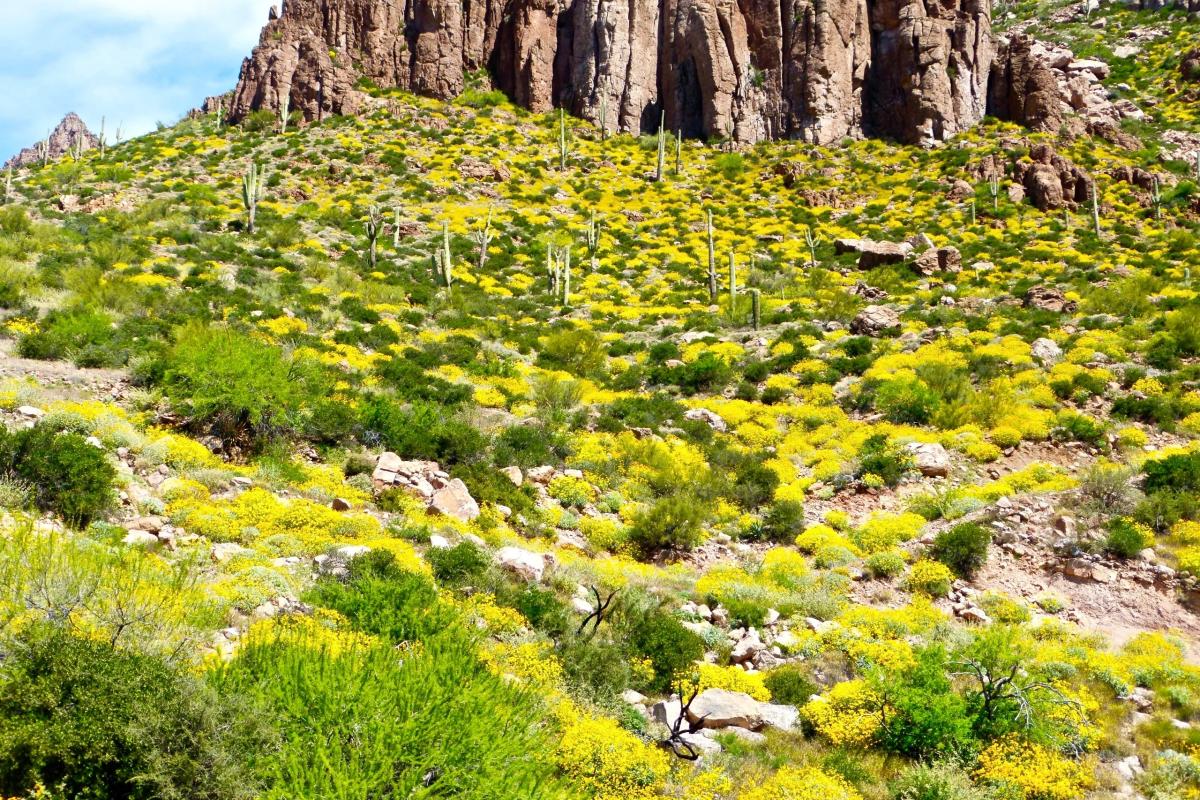 After visiting Lost Dutchman, continue traveling east on U.S. 60 where an array of poppies, lupines, phacelia and penstemon line the road. Brittlebush, desert marigold and globemallow take center stage as the highway climbs through Gonzales Pass. The old mining towns of Miami and Globe roll out a golden carpet to welcome spring visitors. Poppies grow along the roadside, in the median and filling vacant lots. In the 1940s, a local women's club gave away packets of poppy seeds as a beautification project and the community still reaps the benefits. Globe is approximately 90 minutes from Old Town Scottsdale.
---
Highway 79 to Florence
---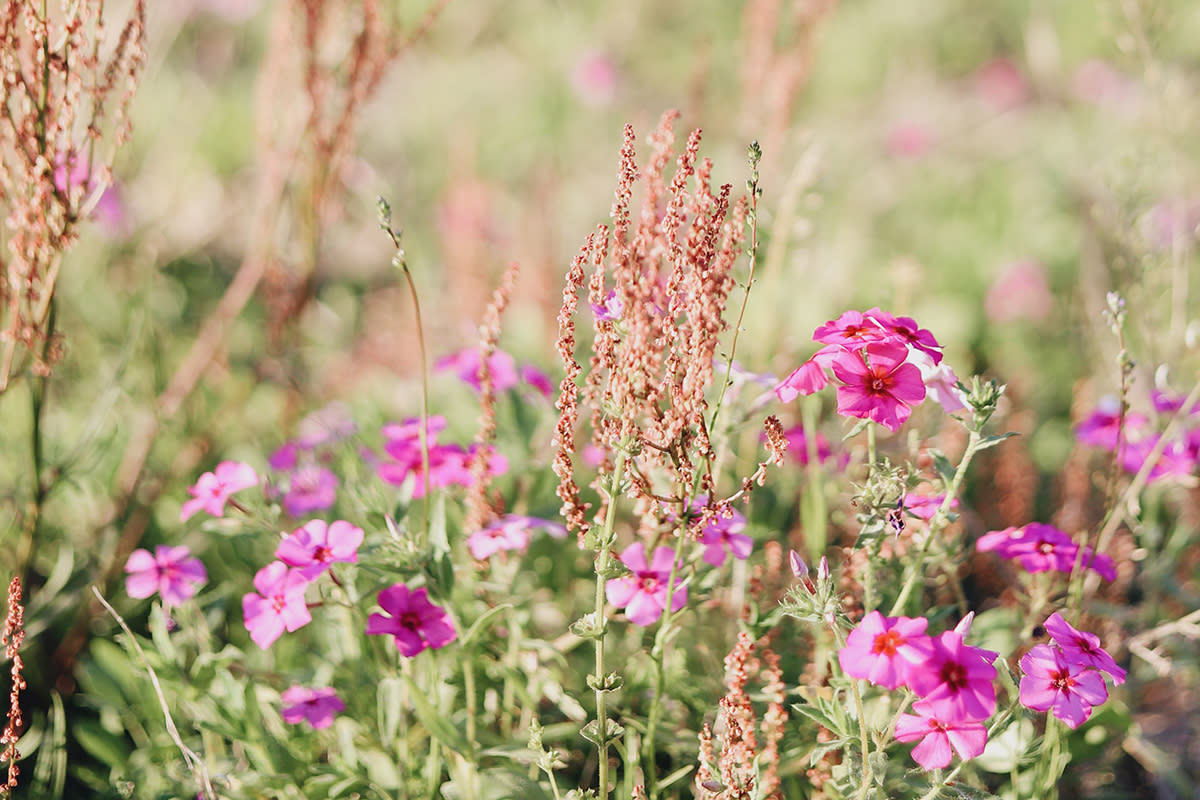 Turn south on Arizona 79 from US 60 for a nice showing of poppies and tall globemallows sporting pink flowers instead of the more common orange variety. Several pullouts offer opportunities for wildflower photos. Florence is approximately 60 minutes from Old Town Scottsdale.