Talavera - A Culinary Oasis
As a Boston transplant, some of the perks I treasure most about living in beautiful Arizona are the world-class restaurants and gorgeous resorts in settings of unparalleled Sonoran Desert beauty. The Four Seasons Resort Scottsdale at Troon North is such a place. I fell in love with the property on my first visit while attending a cooking demonstration, and over the years have returned time and again for leisurely lunches, decadent dinners, sunset cocktails and luxurious staycations.
Talavera, the resort's flagship restaurant, offers mesmerizing Scottsdale vistas from both the expansive terrace under the stars or the elegant dining room decorated in colors echoing the glowing sunsets and purple shadows of Pinnacle Peak. However, Talavera possesses something else that makes it even more special – a kitchen formerly helmed by Executive Chef Mel Mecinas (Photo Below by Debby Wolvos), whose most recent accolade was his induction into the Arizona Culinary Hall of Fame as Chef of the Year.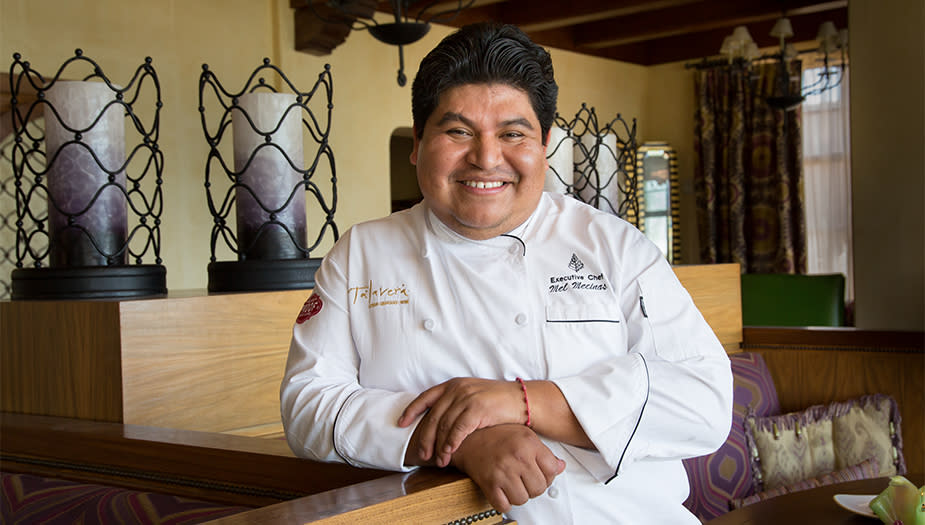 Talavera is described as a modern steak house, but it is much more than that.  While juicy steaks and fresh seafood abound, it's Chef Mel's signature dishes that I'm drawn to. His creativity shines in his versions of surf and turf such as silky beef carpaccio paired with nuggets of sweet lobster, briny capers, and an oozy golden-crumbed egg, or filet of seabass nestled in creamy parmesan and potato "risotto" and crowned with a thatch of braised oxtail.
I'm especially enticed by those dishes displaying his Oaxacan roots and cross-cultural nuances. "I try to interpret my dishes with Latin flavors. You'll find Oaxaca, and then I have aji amarillo, which is South America, and then the achiote which is Yucatán. My menu brings a diversity," Chef Mecinas describes proudly.
This is exemplified in a mélange of tender charred octopus, Spanish chorizo, frisée lettuce and confit fingerling potatoes which is as delicious as it is beautiful (Photo in Header by Debby Wolvos). The finishing touch is a creamy yogurt sauce vividly accented with aji amarillo, a Peruvian yellow pepper.
Born in Oaxaca, Chef Mecinas displays his expertise with Mexican cuisine in his signature bacon-wrapped buffalo with seared foie gras, baby root vegetables, and one of the famed moles of Oaxaca - mole negro.  To make this robust sauce, he uses more than 35 ingredients, including five different kinds of chiles. "It's very elaborate," he tells me. "You can spend a whole day just making mole. With the foie gras and buffalo, you want complex, spicy, rich flavors."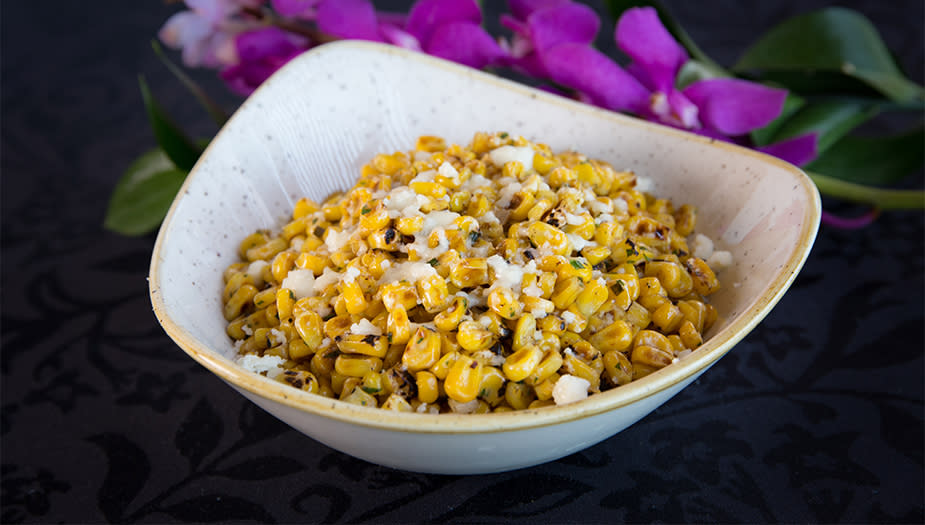 A Yucatán dish called cochinita pibil is his inspiration for the Kurobuta pork chop. It starts with achiote, an earthy Mexican marinade incorporating ground annatto seeds, orange juice, garlic, onion and spices. The glazed bone-in rib chop is embellished with citrus segments, broccolini and endive, and decorated with crumbles of tangy queso fresco and a bold swathe of red chile adobo sauce. Each forkful is a vibrant harmony of flavors.
Steakhouse side dishes likewise stray from the mundane, such as charred corn strewn (Photo Below by Debby Wolvos) with Mexican cotija and queso fresco cheeses or sautéed calabacitas (zucchini) tossed with sweet peppers and caramelized onions. 
"This is my passion, and I'm blessed every day," Chef Mecinas has told me. Discover for yourself what makes Talavera so special. 
Photos by Debby Wolvos