It's a boots and burgers day and those are my favorite days of all. Here's the plan—I hike a few miles on a beautiful trail to work up an appetite, then head for a burger joint and treat myself to a blast of beefy goodness. Walk off a few calories and then pack them on again. I admire the Zen-like simplicity of it. Scottsdale is a boots and burgers paradise because so many great hiking trails ramble through the pristine desert in such close proximity to town and its wealth of eateries.
---
The Hike
---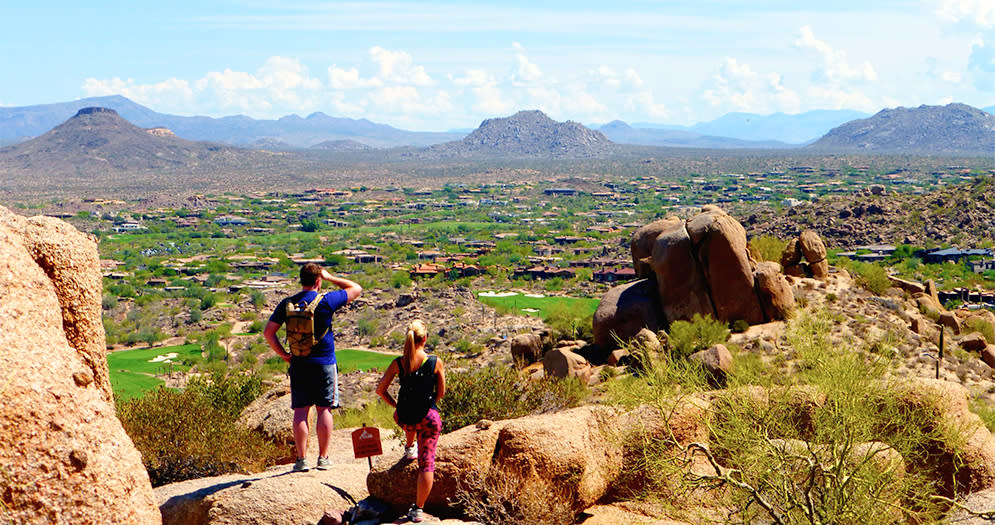 I start by planting boots on Pinnacle Peak Trail, a wide manicured path that clambers up and over the shoulder of one of Scottsdale's most distinctive formations. Pinnacle Peak is a sudden vertical thrust of stone—like a rocket carved from granite, sitting on a launchpad ready for lift-off.  If the Flintstones had attempted to put men on the moon, this is what their crude vessel would have looked like. Pinnacle Peak Trail provides a genuine workout with plenty of ups and downs as it scrambles through a classic Sonoran Desert blend of saguaro, cholla, ocotillo, creosote and more. I love this land that seems so harsh at first yet bristles with life. Hikers will find informational signs and regular mileage markers to chart their progress.
The 1.75-mile trail skirts the actual summit leaving that protrusion for experienced rock climbers. From the trailhead, it switchbacks up the eastern slope through a jumble of tawny boulders, some the size of SUVs. It swings around the backside of the formation and views spill away in all directions. Situated on this high perch in the shadow of the summit is the first of two rest stop/overlook combos. I pause to catch my breath—stolen by both the climb and the lavish panoramas. Scottsdale nestles in the Valley of the Sun with a skyline dominated not by steel and glass but by rock and mineral. Ancient mountains rise in cloud-spearing thrusts from all quadrants of the valley, adding drama to every horizon. Holy cow! No wonder I hike as much as I do.
The trail descends the western side of Pinnacle Peak and reaches a saddle before climbing the flank of another rocky hill. The emerald green of the Estancia Golf Club and the sparkling pools of luxury homes add splashes of color far below.
This is not a loop trail. I reach the western terminus and retrace my steps, except all the previous downs are now ups and the ups now downs. I feel like I'm earning my burger. Long before I'm back at the trailhead, with 3.5 miles under my belt, I know exactly where I'm going to eat.
---
The Meal
---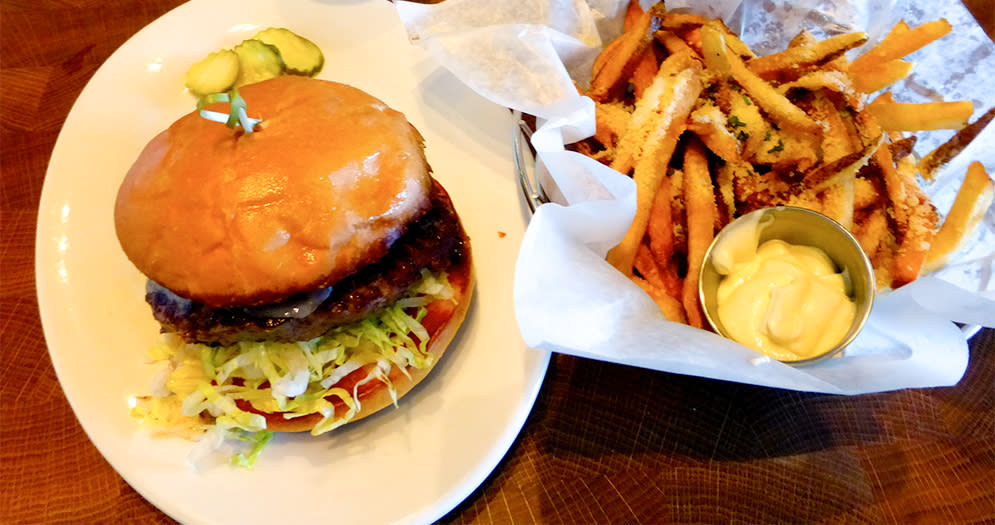 Zinburger occupies a corner of stylish Scottsdale Quarter. The restaurant is a bright, cheerful place with rustic tables inside and a patio shaded by towering palm trees. I order the signature Zinburger, a basket of their ridiculously addictive truffle fries and a milkshake of sea salt caramel, which is butterscotch that's gone through puberty.  
It's a beautifully balanced burger, a fresh ground Angus patty topped with manchego cheese, Zinfandel-braised onions and shredded lettuce. The mild nuttiness of the cheese and sweetness of the onions enhance the flavor profile of the juicy beef without stealing the spotlight. And the shredded lettuce is a nice retro touch, reminding me of the burgers of my youth. Anytime a burger stirs not just taste buds but memory, I know I'm biting into a masterpiece. Bravo! 
It's just after lunchtime and I've already had a fantastic day, a boots and burger day. What's on your agenda?