Welcome
Thank you for your interest in joining Experience Scottsdale's corporate partnership program and becoming a Destination Champion.
For over a century, people have traveled great distances to relax and rejuvenate in Scottsdale. Tourism is the foundation of our city and the backbone of our local economy. Though our economy has diversified with the expansion of construction, high technology, healthcare and other industries, Scottsdale's first industry remains one of our largest today – in jobs, tax revenue, economic impact, and, most notably, in its contribution to our quality of life.
Scottsdale's visitors generate demand for the amenities we enjoy here in Scottsdale. We all take advantage of our resorts, golf courses, spas, arts and cultural attractions, shops, restaurants and more. Such luxuries make Scottsdale a vibrant and dynamic place to live, work and visit.
Thus, we all have a stake in the health and vitality of Scottsdale's tourism industry and destination promotion. Since 1987, Experience Scottsdale's promotions have ensured that Scottsdale's brand as a luxury travel destination remains strong and that millions of visitors land in our community every year.
By becoming a Destination Champion, you will contribute to the strength of Scottsdale's tourism industry and overall economic prosperity. We look forward to sharing more about this program with you.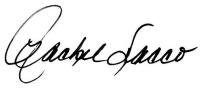 Rachel Sacco
President & CEO
---
Our Destination Champions