Scottsdale was once a little bitty cowtown, but has thrived in one of the world's lushest deserts, known as the Sonoran Desert. A procession of tribes and peoples have called this biologically diverse landscape home over millennia, and you could spend years reading about all of them in a library. Or you could join a half-day jeep tour with an Arizona cowboy named Walker from Wild West Jeep Tours.  Walker loves our history and likes to talk, a lot. Because I like to partake of history on the actual ground and while breathing fresh air, I jumped in Walker's wagon, er, Jeep, with four greenhorns and rode out on a cool early morning northeast of Scottsdale towards the Tonto National Forest.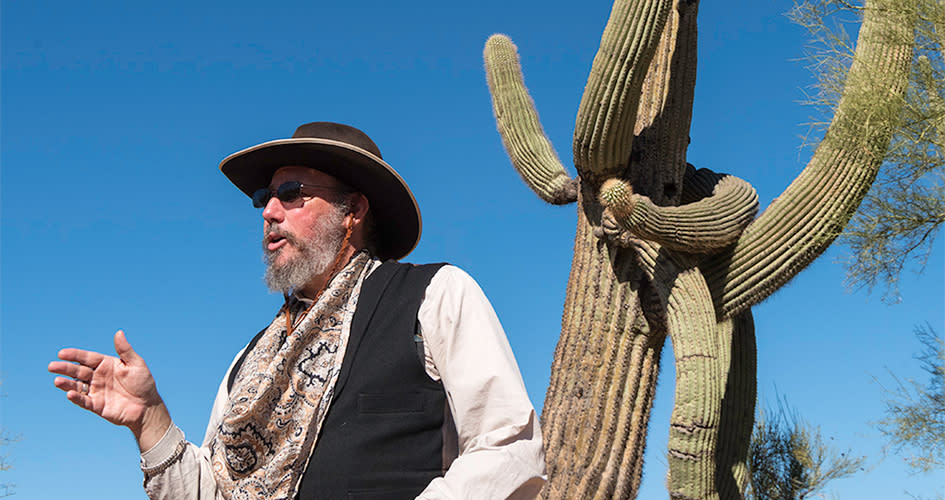 Now I've met cowboys who rope, write poetry, and a few who can sing, but Walker was my first cowboy historian. His command of factual events and wealth of detail brought the past alive - Apache wars, the real story of the Lost Dutchman (he was German), how Hollywood got fooled with the cactus water trick and so much more. I learned how Apaches used the cholla cactus as a weapon, which plants can save or take a life, and that saguaro fruit was used to make a wine called Tuzigoot. Through it all, Walker infused his tales with frontier humor and sly punnery.
He spun these tales while learning our names and threading the Jeep through groves of saguaro, over bumpy ridges and along dry washes that fill with water at the drop of a hat. The vistas stretched from Four Peaks to the Superstitions and the McDowell mountains, and I could now envision the U.S. Cavalry riding these ridges in 1858, as well as Hollywood cowboys mere decades later.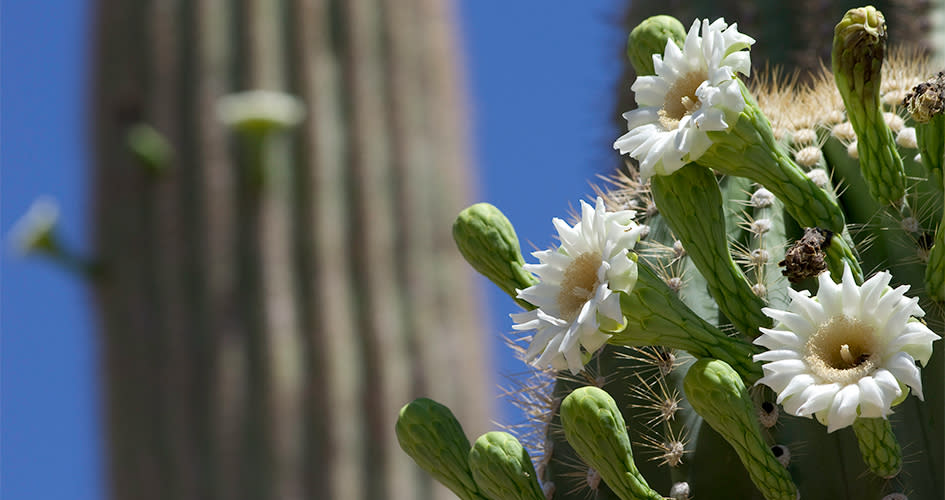 In spring, the golden poppies glow and give way to cactus blossoms, and the Sonoran Desert shows its true colors. By May, the saguaro's white flowers shine and in July their wine red fruit draws birds, where native women once gathered the bounty. Even as a local, I now know this desert a bit better, and long to learn more. And you can bet that Walker has a few more stories to entertain us with, of critters and cactus and cowboys in his beloved Sonoran Desert.
Book a tour by clicking here or by calling 480-922-0144. Both morning and afternoon tours are available and include beverages and hotel pick-up.  $99 for adults; $89 for ages 12 and under.