Expansive and striking, the singular lines of Scottsdale's Sonoran Desert have inspired dreamers and doers for millennia. Prehistoric settlers fashioned adobe bricks and intricate irrigation systems that transformed the desert into farmland. More recently, Frank Lloyd Wright, Paolo Soleri and their apprentices created a bold desert vision in Scottsdale that remains relevant today. The latest wave of architectural achievement reflects strong environmental values, cutting-edge design and a unique desert setting recognized the world over.

---
DESERT VISIONARIES
---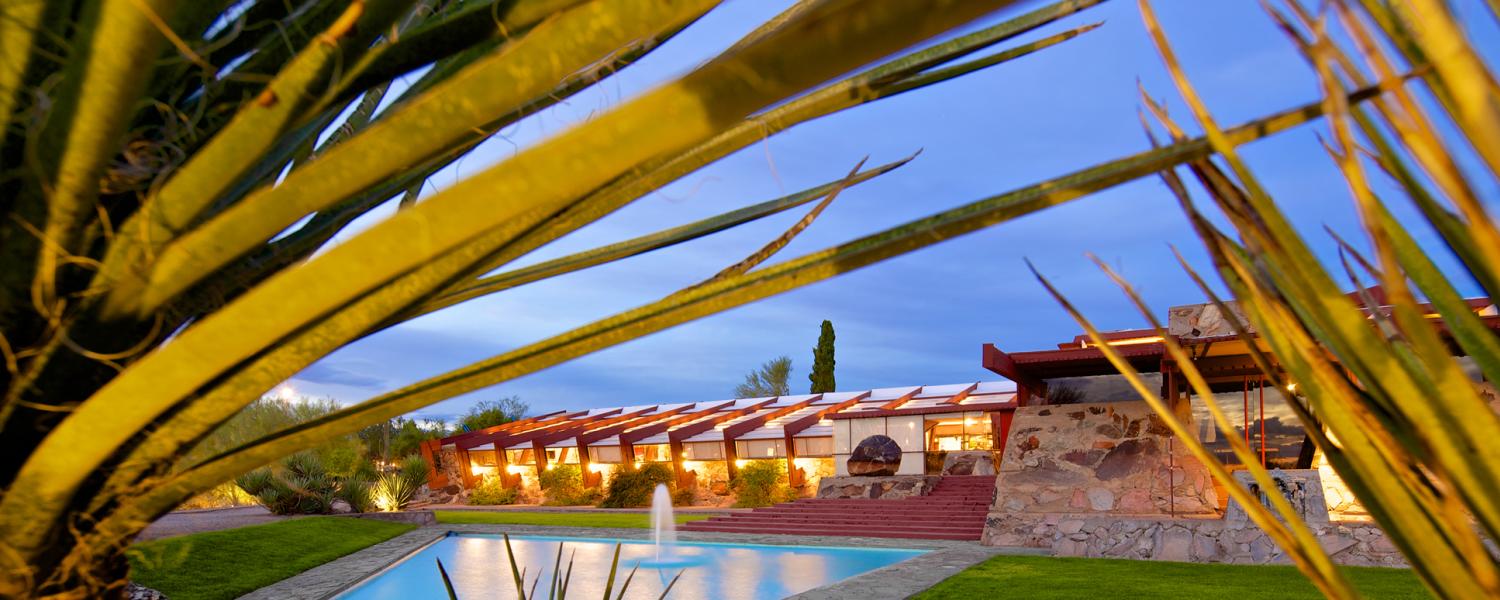 ---
FRANK LLOYD WRIGHT
Internationally renowned architect Frank Lloyd Wright came to Scottsdale in 1937 and began building his winter camp, Taliesin West that year. Wright created a new form of desert architecture and established a legacy that is seen at the headquarters of the Frank Lloyd Wright School of Architecture. Travelers from all over the world come to Taliesin West, a National Historic Landmark and the living laboratory of Wright's ideas.
Over the years, the Frank Lloyd Wright Foundation has made many renovations to Taliesin West and has added new tours, to give visitors the opportunity to experience Wright's winter home as he would have many years ago, and peek into what inspired the genius architect's creativity.
Visit the mastermind's private quarters and living room, the drafting studio, Music Pavilion, Garden Room and more on the Insights Tour, Taliesin West's signature offering.
The "Guided by Wright" Tour takes guests on a unique, multi-sensory journey through Taliesin West and Frank Lloyd Wright's ideas. The program uses voice recordings from Frank Lloyd Wright himself to allow visitors an opportunity to tap into his designs and what inspired them.
Armed with a desire to live in harmony with the environment, apprentices at the Frank Lloyd Wright School of Architecture offer a wealth of knowledge and insight into life in the Sonoran Desert. Take the Desert Shelter Tour November through April to see the desert dwellings designed and built by the students.
Wright's vision and influence are seen throughout Scottsdale, and one of his most noted designs is the spire at the Scottsdale Promenade shopping center. Originally designed for the Arizona State Capitol building, the steel-framed structure is 20 feet wide at the base and 125 feet tall, painted in a copper tone and illuminated internally at night.
---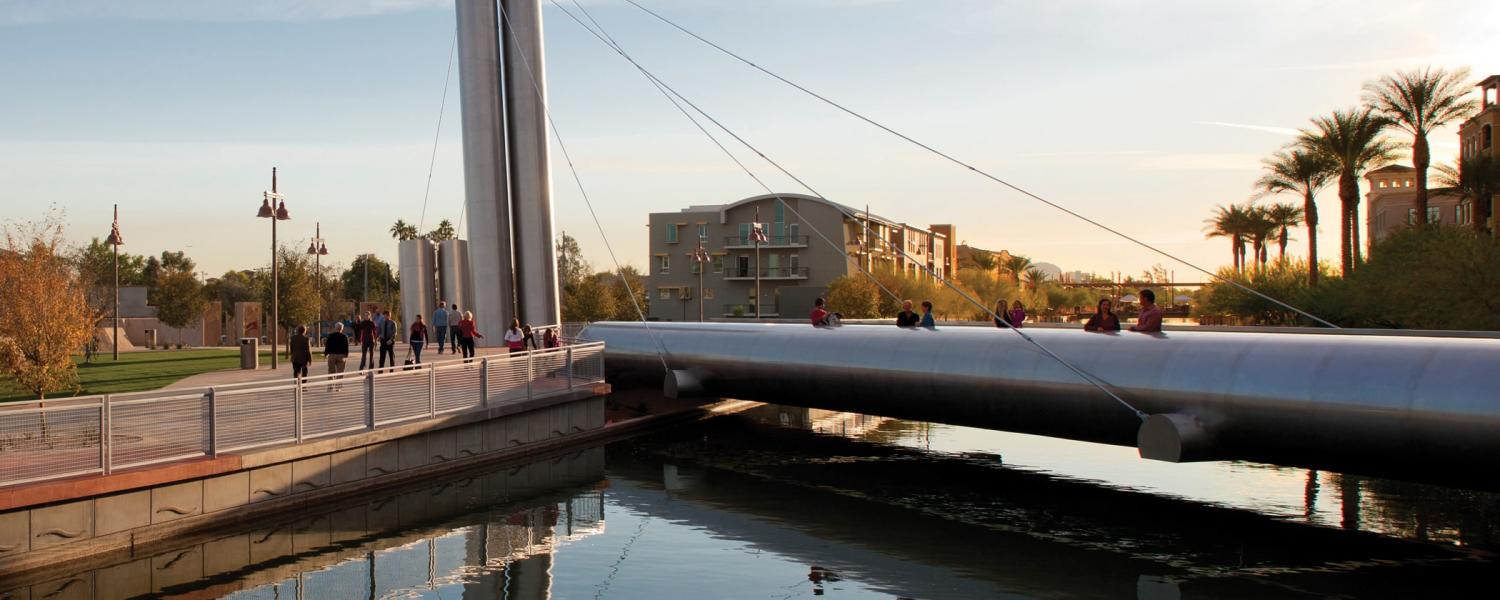 ---
PAOLO SOLERI
The late Italian-born designer Paolo Soleri came to the U.S. in 1947 and spent nearly two years in fellowship with Wright at Taliesin West and Taliesin in Wisconsin. During this time, Soleri gained international recognition for a bridge design displayed at New York City's Museum of Modern Art. In Dec. 2010, Scottsdale became home to the first and only Soleri-designed bridge.
The Soleri Bridge and Plaza in Old Town Scottsdale is the second pedestrian bridge connecting the Scottsdale Waterfront and SouthBridge, across the north and south banks of the Arizona Canal.
The bridge, framed by a 22,000-square-foot plaza that serves as a gathering place for special events and performing arts, demonstrates the importance of solar movement. It is also a Scottsdale Public Art permanent work.
Soleri demonstrated a life-long commitment to research and experimentation in urban planning. He is best known for Arcosanti, the prototype "arcology" community, founded in the high desert in 1970, approximately 70 miles north of Phoenix. Arcology – architecture in harmony with ecology – posits that cities should be designed to maximize the accessibility associated with an urban environment while minimizing the use of energy, raw materials and land, reducing waste and pollution, and allowing interaction with the surrounding natural environment.
Soleri made the Scottsdale area his home in 1956, and built his studio and residence on a site now known as Cosanti – designated an Arizona historic site – in Paradise Valley.
The word Cosanti is the combination of Italian words, "cosa" (things) and "anti" (against), thus describing the minimalistic and sustainable vision for Soleri's arcological communities.
It is the headquarters of the Cosanti Foundation, a nonprofit educational organization Soleri established dedicated to architectural research. It is also the foundry, studio, and gallery for Paolo Soleri Bronze & Ceramic Windbells & Sculptures. On weekday mornings, visitors can catch a live demonstration of the bronze bells being poured.
---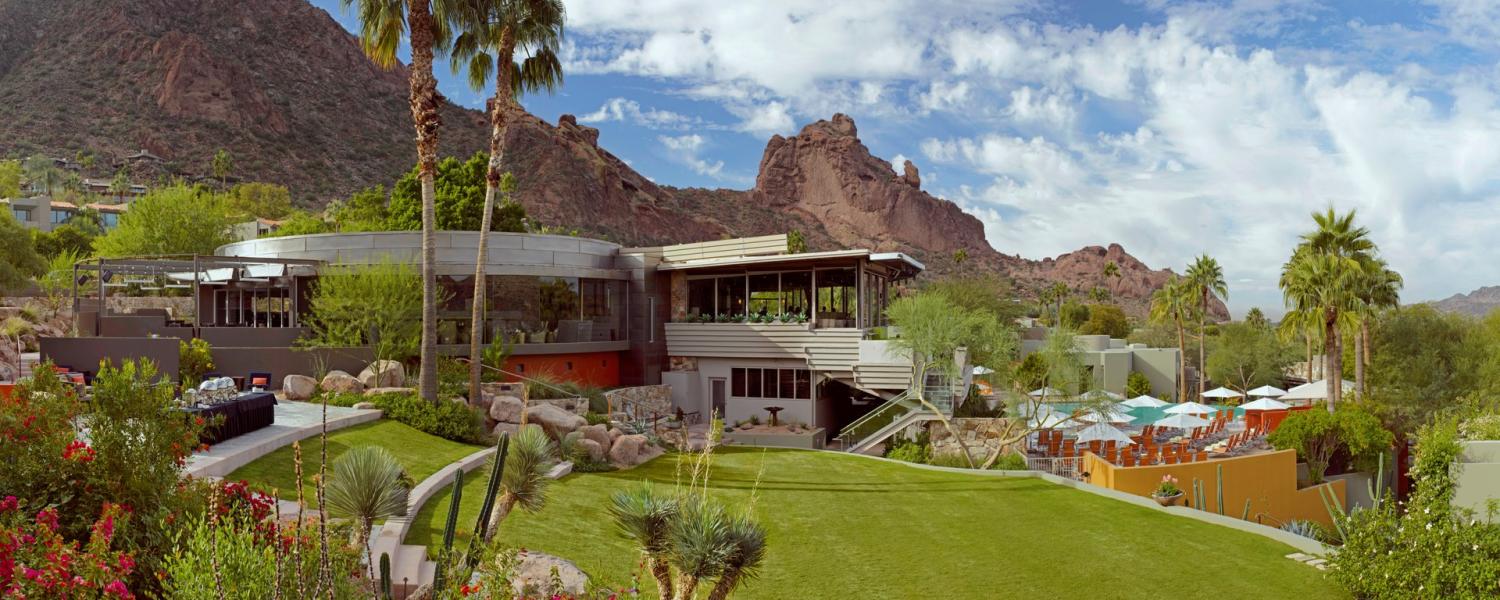 ---
WRIGHT-INSPIRED DESIGN
---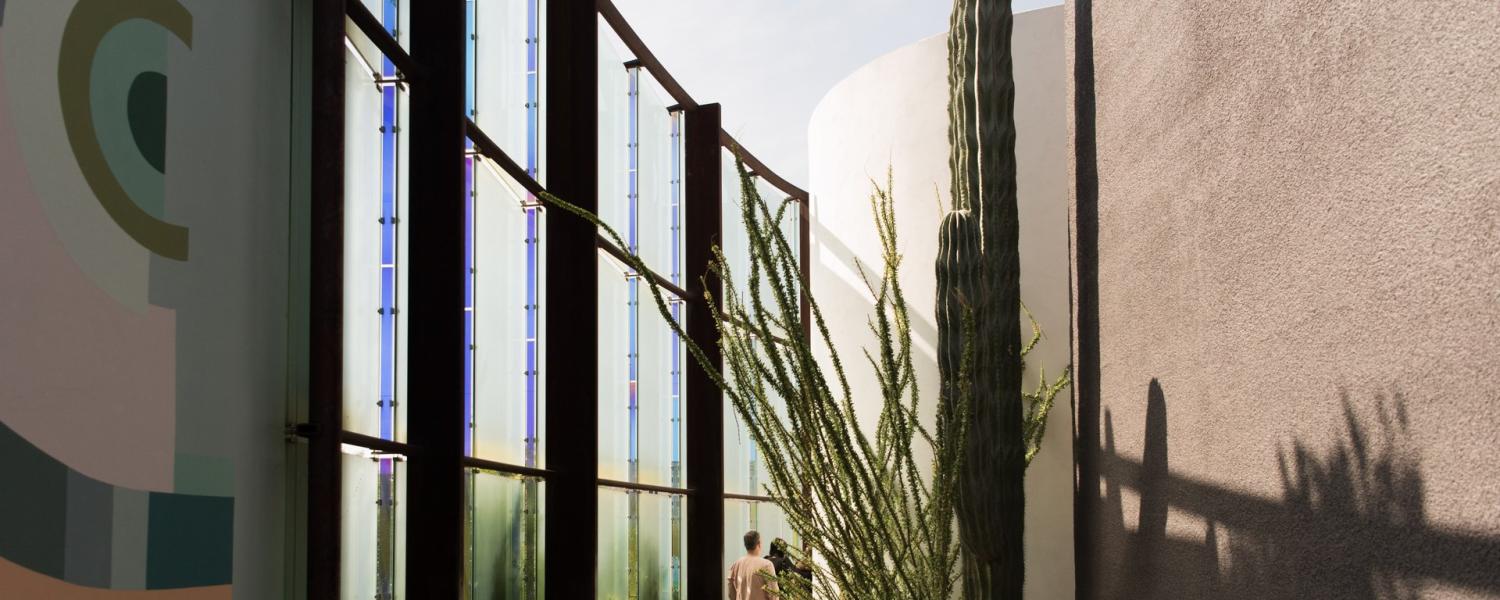 ---
MODERN MARVELS
---

---
TAKE A TOUR
For an insider's look at some of the best midcentury modern architecture in Scottsdale and beyond, the iconic Hotel Valley Ho offers the Insider Mid-Century Tour of Scottsdale, led by expert Ace Bailey of Ultimate Art & Culture Tours, and showcasing incredible buildings by Frank Lloyd Wright and other notable local architects. Kick off the day with a Magical History Tour of the resort, followed by a tour of the Garden Apartment District, for a special look inside a midcentury modern townhome. Then, savor lunch at Postino Wine Café (Highland), housed in a stunning midcentury building before embarking on an extensive walking tour of the Price House in Paradise Valley, the largest house that Frank Lloyd Wright built in Arizona; all while getting a driving tour of several notable midcentury gems.