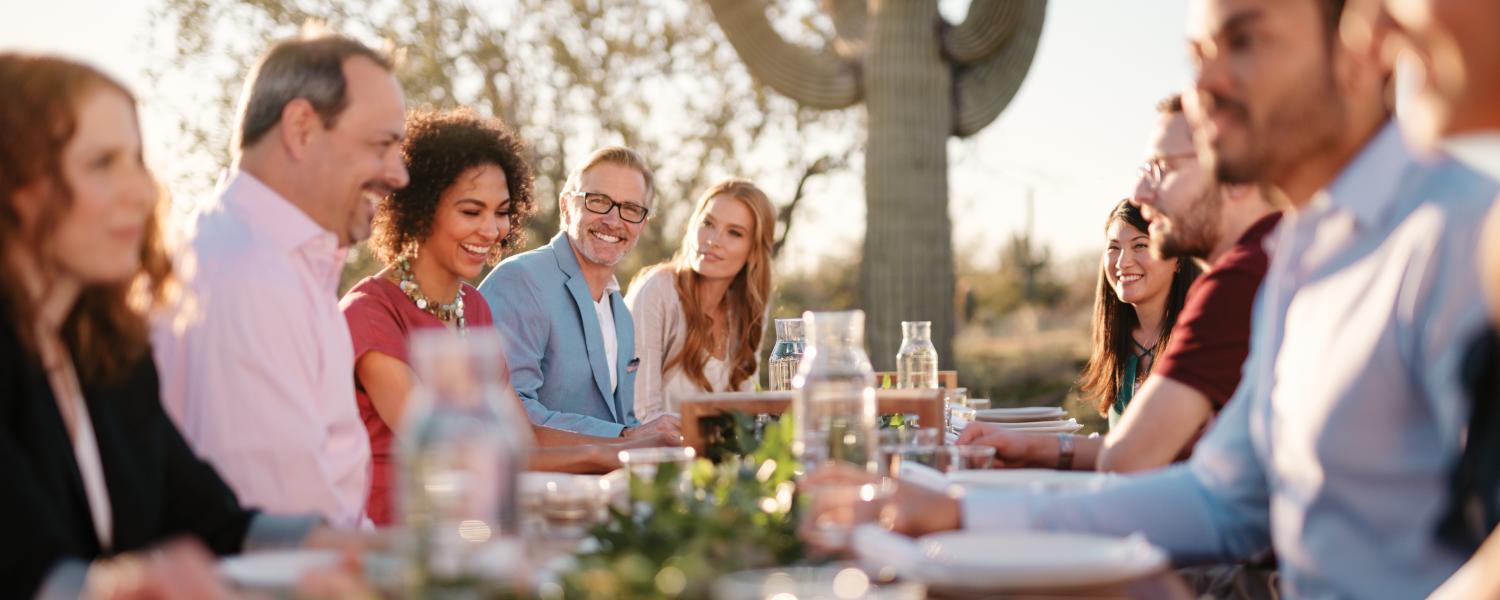 ---
Why Scottsdale Is a Perfect Fit for Associations
Scottsdale, Arizona is the destination association event attendees have been waiting for. With increased interest in turning business trips into bleisure experiences, your members can now be treated to luxurious offerings and an abundance of activities in this desert oasis.
The natural beauty of the Sonoran Desert alone will attract attendees, with brilliant perks like:
330 days of sunshine;
Off-site activities; both indoor and out
Top-tier accommodations
State-of-the-art meeting facilities
Hassle-free transportation.
Scottsdale truly is the best of all worlds, combining a unique climate with the niceties business travelers have come to expect.
Convenience and all-star hotels add to the appeal—to say nothing of the world-class food and beverage. And there isn't a safer community in the country. Attendees will have so much to do and explore that Scottsdale will indeed be an escape from the daily grind.
There's a mix of stellar traditional meeting spaces and unusual outdoor venues—ideal for larger groups. Even better, great deals are here for the taking for any association able to convene during the shoulder seasons. Regional gatherings and intimate board meetings will appreciate Scottsdale's glorious resorts and spas. Finding luxury will never seem so easy or affordable, with too-good-to-be-true incentives for site visits offered year-round.
As studies have shown, an event's host destination only trails education as the top factor to draw members to association annual meetings and conventions. Finding time to travel—leaving office, work, and family behind—can be a struggle. But when the trip of a lifetime comes calling, attendees will answer.
The food, culture, and ecosystem lend themselves to dynamic off-site excursions and perfect solutions to pre- and/or post-event planning. Here are just a few ways Scottsdale has become the premier choice for associations ready to take their events to the next level.
Convenience
With your attendees' time at a premium, the quick 15-minute car ride from Phoenix Sky Harbor International Airport will start the meeting on the right foot. There's nonstop service to and from 128 destinations worldwide, making the region among the most accessible you will find.
Choice Properties
With more than 70 hotels and venues (totaling more than 13,500 guest rooms) ready-made for events, there is something for any type of meeting—from a citywide affair to intimate gatherings of a dozen or fewer decision-makers. Beyond ballrooms and meeting spaces, attendees will enjoy the pools, water parks, cultural programming, and vibrant art displays that reflect the region's unique culture. The attention to detail is what sets the hospitality community apart.
Experience Scottsdale
There is an array of options for themed receptions or cultural celebrations ideal for association members with shared interests. These activities will take your event to the next level and promote interactivity on-site and instant sharing on social media.
Upscale cowboy cookouts;
Traditional Native American celebrations;
Arabian nights at Los Cedros, an authentic Moroccan citadel;
Celebrate the unique history and beauty of the American West at Western Spirit: Scottsdale's Museum of the West, an award-winning Smithsonian-affiliate;
Be inspired by La Noche en Mexico, including a salsa-making contest;
Hit a home run at Scottsdale Stadium. The spring training home of the San Francisco Giants is available for private rentals—including indoor and outdoor venues—
from April through December 31;
Trek via Jeep or Hummer to the Sonoran Desert for dinner with breathtaking views of starry skies.
There are more than 60 off-site venues to build memorable events. No matter your group's taste or budget, the Experience Scottsdale staff is ready to make your dreams a reality.
Fresh Air
Nothing could feel farther from an office cubicle or Zoom screen than the magnificent Sonoran Desert. Blue skies and sunny weather are present more than 330 days per year—which is Mother Nature's way of extending her welcome. Nothing is better for finding that proverbial fresh air than by actually enjoying paradise out in the open.
There is never a bad time to visit, but summer months and shoulder seasons will be bright spots for your budget!
Go Golfing
Finding some tee time is a must for certain attendees. There are more than 200 courses in the "World's Finest Golf Destination." Consider a charity-based golf tournament, networking on the links, or pre- and/or post-event excursions to these fine sports venues.
Rejuvenate
Be sure to take advantage of the more than 50 spas in Scottsdale. This will hit just the right spot with many attendees and provide a natural break for a hard day or two's worth of meetings.
See It for Yourself
Scottsdale may sound too good to be true, and it almost is. But you will be a believer after a site visit. To prove it, Experience Scottsdale will cover the cost of a flight to check out everything the area has to offer with an ideal itinerary for your visit, arranged transportation, and availability for any needs. Submit an RFP here, then start packing your bags.
A change of scenery will do your associations loads of good. Scottsdale is the right mix of unique culture, delicious food, and amazing amenities to maximize your group's time together. The sun is calling—and it's time to answer.