Scottsdale's beautiful Sonoran Desert is known for its picturesque nature strolls, but if you're an avid hiker looking to elevate your heart rate as well as your views, get ready to work up a sweat. These challenging fitness hikes offer a workout where the scenery won't be the only thing to take your breath away.
Before you tackle any of the hikes below, please read the section on desert hiking safety, and know your limits. These challenging trails are only for experienced hikers in good health.
---
---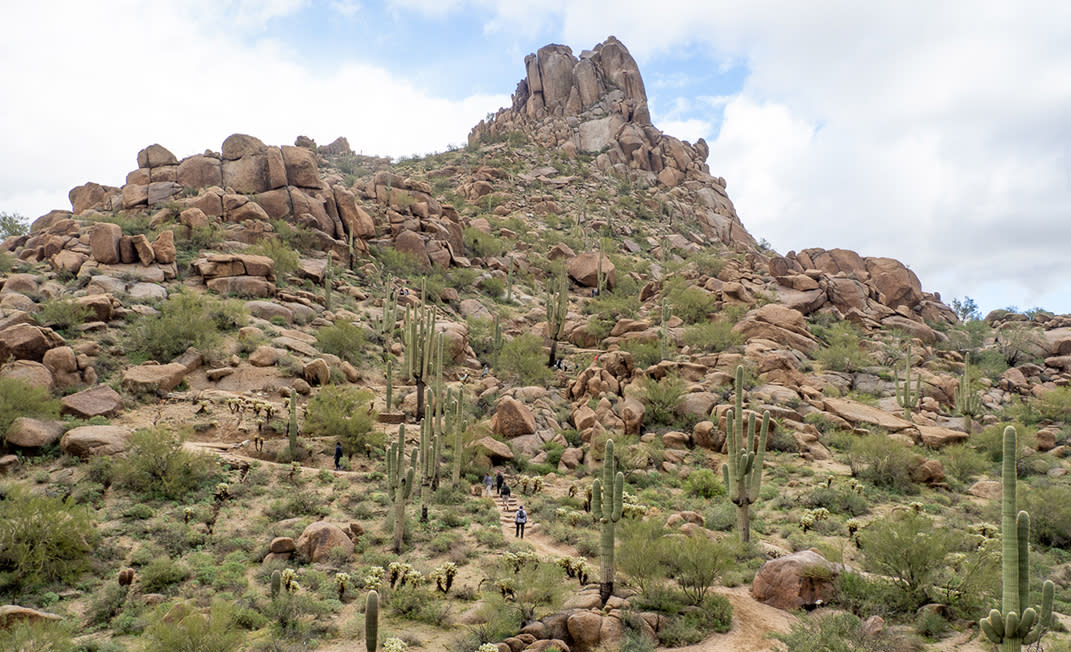 You'll be sharing the trail with other hikers on this local favorite, but it's good company for the approximately four miles of crisscrossing switchbacks, ascents, and iconic, saguaro-studded landscape and granite rock formations. Get your heart pumping as you head up to the 2,889-foot high point of the trail and admire the mountain's pinnacle-shaped namesake summit at a distance. After rounding the backside, stop at the Grandview rest for a panorama with markers of nearby formations, and continue on for a stretch of easy footing and a peek at distant Camelback Mountain. As you approach the steep descent of the trail, don't forget that you'll head back the same way, and what goes down, must come back up! While classified as moderate difficulty, the trail can be amped up by jogging or trail running – just be sure to yield to hikers.
---
---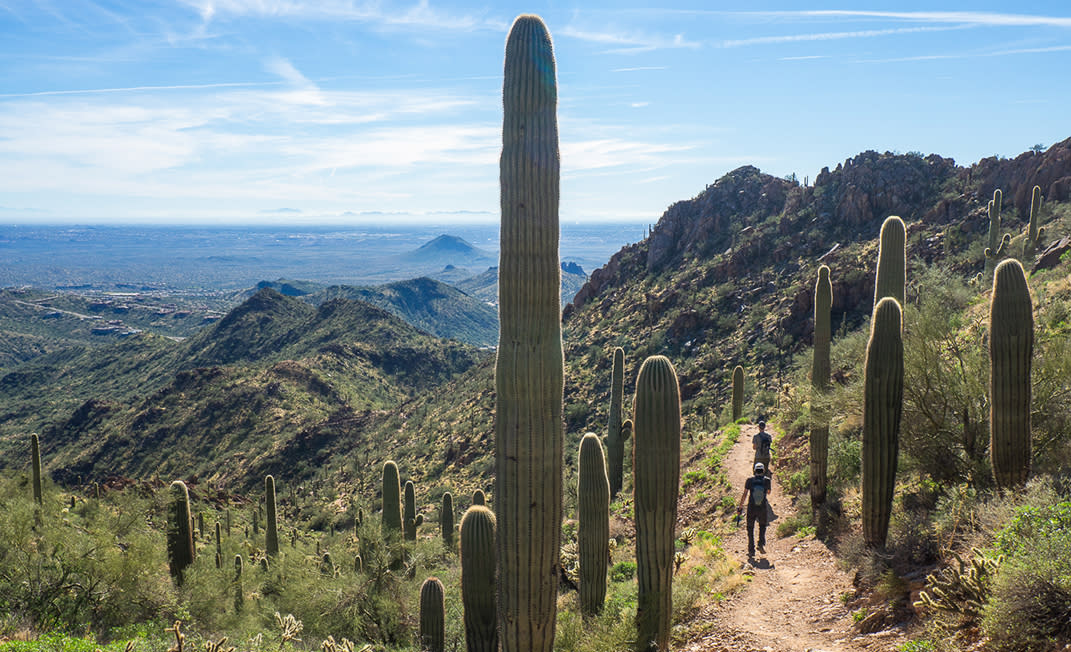 Located in Scottsdale's pristine McDowell Sonoran Preserve, this destination peak is a perfect two-hour hustle for the top. The trail begins in a lovely valley of ocotillo and desert shrubs before winding up to a series of overlooks. Hikers can pause and catch their breath at the 1.2-mile Sunrise Scenic View, then buckle down for .8 miles of steep switchbacks in an enchanting forest of saguaro cacti (and don't forget to look behind you at the rugged, rolling hills as you ascend). The last stop before the peak is a great water break and chance to enjoy the breeze, then it's up a quarter mile to the summit, where a panorama unfolds in all directions.
---
---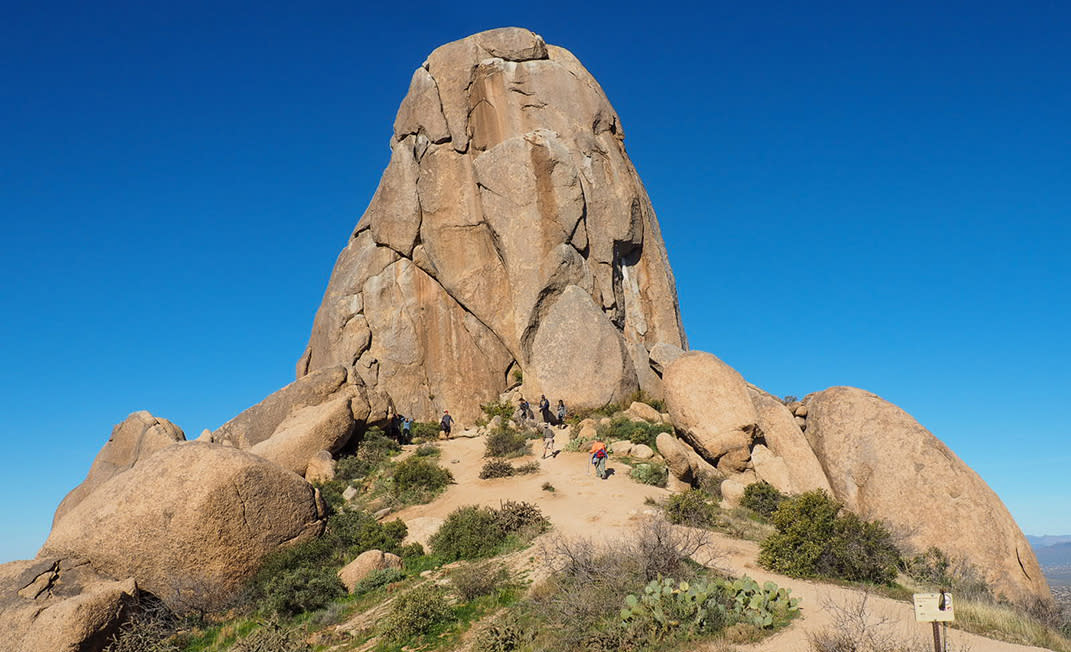 If you love a challenge with a big scenic payoff, the popular Tom's Thumb Trail in Scottsdale's McDowell Sonoran Preserve is your pick for a photogenic, heart-pumping climb. Tackle the switchbacks at the beginning of this 4-mile out-and-back trail and marvel at the elevation you're gaining over the sprawl below. Once you've hit the spur, enjoy the views in a playful landscape of quirky granite boulders. The trail is well-maintained and easy to follow to the namesake formation – a tall, jutting "thumb" of rock that's perfect for a posed photo op. You might even see rock climbers on the thumb or the sheer ridge face of Gardener's Wall nearby. Depending on how long you rest at the top, you could be up and down within two hours.
---
---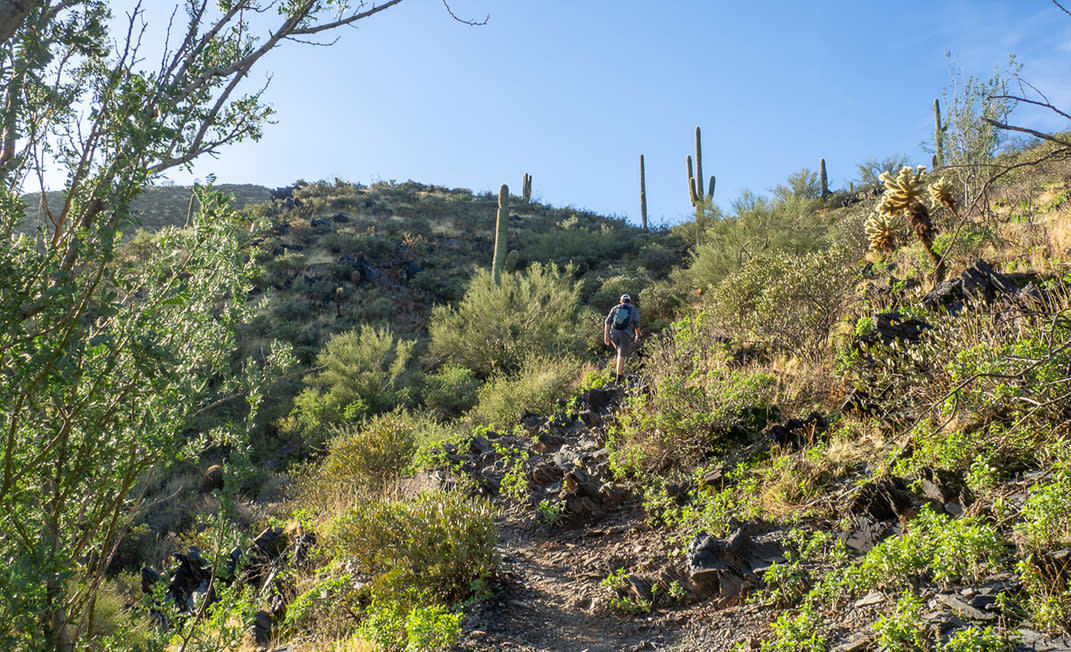 The summit is the goal on this strenuous out-and-back climb that clocks in at a total of 4.4 miles. The steep, primitive trail kicks off with a gradual gain over the local Cave Creek area, where saguaros, chollas and ocotillos watch over your march to the top. After a tough scramble, you'll find yourself perched on a point where the vistas unfold with a birds-eye view to the north⁠. But there's still more to go! Stay diligent toward the United States flag in the distance that marks the trail's end and mind your footing on the shale rocks that form the path. As you take a well-earned breather, you'll spy plenty of other Scottsdale formations from the summit, such as Pinnacle Peak and the McDowell Mountains. Plan between 1 and 2 hours depending on your pace.
---
Desert Hiking Safety
---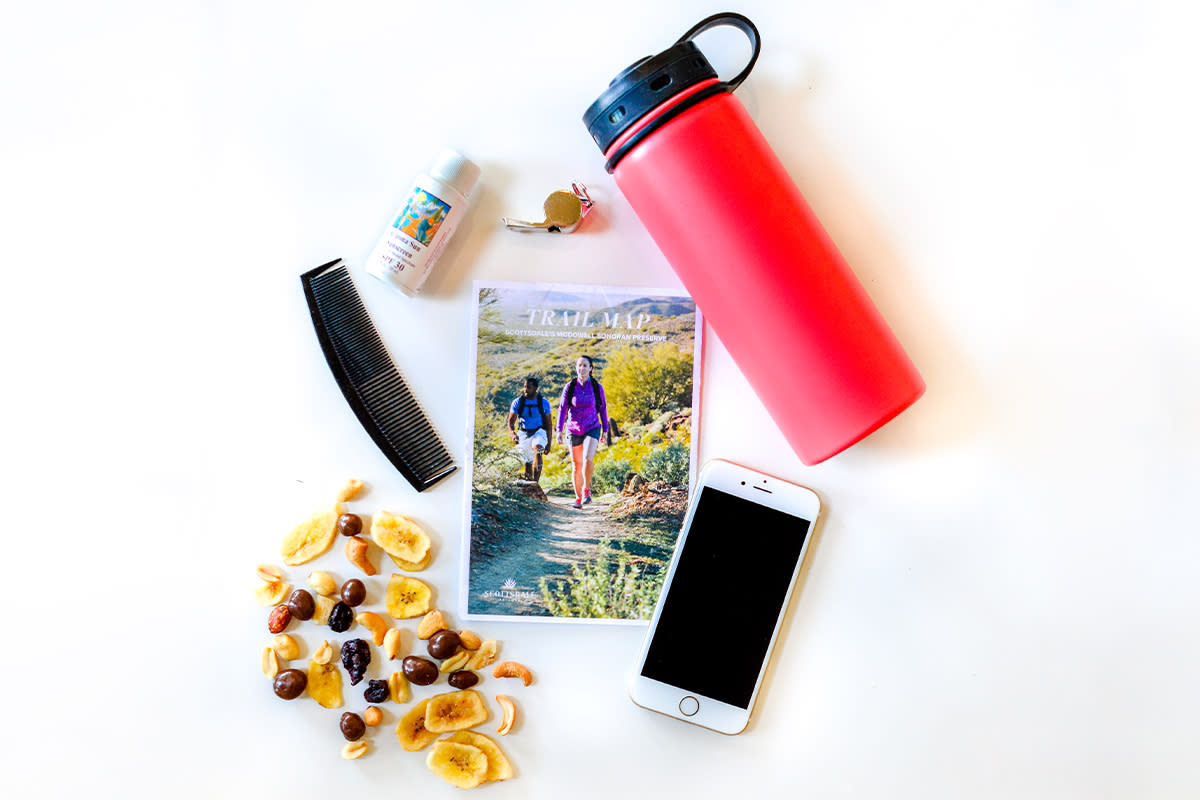 The sunny Sonoran Desert brims with beauty and entices exploration, but even the most avid, healthy hikers must be aware of and prepare for the unique demands of the desert. Hydration is critical, and for any of the listed hikes above where you can expect to be outside for around two hours, you'll need at least a quart of water per person. A gallon is even better. Don't hike when the temperature is over 90°F/32°C and respect your limits as you plan to tackle hikes rated with difficulty. Always carry a fully charged cell phone. Know before you go, check out our summer hiking safety guide.