The signature living symbol of the Sonoran Desert is undoubtedly the saguaro cactus. Known worldwide for their towering stalks and graceful arms, they frequently appear in ads, movies and art. But of the 50 million or so saguaros found throughout the Sonoran Desert's 100,000-square-mile range, some of these stately giants have clearly gone haywire. These freaks of nature are called crested, or cristate, saguaros, and can assume many forms, from the exalted ring crest (only 71 are known to exist) to a myriad of wild natural designs. The exact reason they grow as they do is not conclusively known. Possibilities are lightning strikes, frost damage, a hormone imbalance or a genetic flaw.  Whatever the trigger, they are highly unique individuals, and I see them as living desert art.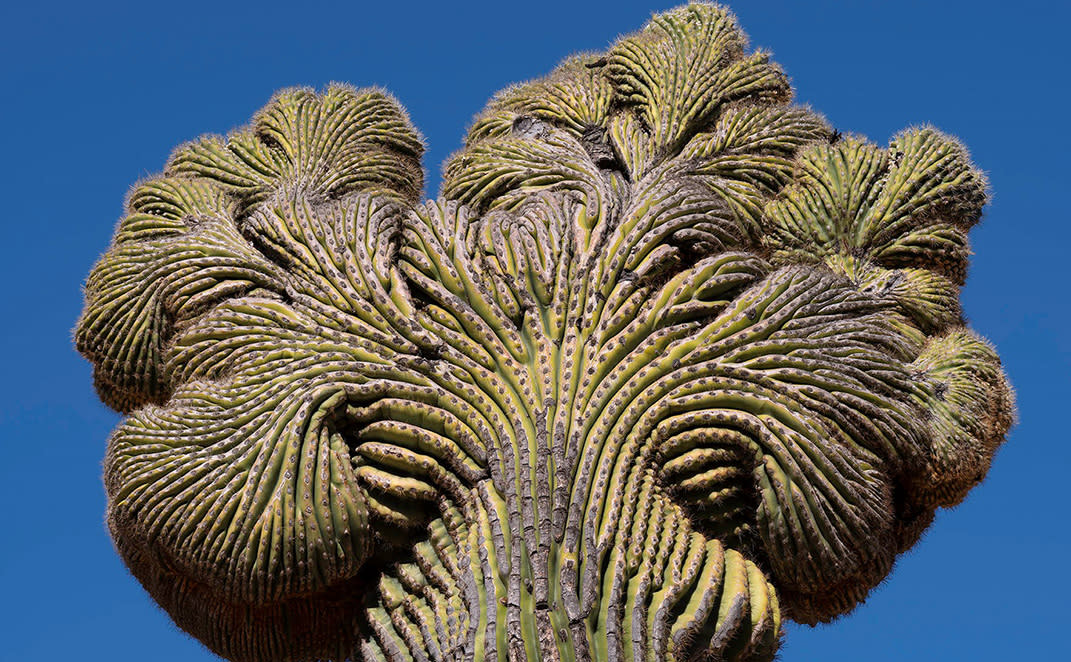 There are about 2,200 known crested saguaros, many of which were found, charted and recorded by the indefatigable explorers of the Crested Saguaro Society. Once you discover the beauty and rarity of these exotic cactus sculptures, you may, as I have, seek them out by hiking new trails and roaming bumpy backroads in a quixotic search for their bewildering beauty. The crests are scattered beings, with some found close to Scottsdale, while other notable examples can be found near Tucson and in Organ Pipe Cactus National Monument in southern Arizona. If you need a reason to get out and stretch your legs, here are three crested saguaros that will help you start your own personal quest.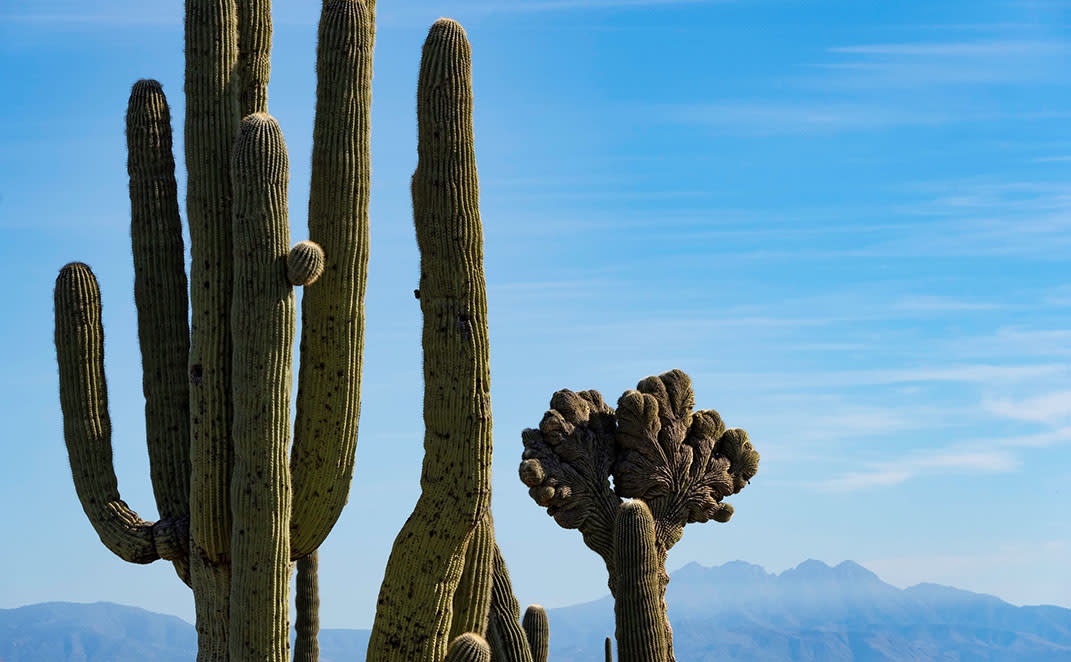 My favorite local crested saguaro is found on a loping, scenic trail in North Scottsdale's McDowell Sonoran Preserve. This outstanding specimen is a regal double crest, and is located at the junction of the Coyote Canyon and Desperado Trails. Park at the Granite Mountain Trailhead and grab your water, hat and sunscreen. You'll hike a series of trails to reach this great crested saguaro. The round-trip distance is 3.7 miles and good maps are available at the trailhead.
As you view this crested beauty, or any saguaro for that matter, please note that these cacti have shallow, delicate root systems, and can be killed by excessive foot traffic near their base. They also are top-heavy, which makes them vulnerable to high winds, particularly if their roots are damaged. So be sure to stay back at least ten feet and marvel at their wildly whimsical forms from a distance.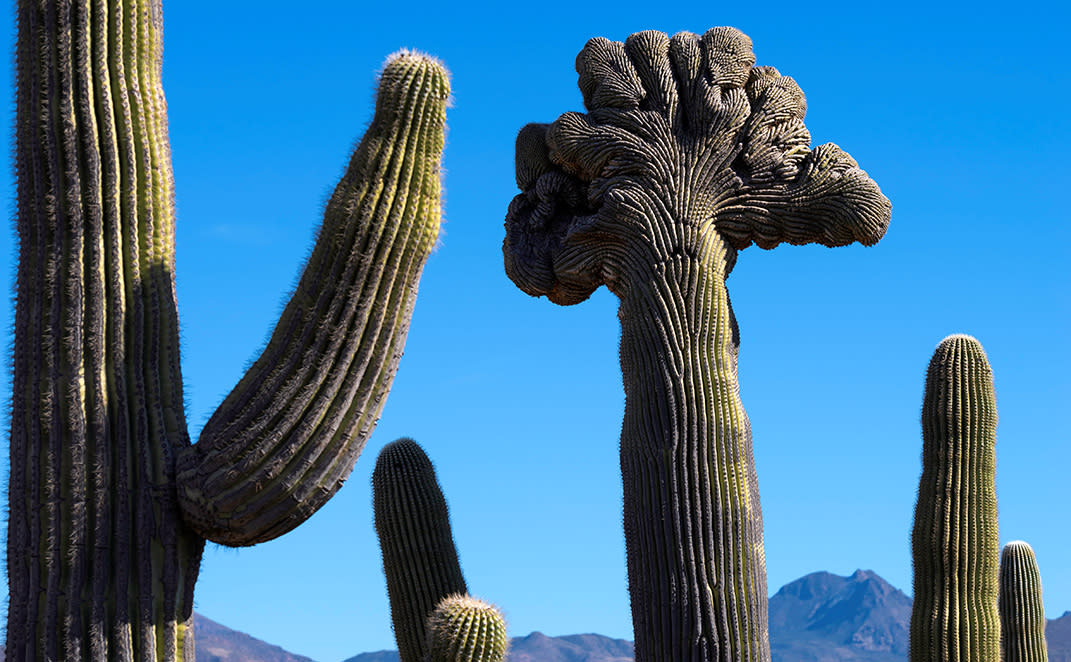 Further north, just outside the quirky towns of Carefree and Cave Creek, you'll find a gorgeous crested saguaro located off N. Horseshoe Dam Road about 50 yards up a small hill. This specimen sports a single shield crest atop a sturdy trunk and is esthetically pleasing with its swirling lines and wavy contours. To find it, drive northeast on Cave Creek Road, turn right on Bartlett Dam Road, then left on N. Horseshoe Dam Road. Drive 3.2 miles on N. Horseshoe Dam Road, stop, and look up to your left. Feel free to pull over, park and stroll up the hill for a closer look. Just remember to stay back several yards to protect the crest's fragile root system. Note: N. Horseshoe Dam Road is paved until you reach the final section but is passable for 2WD passenger vehicles.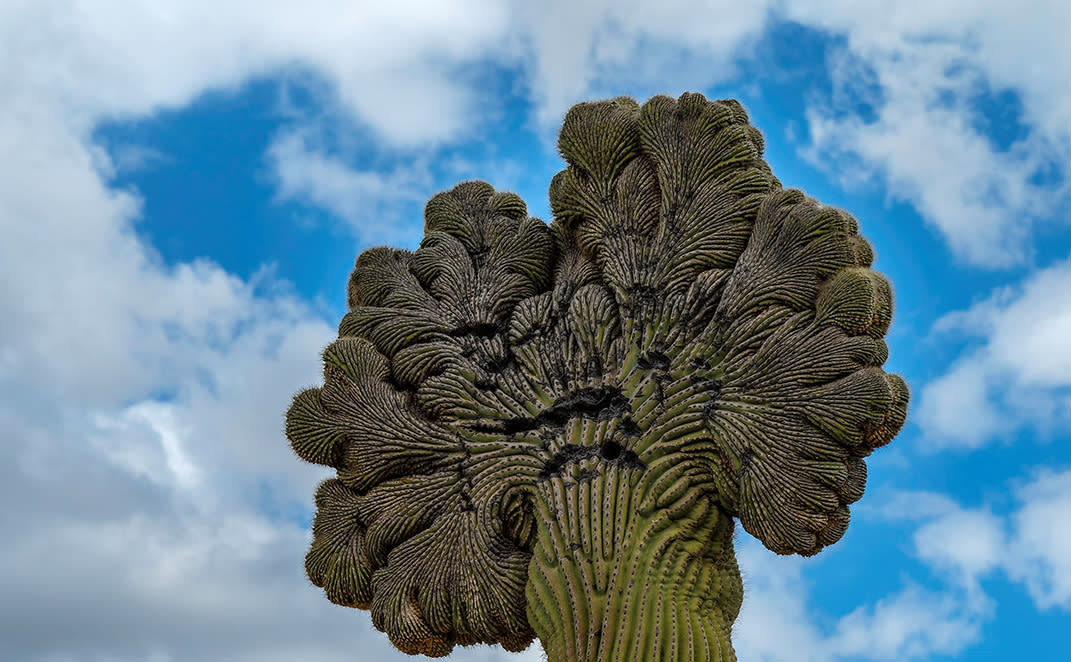 Another outstanding specimen can be found just a half-mile from the newly opened Pima Dynamite Trailhead in the McDowell Sonoran Preserve. Stroll northeast on the Latigo Trail, until you near an outcrop of tan-colored granite boulders. This crest boasts a distinctive fan shape, which is one of the more common natural designs. It's a beauty!
Most crested saguaros are buried deep in the desert and not everyone is keen to share the location once they've been discovered. But now when you go hiking in the Sonoran Desert, you'll always have an eye out for the strangeling that is the crested saguaro. Enjoy your quest!