Water use efficiency, trading turf for desert landscape, solar power, and taking advantage of technology are just a few of the ways golf courses in Scottsdale are doing their best to maximize sustainability efforts. And where those take place can range from the fairways to beverage carts and even on-course restrooms. Here are some examples. 
---
---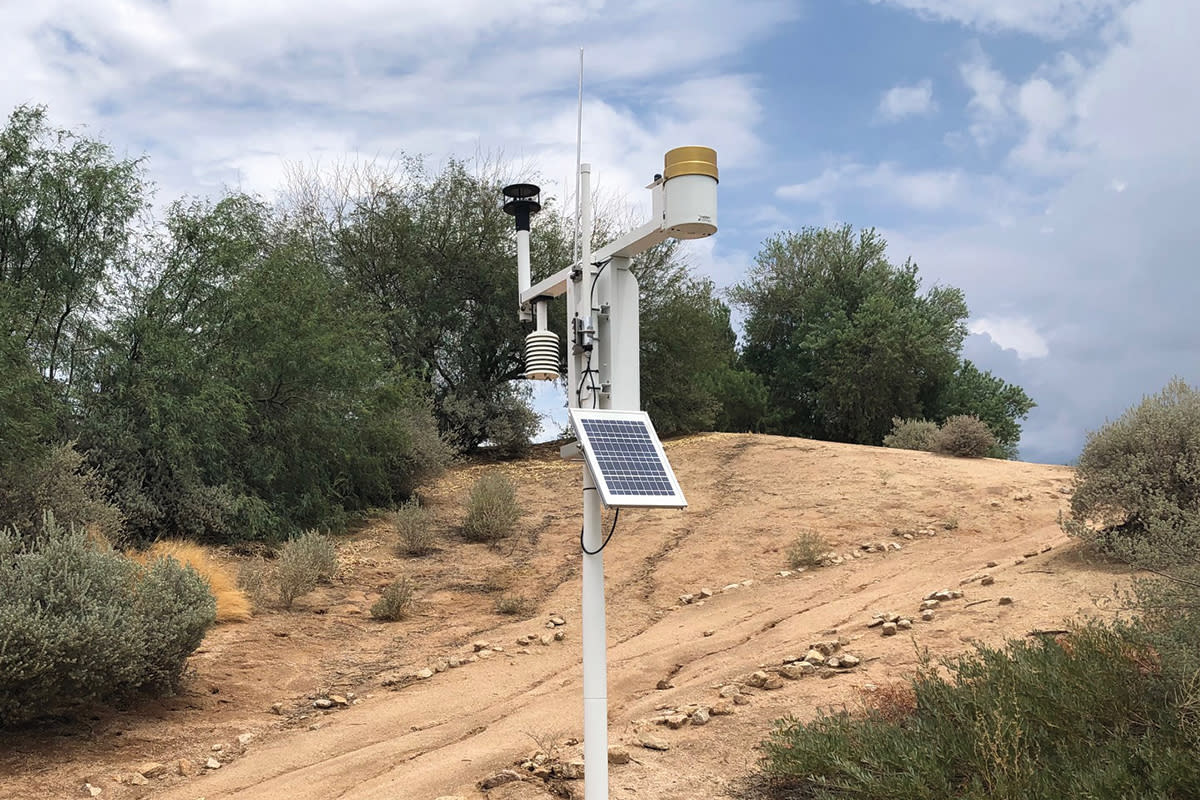 At The Westin Kierland Golf Club, Director of Agronomy Dan Figueras refers to his phone as his "mobile command center."  But he's not scrolling random apps on it just for fun: he's often consulting a weather log that updates information by the second. "We have an on-site weather station that measures important factors such as humidity, solar radiation, and wind to calculate evapotranspiration (ET), which is the amount of water, in inches, consumed per day," said Figueras. "In July an average daily ET is over a third of an inch. That data is reported to the central irrigation computer to help determine how much water needs to be programmed through the irrigation system out on the course to replace exactly the amount of water that was lost."
"It's scientific, fact-based information that is happening in real time," added Figueras. "I can look back at data from previous months and years to highlight averages and trends, which I can use to justify variances in water usage. It takes the guesswork out of it, providing me with more control for efficient water usage."
He can also use the program to monitor pump station water pressure levels, and it will notify him of any broken pipes out on the course, enabling his team to remedy the situation promptly.
---
---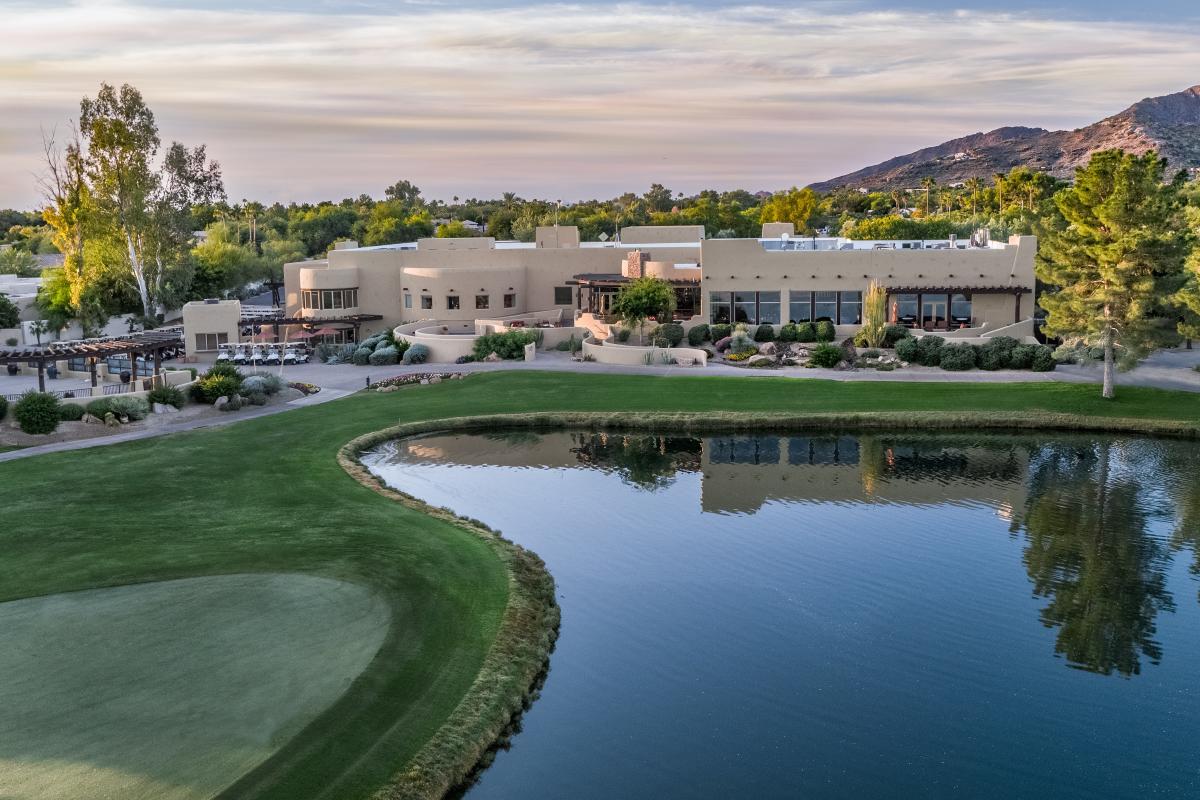 At the JW Marriott Scottsdale Camelback Inn Resort & Spa, home to the 36-hole Camelback Golf Club, General Manager of Golf Mike Hodgins points to a number of efforts as some of the reasons why the Ambiente and Padre Courses have earned the coveted Certified Audubon Cooperative Sanctuary status (as has The Westin Kierland Golf Club).
"According to Thom Wilbur, one of our superintendents, we planted a bee pollinator area just to the east of the 13th tee on the Ambiente course to help with the bee population," said Hodgins. "That in turn can help with plants, flowers, and attract other wildlife."
The Ambiente Course is still seeing water savings benefits from the 109 acres of native landscape that were planted when the layout underwent an extensive renovation a decade ago. "That landscape is primarily on the perimeter of the course, and we have seven miles of that perimeter," said Hodgins. "We used to have 150 acres of maintainable acreage that we had to water and take care of, and now we are down to 83 acres. That's a substantial decrease."
All 165 golf carts at the Club are electric, as are two of the five beverage carts that bring refreshments to golfers, and the type of Bermuda grass used on the fairways and interior rough areas (anywhere except for the native grass) is more durable in the heat and requires less watering than other types of grass commonly used on golf courses. Even the restrooms on the sixth hole of the Ambiente Course are solar-powered!
"Sustainability is a topic we take seriously, and it's an important part of the golf industry, especially in the Southwest region," said Hodgins.
---
---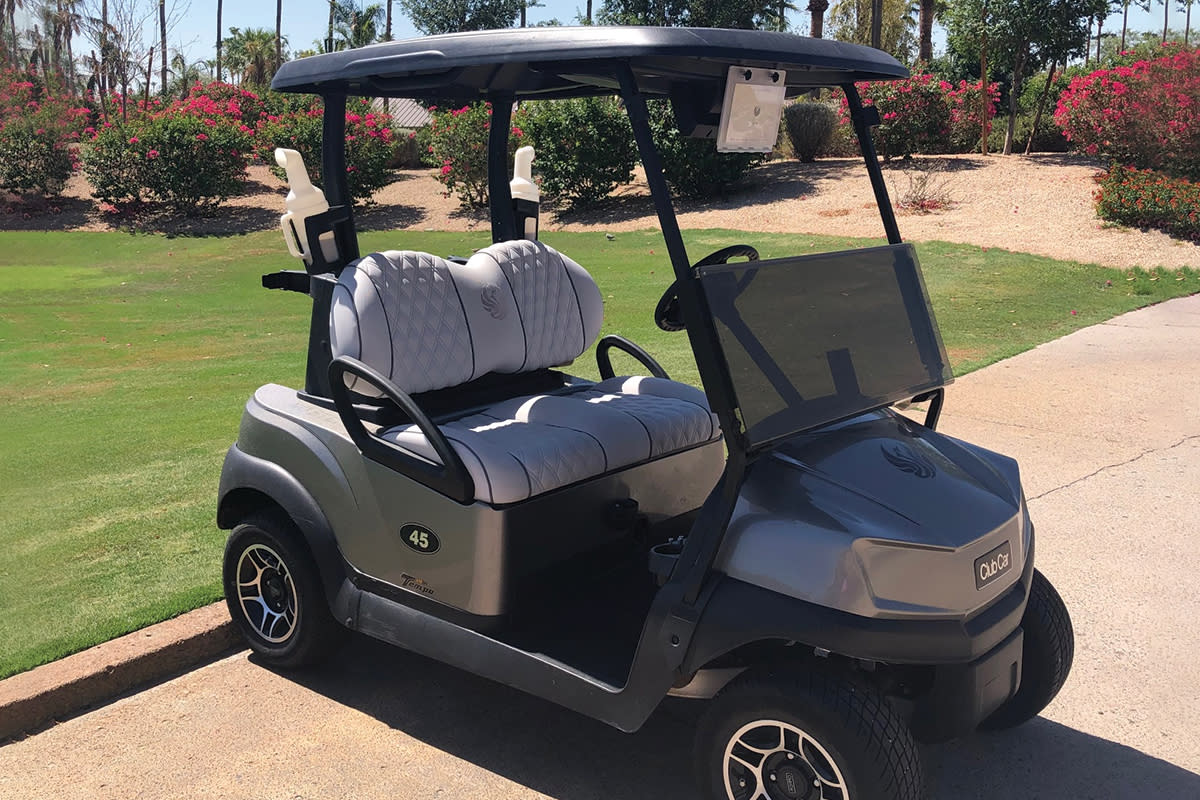 Golf carts are a very comfortable way to get around courses in Scottsdale. But what powers them up for every 18-hole journey? At The Phoenician Golf Course, new lithium batteries have been installed in all 90 golf carts. "The lithium batteries have had a huge impact on our golf operations," said Ryan McKay, Director of Golf and Tennis. "The charging time has gone down significantly, which has saved us in electricity costs, and we can easily send out our carts twice a day, if necessary. We also have saved on labor by not having to add water to the batteries, which was a necessity with 'Lead Acid' types."
---
---
Irrigation systems provide life to the fairways and greens on courses everywhere, but the manner in which water is distributed has been enhanced by recent advances in technology. Boulders Resort & Spa has invested in two new state-of-the-art pump stations, one for each of its 18- hole courses. "Each station can operate at 2,000 gallons of water per minute," said Ryan Schroder, Director of Agronomy. "The previous station operated at around half that amount, so a 7-hour water window is now shrunk to down to 3.5 hours, and energy consumption is estimated to be cut in half." Other water conservation efforts include not overseeding rough areas or on the driving range, which means up to a 40 percent annual savings.   
---
---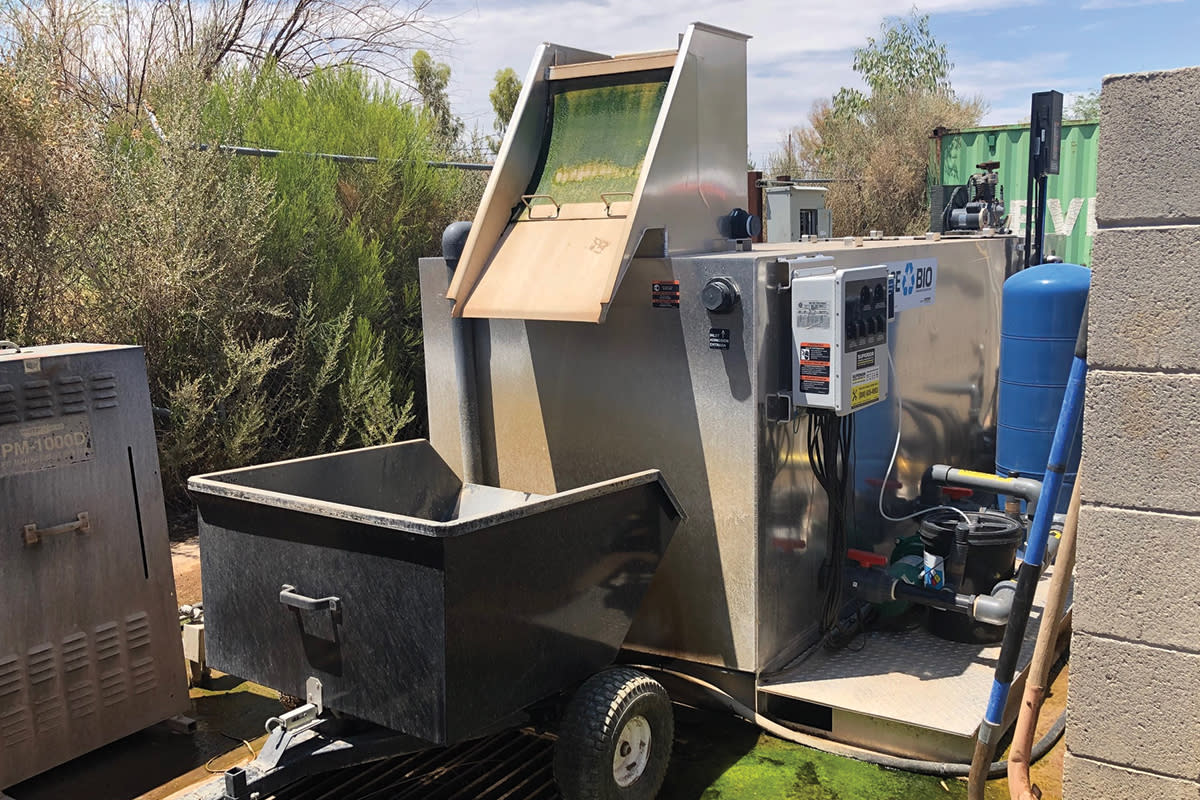 Mowers used to cut grass come back full of grass clippings, fertilizers and other materials, which can include petroleum-based products such as oil, gas, or grease. At Ak-Chin Southern Dunes in Maricopa, a Bio Skid from Superior Cleaning Equipment is used for the mower wash pad.  "When those byproducts are washed off each mower into a self-contained area, they get treated to remove any harmful products," said Brady Wilson, General Manager. "The 'greenwater,' or water with all the natural grass nutrients still in it, is then stored in a tank. When we go to mix whatever application we are going to apply to the golf course with the sprayer, we dilute the initial chemical with this green water, which means we use less water and are recycling used water back into the golf course."  
---
---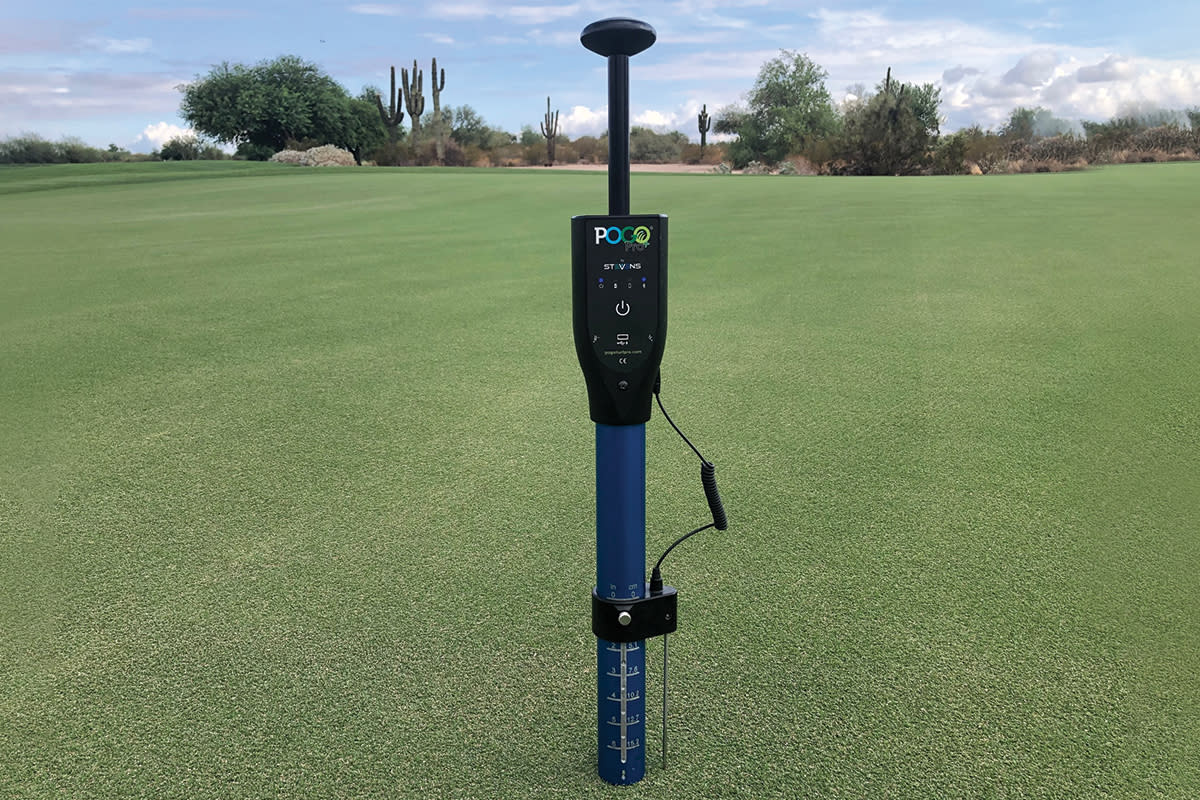 Ben Hogan famously said the secret to his success was "in the dirt." He was referring to his legendary practice routine, but the dirt also provides the agronomy team at Grayhawk Golf Club with plenty of answers, too. Since 2020, they've been able to instantly spot-test soil condition anywhere on the course, but especially on the greens, with a tire-pump-looking probe created by Stevens Water Monitoring Systems In Portland, Oregon. After inserting the tool's prongs two inches deep into the turf on the front, middle and back of each green, information about moisture, salinity levels and soil temperature is communicated directly to a phone app that reveals wet and/or dry spots on the green. Those numbers could indicate a sprinkler head not working, or one that might be placing too much water on one particular spot. The end result is increased water usage efficiency. "We use it every other day during the week on both the Raptor and Talon Course," said Ryan Voyles, assistant superintendent, Raptor Course. "But during the NCAA Championships here last May, we used it on the Raptor Course every day. It's a very handy tool to have."