The older I get, the more I crave water. For us desert rats, water seems like a small miracle. Here is a thing that should not be, yet is. It restores our faith. Lakes are beautiful and rivers are mighty, but creeks feel the most personal. I like to hear that music, that soothing splash of water spilling over rocks. I like to walk in the woodland shade where cooling breezes rustle every leaf.  
It's a dry heat but it doesn't have to be. A short morning drive (approximately two hours) north of Scottsdale leads to the Verde Valley and a remarkable collection of tumbling streams. They make refreshing swimming holes in warm weather and lush riparian escapes the rest of the time. In Arizona, air conditioning keeps us sane but water and shade set us free.
Of course, there are legendary spots like Slide Rock and Fossil Creek. But here are other streamside getaways in the Verde Valley, equally beautiful and a bit less crowded.
---
---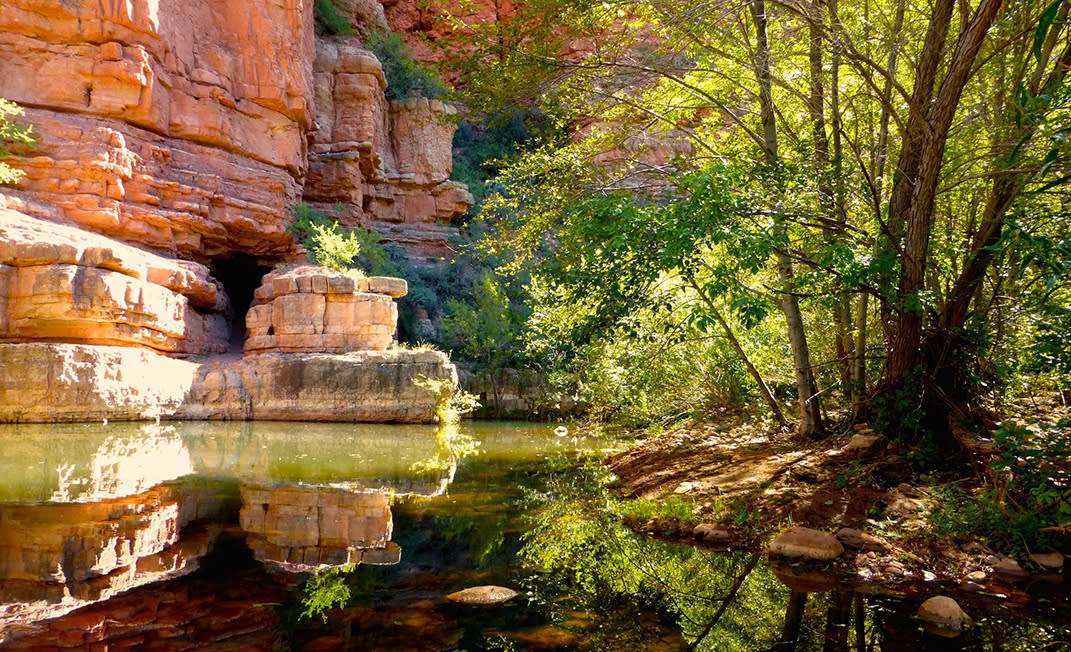 This trail leading into Sycamore Canyon is spectacular, dropping from a scrubby high desert into a jungle-like oasis. The trail scrambles 200 feet down the canyon wall to the creek bed and from there makes easy going through a tunnel of leafy shade.
Pools form along the way, creating rippled mirrors that reflect the canopy of treetops and high cliffs that surround me. Sycamore is the second largest canyon in the state but there's a special intimacy to this segment of the gorge, shaggy with greenery.
The trail swings from one side of the creek to the other several times. It follows a sandy path and crosses limestone ledges at the water's edge. After four miles it reaches Parsons Spring, a wide marshy area that signals the end of the trail and reminds us to believe in improbable things.
Where: From Phoenix, take I-17 North to the AZ-260. Head northwest to Cottonwood. From Cottonwood, drive northwest on Main Street, following signs to Tuzigoot National Monument. Turn right on Tuzigoot Road, cross the Verde River and turn left on Sycamore Canyon Road, (FR 131). Drive about 11 miles to the trailhead. The dirt road has a couple of rough spots but is usually accessible to sedans.
---
---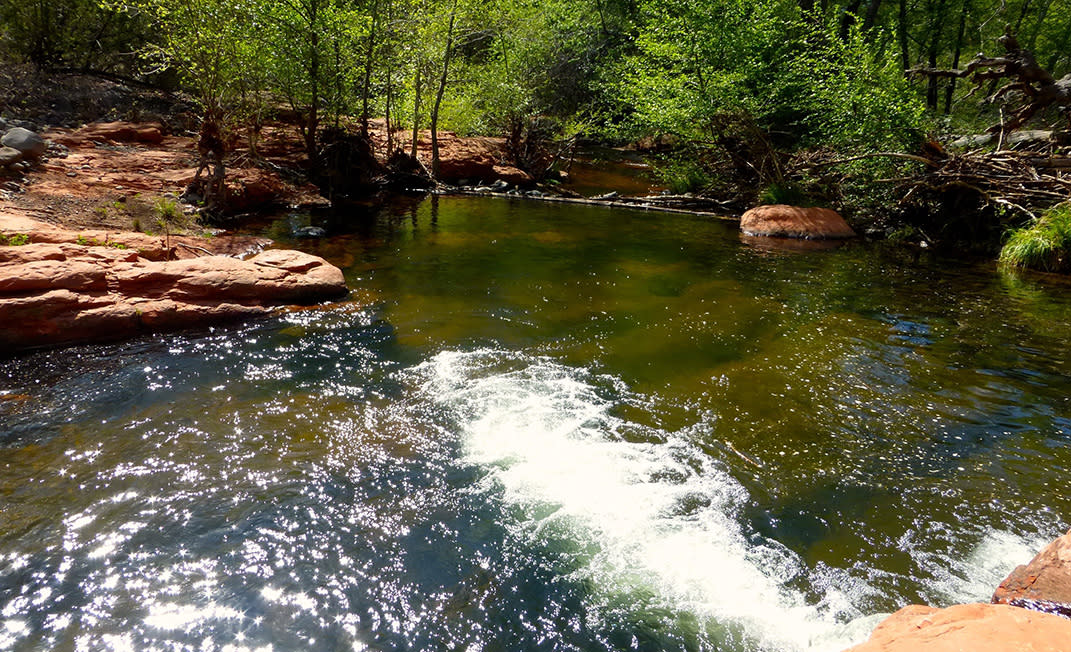 During summer months, most people using this trail are bound for "The Crack" (3.3 miles), a memorable swimming hole just upstream from Bell Crossing. But there's no need to venture that far if you're just looking for a personal oasis. Staying on a sunny bench above Wet Beaver Creek, the trail skirts the base of desert hills. Several well-used social paths branch off and lead to the stream at prime pools and smooth rock mini-beaches.
This creek is a sly beauty. I've spent many a happy hour sprawled on the banks enjoying its complex tune. The water runs fast and shallow—colliding with boulders, rushing through chutes—creating a splashy symphony that changes around every bend.
If you decide to venture on, just upstream from a bridge spanning the creek, deep water carves an exquisite 70-foot long channel between narrow sandstone walls. Ledges of varying heights make for great diving platforms. Welcome to The Crack.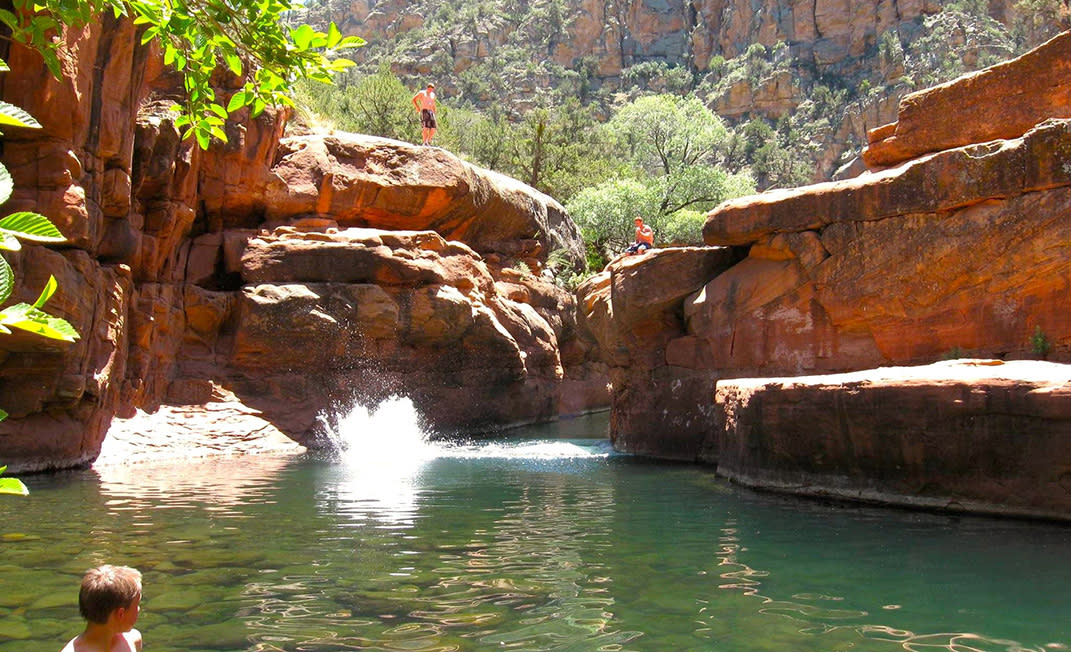 Where: From Phoenix take 1-17 North to the Sedona exit (Exit 298) and turn right on Forest Road 618. Drive for 1.5 miles to the old Beaver Creek Ranger Station, turn left and continue to the trailhead parking lot.
---
---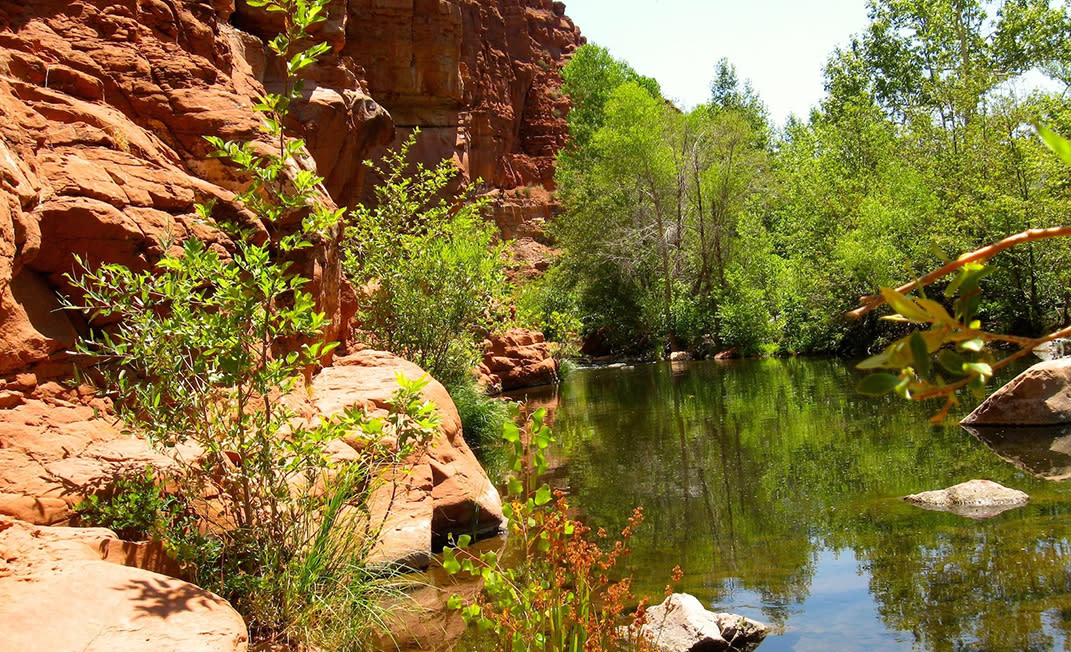 Tumbling from the forested heights of the Mogollon Rim, West Clear Creek slices a deep narrow gash through sandstone cliffs. Winding for 30 miles, West Clear Creek is the longest drainage. The waterway forms a slender riparian corridor that barely keeps the spiny desert at bay.
The trail cuts across the old Bull Pen Ranch for about a mile before dipping into the canyon where you encounter the first of four stream crossings. Early on, a swimming hole with a sandy beach siphons off a portion of the crowds. The deeper into the canyon you go, the more solitude you'll find. After the fourth stream crossing (about 5.5 miles), the trail pulls away from the water and begins a series of steep switchbacks up to the Mogollon Rim. Unless you need a hardcore workout, make the last crossing your turnaround point. Amble back the way you came, enjoying the miracle of water and shade in the desert.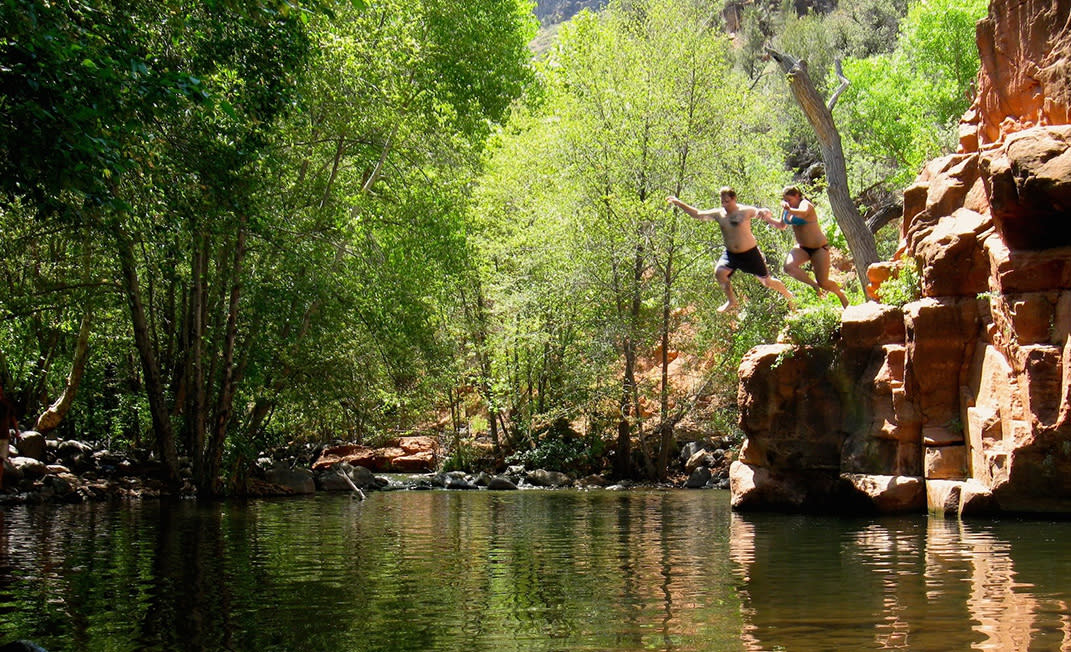 Where: From Phoenix, take I-17 north to the Camp Verde exit (Exit 285).  From Camp Verde, drive east on Arizona 260 for 6 miles to Forest Road 618. Turn left onto FR 618 and drive 2.2 miles to Forest Road 215. Turn right and continue approximately 3 miles to the Bull Pen Ranch Trailhead. FR 215 can be rough going and is best managed in a high clearance vehicle. 
Please remember, these are fragile environments. With usage comes the responsibility of stewardship. Never carry glass containers. Pack out all your trash and any that you might find. Don't enter canyons if rain is a possibility. Keep yourself safe. But watch out for others as well. These are the kind of special places that should bring out the very best in each of us.