Scottsdale's art and architecture scene is as robust and compelling as they come. Creativity in all its forms is celebrated in thought-provoking museum and gallery exhibitions, a world-class public art program and masterpiece landmarks created by the likes of Frank Lloyd Wright, Edward L. Varney and Will Bruder. Here's your itinerary for exploring the best of Scottsdale art and architecture!
Hotel Valley Ho
This stylish Old Town landmark was designed by Frank Lloyd Wright student Edward L. Varney in 1956 and is one of the best-preserved midcentury-modern hotels in the country. Chill with a cocktail by the pool or take a short walk to explore the renowned galleries in the Scottsdale Arts District.
Andaz Scottsdale Resort & Bungalows
The Andaz Scottsdale is a posh retreat offering stunning Camelback Mountain views and an inspired artist-in-residence partnership with nearby Cattle Track Arts Compound. Keep your eyes peeled for art in all mediums throughout the resort, from the common areas to the bungalow-style guest rooms.
The Hermosa Inn
Hand-crafted in the 1930s by cowboy artist Alonzo "Lon" Megargee, the Inn's adobe architecture has kept its old-Arizona charm while offering luxurious accommodations and amenities. Stop by The Last Drop bar to see the original painting of "The Last Drop from His Stetson," Megargee's iconic artwork that adorns the silk lining of all Stetson hats.
Frank Lloyd Wright's Taliesin West
Legendary architect Frank Lloyd Wright was so captivated by the Sonoran Desert's natural beauty and sunny climate that he chose Scottsdale as the location for his winter home and architectural school, Taliesin West. Daily tours offer guests an insider's look into Wright's ingenious designs and his ability to seamlessly blend indoor and outdoor spaces.
Cosanti
This eclectic treasure, created by the late Italian architect Paolo Soleri, is part art studio and part architectural experiment. Cosanti features earth-formed concrete domes that seem to defy gravity as they provide an enchanting backdrop for the melodious sounds of bronze and ceramic Cosanti Originals windbells. Call ahead for bronze pour times and experience the creative process in action!
Scottsdale Museum of Contemporary Art
SMoCA, an ingenious renovation of an old movie theater by architect Will Bruder, celebrates the modern art, architecture and design of our time through thought-provoking, changing exhibitions. The museum also is home to "Knight Rise," a James Turrell skyspace that allows you to track the sun's colorful path across the desert sky.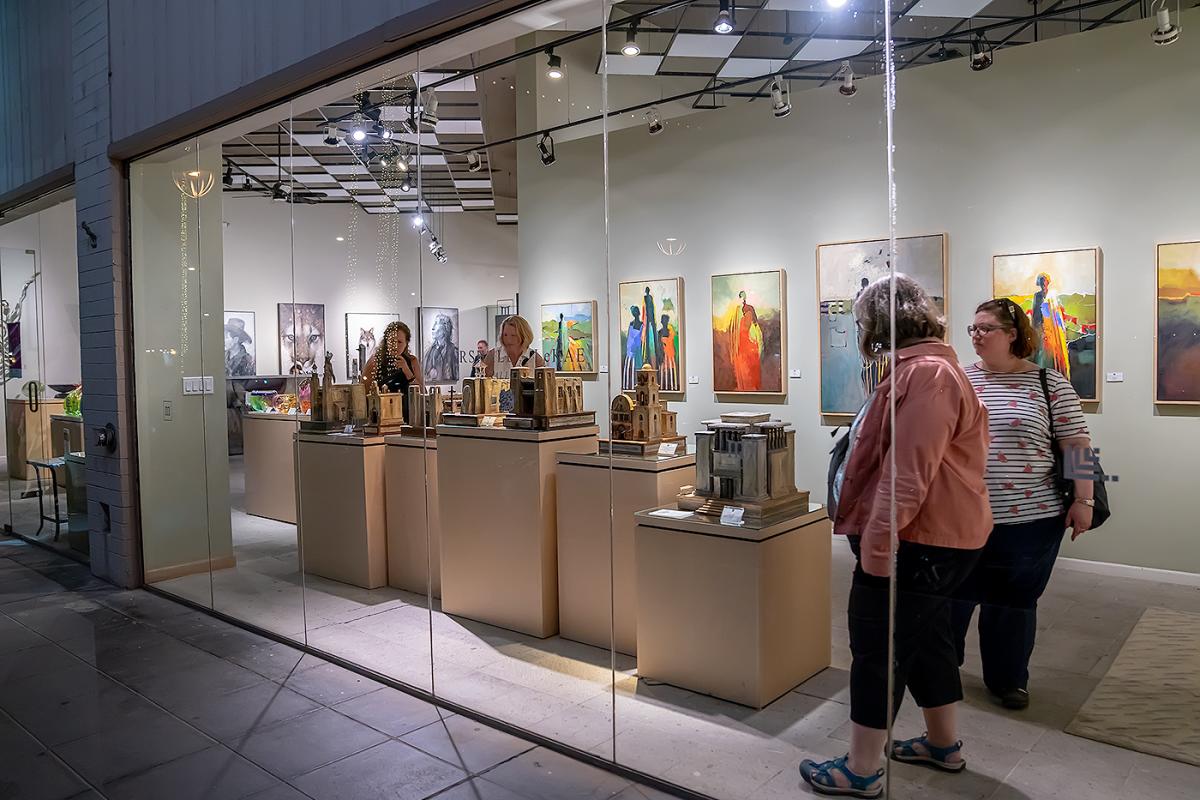 Scottsdale ArtWalk & Public Art
The free Scottsdale ArtWalk has been a Scottsdale tradition for more than 45 years. Special exhibits, artist receptions and live entertainment are offered from 7 p.m. to 9 p.m. every Thursday evening. For artistic explorations during the day, download the free Public Art Walking Tour and spend an hour strolling Old Town and discovering 10 beautiful works of art.
SCOTTSDALE ARCHITECTURE DRIVING TOUR
Scottsdale's Sonoran Desert – with its rugged mountains, lush arroyos and distinctive flora – has inspired generations of talented architects, including luminaries like Frank Lloyd Wright, Will Bruder, Alfred Beadle and Ralph Haver. This downloadable guide showcases nearly 40 area masterpieces on an easy-to-follow driving tour.
FnB
Artfully presented, veggie-forward cuisine is the hallmark of this Old Town favorite, helmed by James Beard Award-winning Chef Charleen Badman. The menu changes seasonally and always features fresh, locally sourced ingredients along with select artisan meats and cheeses. Pair your meal with a selection from FnB's acclaimed Arizona wine program.
AZ88
AZ88 is best known for its filled-to-the-rim martinis, unique contemporary art displays (think a Christmas tree made of Barbie dolls) and a sleek patio that overlooks Scottsdale Civic Center Park. Adjacent to Scottsdale Center for the Arts and SMoCA, AZ88's patio is the perfect setting to enjoy upscale pub grub and some of the city's best people-watching.
elements at Sanctuary on Camelback Mountain
In addition to spectacular sunset views from its perch on Camelback Mountain, elements offers a luxury dining experience featuring award-winning, farm-fresh American cuisine by Food Network star Chef Beau MacMillan. Seasonal menus incorporate sustainable seafood, hormone-free meats and locally sourced organic produce.
Discover More
Scottsdale Stories
Get Ideas from the locals
---