You know you chose the perfect resort for your babymoon in Scottsdale when the staff starts serving free bites of homemade chocolate gelato. It's a sunny Friday afternoon and we're lounging poolside when I spot the waiter divvying out scoops and spoons. At first, I assume it's some delicious cocktail that I can't partake in, but as she gets closer, I see it's a sweet treat and my heart skips to a very happy beat.
It's a good omen for what ends up being a weekend full of bump-friendly goodness. From delicious meals and mocktails to relaxing spa treatments and meditation sessions, a babymoon at Four Seasons Resort Scottsdale at Troon North is what a pregnant mom's dreams are made of.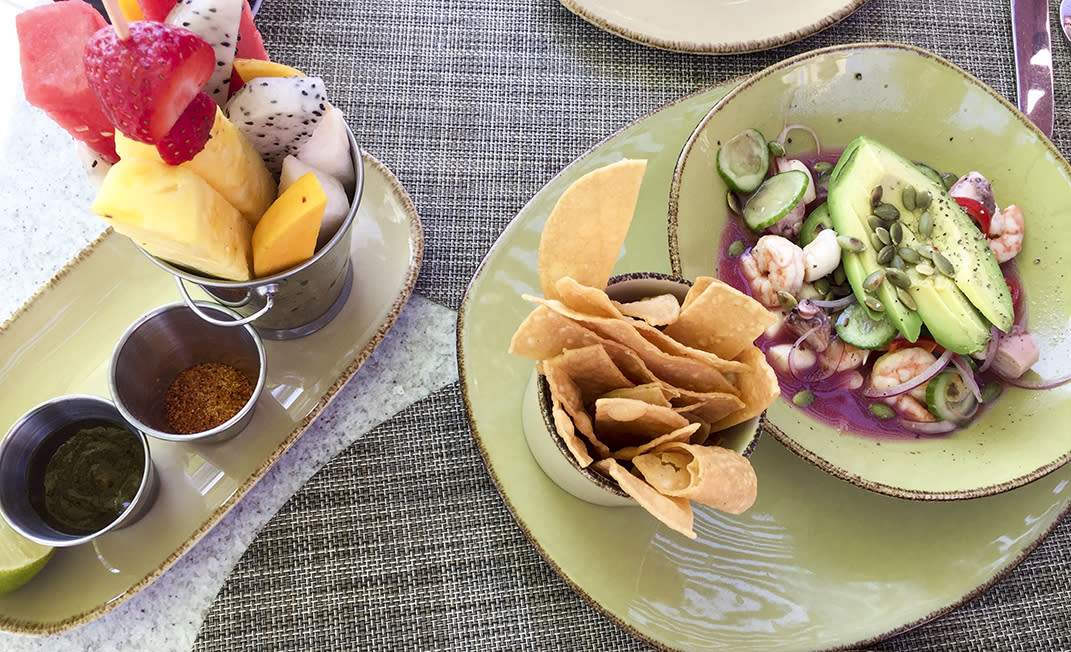 First, let's talk food. We kicked off our weekend visit with an al fresco lunch at Saguaro Blossom, a casual café where the fresh fruit plate (complete with Tajín and house-made chamoy sauce), ceviche in prickly pear aguachile and tuna poke bowl were so good, we came back for seconds the next day. (Yes, I indulge in the occasional tuna bowl or sushi-like dish—the difference between your first and consecutive pregnancies, I guess!) My husband topped off the meal with a cold-pressed juice while I ordered a chocolate mint ice cream sandwich for us "to share."
Speaking of which, if it's not obvious by now, the Four Seasons Resort Scottsdale is kind of known for its small batch, homemade ice cream. The shakes and sundaes at Proof, An American Canteen are an absolute must-try, but the restaurant's entire menu of American comfort classics—like the Maine lobster roll or chicken and waffles—deserve more than a single visit. In fact, we ate at Proof for dinner one night and then for brunch on our final day, where the Green Chile Pork Benedict was an absolute showstopper.
At Talavera the night before, we soaked in a Sonoran Desert sunset (and a long, uninterrupted conversation) from our patio seats while noshing on the signature Paella Talavera, and sipping on Spanish wine (husband) and a passion fruit mocktail (me).
One definite bonus to a Four Seasons Scottsdale babymoon is the selection of mocktails—always fresh and never sugary. Poolside, my favorite is the Blackberry Refresher, a mash-up of berries with mint and ginger ale, but at Proof and Talavera, I put my trust in the skilled hands of the bartenders, who always crafted the perfect concoction to go along with our meals.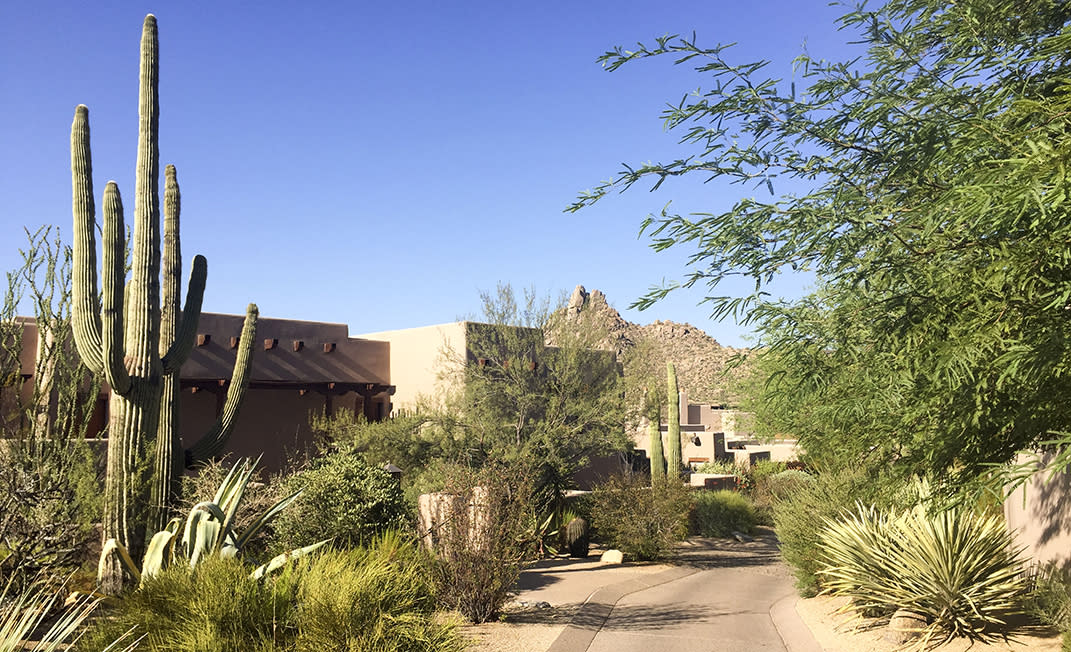 A babymoon is the perfect opportunity to rest and recharge, and I took full advantage…first with a gourmet breakfast-in-bed courtesy of in-casita dining and then with a custom facial at The Spa, which was tailored to my prenatal needs and used only organic or chemical-free products that my aesthetician personally recommended for moms-to-be.
We also decided to take in our first-ever, hour-long guided meditation class and, for a bit more activity, embarked on an early-morning nature walk around the property's desert environs. The Four Seasons Resort Scottsdale has direct access to Pinnacle Peak for truly inspiring views, but we visited during summer and, baby bump considered, thought it best to stick to flat ground.
And, although they can partake in all of the same prenatal-safe meals and activities, non-pregnant spouses and partners will be happy to note some of the other activities, like beer tasting at Proof, and spirits and wine tasting at The Gin Bar, which are free to resort guests.
So if you're wondering where to go for a babymoon, you'll be happy to know I've done all of the research and hard work for you. No question, your time is well spent—and your pregnancy cravings and needs well-met—at the Four Seasons Resort Scottsdale.
Other Scottsdale Babymoons & Prenatal Massages
There are plenty of relaxation opportunities for mamas-to-be in Scottsdale! Here are a few other experiences to consider: