Arizona's wine industry has experienced phenomenal growth in the last decade. From the Verde Valley to Sonoita/Elgin to Willcox, as well as tasting rooms in Old Town Scottsdale, the women in our wine industry are making their mark in a previously male-dominated field. Join me as I introduce you to four outstanding Arizona Women in Wine and explore the local women-owned wineries.
---
---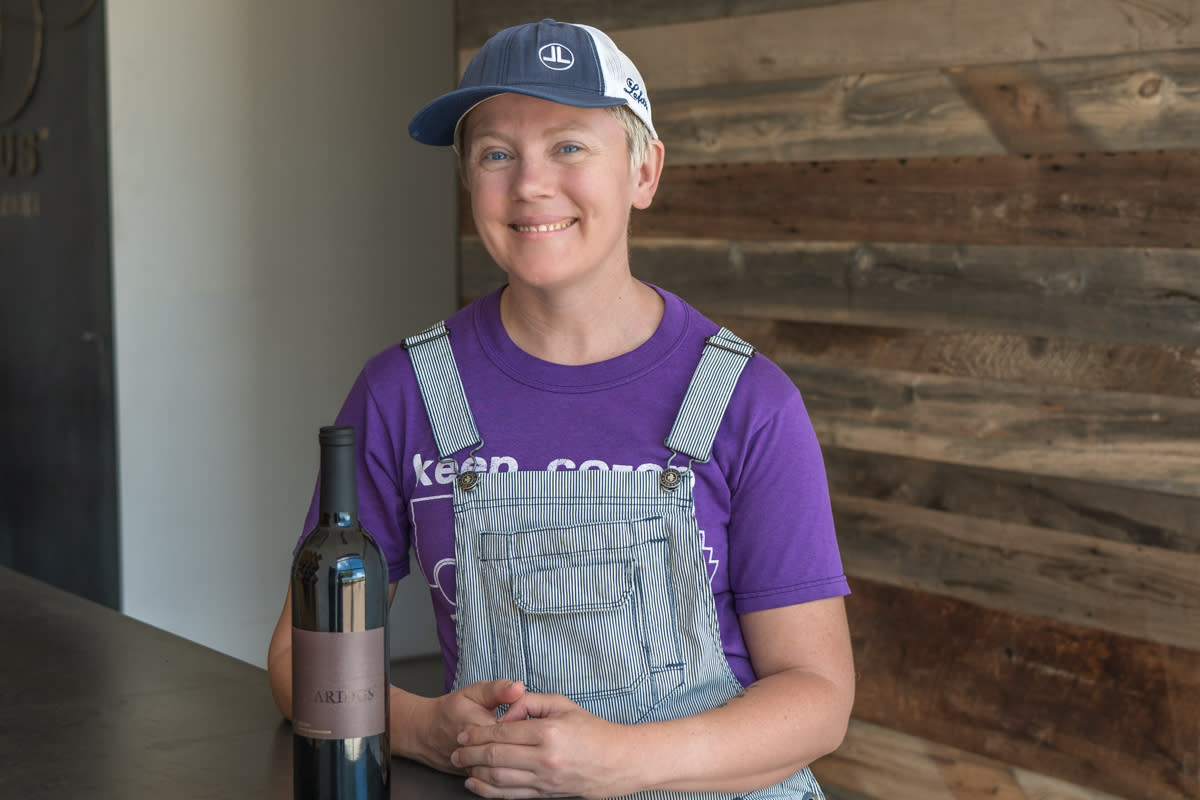 The winery and vineyards of Aridus Wine Company are located in the beautiful, mountainous Willcox region of southeastern Arizona, about three hours from Scottsdale. Established in 2012, the Aridus vineyard backs up to the Chiricahua Mountains. Fortunately for us, the tasting room is conveniently located in Old Town Scottsdale.
Winemaker Lisa Strid studied her craft at Oregon State University. From there, she went to E&J Gallo in California where she worked on both the commercial winemaking and process technology teams as the research winemaker for E&J's pilot winery. But Arizona was ultimately the place she wanted to be, so when the position at Aridus opened up, she applied immediately, adding to the growing number of women winemakers in our state. And we are glad she did.
At Aridus, Lisa oversees all the production processes from grape to bottle. She finds winemaking calls on many different skills, such as using science and sensory analysis on a daily basis. Being flexible and pragmatic while bringing an artistic perspective at the same time can be a delicate balance. Lisa says, "It's nice to have a tangible, pleasurable product to show for your hard work."
---
---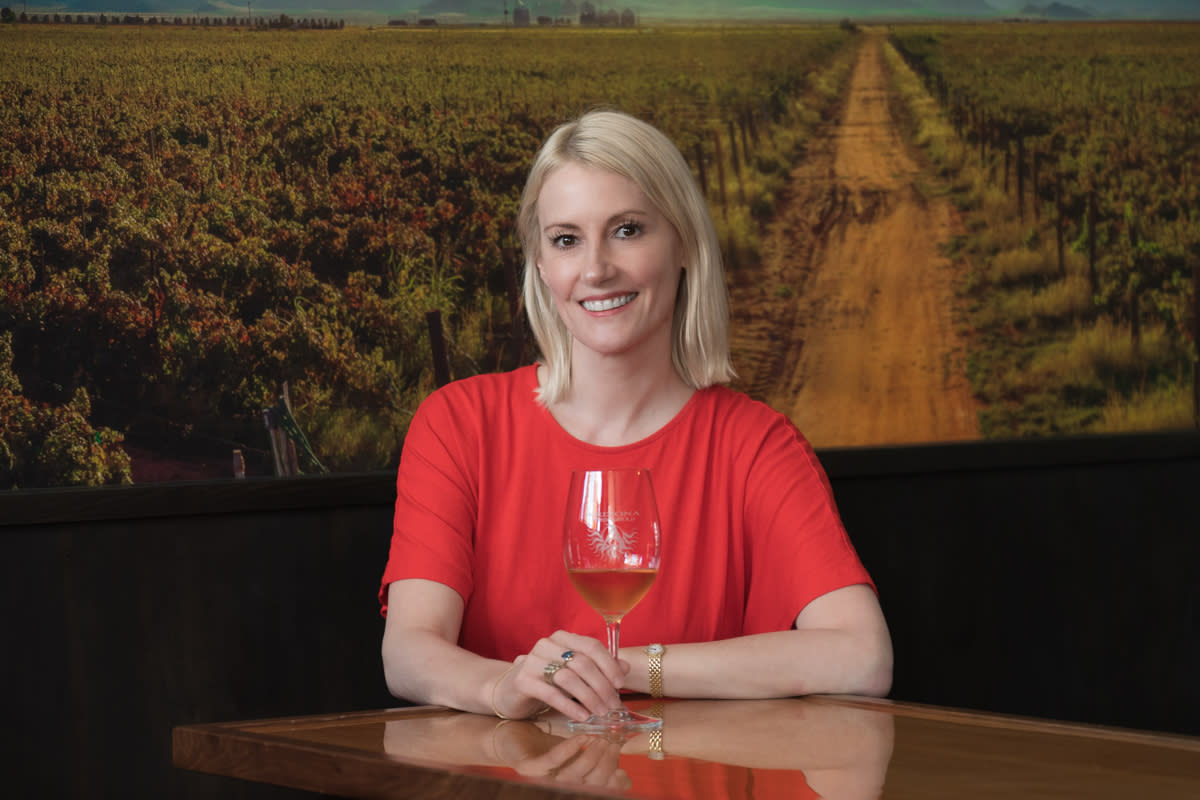 The Arizona Stronghold Vineyards (ASV) name was inspired by the majestic Cochise Stronghold Monument in southeastern Arizona. Established in 2008, ASV grows its grapes at Bonita Springs Vineyard near Willcox and houses their winery and production facility in Camp Verde. ASV offers tasting rooms in both Old Town Cottonwood and Old Town Scottsdale. 
Nissa Dell is the marketing manager and brand ambassador for Arizona Stronghold Vineyards (ASV). Her role includes organizing and participating in events and handling social media. Nissa's previous career path was in structured finance in Chicago, which is where she met her now-husband and fellow wine-enthusiast Terry Glomski, co-owner of ASV. The couple made frequent trips from Chicago to the Verde Valley to oversee the winery and tasting room, eventually moving to the Phoenix metro area to open their Old Town Scottsdale tasting room.
Having witnessed the Arizona wine industry's tremendous growth in a short amount of time, Nissa says, "I'm amazed how it's such a tight knit community and how everyone is willing to help each other out." 
Being part of the Arizona wine community has helped Nissa learn more about the winemaking and viticulture process. She and Glomski pass this information on to the ASV staff who are well educated on ASV wines and love to share their insights with customers.
---
---
No stranger to the wine industry, Zoya Vora-Shah founded The Wine Collective Scottsdale in 2022. This cozy Old Town Scottsdale tasting room "represents the unrepresented" in Arizona wine. 
Zoya's background includes being a wine specialist for wine distributing companies, as well as the former proprietor and operator of several wine bars in Ahwatukee and Gilbert, Arizona. While working at the Carlson Creek Vineyard tasting room, Zoya was inspired to open a tasting room that represented wineries that did not have their own storefronts in Old Town Scottsdale. With her extensive wine knowledge and past business experience, Zoya felt she was ready for the challenge to open her own woman-owned winery. 
Curating a premium Arizona wine list that showcases all three of Arizona's American Viticulture Areas was Zoya's first goal with The Wine Collective Scottsdale. Today, her duties include planning events like Meet the Winemaker, Blind Tasting and Sensory Wine Tasting workshops, as well as educating and working with aspiring wine enthusiasts (a.k.a. employees). Zoya is passionate about taking care of guests by spreading the word about excellent Arizona wines. 
"The Arizona Wine industry is very welcoming. I love the camaraderie among other tasting rooms in the area," states Zoya. "There is always a new grape, new way of making wine and new stories of why the wine was made. The stories never get old."
---
---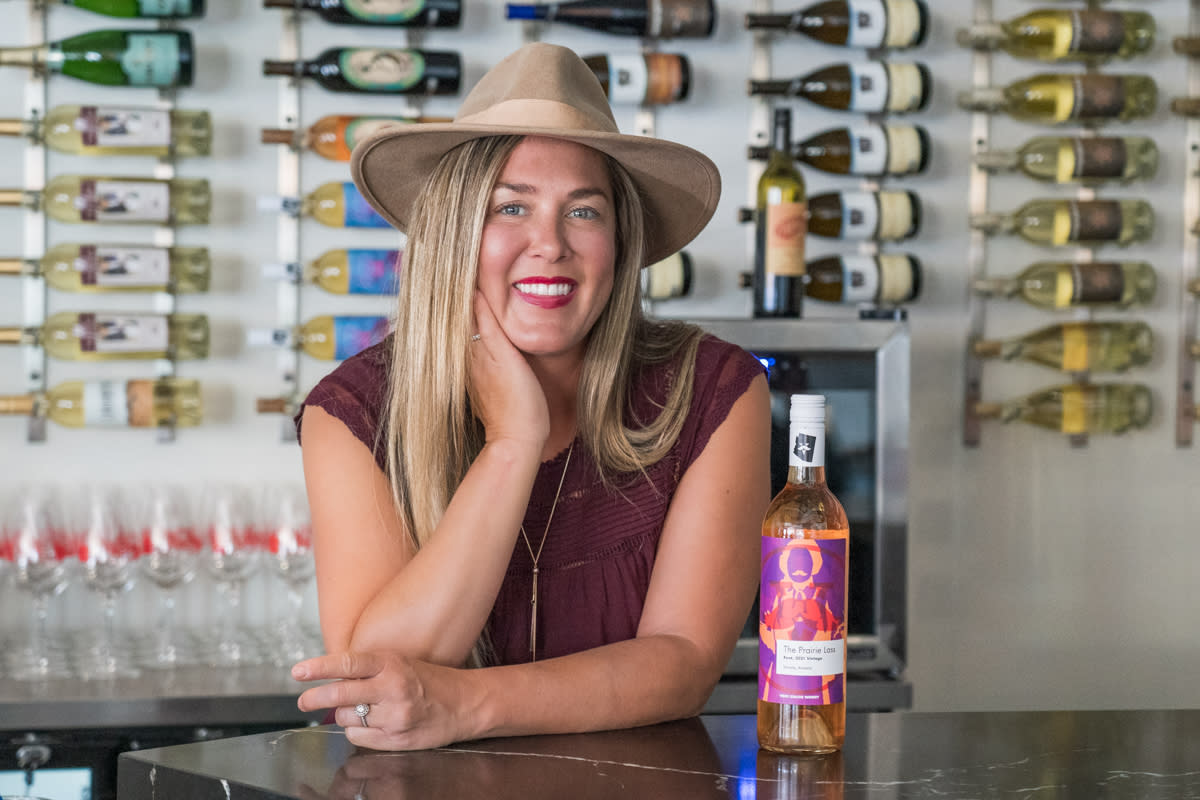 Rolling, grass-covered hills, endless blue skies and wide-open spaces are what make Sonoita/Elgin such a desirable wine destination. Located about 45 minutes from Tucson, Vino Stache Winery was established in this region in 2019.
Brooke Lowry Ide is the owner of and winemaker at Vino Stache Winery. Her career path took her from professional volleyball and marketing in corporate America to winemaker, with a degree in viticulture and enology from Yavapai College in Clarkdale.
Commuting from her Scottsdale home and family, Brooke is a one-woman operation at the winery in Elgin. Her family and friends jump in when she needs extra help. Her duties include working with vineyard owners to ensure quality product and grape maturity, making wine, bottling, packaging, shipping, deliveries, sales, marketing – essentially, everything!
"I feel like making wine in Arizona is the ultimate respect and love for our state. The climate and soils of the different regions I make wine off of are truly a taste of the diversity of Arizona's microclimates," says Brooke. "The seasonality of it is fun too – the intensity of harvest, then off to festival season, selling to small businesses throughout the year, gearing up for growing season and bottling season – each time of year is a different task."
You can find Vino Stache wines at The Wine Collective and FnB restaurant in Old Town Scottsdale. Private tastings can be arranged by contacting Brooke directly.
Now that you've met some of the most influential women in Arizona's wine industry, it's time to sample the fruits of their labor! All of the tasting rooms mentioned above are part of the Scottsdale Wine Trail, which is a great way to explore Old Town Scottsdale and enjoy outstanding Arizona wine.