Did you know? Scottsdale is ranked a gold-level Bicycle Friendly Community by the League of American Bicyclists thanks to its safe accommodations, miles of designated bike lanes and, of course, a plethora of trails to explore – both urban and desert.
Biking is a great (and green!) way to experience everything Scottsdale has to offer. Plan your route using our expert insights below and don't forget to reference the City of Scottsdale Bike & Trails Map, too.
---
Step 1: Track Down Your Wheels
---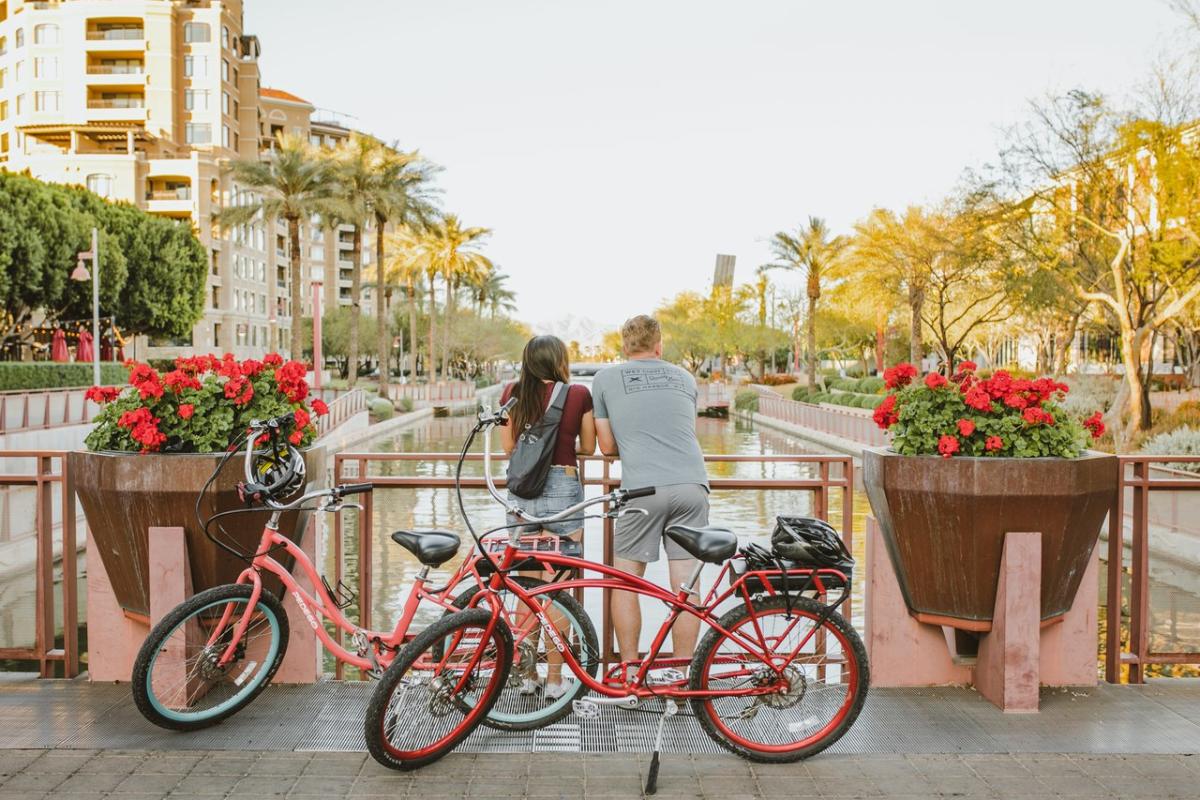 There are a number of places where you can find bike rentals in Scottsdale. Here are a few to start with, depending on whether you want an e-bike or mountain bike, and where you plan to explore.
---
Step 2: Pick Your Path
---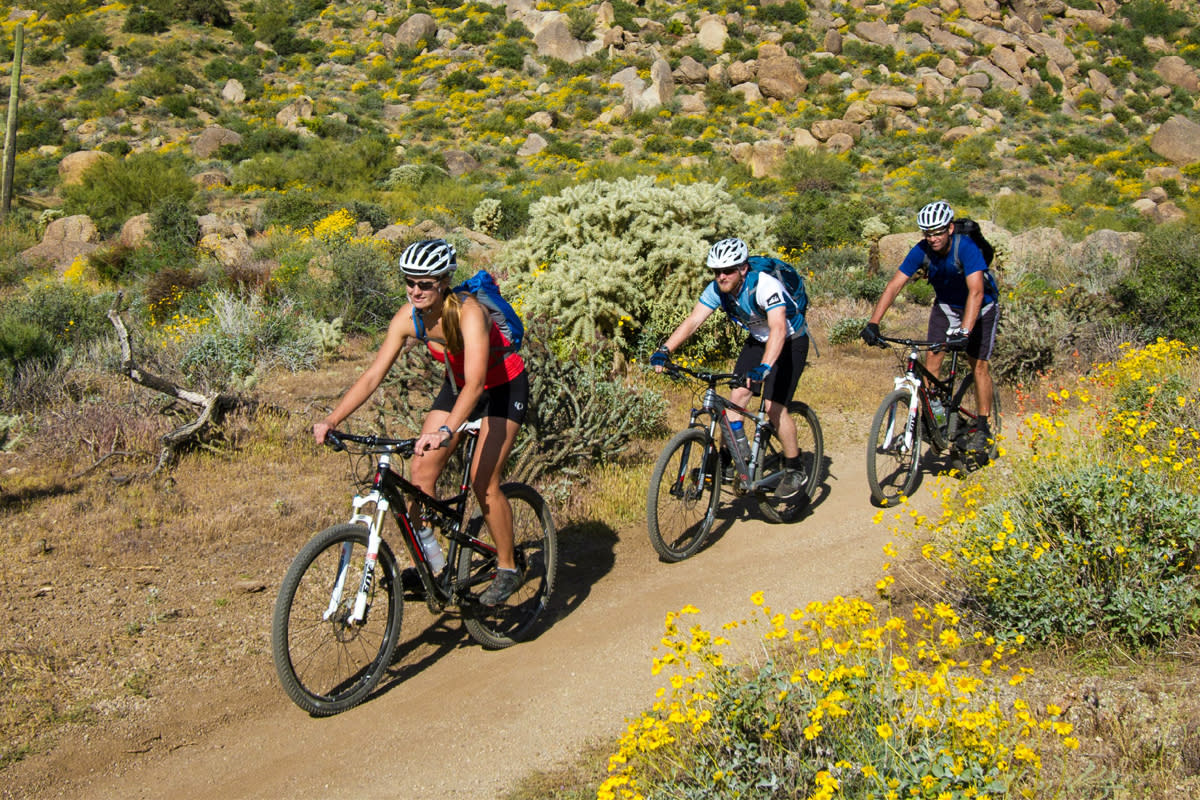 Urban & Paved Trails
Urban and paved biking trails in Scottsdale make it easy to hit many of your must-see city attractions while lowering your carbon footprint. And if you're looking to expand your horizons a bit, you can always hop onto the Scottsdale Trolley with your bike.
Indian Bend Wash Greenbelt: Stretching 11 miles right through the heart of Scottsdale and connecting several parks, lakes and golf courses, the Indian Bend Wash Greenbelt is rated one of the top urban "green spaces" in all of Arizona. What was once a serious flooding hazard is now a popular recreational area with more than 24 grade-separated crossings for bikers. Hit this bike route in Scottsdale to explore Chaparral Park and Indian School Park, then stop for sustenance at nearby dining hotspots like Farm & Craft and Brat Haus.
Arizona Canal: This is a great way to explore Old Town Scottsdale, particularly its famous arts offerings. The canal trail offers numerous access points to the streets of Old Town where you can ride and take in 45+ public artworks, including the Goldwater Bell by Paolo Soleri and the iconic Jack Knife by Ed Mell, then head over to the Scottsdale Museum of Contemporary Art (SMoCA) for the latest and greatest in contemporary art, architecture and design. (Psst…entrance to SMoCA is pay-what-you-wish on Thursdays!).
Mountain Vista Bike Route: Connect to this 2.3-mile loop via Main Street and Brown Avenue in Old Town Scottsdale and enjoy two scenic stops where mountain views are framed with interpretive panels that highlight the local lore. Get a peek at the legendary McDowell Mountains via a stop along the south bank of the Arizona Canal and then appreciate a fresh view of Camelback Mountain with a pause at 68th Street.
Desert Experiences
Scottsdale's storied Sonoran Desert is ripe for exploration and one of the best places to get in-tune with nature is the McDowell Sonoran Preserve, a 30,000-acre expanse of eco-friendly trails, 200+ species of wildlife and nearly 400 plant species, many unique to the area.
Biking Adventures: This is where you'll find the best opportunities for mountain biking in Scottsdale—for all levels! Beginners will love the mellow 6-mile trek through lush grasses and leafy trees of Corral Loop at the Preserve's Brown's Ranch Trailhead, while the Taliesin/Quartz Trail Loop, accessible from the Quartz Trailhead, provides an intermediate, steady climb with views of nearby landmarks like Camelback Mountain. Feeling really adventurous? Opt for the South and North Diablo Trails at Brown's Ranch Trailhead, which take you up, down and over ancient granite boulders.
Join a Guided Tour: REI Co-op Experiences leads half- and full-day biking tours for all skill levels through the Preserve. Expect sweeping 70-mile views, glimpses of local flora and fauna, and insights into the rich history of the Sonoran Desert.