If asked for a list of small- to mid-sized cities in the American West with incredible mountain biking trails, you might answer Moab, Boulder, or Sedona. It's time to add Scottsdale to the shortlist. Check out this selection of some of the best mountain bike routes in Scottsdale's McDowell Sonoran Preserve.
---
Corral Loop at Brown's Ranch
Beginner, 6 miles
---
From the Brown's Ranch trailhead, head north along Brown's Ranch Road, a historic wagon trail built by EO Brown to access the ranch house he built on the property in 1916. Ride this route as a lollipop loop heading clockwise along Corral trail.  As you wind along, you'll notice the vegetation changes to an oasis of lush grasses and leafy trees as you round a small peak of volcanic rock. Enjoy the mellow gradients of climbs and descents along this easy-to-navigate, decomposed granite trail until it brings you back to Brown's Ranch Road.
---
Granite Mountain from 136th Street Trail
Beginner, 6 miles
---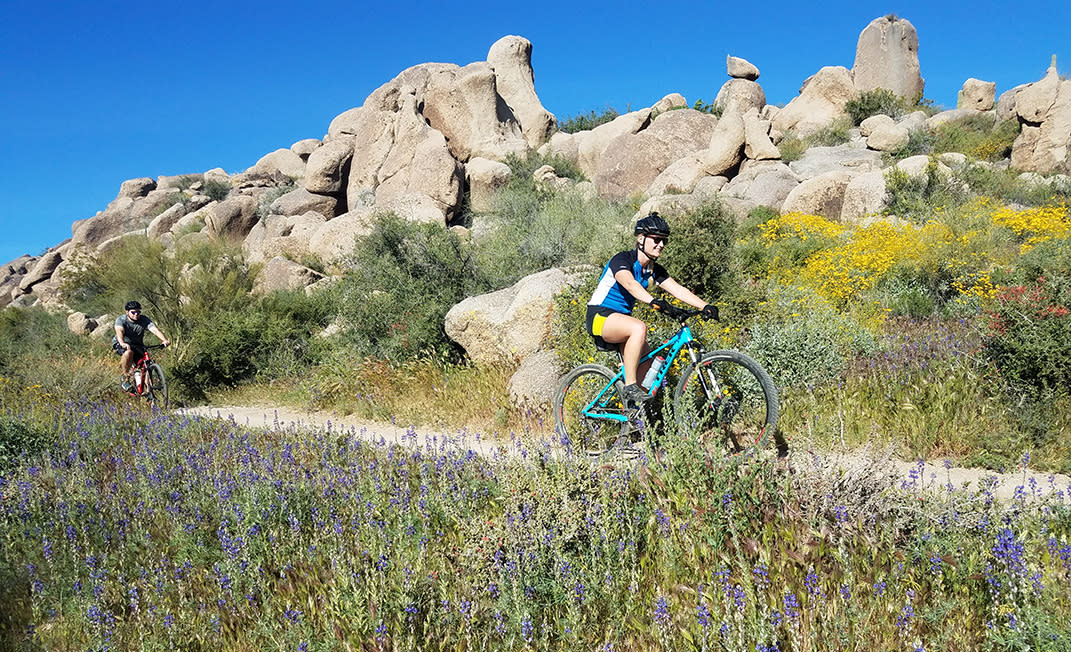 Offering incredible scenic views to the east of Scottsdale, the route around Granite Mountain is best enjoyed by bike. Begin at the 136th Street trailhead and pedal out Bootlegger trail to kick-off a counterclockwise loop on Granite Mountain trail. It's easy to appreciate the Dr. Seuss-like geology of Granite Mountain when navigating between oddly shaped, house-sized boulders punctuated by giant saguaro cactus and strange, spindly ocotillo plants. The smooth trail surface allows your attention to be drawn to the panoramic views of the Mazatzal Mountains, the Superstition Wilderness, and Arizona's iconic Four Peaks on the eastern horizon. Work on your cornering skills as you pedal up, and up again around the back of the mountain to be rewarded by a long descent that takes you nearly back to Bootlegger.
---
Taliesin & Quartz Trail Loop
Intermediate, 8 miles
---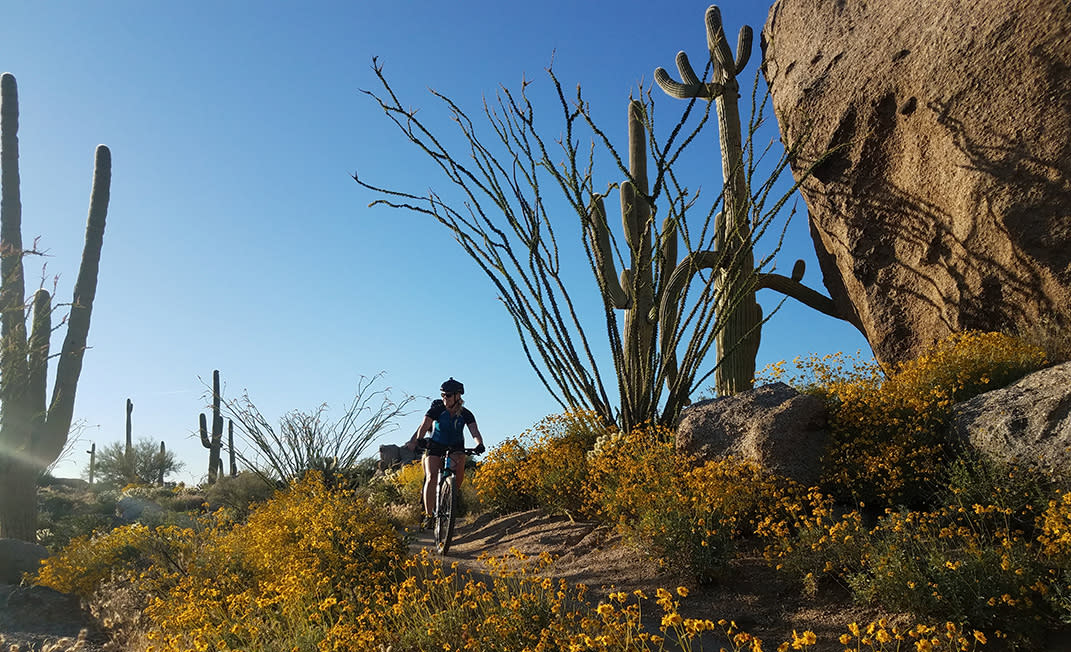 Park at the Westworld Trailhead and warm up with an easy pedal along a paved trail and dirt access road before beginning a steady climb along the Taliesin mountain biking trail. You'll pass under a bridge and hit the first rocky features of the trail. Keep pedaling for a moderate ascent to an intersection with Quartz trail. Look down and you can pick out Scottsdale's famous landmarks, including Camelback Mountain, perfectly silhouetted in the distance. From here, advanced riders can opt to make the technical climb to Taliesin Overlook, (+1 mile.), or turn left at the main intersection to descend the Quartz trail, winding through a lush desert wash. Small rock gardens and perfectly banked turns offer the best combination of flow and challenge.
---
South and North Diablo Trails at Brown's Ranch
Advanced, 5+ miles
---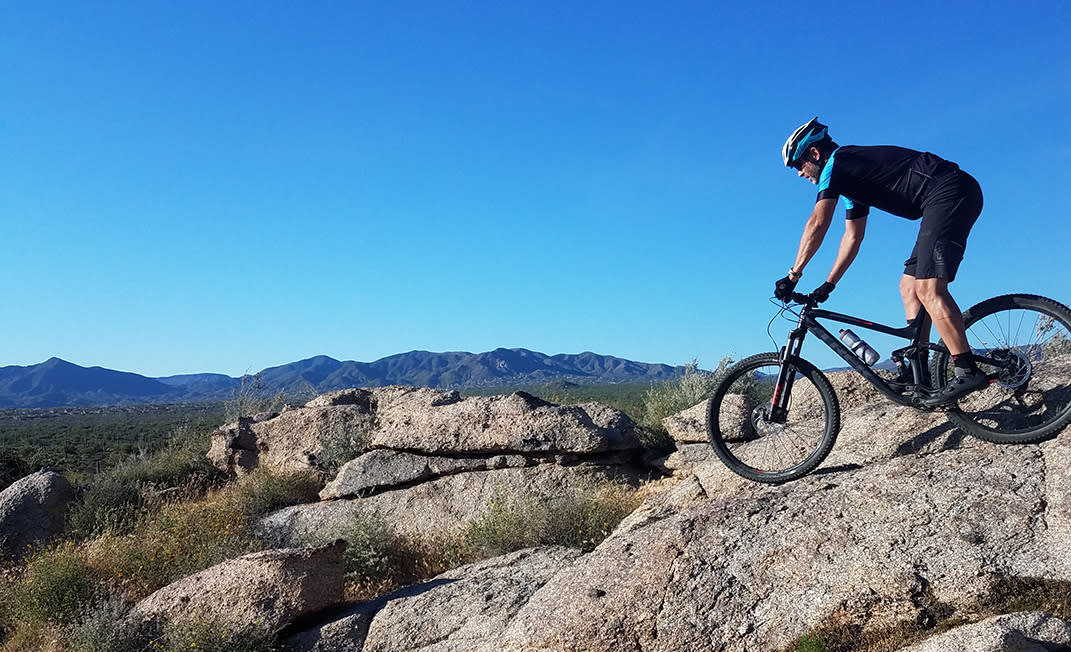 These directional trails in the northern section of Scottsdale's McDowell Sonoran Preserve offer a totally different experience for riding Scottsdale's granite boulders. You can enter at the south end of South Diablo trail to ride the two trails consecutively or use the access point where South Diablo ends and North Diablo begins to make your route shorter. Choose from "difficult" and "more difficult" routes and take the time to session every line – including slickrock-like drops and options to ride up, down, over, and between the giant boulders – or speed through the carefully designed flow in pursuit of the Diablo trail's "KOM." There are many options to ride to the start and end of the Diablo trails, so you can make your ride as long as you like.
---
Desert Park trail to Gateway Loop
Advanced, 6.7 miles
---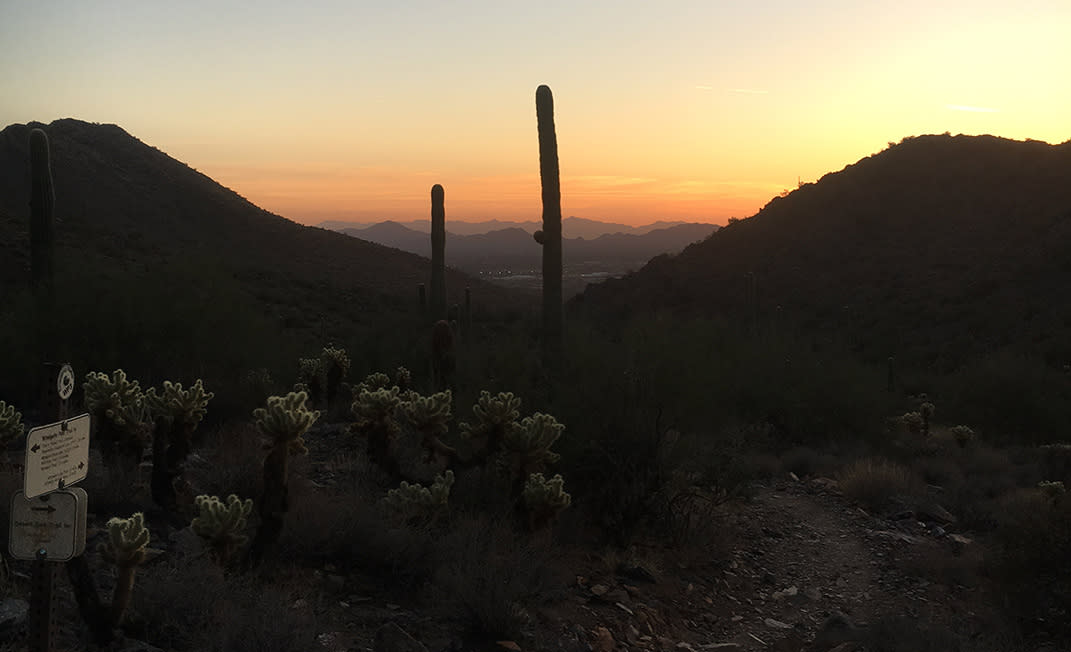 Photo Courtesy of Bike List
The Gateway Trailhead at the base of the McDowell Mountains offers the right kind of challenge for every advanced mountain biker. This loop shows off the best of the McDowell's advanced terrain over an easy distance, mixing rocky climbs with technical descents. Pace yourself as you climb Desert Park trail to reach Windgate Pass trail. Enjoy ascending chunky washes and punchy climbs, then take a breather at the intersection to appreciate the mountain views before heading down the mountain until you reach the Gateway Loop. Head left on the Gateway loop, low gears at the ready, and climb up to the saddle for your final exhilarating descent back to the trailhead through a series of rocky switchbacks.