Short Day Trips from Scottsdale
There are lots of great adventures to be had within a short drive of Scottsdale. Your mind may have jumped directly to the Grand Canyon, which is, of course, an incredible destination. But there are plenty of places to explore beyond our state's namesake. Whether you are interested in exploring ghost towns, biking among the red rocks, or taking a refreshing dip in one of the lakes near Scottsdale, we've got the lowdown on all the best places to consider when planning your day trips from Scottsdale.
---
See the Desert from the Water
---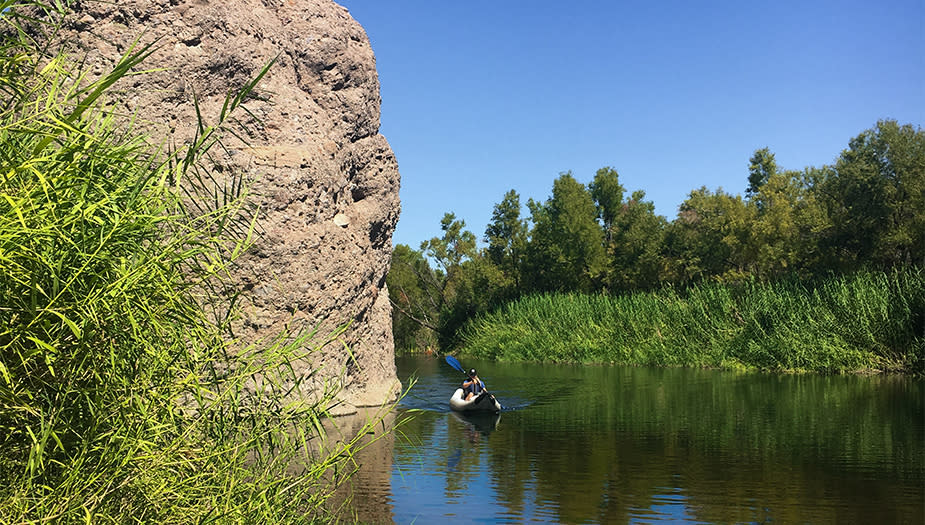 Visitors to Scottsdale are often surprised to learn that there are lakes and rivers only a short drive from Old Town, which means lots of options for water activities. About 45 minutes east of Scottsdale, you'll find Saguaro Lake, a dammed lake on the upper stretch of the Lower Salt River. Saguaro Lake is surrounded by steep canyon walls and offers dramatic views of the desert. Rent a boat, take a cruise on the Desert Belle, or try a stand-up paddleboard tour to get the best views of the giant saguaro cacti clinging to the rocky lakeside.
For those who are more interested in relaxing onshore or fishing in shallow water, the short drive (about 45 minutes) to Needle Rock Recreation Area on the lower Verde River is exactly what you need. This little-known stretch of river is easy to access and the perfect setting for early morning fishing, bird-watching, or a picnic lunch on the river's sandy banks. Intrepid travelers should spend some time exploring the area; there is a small trail that leads to the top of the rocky cliff nearby, and when the water is low, it's possible to hike upstream a short ways for wildlife viewing. Be sure to have proper water-proof footwear on hand.
---
Hike the Old West
---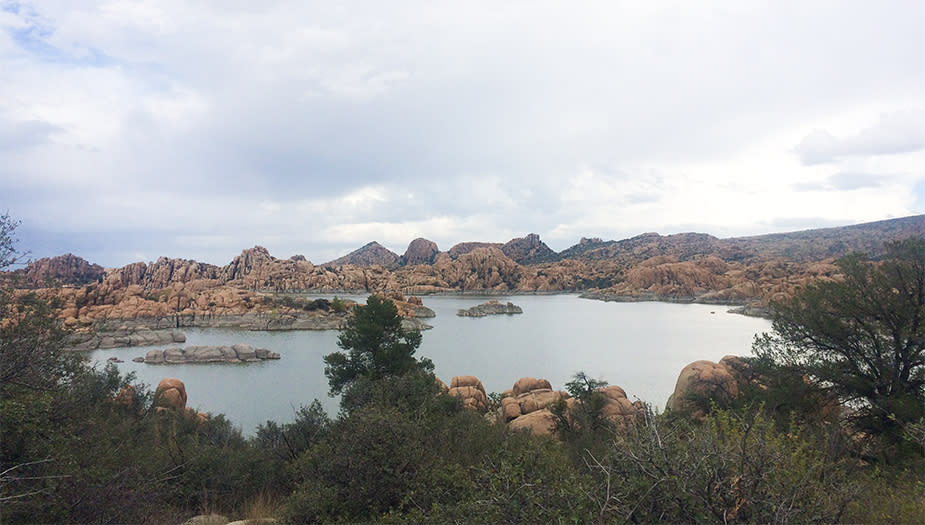 Scottsdale's new West is enticing entirely in its own way, but the Old West has an allure that visitors and residents pine for. Jerome, Arizona, just shy of two-hours north of Scottsdale, owes its existence not to cowboys but to those other kings of the rugged western mountains – miners. Nestled on a steep hillside below towering Mingus Mountain, Jerome will reward you with haunted hotels, quirky shops and tasting rooms from local wineries. Consider hiking famed Mingus Mountain in the morning followed by lunch in town and a tour of the historic (and haunted) Grand Hotel.
If mining lore and ghost towns are not your style, make a stop in Prescott (also about two hours from Scottsdale). This town is set amongst tall Ponderosa Pine trees and has a quaint, walkable square famous for its Whiskey Row and debaucherously colorful past. The town is surrounded by national forest and has many choices for hikers including the trails around Watson Lake (pictured above) or the stunning views from Granite Mountain.
Those who'd rather stay closer to Scottsdale have plenty of opportunity to experience cowboy culture. Just north of Scottsdale is the small town of Cave Creek. This quirky Western enclave is nestled against the Tonto National Forest and surrounded by endless hiking trails. From Spur Cross Recreation Area, hike the Metate Trail through the mesquite bosque and explore along the namesake Cave Creek. Or travel just a short ways further to Seven Springs Recreation Area for a hike to a waterfall and a splash through the refreshing pools. Follow your hike with lunch in Cave Creek at one of the local haunts such as Bryan's Black Mountain BBQ or Big Earl's Greasy Eats.
---
Bike Among the Red Rocks and Visit Wine Country
---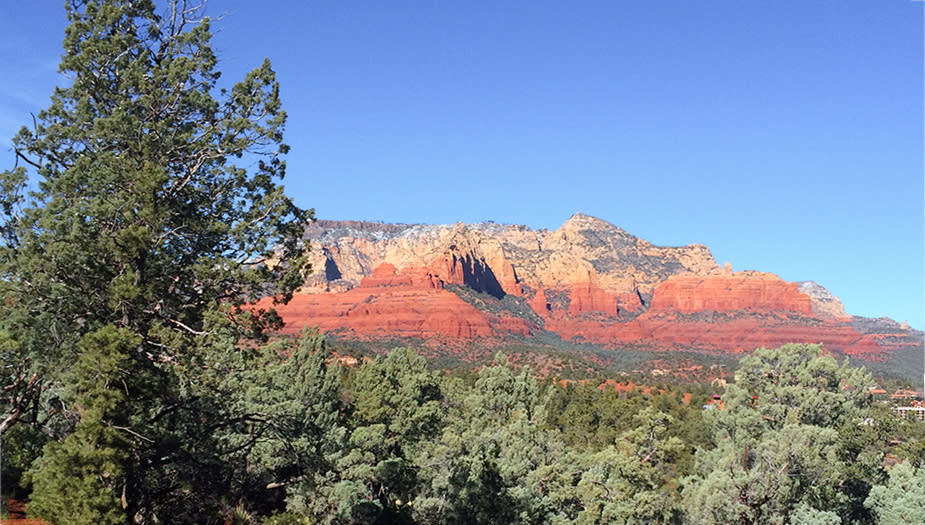 Second only to the Grand Canyon in fame and beauty, the red rocks of Sedona captivate travelers from around the world. Located two hours north of Scottsdale, this quaint town is an otherworldly paradise of carved red slickrock and fragrant pine forests. Rent a mountain bike and explore miles of purpose-built trails, hike to a mystical vortex or take a jeep tour into backcountry canyons. In town, visit the shops at Tlaquepaque arts and crafts village for Native art and local history.
For a truly Arizona experience, combine your visit to Sedona with a stop in the town of Cottonwood to experience some of the best of Arizona's blossoming wine country. Make it an adventure with a beautiful road bike ride from Sedona to Cottonwood (mostly downhill but about 20 miles), wine tasting or lunch.
Scottsdale is a great launching point for adventures all across the Grand Canyon state. Whether you're in the mood for something adventurous, relaxing or with the most insta-worthy views, you are sure to find something new around every corner. Keep this in mind as you plan your trip to the area and be sure to add in at least one day-trip for exploration – you will be glad that you did.