Nearly every Scottsdale resident hears the call of the Rim. It's a siren song that grows especially seductive during summer heat. When temperatures rise in the desert, Rim Country beckons. This is the Mogollon Rim drive from Scottsdale.
Driving Up the Mogollon Rim
The Mogollon Rim is a 200-mile long escarpment that begins near the New Mexico border and slashes diagonally across Arizona all the way to Sedona. It rises 2,000 feet in a sudden vertical thrust and offers a cool sanctuary amid its forested heights. I love that Arizona diversity. You can wake up amid desert yet by lunchtime you're enjoying a lakeside picnic amid towering pine trees at an elevation of 7,600 feet.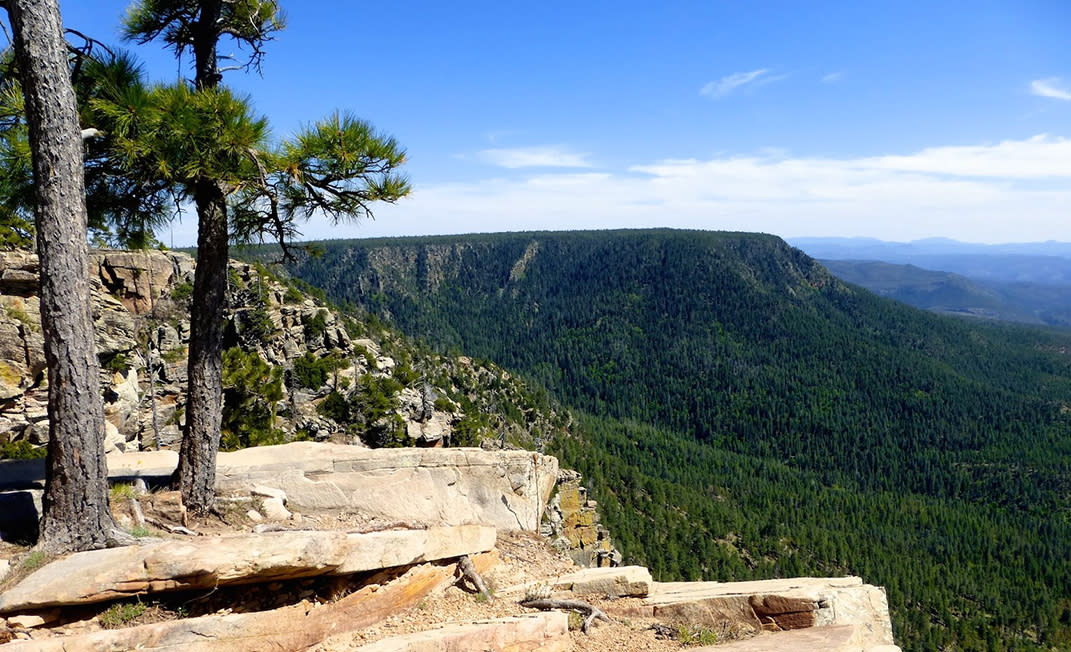 For a great introduction to this geological wonder, spend time atop its roof. Take one of my favorite scenic drives, Forest Road 300, also known as the Rim Road. Approximately 45 miles of well-graded dirt, FR 300 stretches between Arizona 260 and Arizona 87 as it crosses this broad humped spine. Along the way, enjoy lush forests, sparkling lakes and endless views. 
Driving from Scottsdale
From Scottsdale, it's a straight shot up Arizona 87 to Payson (77 miles). Grab gas and supplies in Payson, because you're heading for lonely country. Drive east on Arizona 260 for 29 miles until it climbs to the top of the Rim. On the right side of the highway sits Mogollon Visitor Center, a small cabin where you can get information and current conditions.  
Directly across the highway from the visitor center is the eastern end of Rim Road. I turn onto FR 300 pointed west. Almost immediately a couple of signed pullouts beckon, Military Sinkhole and Rim Lakes vistas. These are big ledged protrusions jutting from the cliff top with panoramas that stretch forever.     
Views here are different than summit views. It's not just that you're above the landscape like atop a mountain peak. You're also at the brink of something vast, teetering on a shoreline of space. These are edge-of-the-world views. Waves of soft hills roll off into the distance, thousands of feet below. Meanwhile, I'm alone with a vast swath of sky. The Mogollon Rim feels like heaven's porch.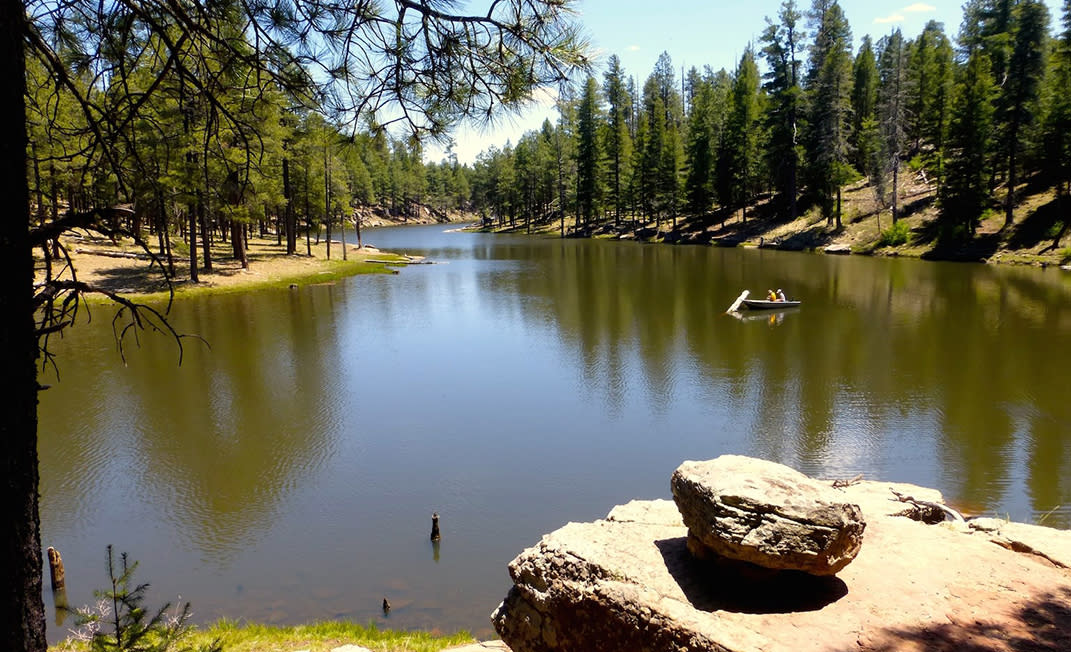 Explore Woods Canyon Lake
I make the turn towards Woods Canyon Lake, the most popular of Rim water holes. Only 55-acres, Woods Canyon offers multiple campgrounds, a picnic area, boat rentals and even a small store. What attracts me is the hiking trail circling the lake, since I get antsy if I don't regularly put boots on the ground.
At 5.2 miles the Woods Canyon Lake Loop makes for a nice leg stretch, crossing the earthen dam and disappearing into the trees. It's an easy stroll that traces the water's edge except for one section that swings wide to protect a bald eagle nest. How cool would it be to watch a swooping eagle snatch a fish from the water? Not so good for the fish, I suppose, but I'd sure dig it. All too soon, I'm at the parking lot again. 
Back on FR 300, I bid adios to pavement. It's graded dirt for the next 40 miles, bouncy at times but can be managed in a sedan. I'm chasing history through here. This is part of the old wagon road built by General George Crook to move troops and supplies between military posts in the 1870s as the U.S. Army battled Apache tribes.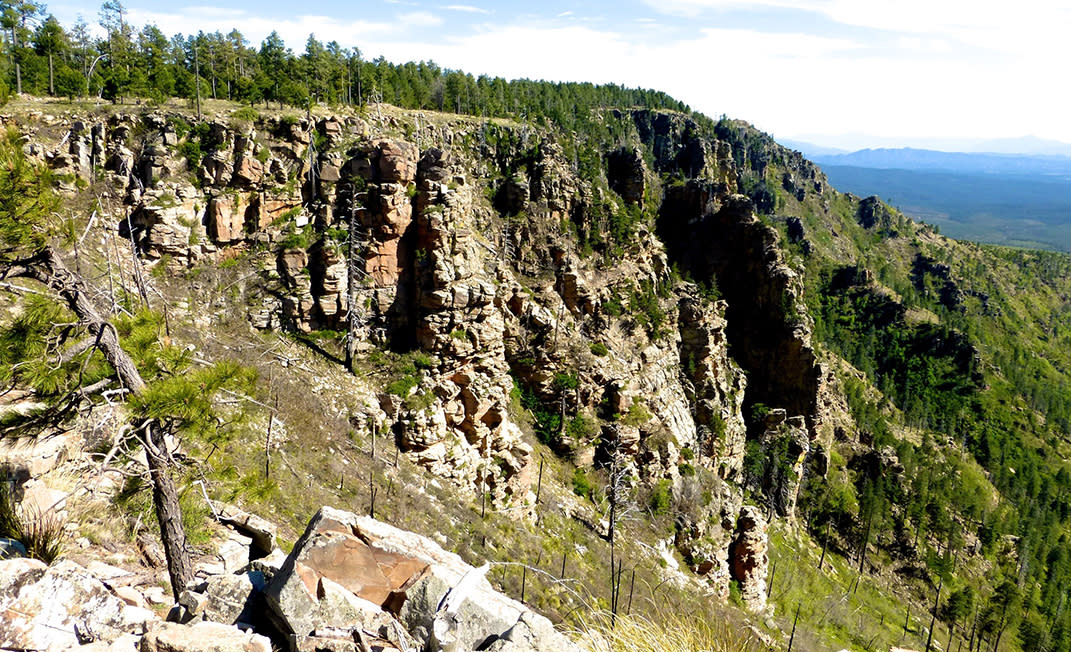 Keep On Driving
For most of the drive, FR 300 plays peek-a-boo with the edge of the Rim, skirting the timber and meadows. Often the road lies just a few feet from the cliff. There are plenty of places to pull over and I frequently do. I grab a high ledge, put my back to a tree and prop my feet up on a cloud.
Several other forest roads branch off from 300 angling back into the trees, often towards lakes like Bear Canyon, Knoll or Chevelon. Sometimes the roads just point to the promise of a quiet camping spot. Signs for hiking trails with their little brown pedestrian logos cross my route, tempting me. There's Horton Springs, Myrtle, Houston Brothers trails and even a section of the mighty Arizona Trail, but I'll save them for another visit
I'm content as the day climbs into the afternoon just to let it wheel past me. I've got a pretty good seat to enjoy the show.    
The Rim Road ends at Arizona 87, 10 miles north of Strawberry.