Explore the World at the Musical Instrument Museum
If you speak to anyone who has visited the Musical Instrument Museum, you'll find a common refrain - "it's more amazing than I thought," "I didn't realize how fun it would be," "it's the best museum I've ever been to" - and I couldn't agree more.
The MIM is the world's largest global musical instrument museum with a collection of approximately 16,000 instruments and music memorabilia from every country in the world housed in a 190,000 square foot building. More than 7,000 of those instruments are displayed on two floors covering 70,000 square feet, so plan to spend a day wandering the many galleries, with a leisurely break for lunch at the on-site restaurant.
At the MIM, guests are encouraged to immerse themselves in a sound-and-sight experience using state-of-the-art audio and video equipment. Pay for your ticket and slip on the wireless GuidePort headphones you receive. These are integral to the fascinating museum experience as they activate and connect to video content as you approach various exhibits. This unique system allows each person to watch and listen as the instruments are being created, played in a variety of settings, or used in their cultural context.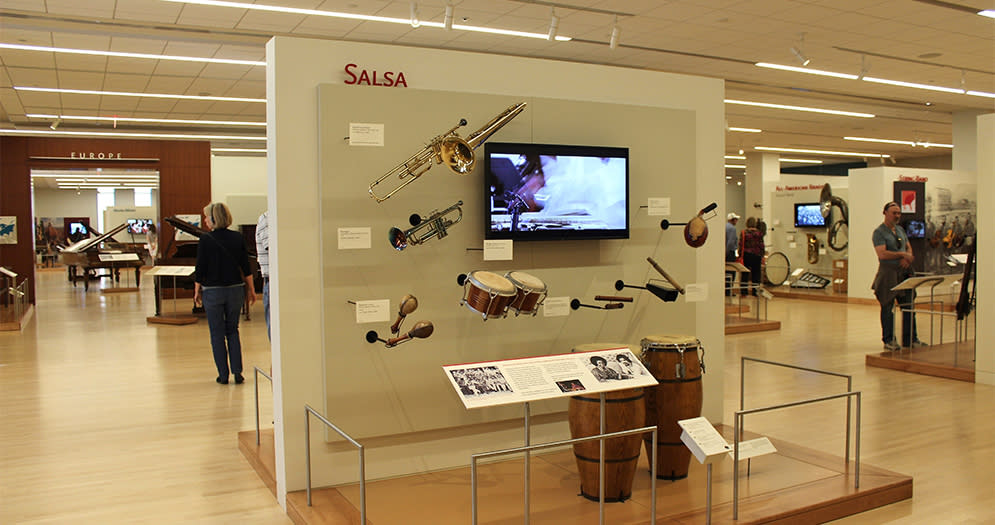 Begin your tour on the first floor, perhaps with the Experience Gallery for a hands-on education, the Conservation Lab where instruments are restored, or the Target Gallery which hosts traveling engagements such as the recent "Congo Masks and Music: Masterpieces from Central Africa" exhibit.  Make sure to leave plenty of time for one of my favorites - the Artist Gallery. Here, you'll find entertaining displays and concert performance clips from Maroon 5 to Elvis Presley, and musical treasures such as Pablo Casals's cello and Adam Levine's rare Ibanez electric guitar.
By now a couple of hours have passed and you've probably worked up an appetite. While there is a casual coffee shop, Café Allegro is my pick for a perfect spot to enjoy lunch. Open 11:30 a.m. to 2:30 p.m. daily, the menu features global cuisine crafted from Arizona-grown produce and artisanal ingredients. The sunny patio is an especially nice spot to dine al fresco and enjoy our Arizona weather.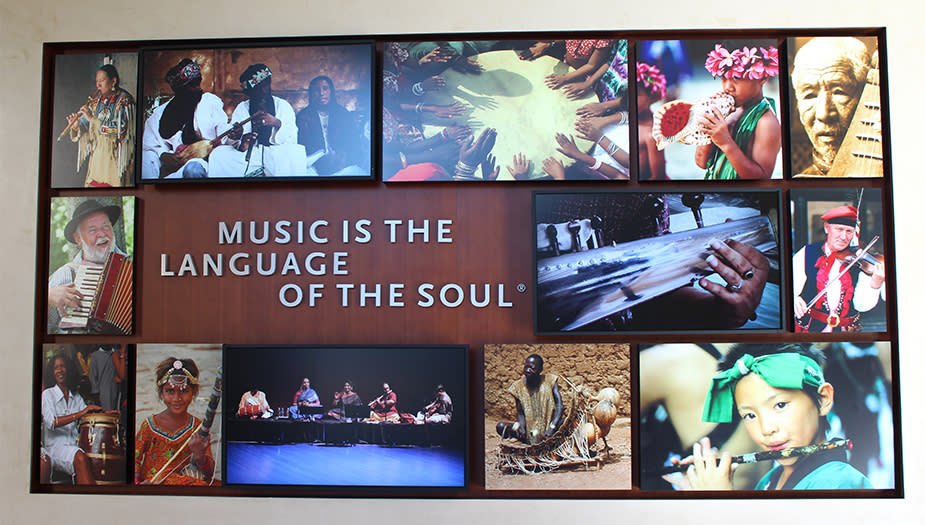 Refreshed and rested, head to the second floor where you'll roam the Geographic Galleries divided into Africa and Middle East, Asia and Oceania, Europe, Latin America, and the United States and Canada. Here you'll embark on a musical trip around the world, learning about Appalachian dulcimers, bamboo instruments of Vietnam, the violin makers of Cremona, Italy, how a grand piano is built and much more! 
The MIM also offers a range of activities for all ages. Children are welcomed into the joy of music with MIMkids workshops, such as Mini Music Makers for children 5 and under, MIMkids Musical Adventures for ages 6 through 10, or Junior Museum Guides for grades 6 through 12. Special "Experience" weekends, including Experience India and Experience Ireland, transport guests on a global journey of music, crafts, culture, and food with accompanying themed menus served in the café. 
The Musical Instrument Museum is also the perfect venue to enjoy concerts and shows. An acoustic marvel, the MIM Music Theater, invites more than 150 artists a year and a boasts a past roster including Lyle Lovett, Jordin Sparks, and George Benson.
Make a date, meet some friends, or bring the family to make your own music and memories at the MIM.