Paolo Soleri was a colorful and passionate Italian architect who first came to Arizona in 1947 as an apprentice for architect Frank Lloyd Wright. Soleri became known for his work on bridges and ceramics, but his passion was designing frugal, self-sustaining cities. He spent his life working toward that vision and developed a concept he termed arcology (architecture + ecology). Soleri and his wife moved to the Scottsdale area in 1956 when they founded Cosanti as their home and studio in neighboring Paradise Valley.
Cosanti in Scottsdale
My first visit to Cosanti still remains a highlight of the more than two decades I've lived in the area. I didn't even know Cosanti existed for years. It is hidden on a quiet residential street in Paradise Valley, so it's not something that gets a lot of foot traffic. But it really is a must-see during your visit to Scottsdale.
Cosanti is one of Arizona's most eclectic treasures and an Arizona Historic Site. It is part art studio and part architectural experiment. The name itself, Cosanti, sets the stage for what you can expect here. The name means "Before (or Against) Things" in Italian and it was a living experiment for Soleri's vision during his life. I will always remember the words from the guide I had at my first visit—"Soleri was great at making something from nothing," she explained. That made everything I saw during my visit make sense.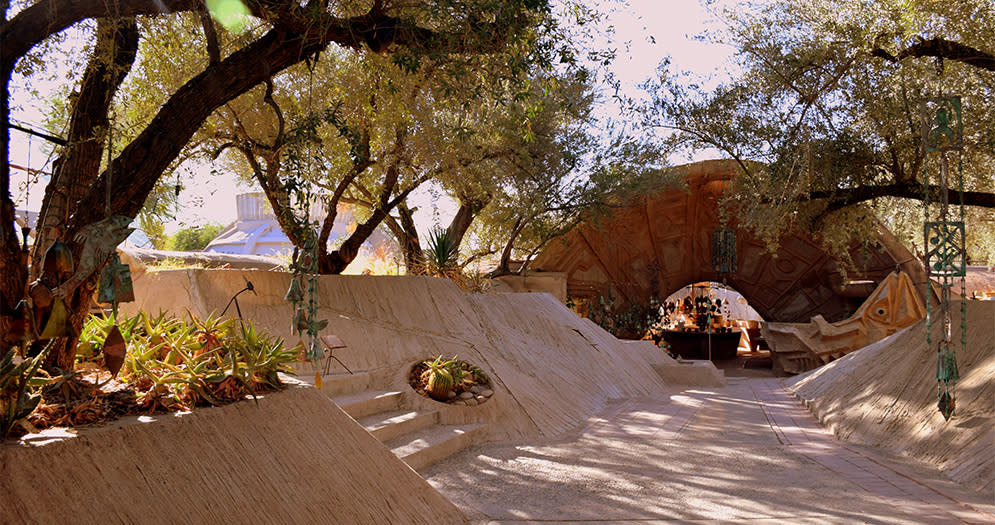 I was fascinated with the domes that seemed to defy gravity. Soleri created earth-formed concrete structures, giving everything a bit of an other-world feel. The landscaping highlights what is possible in the desert and exploring the grounds and buildings is an ideal way to spend a couple of hours.
Soleri is probably best known for his beautiful hand-poured bronze windbells. The Cosanti Foundation continues to create more than 50,000 bells each year. As I wandered the grounds on a self-guided tour, the rhythmic sound of all those bells mesmerized me. If you visit on a weekday morning, you might be lucky enough to witness a bronze casting.
Eclectic Arcosanti
Soleri lived at Cosanti until his death in 2013, but his heart stayed at Arcosanti, in the desert about an hour north of Phoenix. Started in 1970, Arcosanti was to be a prototype arcology—the community that Soleri envisioned as a sustainable urban alternative. When I drove to Arcosanti, I wasn't sure what to expect. I'd seen the signs off of Interstate 17 for years, but had never ventured toward what I assumed was sort of a commune. It's obvious that Arcosanti is still a work in progress. Those who live and work there continue to honor Soleri's dream and continue his work.
While at Arcosanti, I met with the archivist, a retired woman named Sue who still teared up when she spoke of her mentor. "We aren't off the grid to the point where we want to isolate ourselves," she explained when I asked her to define Arcosanti. "We're part of the global connectivity. But we want to understand how to better live together. We are trying to do things that are transferable to cultures not as wealthy as ours."
The community in the desert is open to the public daily from 9 a.m. to 5 p.m. Residents live permanently in the earthen structures. Workshop participants stay while taking classes on glassblowing, yoga or ceramics. Tours are offered every hour on the hour between 10 a.m. and 4 p.m., except at noon when guests are invited to join the residents in the Arcosanti Café for lunch. The buffet meal, with both meat and vegetarian options, is $15 and served from 12:30 p.m. to 2:30 pm daily.
Immerse Yourself in the Art
If you want to immerse yourself in Soleri's experiment, you can also stay overnight at Arcosanti. The rooms are basic with either private or shared baths, and range from $35 to $70 per night. They will take you back to college dormitory days, but with a wall of windows looking out over the Agua Fria National Monument, breathtaking sunrises and the freedom of unchaperoned exploration of the site, it's an experience to remember forever.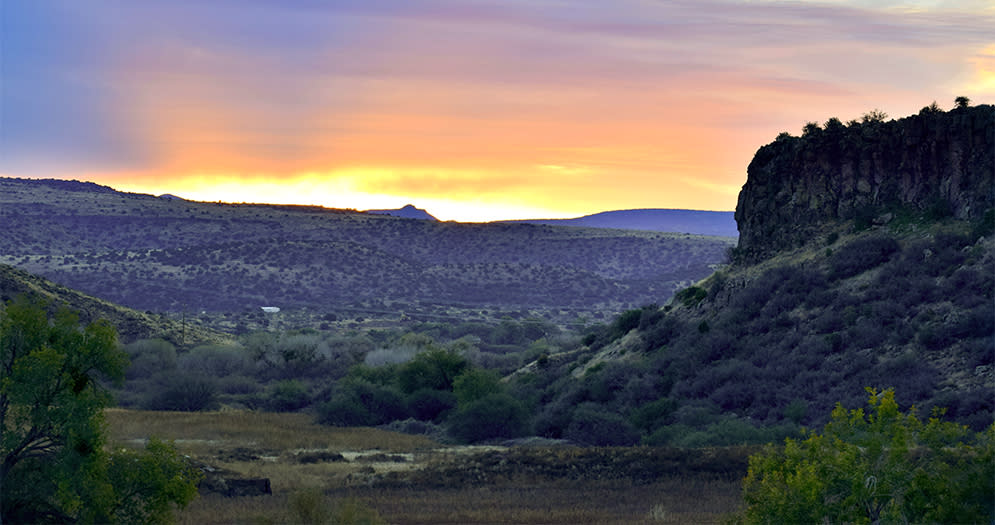 After dinner with the residents, we sat around a firepit and heard stories of working alongside Soleri. Some residents came during college for a visit and never left. Others returned to retire. Age seemed irrelevant. It was more about living Soleri's dream. Making something out of nothing.
As I took my flashlight and made my way back down the rough pathway to my room, I realized Arcosanti really is an urban laboratory. Projects will never "be finished." I looked at the stars twinkling in the dark desert and took a deep breath. No ringing phones. No text messages. No Tweeting. Just nature—the Arizona desert at my feet and the cosmos overhead. Soleri was definitely onto something.