One of my most treasured trip souvenirs is a bronze sculpture I made during an art class at a destination spa. While I love channeling my inner Rodin, it was the first time I created art that looked remotely like what I had intended when I started. Today this bronze bust is proudly displayed in my living room and reminds me not only of my first artistic success, but also the trip itself. If you want to bring home a memory from Scottsdale, nothing beats making it yourself at one of these immersive Scottsdale experiences.
---
---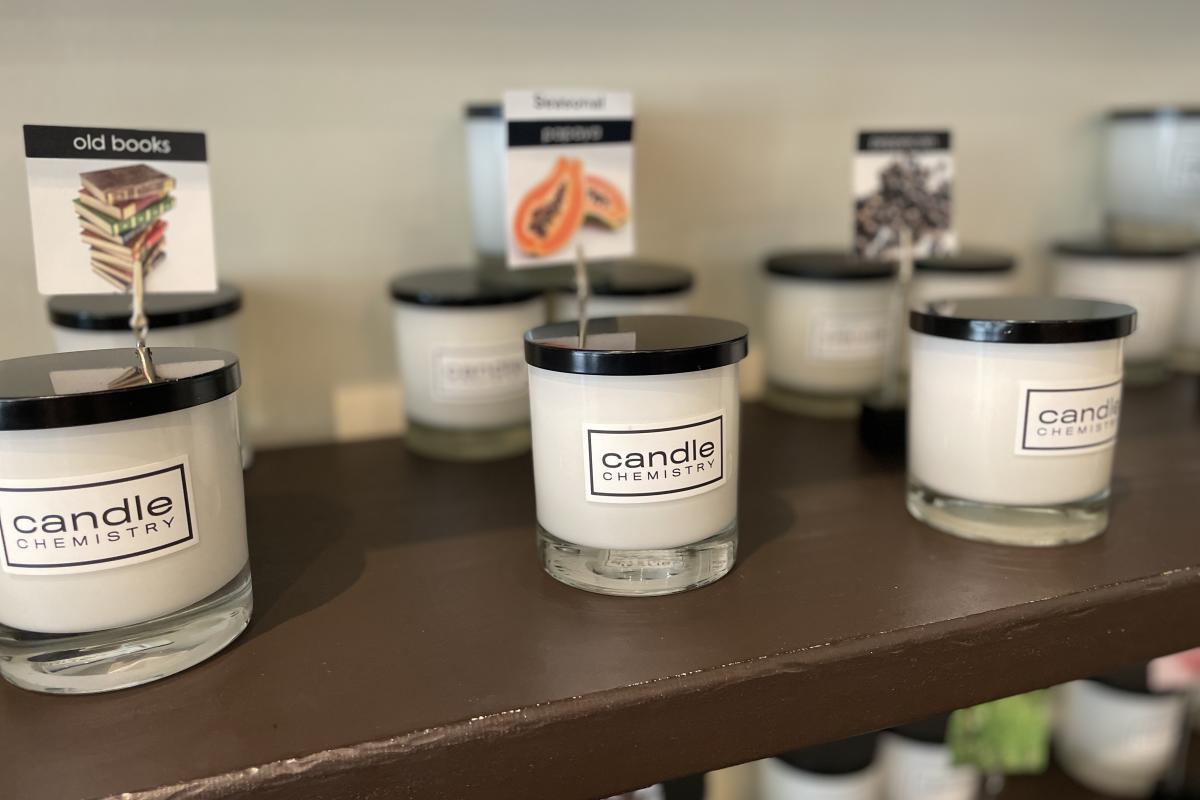 Scent is powerfully connected to our memories so what better souvenir is there than a custom scented candle to remember your time in the city? At Candle Chemistry in the Scottsdale Quarter and Light + Bark in Old Town you'll feel like a mad scientist as you sniff your way through numerous scents to find your signature Scottsdale blend.
As I smell everything from summer rain to old books at Candle Chemistry, I write down my top eight scents and then select a candle (or bath or body product) to create. Working with my scent specialist appropriately named, Alchemy, she suggests several blends of up to three of my favorite scents that would meld together well. I decide to create a gardenia, sea breeze and mahogany teakwood candle. Using their essential oils, I fill up a jigger each of the three, constantly stirring and smelling to ensure I like the blend. When I get it right, I pour the oil into the candle wax, stir and then voila, two hours later I have my Scottsdale scent. If you don't have the time to wait for the wax to solidify, the body products are ready to go as soon as blended.
Light + Bark's candle parties are a great way to celebrate a birthday, bachelorette or shower, or just for a fun night out with friends. Browse through their scent library, which includes desert-inspired fragrance options, then create a customized, hand-poured soy candle. Be sure to browse Light + Bark's retail offerings while you're there and discover locally made specialties like body care items and greeting cards. Best of all, a portion of all Light + Bark proceeds go to support local shelter pups!
---
---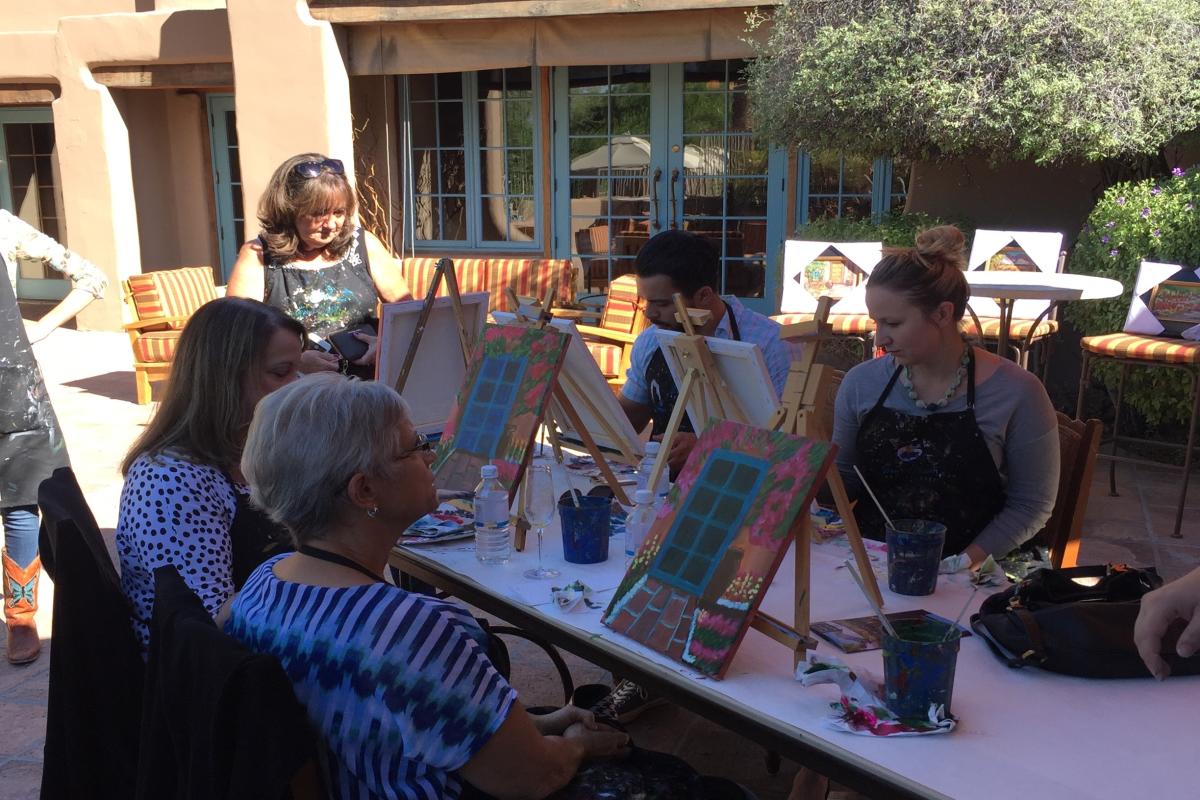 Even though you already know my art talent is more middle school than Monet, I'm ready to channel the famous Impressionist at The Hermosa Inn's Mimosa & Monet class.
This hidden gem inn was the residence and artist studio of cowboy artist Lon Megargee in the 1930s. The plein-air Mimosa & Monet Scottsdale experience is run by local artist Carrie Curran and is offered on select Saturdays from October through May. Each session features a different painting with a good mix of local scenes and classic impressionism works.
During my class we paint the hotel's classic blue door entrance. Powered by pastries, coffee and a mimosa, I manage to exceed my stick-figure talent and paint something that at least resembles Carrie's guide painting. In fact, I deemed it decent enough to hang in a corner of my kitchen to inspire my culinary art adventures.
---
---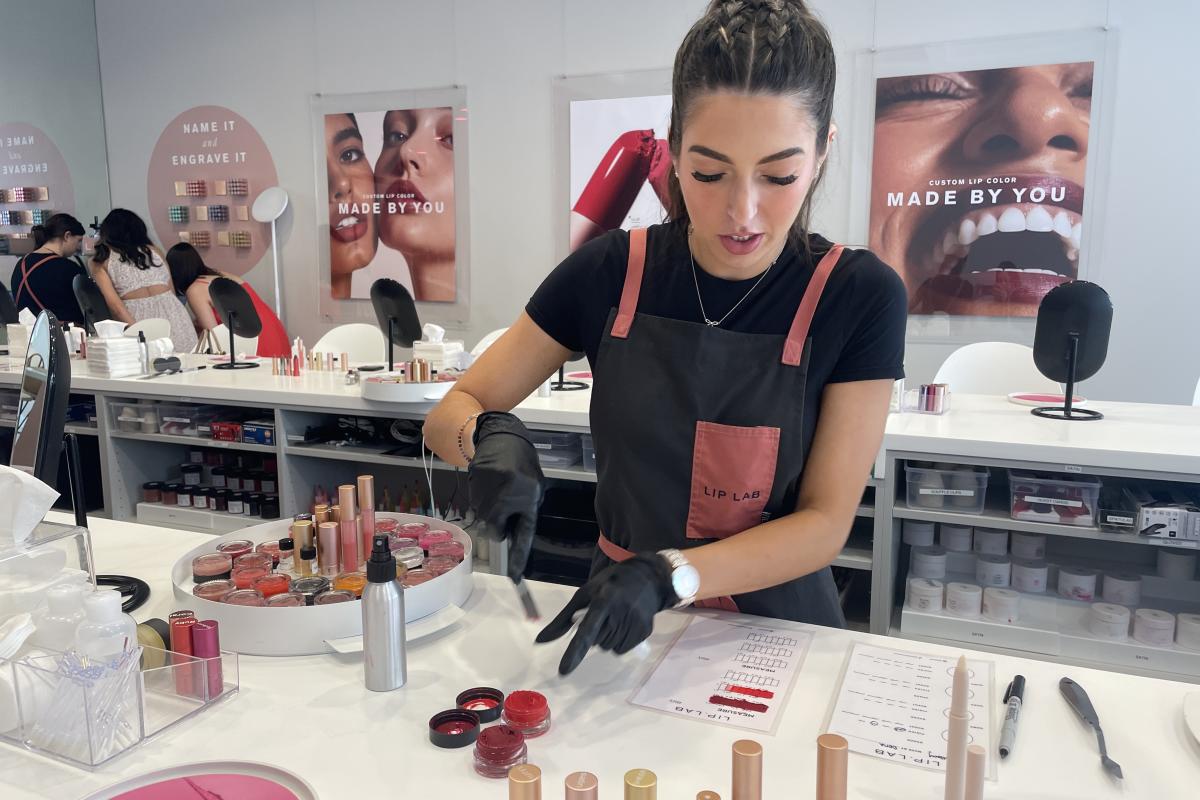 For a lip-smacking good time, head to Lip Lab at Scottsdale Quarter and immortalize your trip to Scottsdale with a new signature lipstick hue. If you've ever struggled like I have to find your perfect color, this is the solution. You'll have a dedicated color stylist guide you throughout the process, which starts with deciding if you want a matte, sheer, satin or gloss finish and if you'd like to add any flavoring like vanilla, mango, pomegranate or mint. I opt for a matte lipstick with just a touch of vanilla.
The fun part of this Scottsdale experience begins as we play with pigments, experimenting with creating a red, mauve and slightly coral/pink shade. After Tiffany mixes each I try them on. The red is too clown-like, the mauve too close to my natural lip color, but the mix with a touch of coral makes my blue eyes pop-the clear winner. After I create the shade, I pick the color tube I like best and name my color. With "Scottsdale Bisous" christened, Tiffany mixes the pigments in the right formulation, melts the mix down and pours it into a mold. While it hardens, we head to the laser machine to engrave the tube with the lipstick's name. The last step in the process is to transfer the lipstick to the tube and voila, my signature Scottsdale color is ready to remind me of this day for months to come.
---
---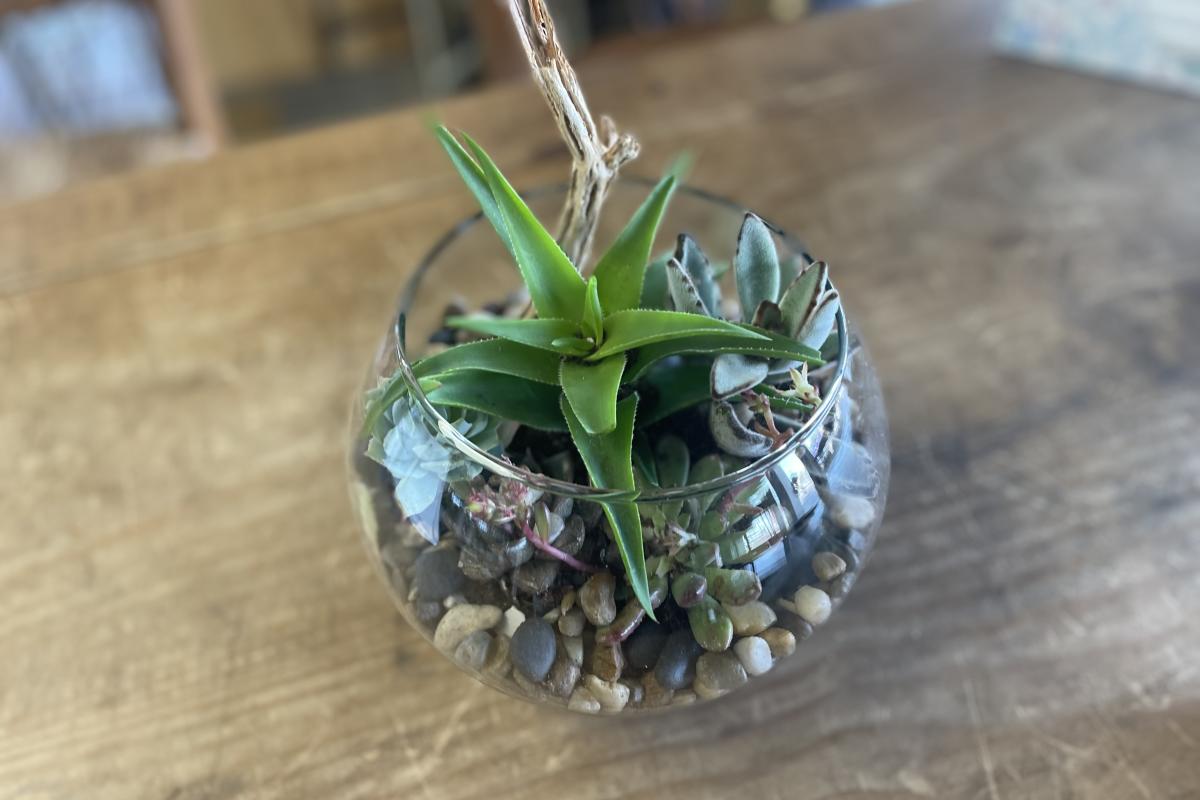 There's no better symbol of a trip to Scottsdale than our desert cactus. Join a class at Cactus Flower Florists and you'll build a succulent garden souvenir of your time in Scottsdale.
Named after the 1969 Goldie Hawn movie, "Cactus Flower," the florist shop has been a Scottsdale staple for over 50 years. In the beginning people arrived on horseback and hitched up their steed while they ran in to grab a bouquet.
During this Scottsdale experience our instructor Sharon, who has worked at the shop for over 40 years, demonstrates how to build our cactus garden, giving tips to ensure the plants take root and how to care for it. We're instructed to pick one 4-inch succulent and four smaller plants. We begin by putting stones in the bottom of our glass bowl, followed by a layer of soil. Next, it's time to arrange the plants. I quickly learn that my big cactus takes up a lot of real estate and I have to try several different small succulents to find a mix that works. When they're all potted, I add more soil, a piece of cactus skeleton for texture and stones for a decorative finish. The result is my own slice of the Sonoran Desert.
No matter what Scottsdale experience you choose, the result is sure to be a day of fun in the city and a memory to last a lifetime.
For more immersive Scottsdale tours, events and maker experiences, check out Exceptionally Scottsdale!