The Best Patio Restaurants In Scottsdale
Dining al fresco has its own inherent charms, but Scottsdale elevates the experience with breathtaking Sonoran Desert vistas, enchanting art displays and crackling adobe fireplaces set against the grandeur of Camelback Mountain. Here are some of our favorite spots for embracing the great outdoors while you dine.
---
---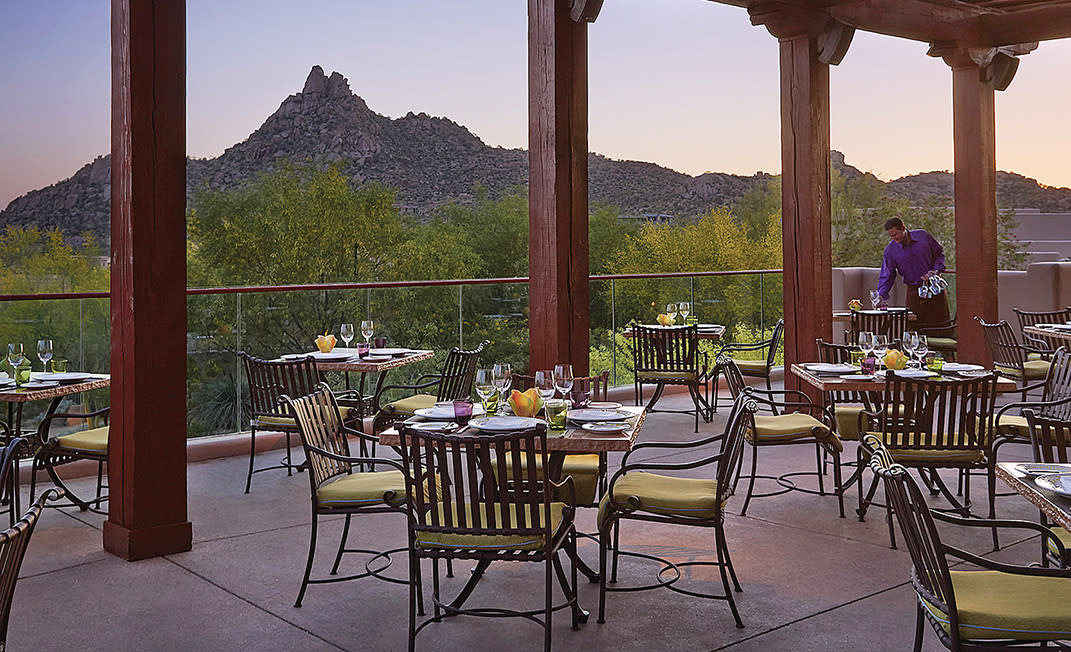 For the ultimate al fresco dining experience, Talavera offers breathtaking views of nearby Pinnacle Peak, dramatic desert sunsets and distant glimmering city lights. The Latin-focused menu features a feast of tapas, paella, charcuterie, seafood and beef dishes. After dinner, save room for spicy dark chocolate diablo cake and then relax with an after-dinner drink surrounded by the enchanting solitude of the desert.
---
---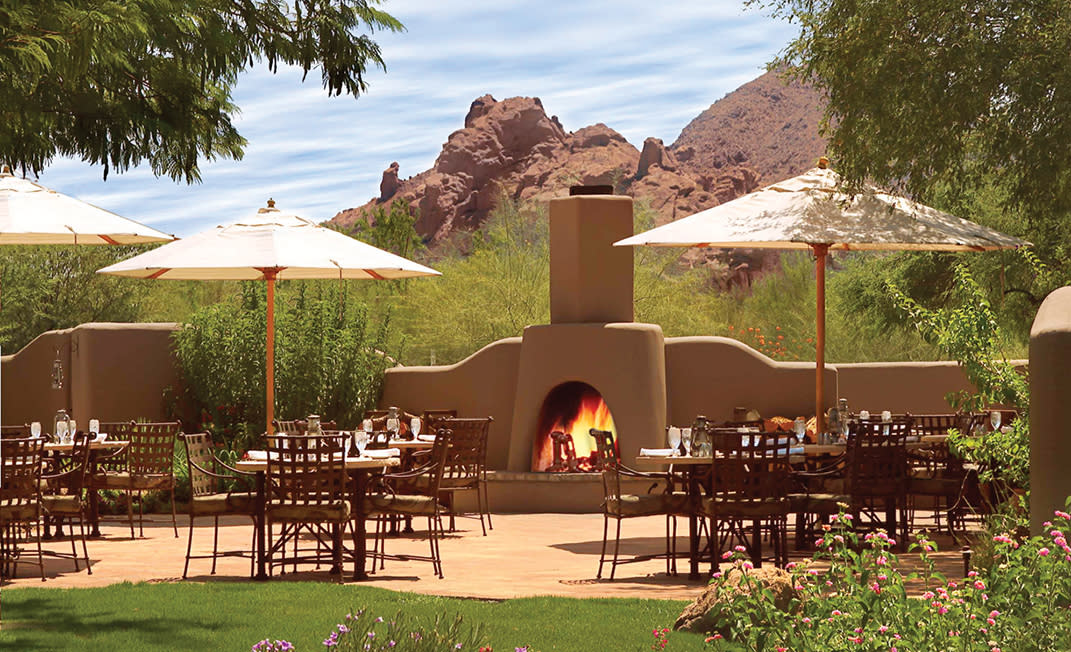 Lon's intimate patio provides the perfect backdrop for a romantic dinner under the stars. Enjoy a handcrafted cocktail at a candlelit table next to the crackling adobe fireplace. Order from the chef's tasting menu of Arizona-inspired global cuisine or choose from the "classics" menu, which includes wood-fired meats and seafood. During the day, diners are treated to striking views of Camelback Mountain.
---
---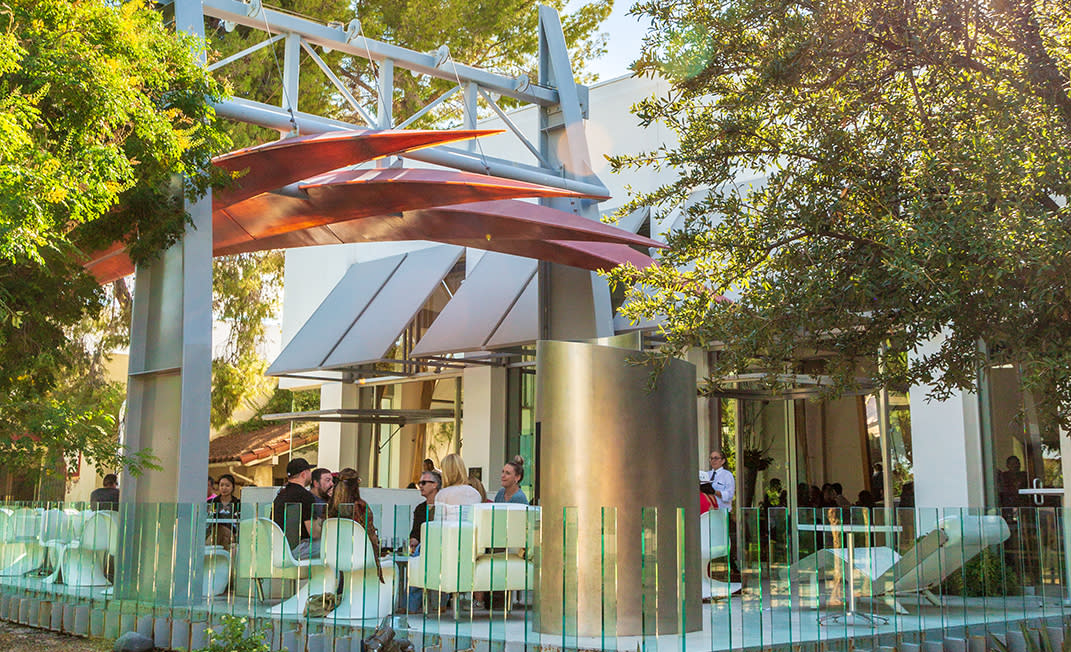 AZ88 is best known for its signature filled-to-the-rim martinis, unusual contemporary art displays (think a Christmas tree made of Barbie dolls), lively atmosphere and sleek patio overlooking leafy Scottsdale Civic Center Park. Adjacent to Scottsdale Center for the Arts and Scottsdale Museum of Contemporary Art, AZ88's patio is the perfect setting to sip a frosty craft beer, order a burger with waffle fries and snag a front-row seat to some of Scottsdale's best people-watching.
---
---
Housed in a 75-year-old adobe home, Old Town Tortilla Factory beckons guests with a 1,400-square-foot patio shaded by 100-year-old pecan trees, as well as a diverse menu of Southwestern- and Sonoran-inspired fare. Adorned with twinkle lights, the flagstone patio boasts a fire-topped fountain and a bar featuring more than 120 premium tequilas. Visit the climate-controlled patio year-round – misted in the summer and heated in the winter – and be sure to sample the fresh, house-made tortillas.
---
---
Built in 1934 as a girls' school, El Chorro occupies one of the most beautiful spots in the Valley of the Sun. Nestled between rugged Camelback and Mummy mountains, this rustic restaurant features classic dinner fare from fried chicken to filet mignon, but it's most famous for its brown sugar–glazed sticky buns. A seat on the lushly landscaped patio for dinner or Sunday brunch promises spectacular mountain views and stunning Southwestern sunsets.
---
---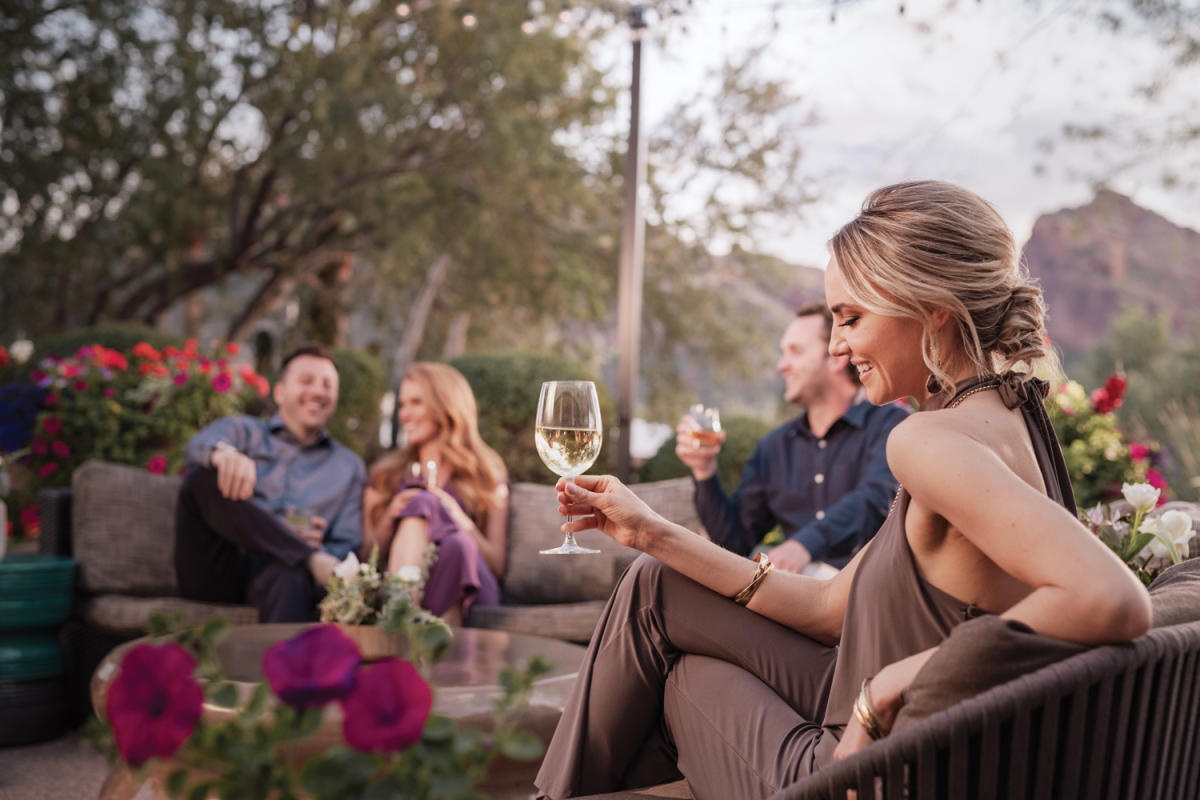 Lincoln, nestled in the heart of Paradise Valley at the JW Marriott Camelback Inn, serves up steakhouse classics like Wagyu butcher's steaks, sustainably sourced market fish and a variety of gourmet vegetarian dishes, including cauliflower steak. The restaurant boasts not one, but two patios with sweeping views of the resort's namesake, Camelback Mountain. Even an indoor seat won't disappoint, with floor-to-ceiling windows and sleek, contemporary decor.