Public Art After Dark
As a kid, I was fascinated by things that glowed – twinkly holiday lights, my Lite-Brite screen with its brightly colored pegs, the moon. Fast-forward to today and not much has changed. I'm still enchanted by beautiful things that light up the night. If you are too, don't miss these Scottsdale Public Art installations that are magnificent any time of day, but take on an extra-special glow after dark.
---
Knight Rise
---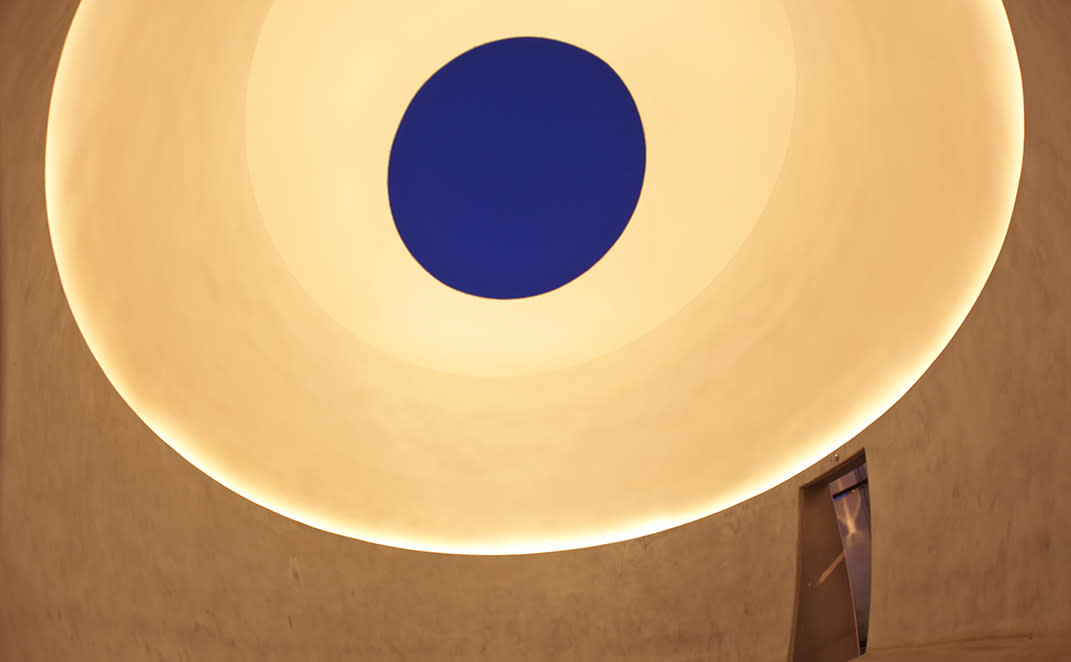 Photo by Sean Deckert
One of my longtime favorites, this monumental skyspace installation by James Turrell will change the way you look at the sky. Located at the Scottsdale Museum of Contemporary Art (SMoCA), Knight Rise frames the blue daytime sky in its elliptical opening, but the experience is entirely different at night when it embraces the darkened sky and focuses your attention on inky depths of the galaxy. Visit Knight Rise just before sunset on a Thursday or Saturday evening and experience the sky's magical transition from color to darkness (SMoCA stays open until 8 p.m. these nights).
---
Diamond Bloom
---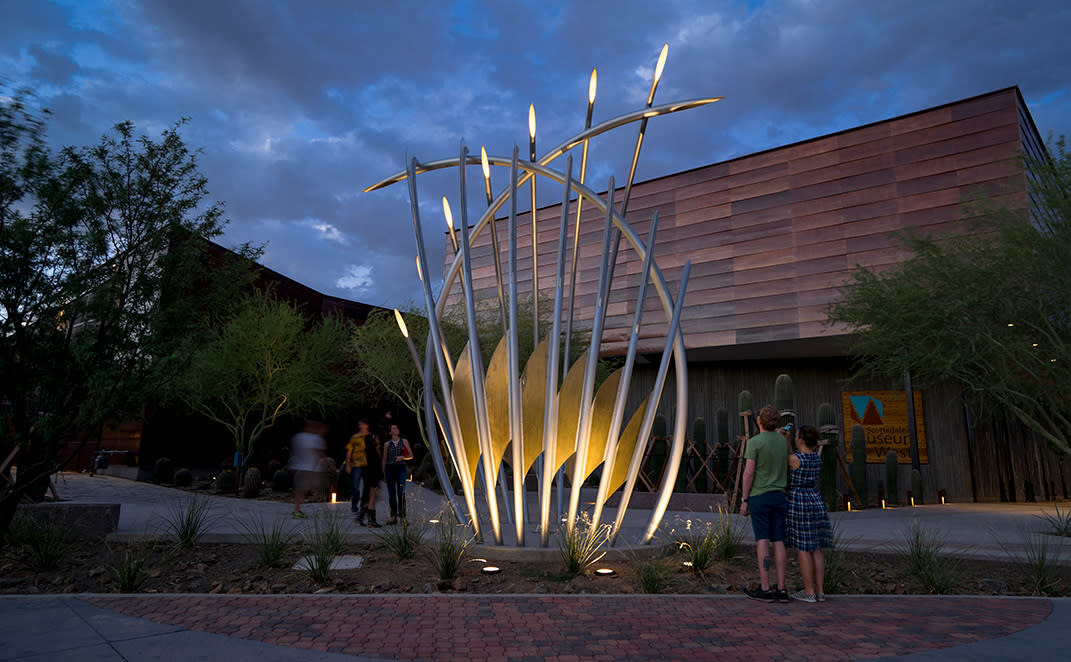 Photo by Sean Deckert
You'll find this gem by artist Curtis Pittman nestled by the southern exterior wall of Western Spirit: Scottsdale's Museum of the West. During the day, Diamond Bloom's brass panels and dichroic glass fins reflect the sun and cast multi-hued shadows, but at night this dynamic sculpture boasts colored lights that produce a striking purple and yellow glimmer reminiscent of the beautiful desert botanicals that were its inspiration.
---
Tributary Wall
---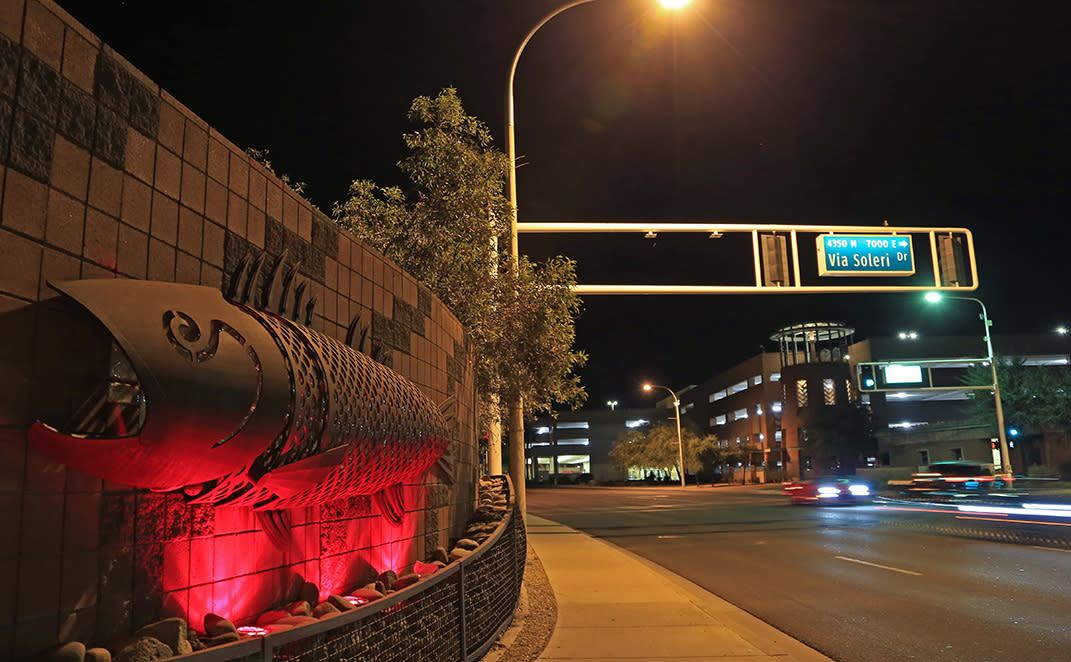 Photo by Brian Passey
The gently undulating structure on the west side of Goldwater Boulevard, just north of the Arizona Canal, is more than a simple sound-abatement wall. Tributary Wall by artist Kevin Berry features several steel fish, ranging in size from nine to 18 feet long. At night, red and yellow lights make the fish glow with luminous color. Park across the street in the public garage and take a nighttime stroll along the sidewalk to see the fish up close.
---
Impulsion
---
Photo by Andrew Pielage
Jeff Zischke's 24-foot-tall Impulsion at WestWorld of Scottsdale is captivating in any light. But to truly appreciate this equestrian sculpture, formed from stainless-steel tubing, you must see it at night. That's when LEDs mounted at the base of the elegant horse begin to shine and reflect off the stainless-steel structure, encapsulating the entire sculpture in a pinkish-purple glow.
---
Water Mark
---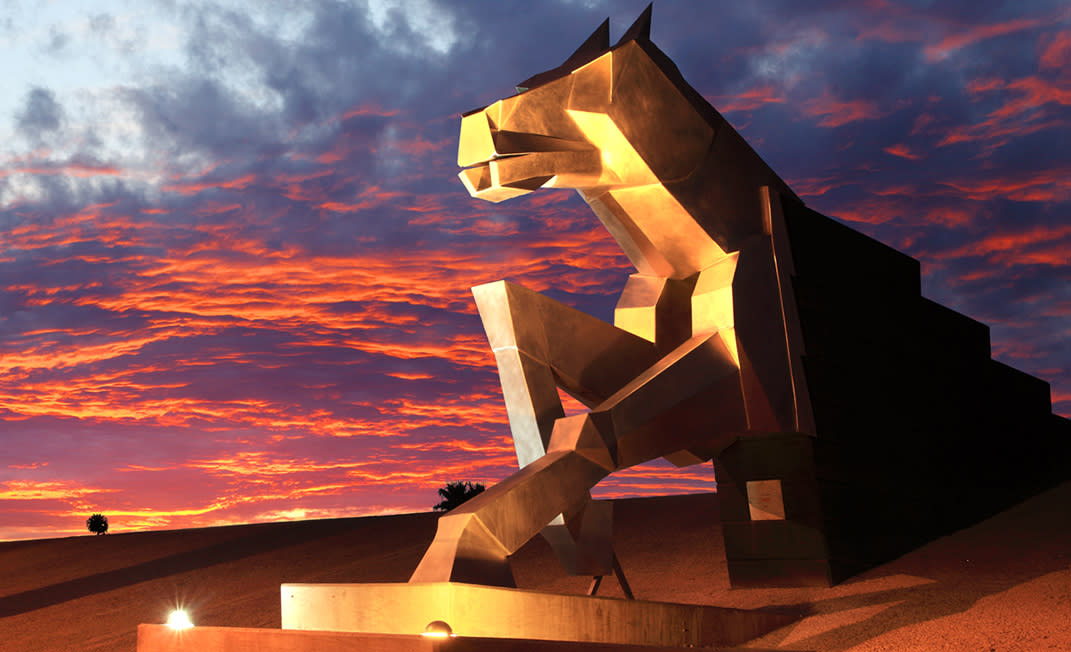 Water Mark, by Laura Haddad and Tom Drugan, graces the Indian Bend Wash Greenbelt (Scottsdale's innovative flood control channel). During times of flash flooding, water pours from the mouths of these 14-foot-high aluminum equine gargoyles. At night, the sculptures are subtly lit with blue lights on the east side and yellow lights on the west side, representing water and the sun. Find these magnificent sculptures on the north side of Indian Bend Road east of Scottsdale Road.
---
Canal Convergence
---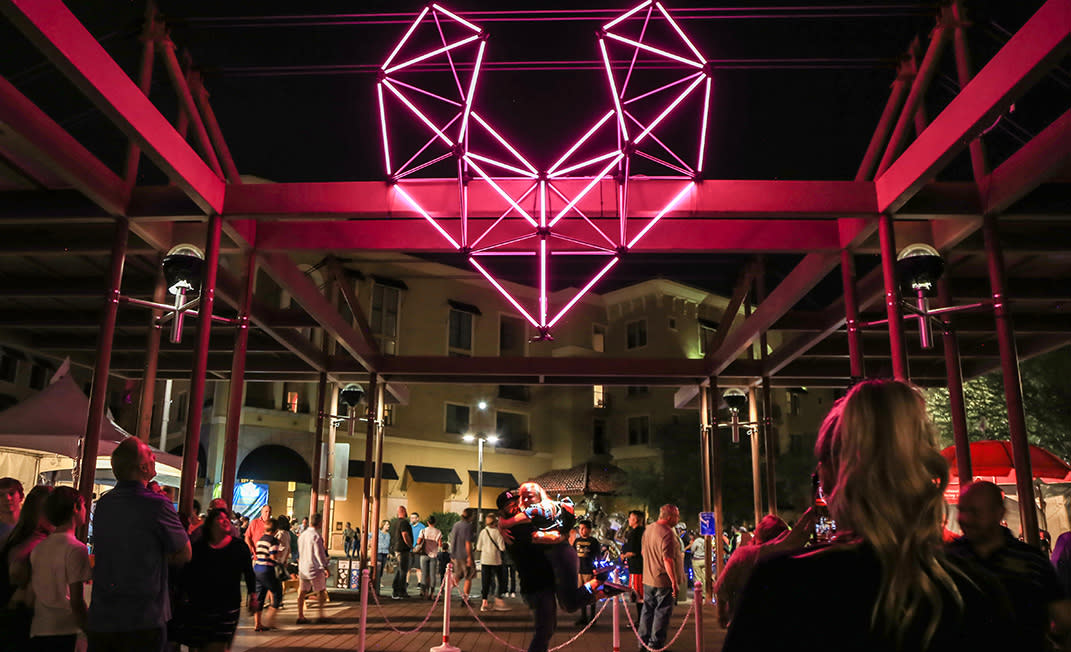 Photo by Choi + Shine Architects
Every November public artworks sparkle at night along the Scottsdale Waterfront during Canal Convergence. Several large-scale, light-based installations are featured, many of which are interactive and give you the opportunity to immerse yourself in art. This 10-evening event also features family-friendly activities, live entertainment and sustainability workshops.