As you explore Scottsdale, you might notice that our streets are filled with impressive public art. You can find a fun public art walking tour online here. But for me, some of my favorite works of art focus on what I think is our most precious resource — water. Water is vital to the desert. We here in Scottsdale become a bit obsessed by it. We love the smell of the Sonoran Desert after it rains and spring blooms can turn even city streets into picture postcards. Lengthy dry spells have us longing for an afternoon shower. Here are a few of my favorite public art pieces in Scottsdale that pay homage to water in the desert.
---
Copper Falls
---
One of my favorite installations is Copper Falls (photo above) by Robert Adams. The canals running throughout Scottsdale, operated by the Salt River Project (SRP), help supply water to the city and are similar to those used by the early Hohokam people more than a thousand years ago. The bridge over the canal at the southeast corner of Scottsdale and Camelback roads features a series of copper domes of varying sizes, creating a symphony of sight and sound unexpected at one of Scottsdale's busiest corners. On a sunny day, the McDowell Mountains form a lovely backdrop and rainbows play off the water drops. In the evening, the backlit panels create a calming spot to listen to the music of the precious water as it feeds the desert.
---
Goldwater Bells at Soleri Bridge
---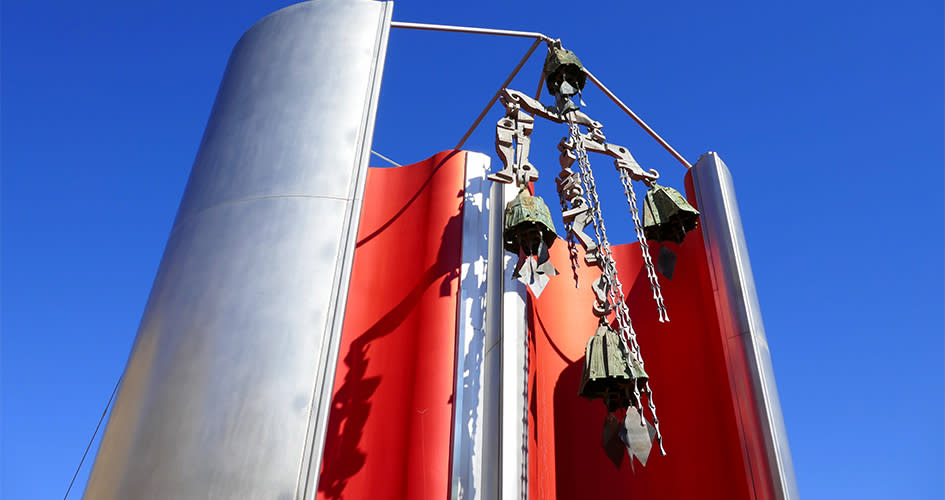 As you admire Copper Falls, look to the west across Scottsdale Road to see one of the most breathtaking and well known of Scottsdale's art pieces, the Soleri Bridge. But my favorite component is hidden on the south end of the bridge—the Goldwater Bells. The late Paolo Soleri himself cast these bronze bells at his studios in Arcosanti back in 1969. They were part of his exhibit at the Corcoran Gallery in Washington, D.C. and then hung for many years inside the old Goldwater's department store at Scottsdale Fashion Square.
---
Horseshoe Falls
---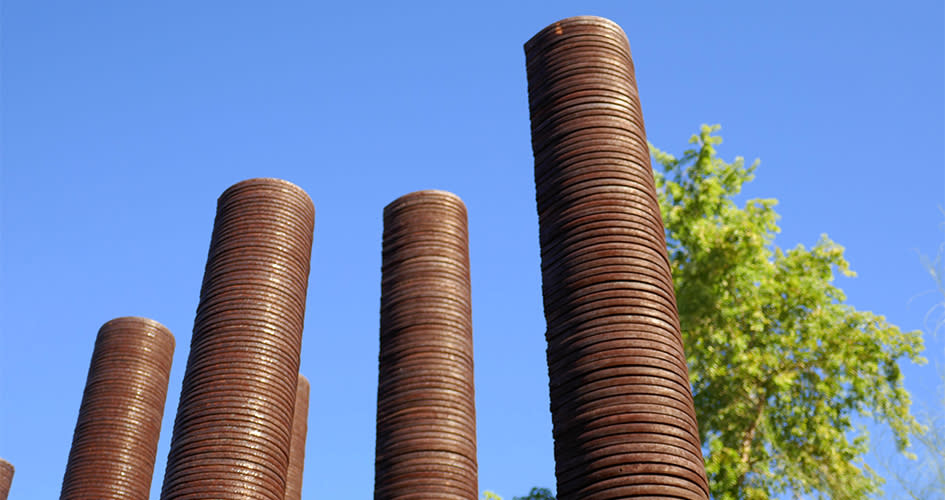 Most people who pass by Horseshoe Falls, located at the southeast corner of Indian School Road and Marshall Way in Old Town, don't realize exactly what they're seeing unless they stop to take a closer look. This installation blends Scottsdale's equestrian history with its appreciation of water. Artist Michael Maglich stacks horseshoes on top of each other, reaching upward to the Arizona sky. During the warmer months, water passes over the horseshoes, sending up a dense fog that cools the area, offering a great respite for cyclists and pedestrians — and a fun draw for kids of all ages. If you're in the area, sit on the benches at the base and watch the world go past for a bit.
---
Water Mark
---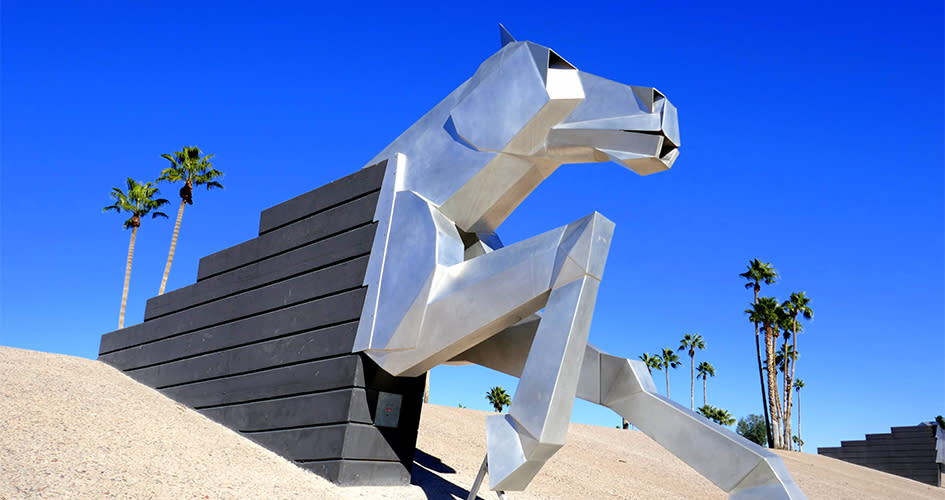 One of the most unusual water-themed art pieces in Scottsdale is north of downtown in the flood control greenbelt of Indian Bend Wash. This is an impressive series of five 14-foot-high aluminum equine gargoyles by artists Laura Haddad and Tom Drugan. Yes, that's exactly right — horses designed to spew water from their mouths during one of our dramatic desert flash floods. Even in the dry season these are impressive. During the day, they are shiny and bright. At night, they are lit with blue light on the east and yellow lights on the west. If you want a great place to bike or walk, this is one of my favorite places close to downtown to check out local art.
---
Tributary Wall
---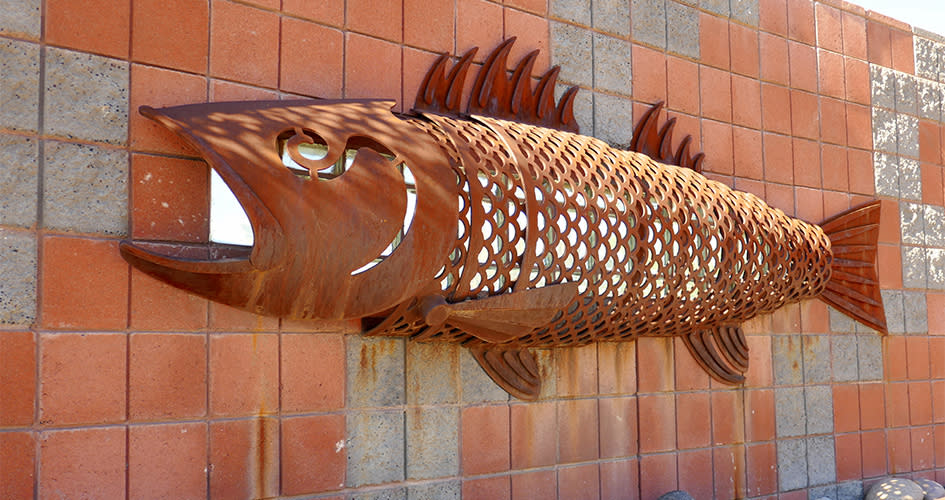 As you drive between Scottsdale Fashion Square and the Scottsdale Waterfront, you might not notice the local neighborhoods because there is a lovely abatement wall that divides the pedestrian areas frequented by tourists from the residential areas. The Tributary Wall, designed by Kevin Berry, was completed in 1999 and runs along Goldwater Boulevard south of Camelback Road. Seven large fish swim toward the canal and accent a serpentine wall. Each fish, made of Cor-Ten steel, is backlit by clear glass blocks that let natural sunlight filter through it.
---
Water to Water
---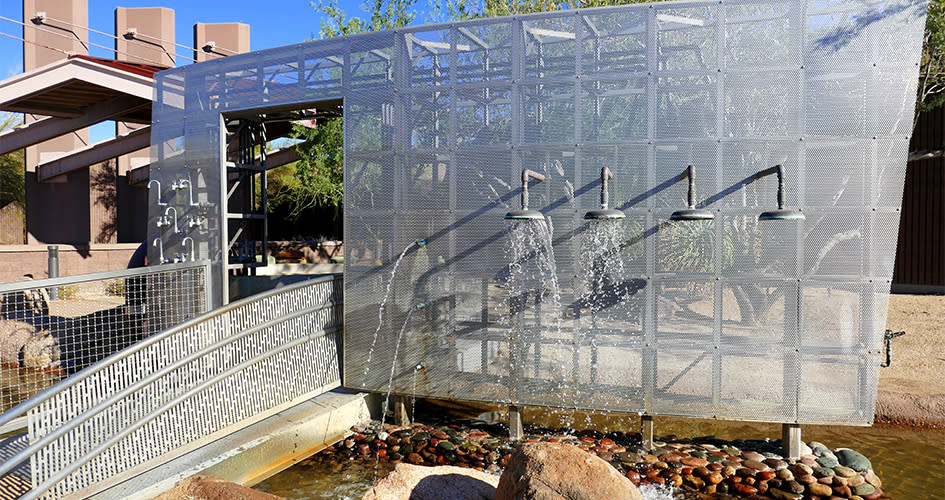 If you head a bit north of downtown, up Loop 101 to 8787 E. Hualapai Drive, Water to Water is a unique public art display by Christine Tanzpaul Edwards, at the entry to the Scottsdale Water Campus. It highlights the importance of water to the desert. Sensors along the path trigger various water features, from showerheads to faucets, and illustrate the message that people must store and conserve water in the desert, just as cacti store and conserve water. Even though this is the water department for the City of Scottsdale, visitors are welcome to explore the water feature and there are walking paths that provide great desert vistas.
---
Fountain of Youth
---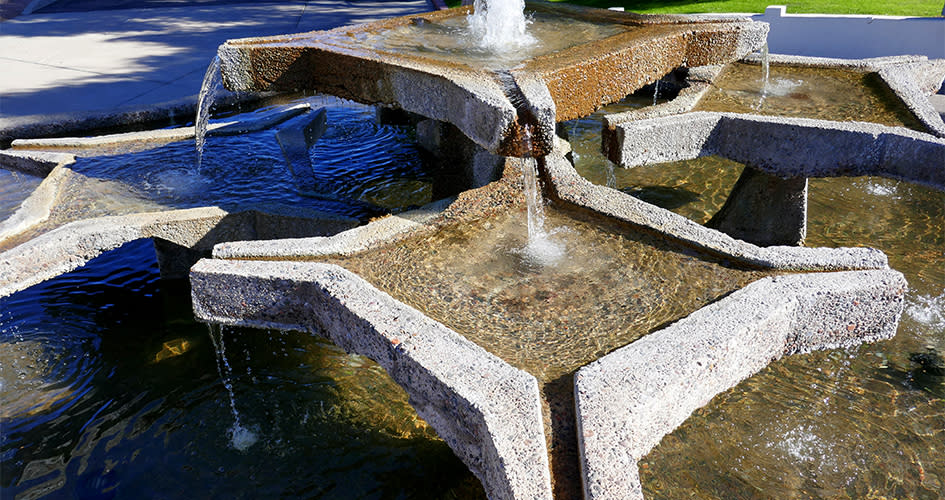 While much less ornate than other public art in Scottsdale, Fountain of Youth is one of my favorites. Fountain of Youth is in Old Town at the entrance to the Scottsdale Civic Center complex. Bennie Gonzales designed both the fountain and the surrounding buildings in 1968. The little fountain was partly purchased with donations from Scottsdale grade school students. I love that the children of today can play on a fountain that was paid for by their grandparents. While they may not even remember raising those funds, their legacy lives on for the future.