Believe it or not, one of the best ways to explore our Sonoran Desert is on the water. Just 30 minutes from most of Scottsdale's fine resorts, the Lower Salt River flows year round beside stands of saguaros and under towering cottonwoods. Not a dangerous river along this stretch, it retains a wild feel and once on the water you'll be incredulous that four million people live just over the western horizon.
As a kayaking loyalist. I love paddling at water level, so I've watched in wonder the burgeoning enthusiasm for Stand Up Paddleboarding, mystified why it's become so popular worldwide. There's a beguiling grace and nearly effortless self-control on the faces of those who've mastered this skill, and I confess to feeling a bit jealous of their zen-like aura.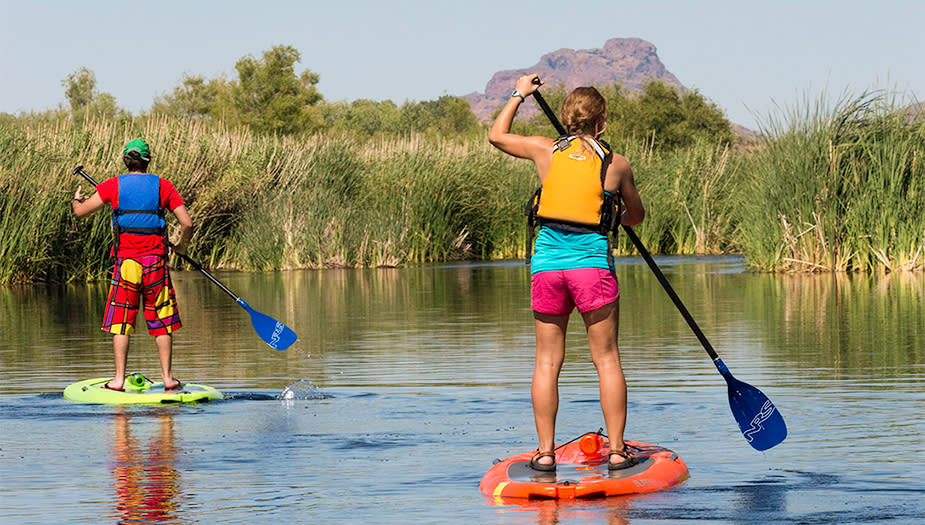 To discover what's behind the seemingly easy act of paddling while standing on a modified surfboard, I called REI Co-Op Experiences and booked a half-day tour. We met at the Adventure Center in north Scottsdale and cruised east to the put-in, below where tubers throng the river on weekends.
On this quiet morning we applied sunscreen, donned PFD's (life vests), and I got my first lesson on stroke technique and turns, starting on my knees before finally risking the standup position. I really enjoyed being splashed by the cool clear water, but it was a point of pride to not topple over, until at last I did. "Happens to everyone at least once," my consoling guide says with a laugh. Gradually I learn to trust my balance and gain some speed and control.
"Like riding a bike!," calls out a veteran SUP'r and I wondered if I'd ever look as relaxed as her, stroking down this lovely desert river fringed by cactus,  and wild horses grazing at water's edge.  That became my zen moment, paddling down the Rio Salado, standing on the water and smiling.