In good years, Arizona enjoys two distinct rainy seasons: winter and mid- to late summer. The Navajo people describe winter precipitation as the "female rains," storm fronts rolling in off the Pacific Ocean, slowly soaking our deserts and mountains for several days in a row and nourishing our lakes, aquifers and wildlife. Conversely, the Navajo call our summer monsoon downpours "male rains" due to their mercurial combination of raucous thunderstorms, hail, flash floods and potential near-hurricane-force winds that can stir up a choking, low-sweeping dust storm known as a haboob.
The water we reap from both rainy seasons keeps our oasis civilization in balance. While I welcome the winter water bounty, it's Arizona's summer monsoon I await with greatest delight. It is a theatrical sound and light show par excellence, with epic lightning displays, booming thunder choruses and, if one is lucky, rainbows accenting sky tapestries around the state.
---
When Does Arizona's Monsoon Season Start?
---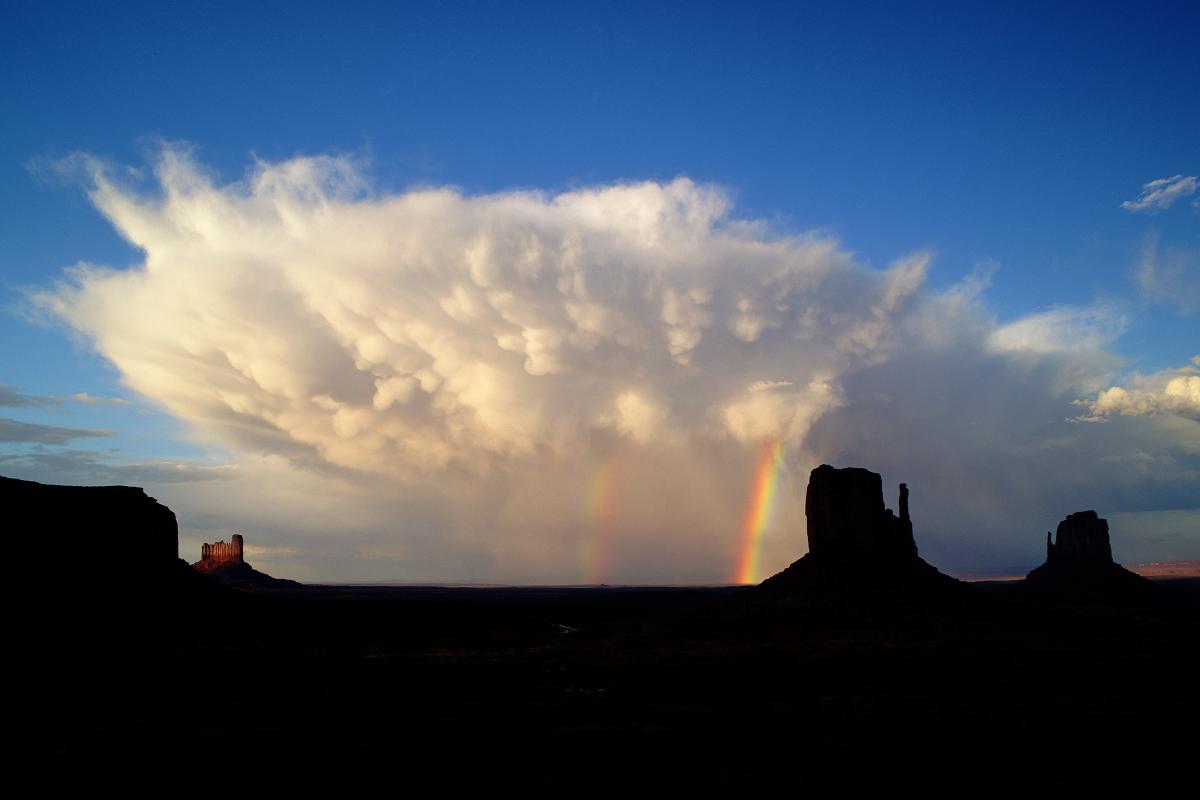 The National Weather Service decrees Arizona's monsoon season as running from June 15 to September 30 (though it can leak outside that envelope), and the cause is a directional change in the airflow across the state that draws moisture up from the Gulf of Mexico. When the summer heat fuels this increased humidity and you see clouds boiling up on the horizon shaped like anvils and 70,000-foot-high cauliflower bunches, you know the table is being set for high drama.
---
Chasing the Best Storm Views
---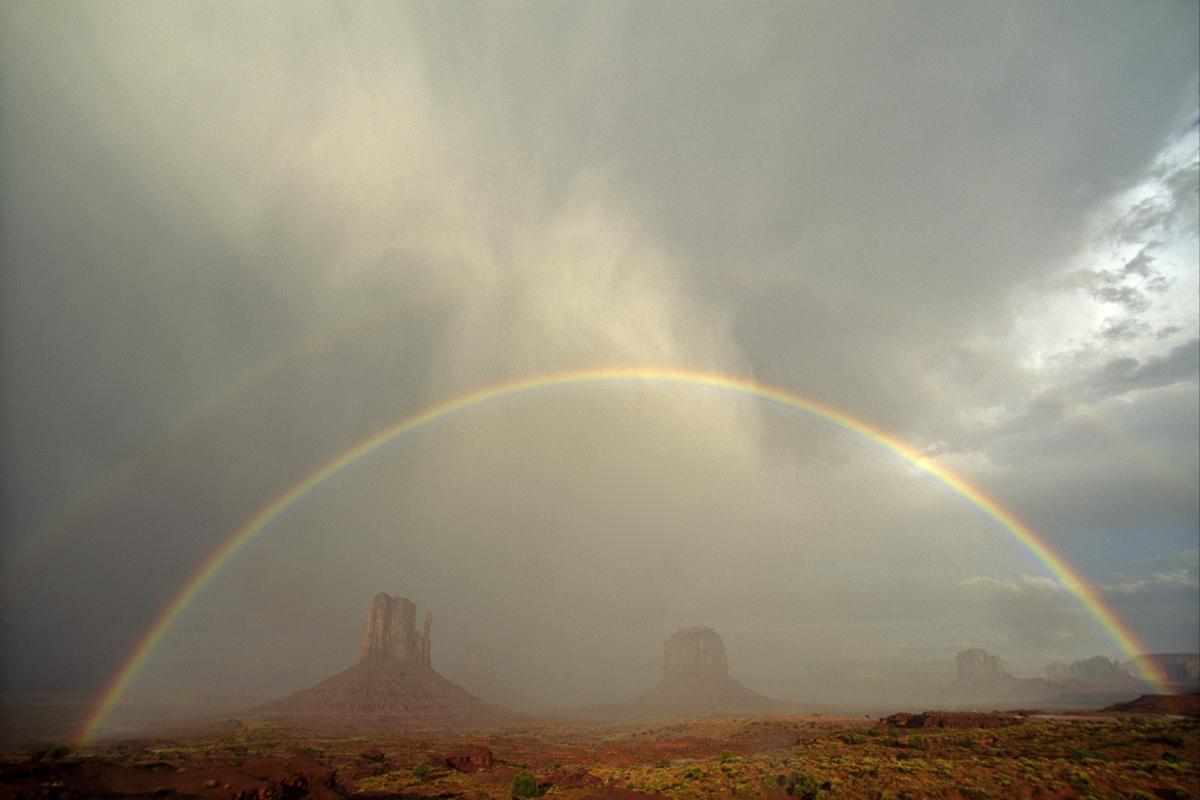 As a veteran Arizona Highways photographer, I've long been a pursuer of storm light. I've chased storm cells along I-40 from Flagstaff to well past Holbrook, hoping for storm light to break through and create moments of intense color over the Painted Desert. One distant August afternoon, I found myself in the path of a monster thunderstorm cell barreling northeast from Kayenta, near the Four Corners. I sheltered in my truck near the Mittens at Monument Valley Navajo Tribal Park, with lightning sparking close by and rain sheeting sideways. When the storm moved over me, the sun shone thru the receding veil of rain and lit a perfect double rainbow. That rainbow lived on for 45 minutes of glorious color and made shooting in inches of thick red mud worth the mess. My shoes were never the same.
While up to half of our annual rainfall comes during the summer monsoon, what I really care about is being someplace striking when the clouds rise up and darken, and ozone scents the air. The tangible smell of water in the hot desert atmosphere is unmistakable and priceless, especially when we've had few clouds and no rain for months. From Old Town Scottsdale you can gaze east to Four Peaks or a bit southeast to the infamous Superstition Mountains and watch the cloud castles grow. My favorite Scottsdale monsoon-chasing trek is to head for McDowell Mountain Regional Park, hike until I find the perfect saguaro-framed view, then settle in with my camera to watch the gathering storm.
---
Monsoon Safety
---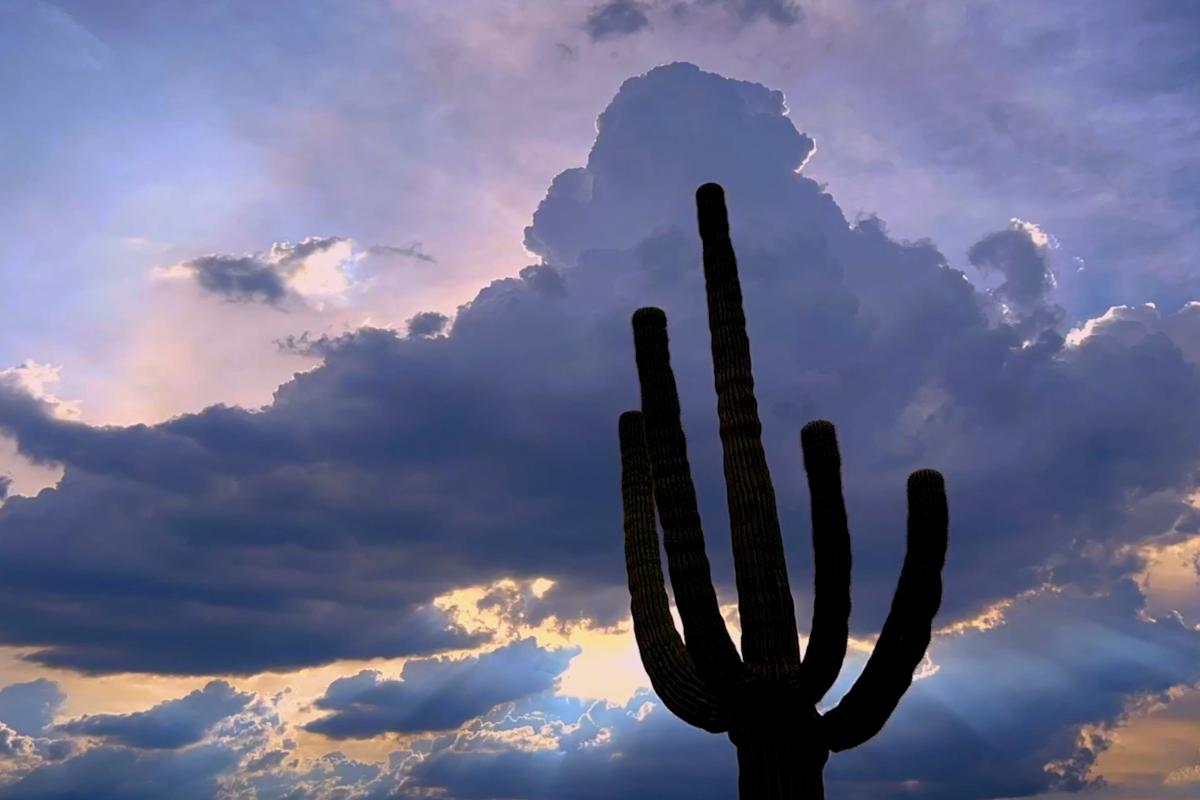 If you'd like to do some photographic storm chasing of your own, it's important to be patient and prepared. Local weather channels or a good weather app will help you see what's brewing. Some days, storms don't fire off and no lightning dances occur. Even so, the clouds may still light up in a picturesque range of wild, warm hues. Other days, the heat energy cannot be restrained, and a storm will unleash its full power. In either scenario, have a plan for shelter in case you need it, and always bring a rain poncho and plenty of water. Most importantly, never ever cross a flooded street or arroyo. Flash floods pass quickly, and you'll soon be home safe and sound with a great story to show and tell.
Two other top storm-watching spots are the Mogollon Rim, where you can watch the excitement from the edge at 7,000 feet, and Sedona, where rich monsoon light and cloud tapestries dance over the red rock landscape. Both are about two hours from Scottsdale by car, so you can be home in time for a late supper and a cold one!
Wherever you view a full-on monsoon storm – even from the comfort of your hotel – you'll never forget the thrill of water pounding the Sonoran Desert, bringing life to many creatures and a patina of green to the thirsty earth. You'll breathe in the ozone- and creosote-scented air and understand why Arizonan's always swoon for the return of a wet and wild monsoon, the gift of desert skies.