They're the classic dining dilemmas – you're upping your nutrition game with healthy food choices, your significant other, well, not so much. You're vegetarian, your date is a card-carrying carnivore. Or your kid won't eat any protein besides chicken nuggets, but all you want is a family dinner that doesn't involve a ball pit. Where do you go – and what do you order – to keep everyone happy? Here are five healthy restaurants in Scottsdale that offer special cheats where healthy eaters and cheaters can dine together in perfect harmony.
---
---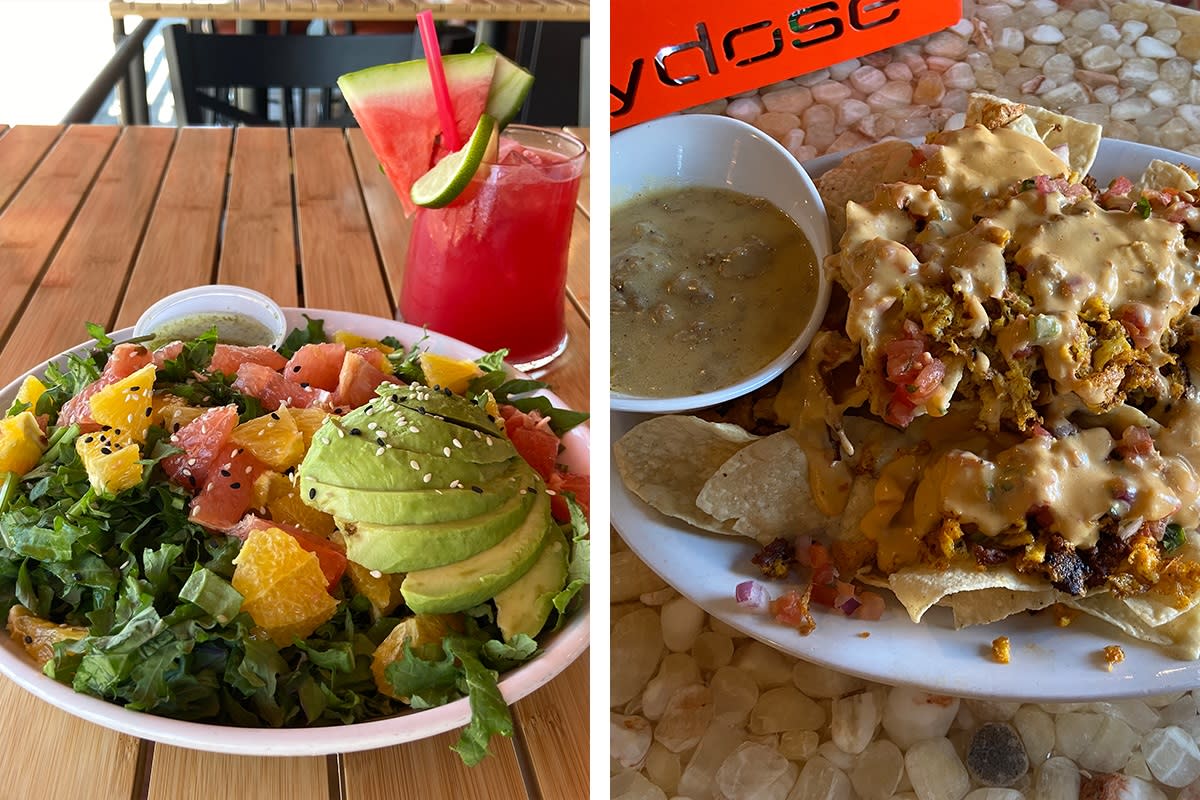 This laidback, come-as-you-are bistro in Old Town dishes up inspired American cuisine for breakfast, brunch and lunch. Grab a booth inside or a high-top on the shaded, street-side patio and let owners Matt and JenLyn Long spoil you with their delicious made-from-scratch fare. The expansive menu includes options the whole family will love, and even offers crispy chicken fingers for picky kiddos.
HEALTHY: It's hard not to get distracted by all the splurgy yumminess on Daily Dose's menu, but there are plenty of healthy dining options, too. My go-to is the Citrus Avocado Salad, a bright, flavorful mix of fresh spinach, tender baby kale, grapefruit and orange wedges, avocado slices, toasted sesame seeds and a house-made cilantro lime dressing. Need a little extra protein? Add some grilled chicken or turkey, or a squash-based veggie patty. It's so healthy, you can totally justify adding a Spicy Watermelon Margarita – yum!  

CHEAT: When your motto is "Go Big or Go Home," the Breakfast Nachos are sure to please. Warm, crispy corn tortilla chips are loaded with white and red cheese sauce, jalapeños, chorizo scrambled eggs, tomatillo salsa and pico de gallo. As if that wasn't enough, these nachos come with a generous side of sausage gravy that's perfect for dunking or pouring over this glorious and indulgent breakfast creation.
---
---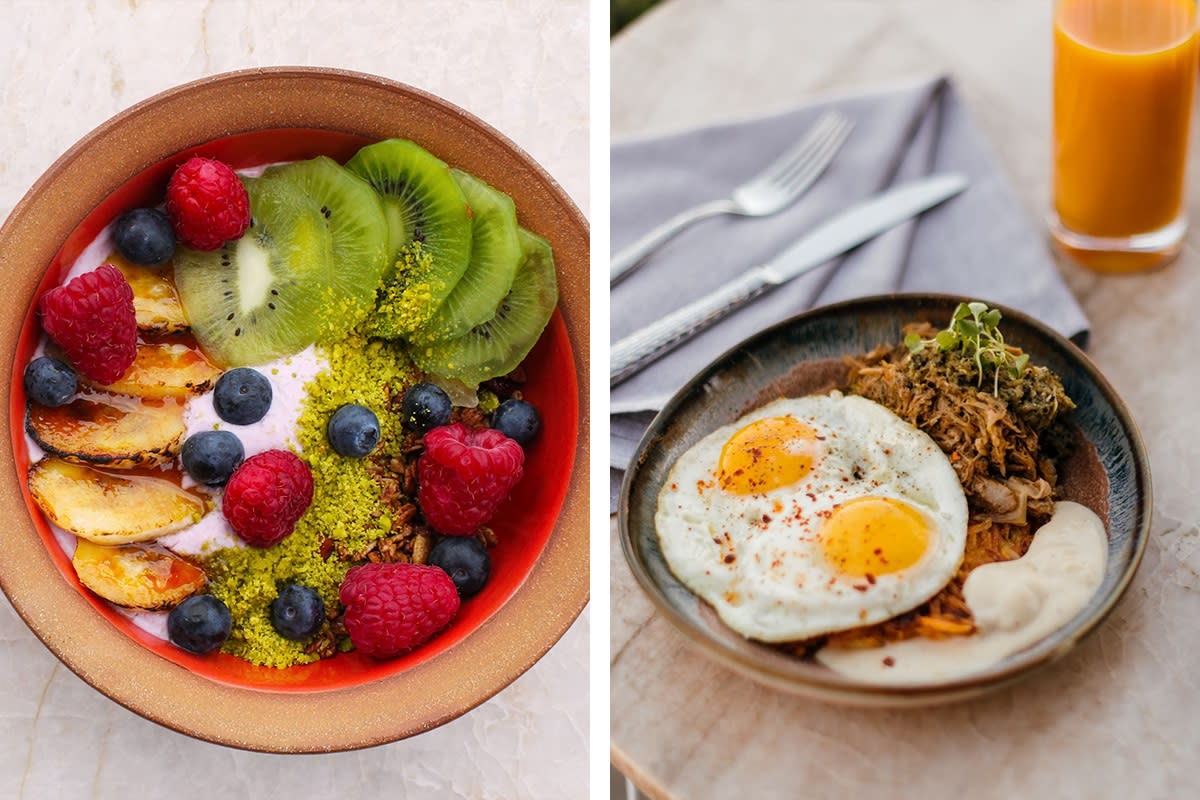 The artsy elegance of the Andaz Scottsdale Resort & Bungalows is the backdrop for Weft & Warp, the property's Southwest-inspired restaurant. Here, the dining room's floor-to-ceiling windows provide a stunning view of Camelback Mountain, as does the spacious terrace – the ideal spot to enjoy a mimosa flight or craft cocktail. Enjoy a refreshing and healthy bite here, or get adventurous and craft your own Bloody Mary.
HEALTHY: Available on both the breakfast and lunch menus, the Purple Energy bowl is a light and flavorful dish that will start your day on a wholesome note. Berry- and coconut-flavored yogurts form the base and are topped with house-made granola, fresh kiwi slices, berries and caramelized bananas. This colorful dish is a feast for the eyes as well as the palate, and pairs perfectly with a light and fizzy Aperol Spritz.
CHEAT: Weft & Warp's Dirty Hash, available on the breakfast and brunch menus, is a Southwestern-inspired splurge featuring melt-in-your-mouth green chili roasted pork on a bed of crunchy hash browns and topped with fried cage-free eggs. To drink? Go for the CYOBM and create your own Bloody Mary with toppings like pickles, veggies, cheese and add-on meats including bacon and chicken sausage.
---
---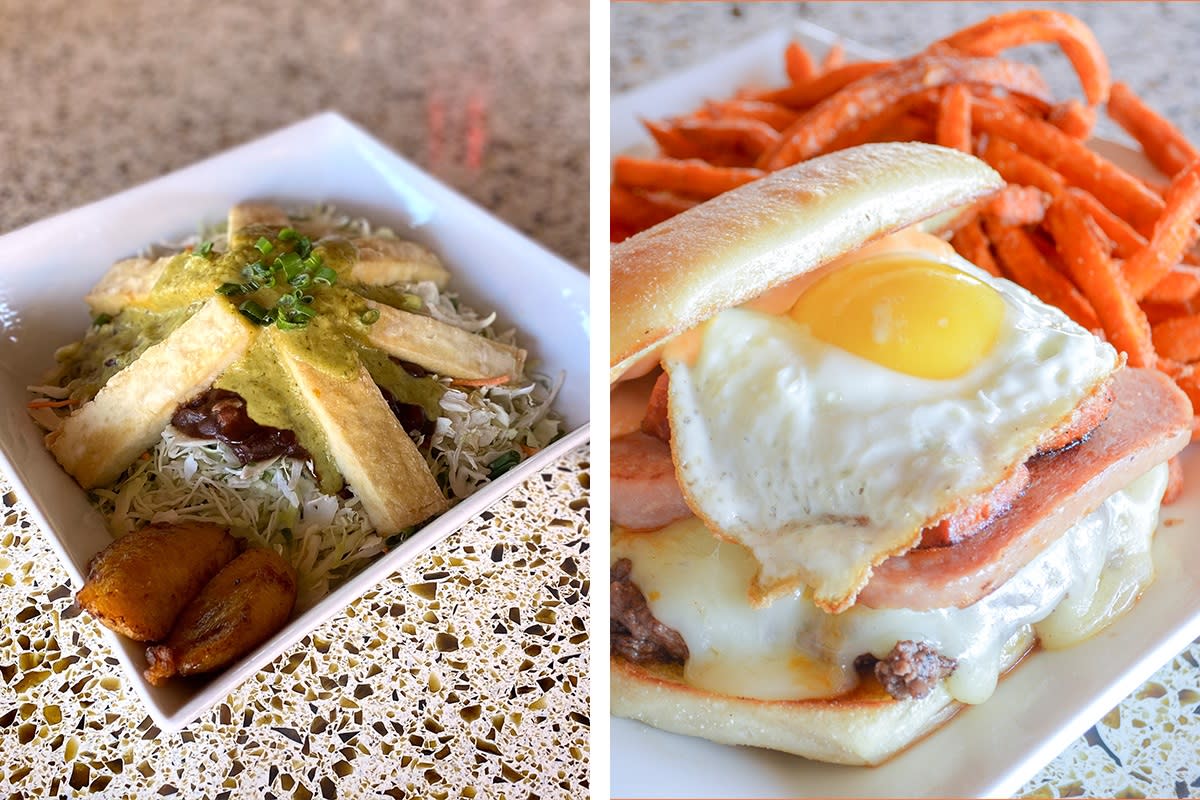 This Old Town hot spot is a nod to the colorful tiki bars of 'yore. Soak up the sun on HULA's patio and sip a tropical cocktail as you peruse the island-inspired menu for lunch, dinner or happy hour. Plenty of healthy dining options here but you can certainly get crazy with a cheat meal!
HEALTHY: The Vegan Jungle Tofu Bowl packs a tasty punch with tofu, jungle curry sauce and fried sweet plantains over a bed of rice, black beans and cabbage. Pair it with a Lilikoi Margarita (silver tequila, passion fruit, sweet and sour, and orange and lime juices) or refreshing HULA Juice mocktail (passion fruit syrup, OJ, pineapple and cranberry juice).
CHEAT: Grab an extra napkin for this one – you'll need it. HULA's two-fisted Hunkin' Samoa Burger starts with a large ground beef patty and tops it with fried SPAM, linguica sausage, a sunny-side-up egg, jack cheese and plenty of spicy HULA sauce. And because you'll definitely want fries with that, HULA's accompanies this bad boy with your choice of sweet potato or house-cut fries. While you're splurging, add a Tiki Bastard or Hula's Painkiller to wash it all down.
---
---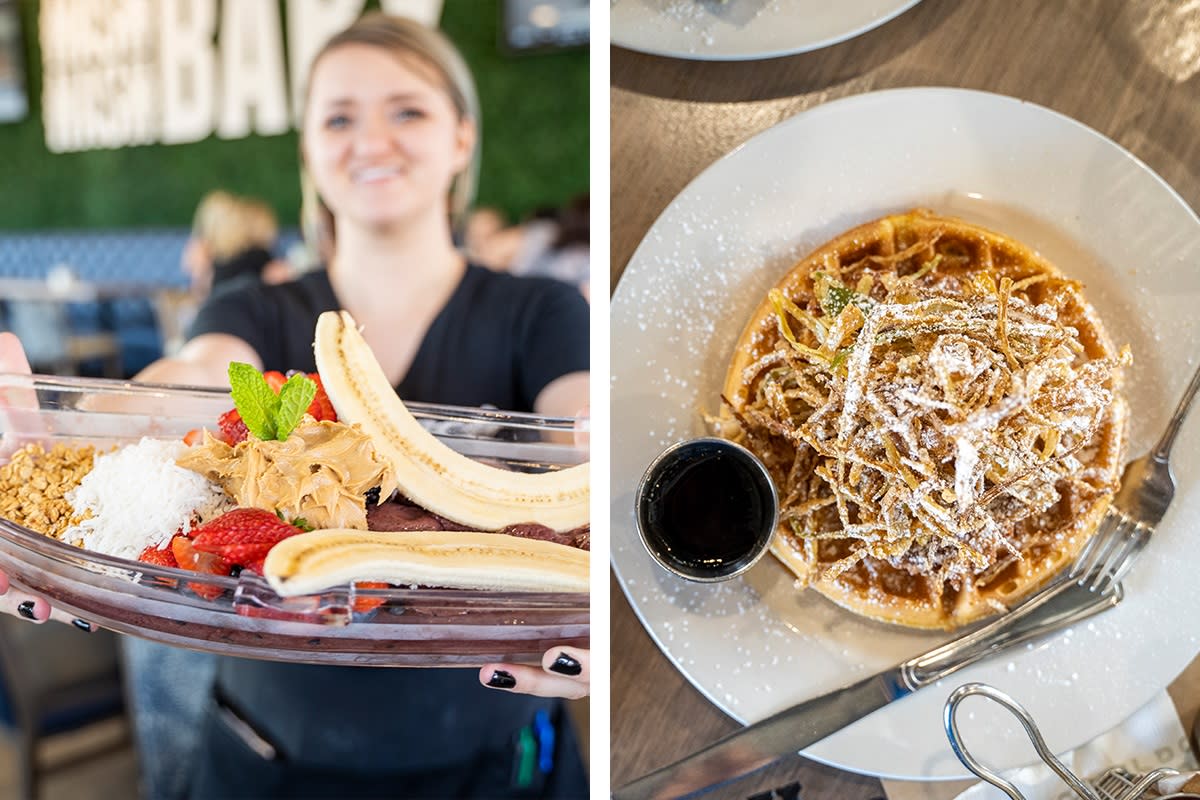 The casual atmosphere and kid-friendly menu options at Hash Kitchen make it the perfect spot to bring the whole family. Adults will be particularly fond of the colossal Bloody Mary bar, where more than 50 craft toppings, including hearty items like meatballs and fried ravioli, allow you to create your own "bloody" masterpiece.
HEALTHY: For breakfast on the lighter side, opt for Giuliana's "Ah-Sigh-Ee" Bowl. This colorful feast is packed with antioxidant-rich acai, blackberries, blueberries and strawberries, as well as banana, dried coconut, granola and peanut butter. The sweet-but-healthy flavor combo is a refreshing treat you can feel good about. 
CHEAT: Five words: Herb Fried Chicken and Waffle. This is the dish a dieter's cheat days were made for! Hash Kitchen's version of this Southern classic features savory fried chicken and fried leeks atop a golden baked waffle. A generous drizzle of warm, maple reduction (because . . . waffle!) finishes this indulgent treat. 
---
---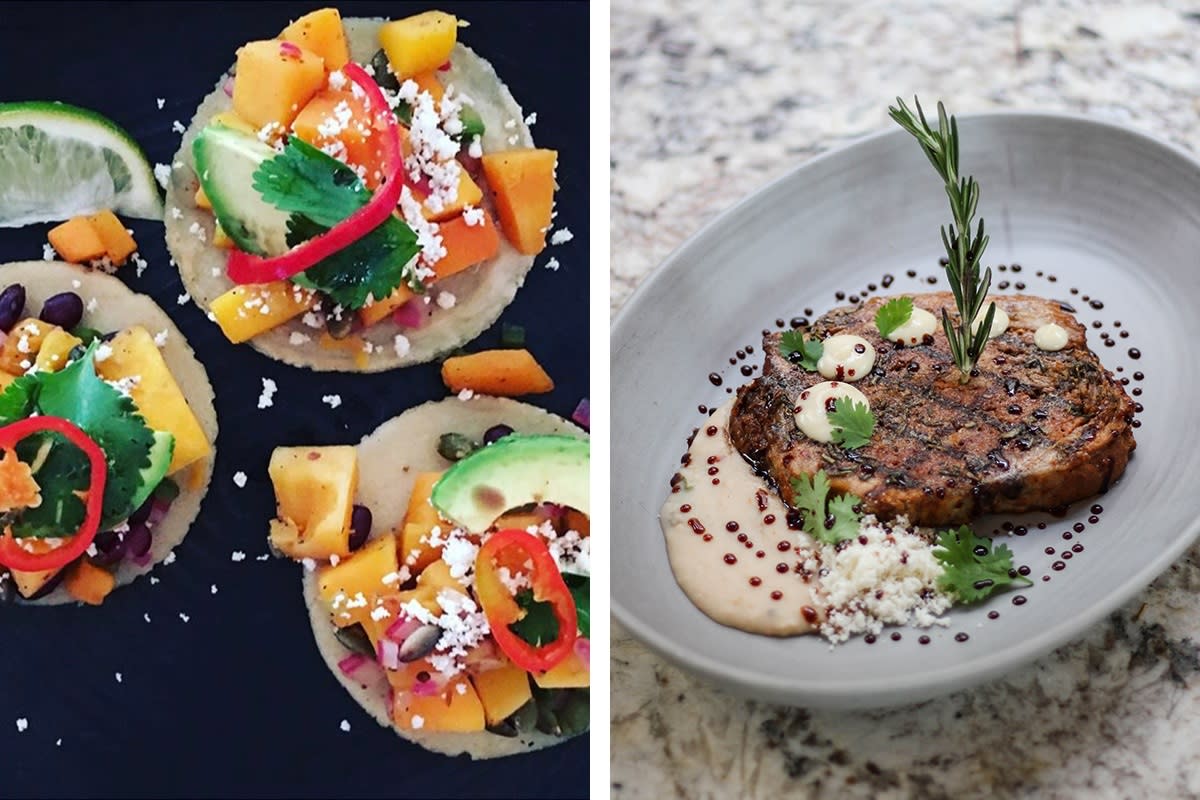 Robust flavors from Spain, Mexico, and Central and South America come alive at The Mission in the capable hands of Chef Matt Carter. With two locations in Scottsdale (Old Town and Kierland Commons), The Mission features a carefully curated menu of modern Latin dishes that never fail to delight. Whether you're dining healthy or are in the mood for a splurge, don't pass up Carter's amazing 12-ingredient guacamole – it's absolutely worth the extra calories.
HEALTHY: Enjoy all the flavor without the guilt when you order The Mission's Butternut Squash Tacos. Handmade corn tortillas are topped with delicate squash, black bean sofrito, cumin, lime, pepitas, pickled jalapeño and a crumble of cotija cheese. These palm-size delights come three to an order and won't leave you feeling stuffed. In fact, go ahead and order a Primarita, the margarita's lighter cousin, to go with – you won't be sorry!
CHEAT: Meat lovers will get their fill with The Mission's spicy, savory Chorizo Porchetta. Succulent pork shoulder is slow-roasted over a pecan- and mesquite-wood fire then stuffed with house-made chorizo and adorned with fresh rosemary, cotija cheese, white bean puree and sweet garlic crema. It's a hearty dish that's terrific paired with a Mission Margarita.