Getting lost can be scary. Losing oneself can be restorative. 
It would be hard to get lost in the McDowell Sonoran Preserve. The signage is thorough and detailed with maps at every trail junction. But in this vast swath of mountainous desert, it has become even easier to misplace oneself for a few hours of well-deserved relaxation. That seems to be a Scottsdale specialty.
As if the temptation to go hiking or biking in the preserve wasn't already overpowering, they keep adding new trails! It's a wonder anyone in Scottsdale gets work done these days.    
A lot of new territory opened up when the City of Scottsdale dedicated Pima Dynamite Trailhead on November 13, 2021, the last of the major trailheads planned for the Preserve. Not that I'm trying to lure you away from the pile of work on your desk, heaven forbid. I'm just saying, here are a handful of the best new trails where you can vanish for a while.
---
Latigo-Sidewinder Loop
---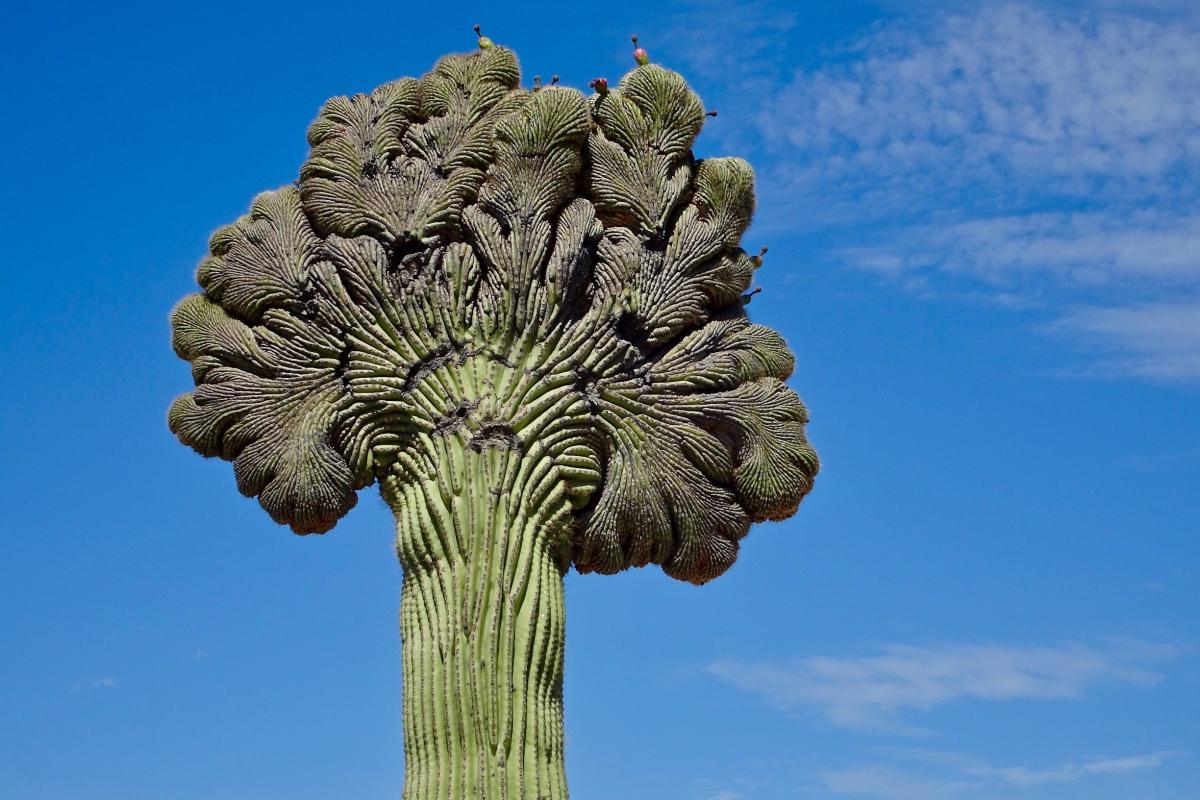 This easy 2.7-mile loop makes the perfect introduction to the Pima Dynamite corridor. Start on the wide smooth Latigo Trail as it dips beneath powerlines before angling across open desert. After a half-mile, bear right on Sidewinder Trail where you aim at a low boulder-crowned ridge. Here you'll encounter the showpiece of the hike, a spectacular crested saguaro. The tall trunk of the cactus cascades into a classic fan-shape. It resembles a meaty exotic flower like something growing in Georgia O'Keeffe's garden.
A nearby sign provides some vague information about crested saguaros because frankly, there isn't much to tell. No one knows what causes the curious growth pattern. But that spiny plumage makes the desert a far cheerier place, adding a touch of whimsy to a harsh landscape.
A slight detour scrambles up the backside of the boulders to Sidewinder Overlook for nice vistas. Afterward, jump back on Latigo and return to the Pima Dynamite Trailhead.
---
Axle Grease Trail
---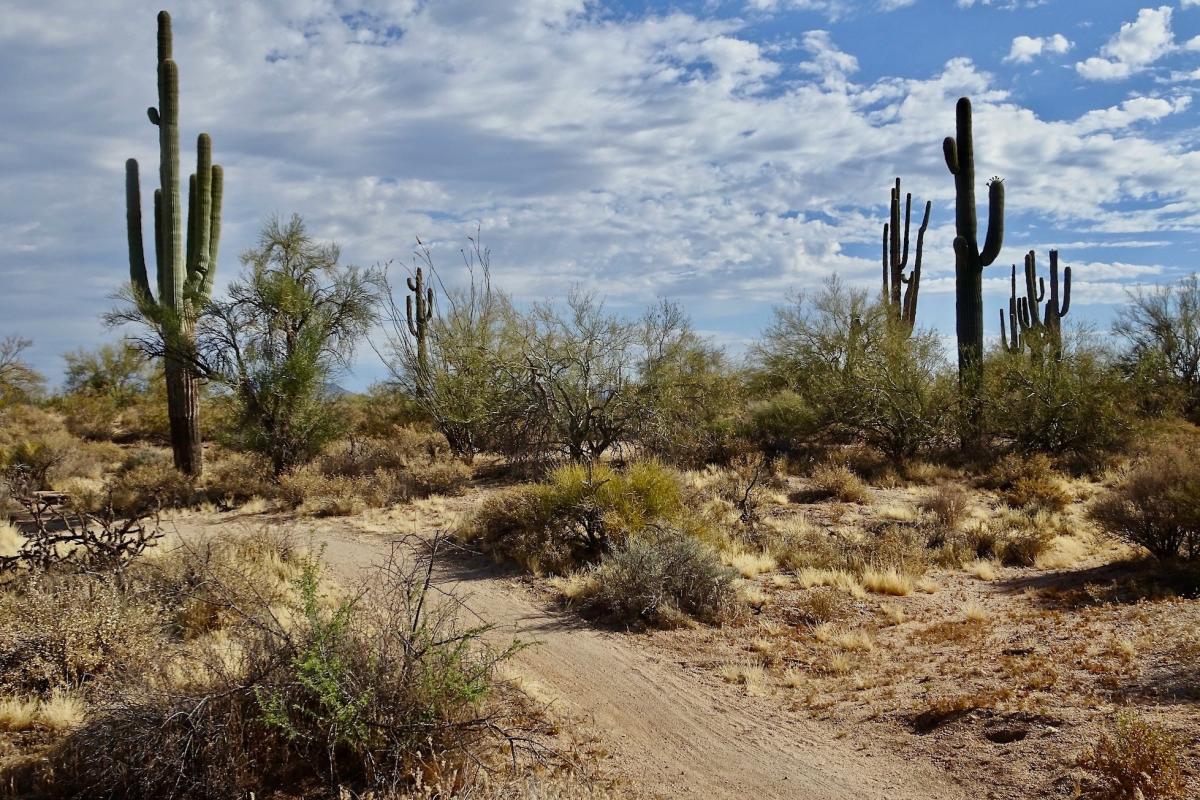 In my opinion, Axle Grease is the primo new trail at Pima Dynamite. It should serve as the backbone for much of your Scottsdale hiking adventure in this corner of the preserve. From the trailhead it tracks almost due north, breaking away from the powerlines with swooping curves through impressive saguaro groves. Groupings of the lean giants tower over the trail. It feels like a real Arizona day when you spend it communing with saguaros.
Axle Grease goes for 4.5 miles tracing the edge of the preserve so it's a good out-and- back or a way to probe deeper into the preserve. But interconnected trails make it easy to create a customized loop. One of my favorites is to turn right on Rock Tank Trail crossing a shallow basin and squeezing through several rough boulder clumps to Hawknest Trail. Another right on Hawknest leads back to the trailhead for a dandy 3.7-mile loop.  
---
Basalt Ridge Overlook
---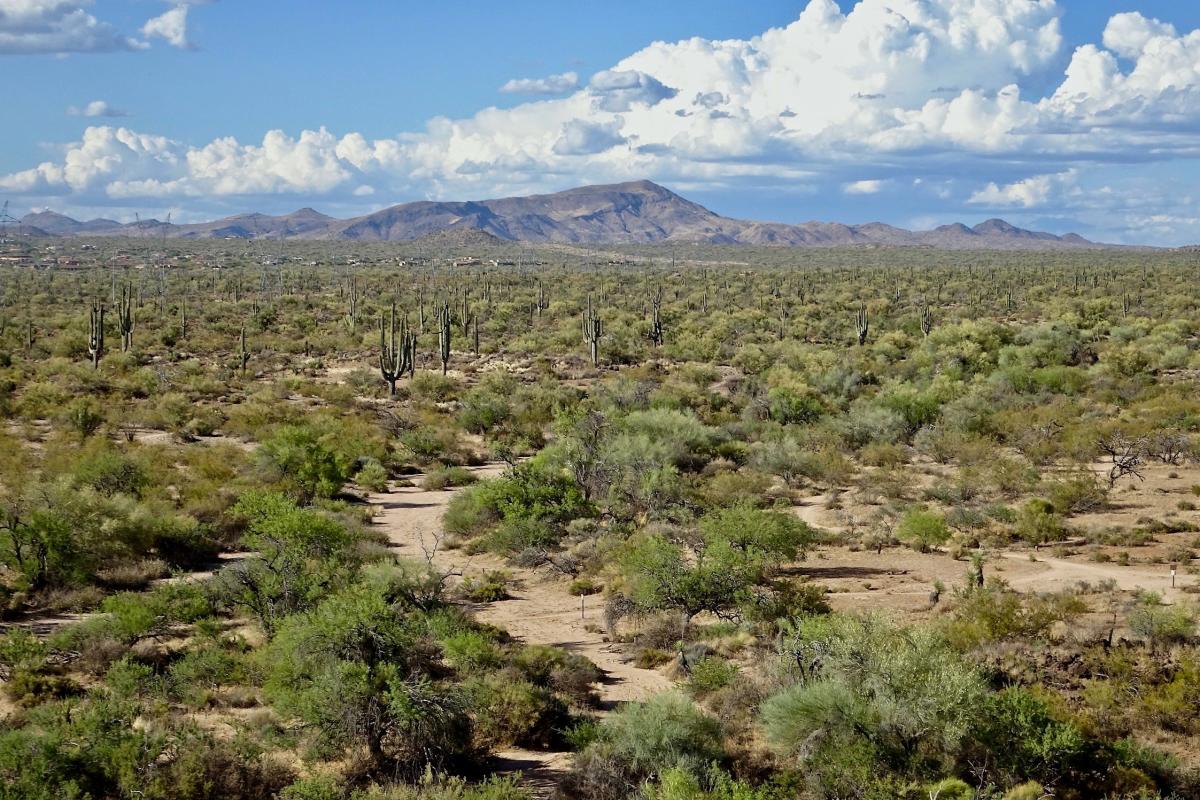 Set amid the standalone mountains and distinctive formations of the northern region of the McDowell Sonoran Preserve, Basalt Ridge barely draws a second glance. But the modest rise makes a worthwhile destination for hikers who enjoy unobstructed views with minimal effort. It's easily accessible from the Pima Dynamite Trailhead, but another scenic route leaves from Brown's Ranch. I like to start on Upper Ranch Trail cutting a notch between pointy Cone Mountain and flat-topped Brown's Mountain.
After 1.8 miles, bear left on the Basalt Ridge Trail as it makes its way along the low crest. It's just a short distance to a spur trail that snags the sweet spot on the rim, Basalt Ridge Overlook. There's nothing challenging about the climb, just a quiet perch with long-range views and a horizon full of distant mountains. Make your way back to the trailhead on the same route for a 4.8-mile round trip hike.   
---
Scorpion Point
---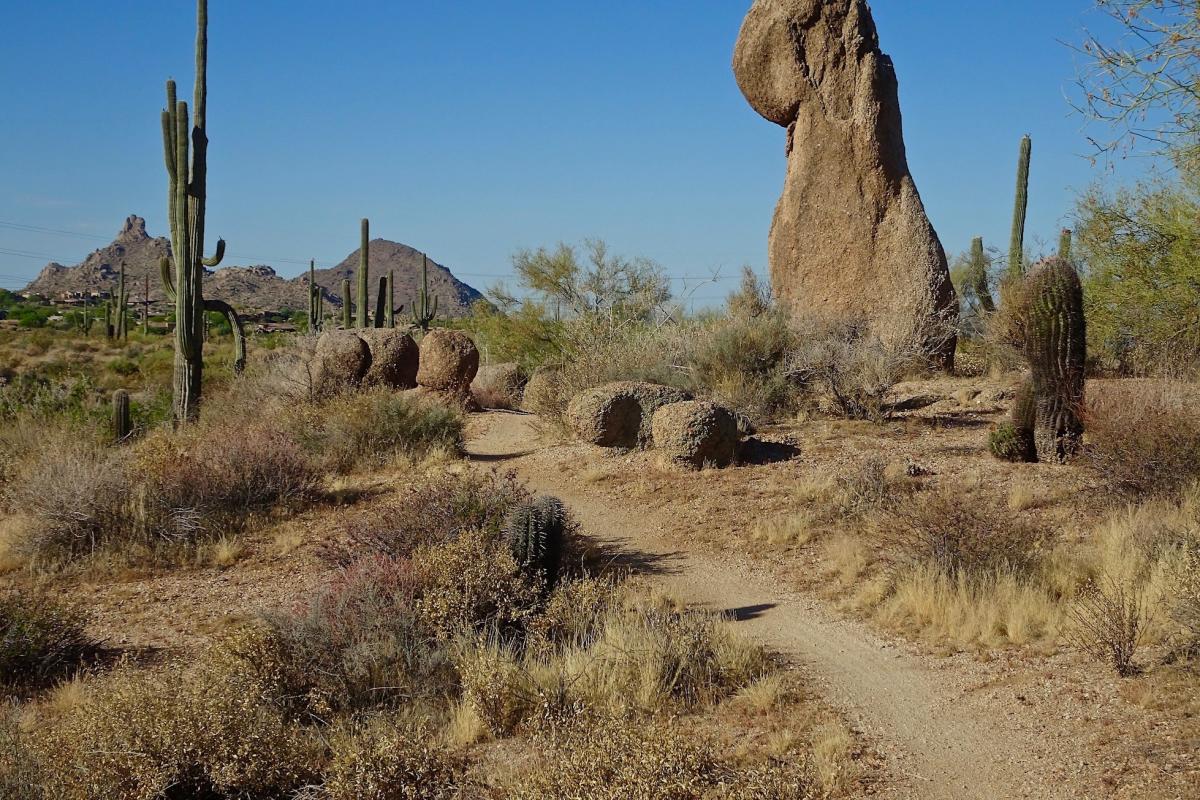 This parcel of desert hides its secrets. You have to search if you want to find the stony heart of the Pima Dynamite corridor known as Scorpion Point. A group of new trails twists through these unexpected boulder fields. From Pima Dynamite you can roll straight up Hawknest to the area that resembles a splintered Stonehenge, a toppled collection of granite boulders.
Or set out from Brown's Ranch Trailhead. You'll ramble west on the Latigo Trail, and then make a quick jog on Hackamore to Tarantula Trail. This is where things take a weird, fun turn. Tarantula weaves among assorted rock clumps and past sculpted formations. It's a trail designed in Neo-Flintstone Revival style. My head stays on a swivel taking in the ever-changing sights. A sign warns bikers of dicey conditions, but hikers will have no problems light-footing it through the boulder maze.
It's a labyrinth of trails here but junctions are clearly marked. Although carrying a  map is always a good idea. Short stints on Dare A Sarah and Scorpion Trails lead to the point. Once again, you'll enjoy big panoramas. If you go back the way you came it's 5.3 miles round trip. But if you've got plenty of water and energy, you'll find other intriguing trails to explore.  
---
Camino Campana Interpretive Trail
---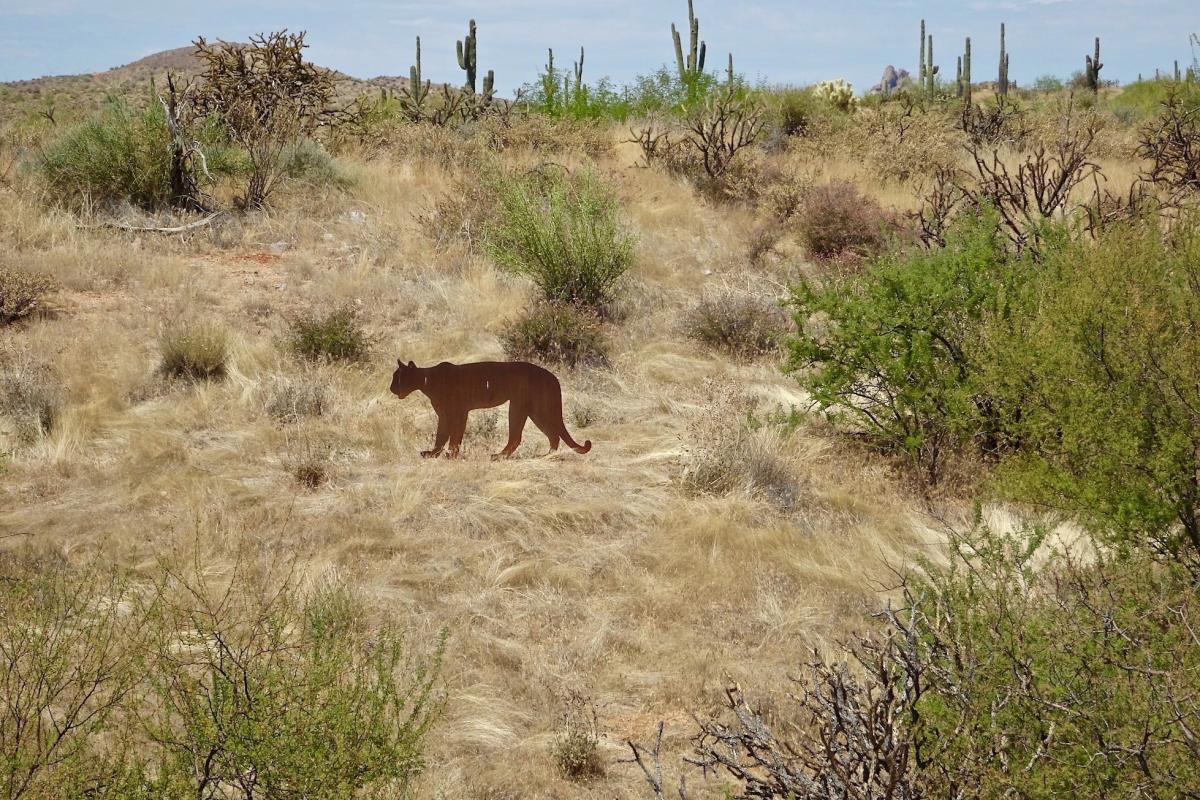 The interpretive trails of McDowell Sonoran Preserve provide an education as well as an escape. These slender open-air classrooms introduce visitors to the wonders of the desert. Camino Campana, dedicated on October 13, 2021, loops through the desert grasslands at the base of Fraesfield Mountain offering 13 stops along the way marked by illustrated signs and other displays.
Just under a mile long, the barrier-free path is named for Kathryn "Sam" Campana, a former Scottsdale mayor and tireless advocate for environmental issues, who was instrumental in the creation of the preserve. Departing from Fraesfield Trailhead, the wide smooth trail stabilized with decomposed granite can be enjoyed by just about anyone, including those using wheelchairs and families pushing strollers. Don't jump out of your skin if you spy a mountain lion slinking through the scrub. A realistic metal silhouette is one of the exhibits. There's even a selfie station with Four Peaks as backdrop. Along the way, you will learn about plants, wildlife, and geology of the surrounding desert. The more you learn, the more fascinating the desert becomes.