Scottsdale averages more than 300 sunny days per year and that means plenty of time spent basking outdoors in our glorious weather. Combine a beautiful sun-filled day with provisions from local purveyors and you've got yourself a ready-made picnic. To get you started, here are a few places to grab the goods and where to dine al fresco.
---
THE FIXINGS
---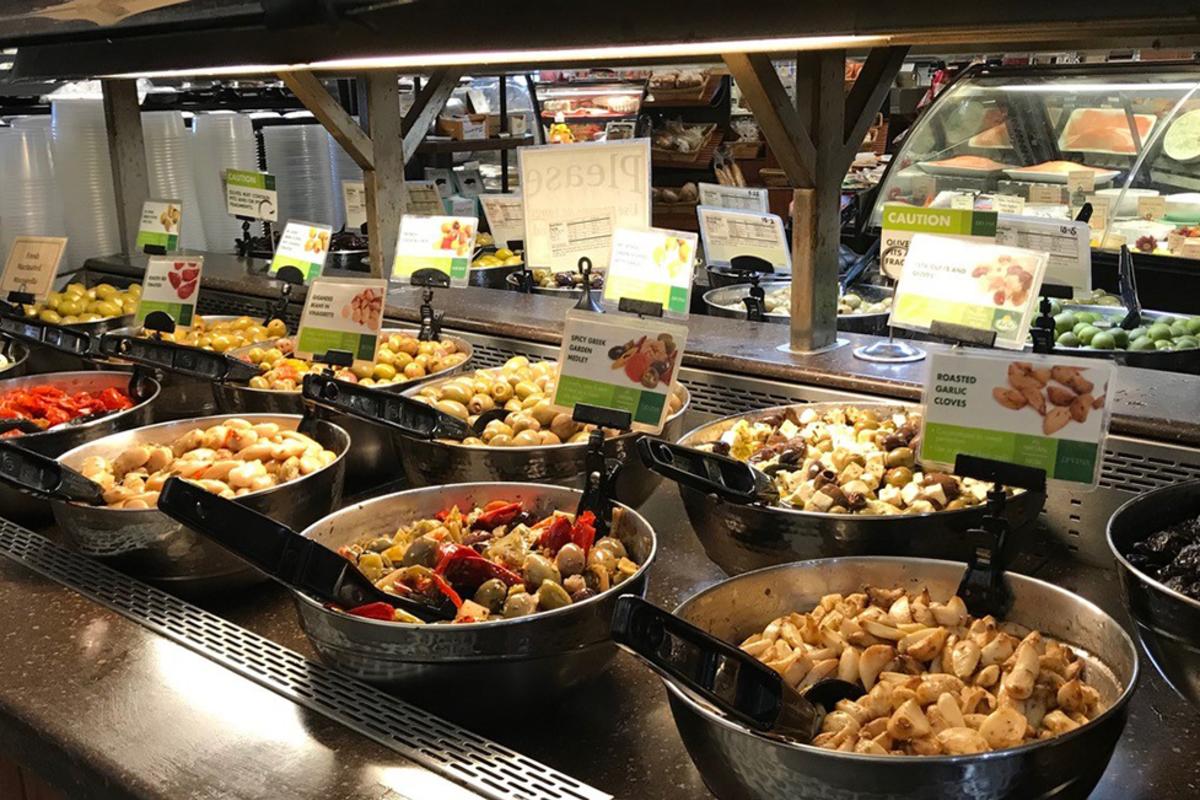 This upscale grocery store stocks everything from tins of delicate caviar to sparkling champagne, but you'll also find a full-service deli chockfull of sliced meats and cheeses, prepared salads (stellar tuna salad), wood-fired pizza and hot entrees. Added bonus: The gourmet grocery also has a made-to-order sushi bar, as well as fully stocked salad, soup, olive and antipasto bars.
If you're hankering for an authentic hoagie, order the popular "Italian Combo," stuffed with ham, salami, mortadella, pepperoni and provolone cheese. The deli has an abundant menu of hot and cold sandwiches, pizza, pasta, salads and desserts that can all be packed to go. Don't miss the eggplant parmigiana sandwich and chocolate-dipped cannoli, both top-notch.
In addition to a full restaurant and bar, The Herb Box boasts a market where you can build your own bowls featuring a choice of bases, including mixed greens and spiced cauliflower; proteins from steak to grilled salmon; mix-ins like dried strawberries and goat cheese; and a choice of five dressings. You can also grab house-made sweet potato chips, containers of fresh fruit and salads, plus a landslide of desserts.
Adjacent to the Scottsdale Waterfront, Olive & Ivy Marketplace features a treasure trove of picnic fare. Favorites include the Mediterranean salad dotted with feta cheese, almonds and couscous; grilled chicken panini layered with prosciutto; and braised short rib flatbread sprinkled with smoked onions. Round out your savory selections with a mini white chocolate bundt cake or another sweet treat.
If you're on the run, you can pick up pre-made sandwiches, salads and sushi at Sprouts' deli. They also make sandwiches to order using premium Boar's Head meat and cheeses. For those in search of a less structured spread, hustle up a wedge of brie, some sliced Italian salami, a loaf of French bread, a couple of crisp apples, a bar of dark chocolate and a bottle of sparkling water. 
---
THE LOCATIONS
---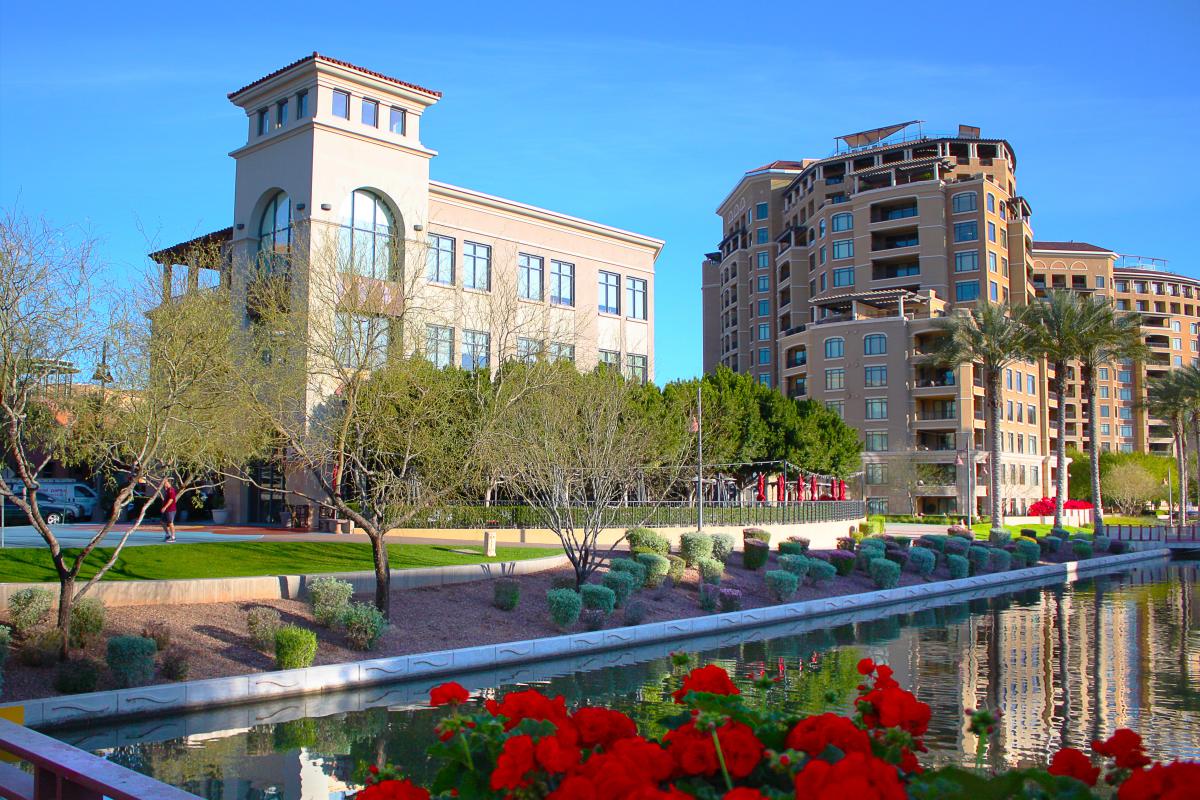 Located in downtown Scottsdale bordering Scottsdale Fashion Square, the Scottsdale Waterfront has a couple of grassy spots to unfurl your blanket and roll out the picnic basket as well as a few comfy benches. Enjoy the calm water edged by towering palm trees and flowering bushes, public art installations and the occasional flock of ducks. 
With mounds of grass, sweeping lawns and mature shade trees, Scottsdale Civic Center is a picturesque backdrop for your outdoor spread. Scottsdale Civic Center is home to several of Scottsdale's public art pieces for your gazing pleasure as you dine along with shaded pedestrian promenades, lush botanical gardens, a Water + Fog Plaza, three spacious event lawns, the Marshall Gardens wedding area and more. After you eat, visit the Scottsdale Center for the Performing Arts, Scottsdale Museum of Contemporary Art, the Civic Center Library and a sprinkling of shops and restaurants, all within walking distance. 
McCormick–Stillman Railroad Park
If you've got little ones in tow, the Railroad Park is the perfect place to break out your moveable feast. The 30-acre park features the Paradise & Pacific Railroad narrow gauge train and a 30-horse 1950's vintage carousel that both kids and adults can ride. The park also features a misted playground with plenty of shade, a Western town and the Scottsdale Railroad Museum.
For those who want to dine outside with their furry friends, this 100-acre park has an off-leash dog park with separate areas for passive and active pups. The sprawling City of Scottsdale park also sports a small lake for boating and fishing; a multi-use path for walking, biking or running; a 10-station exercise course; and shaded picnic areas. Post-picnic, stow your gear and take Fido on a leisurely stroll around the lake (leash required) and check out the many birds that roost there.
Lace-up your hiking boots and head to Pinnacle Peak Park for a 3.5-mile trek (out and back) on the well-maintained trail. Enjoy sweeping desert vistas and an up-close look at Pinnacle Peak before dining at one of the park's picnic tables. If you're thinking about an evening outing, you must leave the park by dusk. Don't forget to bring plenty of water for the hike. ​
​