Scottsdale's Best Bars with a View
There's a world of desert splendor to explore in Scottsdale — even on a night out. From craft suds and fine spirits to sweeping Sonoran Desert sunsets, you can drink it all in (literally and figuratively) in Scottsdale. These are the best bars with a view. 
---
---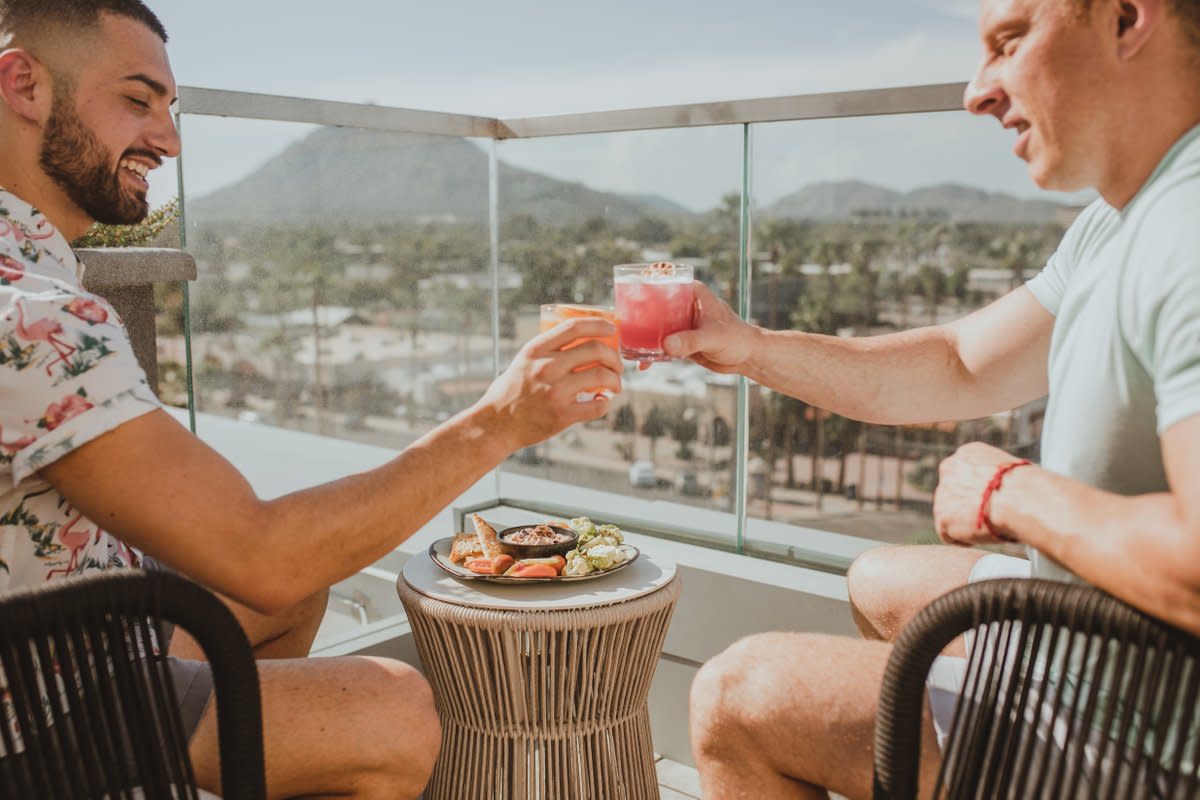 Perched atop Old Town's Canopy Hotel, this rooftop lounge impresses with epic views of the city and nearby Camelback Mountain. Here you can bask in golden hour light and soak up a sunset while sipping on a locally brewed craft beer or desert-inspired cocktail. The lounge's fireplaces add a romantic glow, while comfy couches and chairs provide a front row seat to watch the sun go down. 
---
---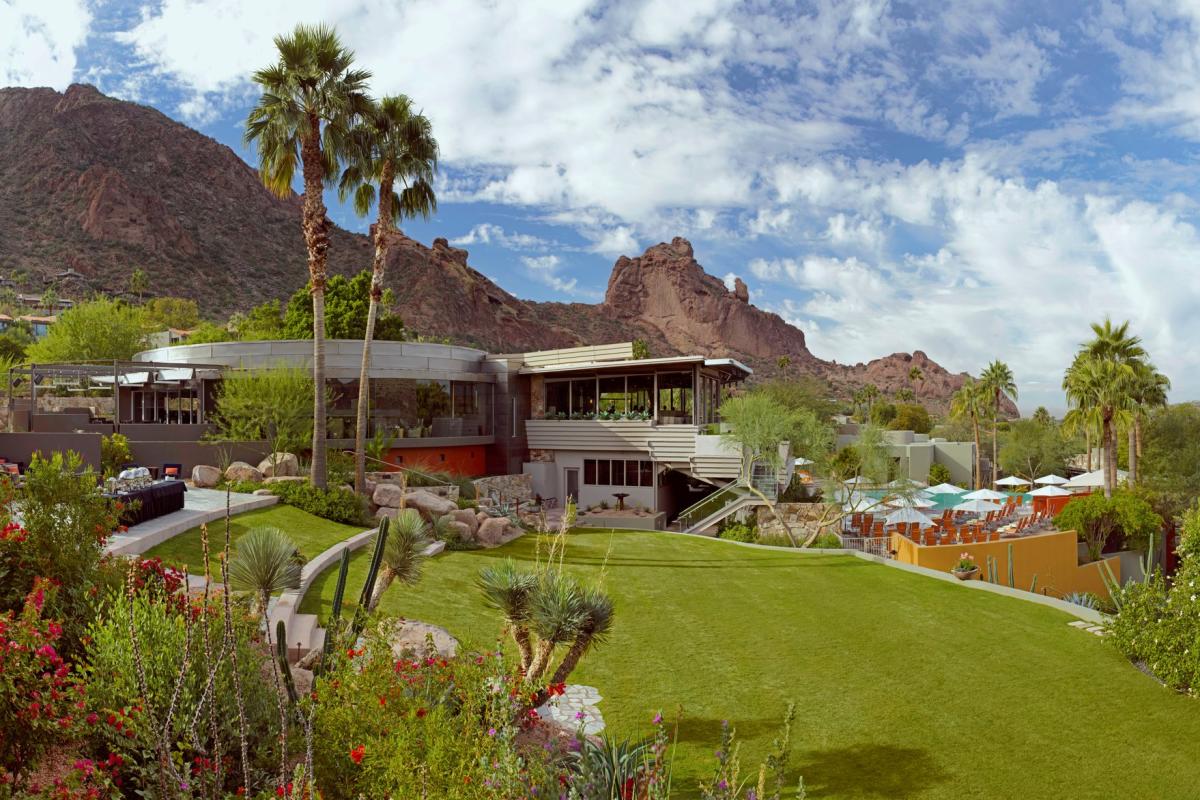 Before the craft cocktail scene was "a thing," there was jade bar. In fact, this lively lounge is credited with ushering in a new era of cocktail culture here in Scottsdale, earning it a reputation as one of the best bars with a view, to boot. Today, imbibers can savor a shortlist of first-rate cocktails dressed up with locally sourced, palate-pleasing botanicals and spirits, and of course, an awe-inspiring view of Paradise Valley below.
---
---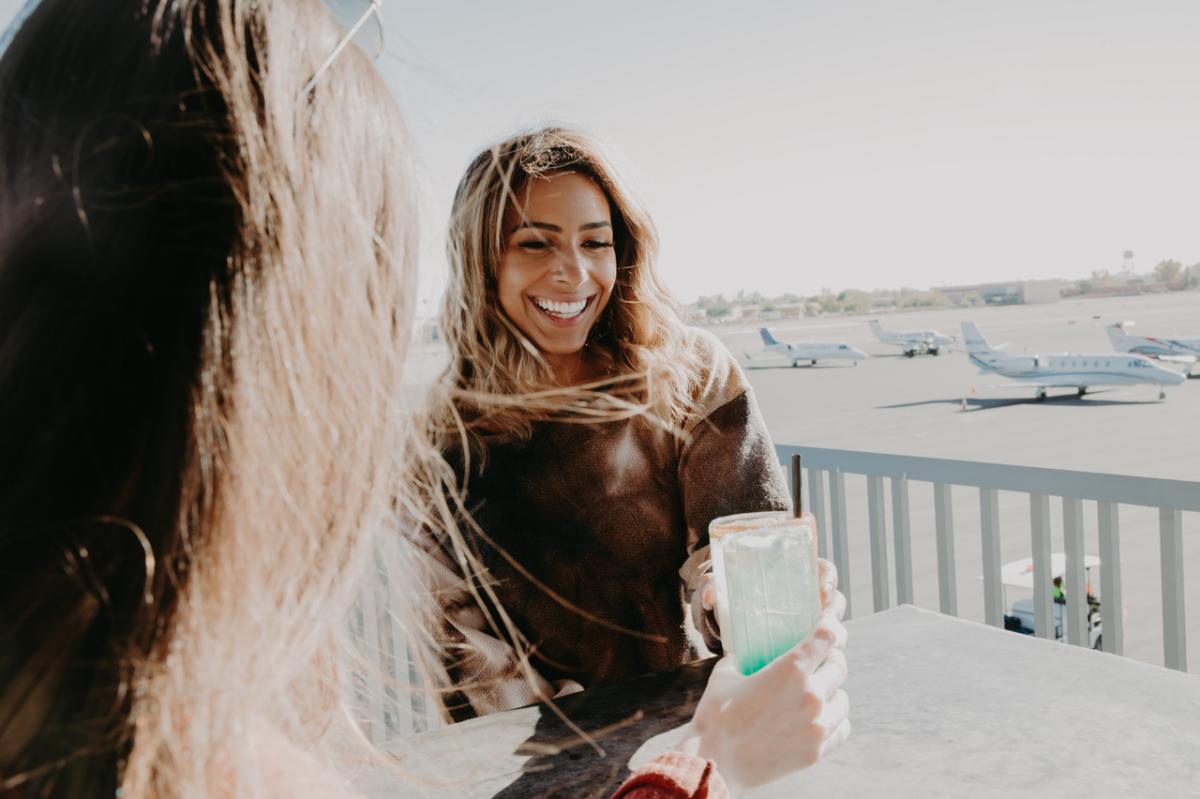 Overlooking the Scottsdale Airport runway and nearby McDowell Mountains, Volanti boasts a hard-to-beat view. A happy-hour destination for jetsetters and locals alike, this North Scottsdale lounge offers a lineup of seasonally inspired cocktails, wines, and a beer selection that pairs effortlessly with their full menu. If you really want to go all-out, consider booking the Helicopter Dining Experience – a flight around the city (plenty of views there!), followed by a three-course meal with wine or champagne.
---
---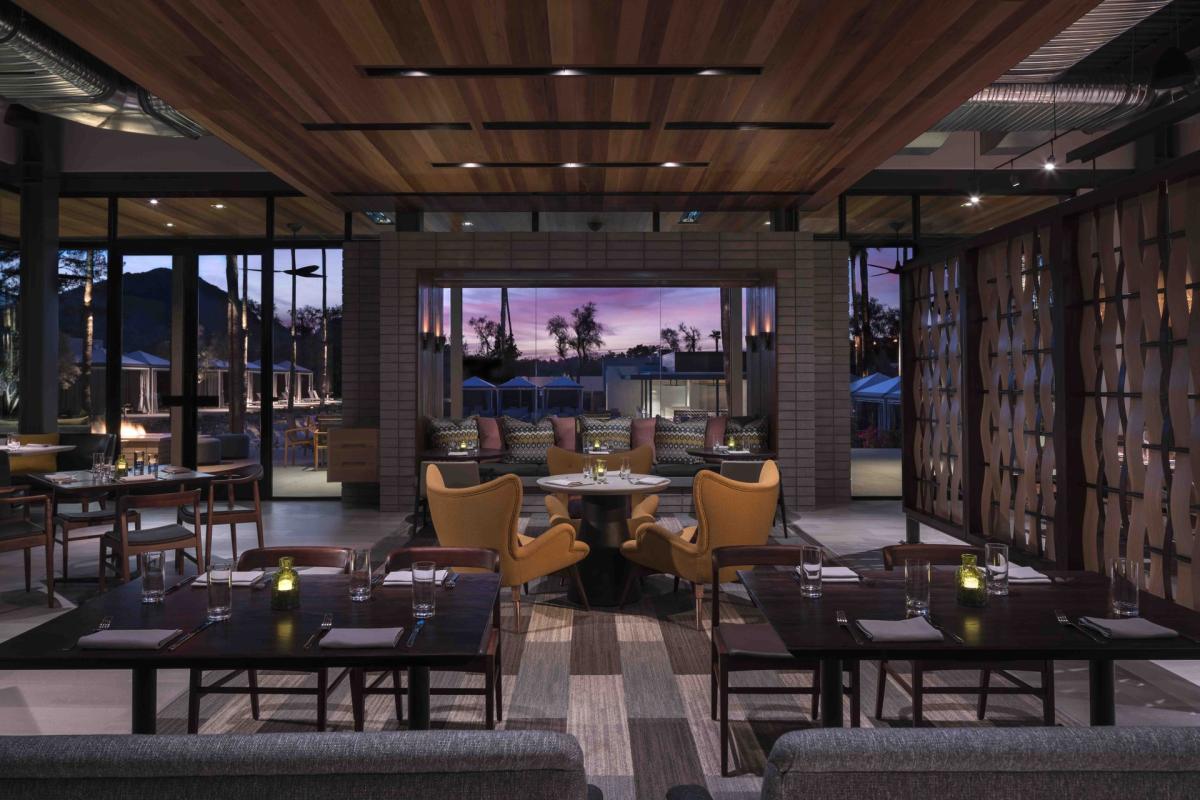 Andaz Resort & Bungalows has displays of unique art at every turn. And the same is true for the resort's onsite restaurant and bar, Weft & Warp. But we're not talking about the artwork on the walls, although it's very, very cool. With a seasonal, locally focused approach to all things gastronomy, each dish and every drink is practically a work of art. Sure, you'll come for snacky dishes like the chipotle-glazed pork belly tacos, the impeccable wine list, and agave-drenched cocktails, but you'll undoubtedly stay for the panoramic views of the desert landscape just beyond the patio. 
---
---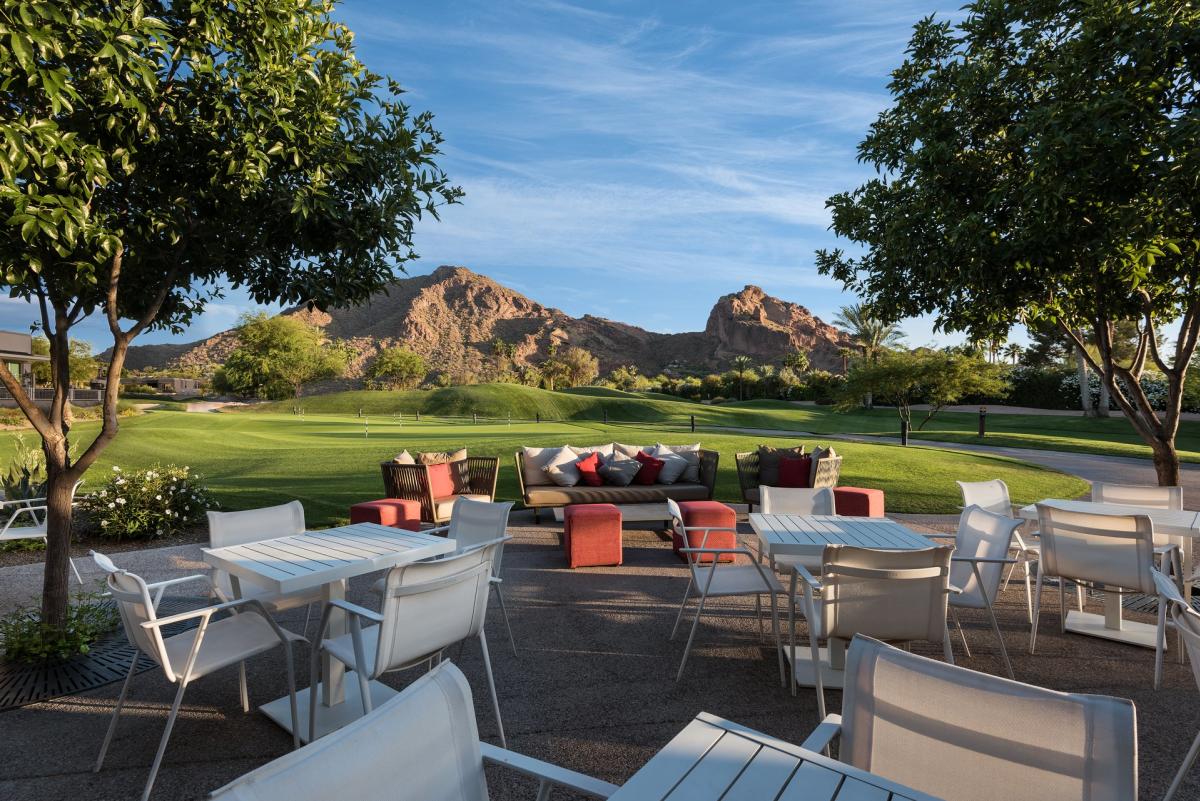 Equal parts casual and cool, this laidback, lounge-y joint overlooks the short course at Mountain Shadows and boasts some pretty impressive views of Camelback Mountain, too. And with a cold beer in hand and cigar service at your fingertips, you'll very much be made in the shade at Rusty's.
---
---
Martini, anyone? AZ88's unrelenting popularity is largely due to its infamous martinis, but part of this uber-posh bar's charm is its chic floor-to-ceiling windows and spacious outdoor patio that overlooks Scottsdale Civic Center Park. While the bar neighbors nearby museums, AZ88 pays tribute to local artists with ever-changing art displays of their own, which certainly complement the bar's picture-perfect views. **NOTE: As of fall 2021, Civic Center Park is temporarily closed for an expansive renovation project. When the project is completed in early 2023, Civic Center Park will offer shaded pedestrian promenades, lush botanical gardens, a Water + Fog Plaza, three spacious event lawns, the Marshall Gardens wedding area and numerous other upgrades and enhancements. Find out more here!
---
---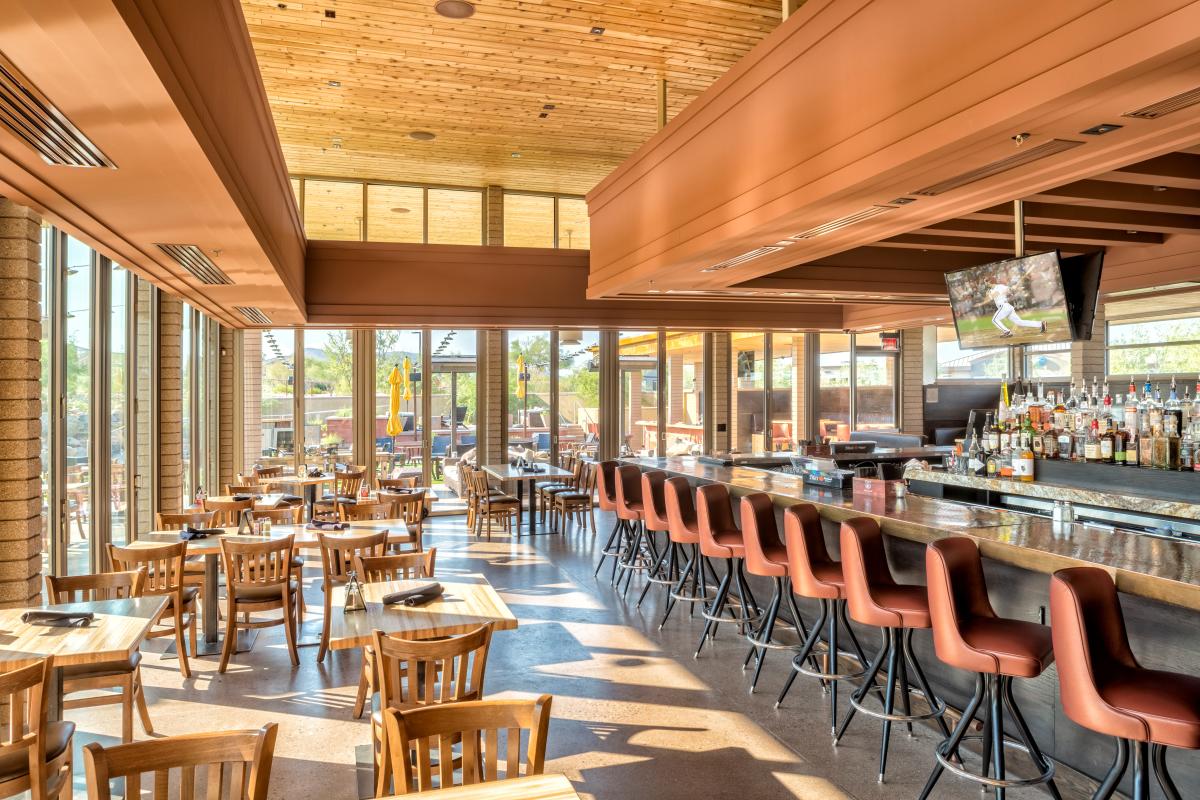 Mountain views and craft brews are on tap at this outpost of The Vig. Its massive, well-manicured and umbrella-lined patio provides primo views of Scottsdale's watercolor sunsets and the McDowell Mountain range. And rest-assured that a parade of burgers, wings and nachos are on standby to keep you fueled though competitive yard-game bouts. 
---
---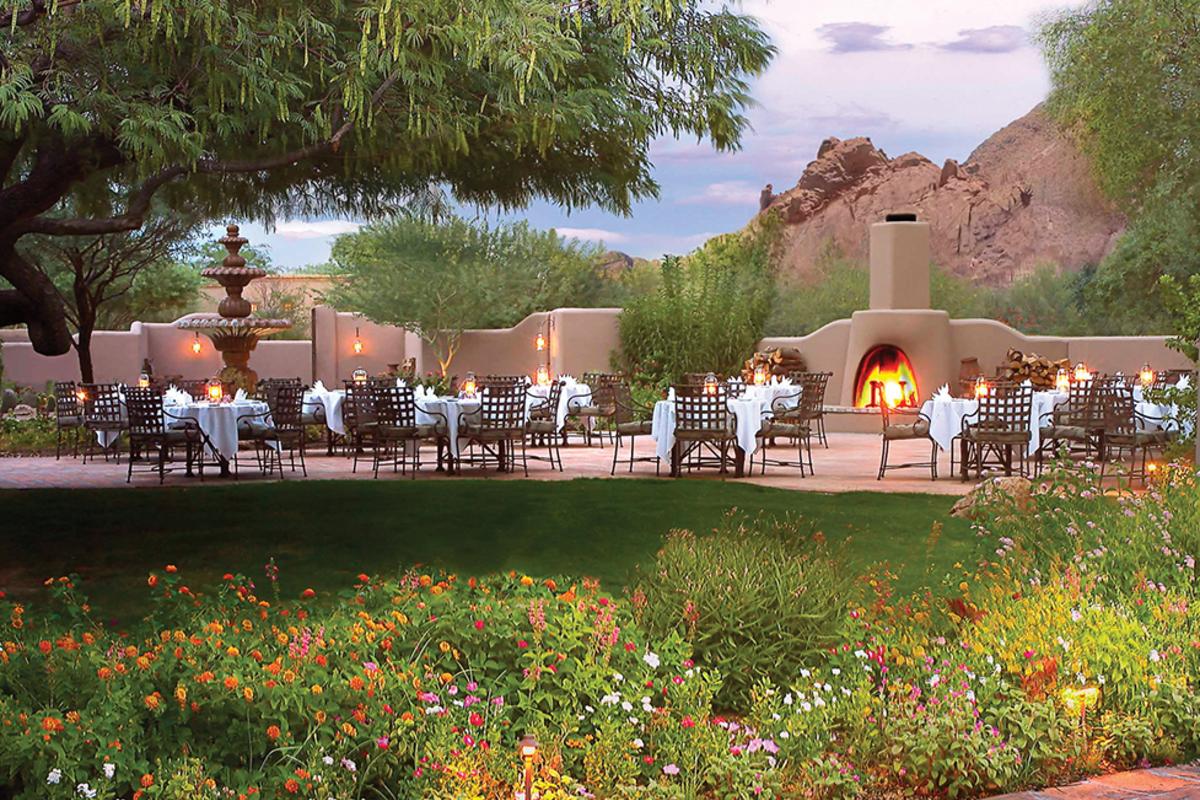 This Paradise Valley watering hole makes for an ideal spot to whet your whistle if you're into barrel-aged whiskeys and other locally-crafted spirits. Although quintessentially Western, you don't have to rough it. Lon's is outfitted with comfy oversized furniture, adobe fireplaces, lush tree canopies that sway over the patio, and sweeping views of the desert landscape that will undoubtedly make you want snag a spot on the lush patio.