Scottsdale's Scenic Waterways
Calling all river rats and lake lovers! When you're in the mood to get your feet wet, head to one of the Scottsdale area's many scenic waterways. From kayaking, fishing, SUPing and river rafting to shore-side hiking and historic steamboat tours, you'll enjoy hours of fun under the sun in a breathtaking Sonoran Desert setting.
---
---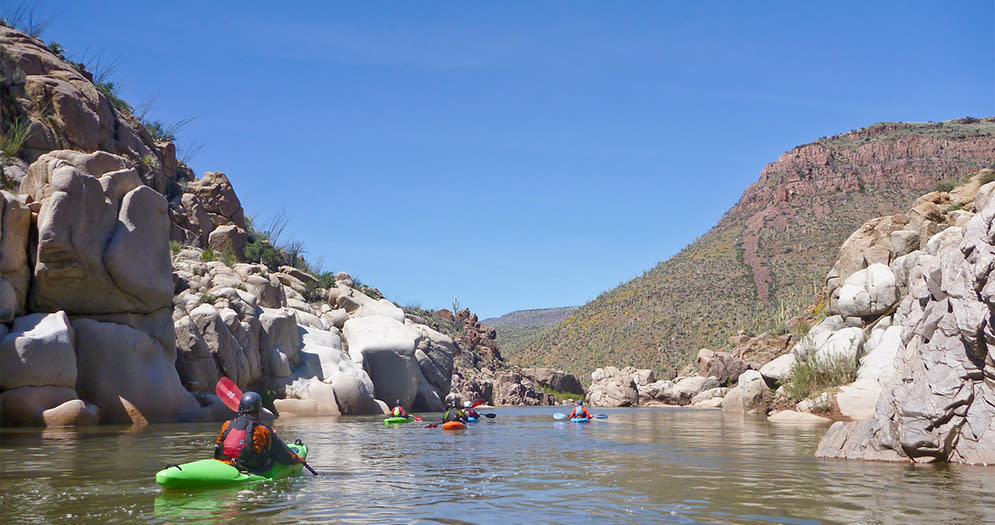 Photo Credit: Jeff Moore
The scenic Salt River, located about 30 miles east of Scottsdale, offers river runners two distinct personalities. For calm-water rafting, tubing, kayaking, SUPing, canoeing and fishing, the serene Lower Salt River is your girl. As you float peacefully along, you'll enjoy stunning views of towering cliffs, lush riparian areas and desert wildlife. Looking for more adventure? The wild-child Upper Salt River offers whitewater thrills on class III and IV rapids (seasonal) with such colorful names as "Maytag," "Overboard" and "Mescal Falls."
---
---

The southern portion of the Verde River, near its confluence with the Salt River, is another popular spot for rafting, kayaking, fishing, birding and photography. The Verde's peaceful waters and riparian surroundings make it an excellent spot to relax and enjoy the beauty of the Sonoran Desert from the water or the shore.
---
---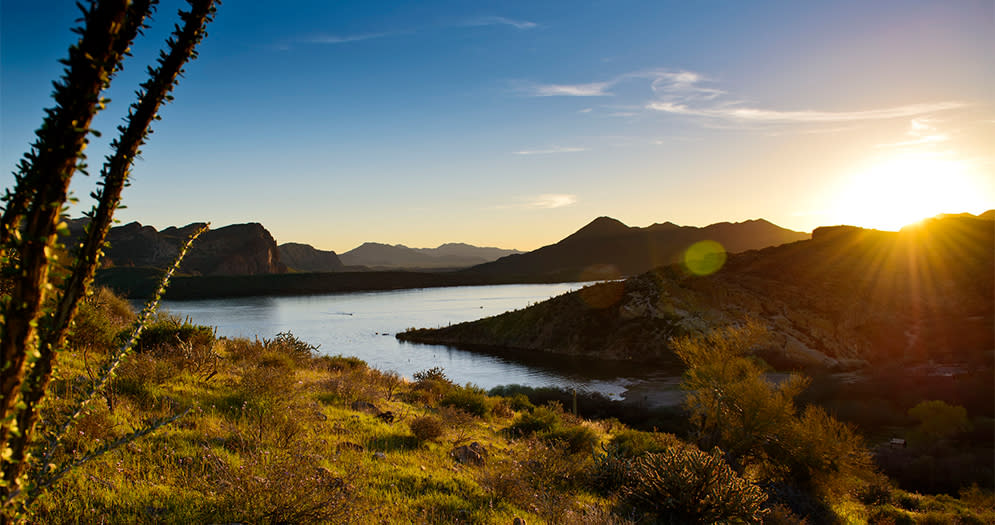 Photo Credit: Rich Herrmann
Saguaro Lake, created by the Stewart Mountain Dam, is located 35 miles northeast of Old Town Scottsdale. The lake boasts more than 22 miles of shoreline and plenty of on-the-water-fun, including power boating, water skiing, sailing, kayaking and fishing. At the marina, you can rent a runabout, fishing or pontoon boat, or take a 90-minute guided tour on a double-decker paddleboat, the Desert Belle. The Lakeshore Restaurant offers tasty cuisine and panoramic scenic views.
---
---

Located in the heart of the Tonto National Forest just 50 minutes north of Old Town Scottsdale, this desert gem offers a full-service marina with pontoon and ski boat rentals, a general store, and dock-side grill. Traveling with friends? Rent the Party Yacht, which comes complete with a cooler, sliding board, restroom, safety equipment and an optional grill, and can host up to 20 people. Other popular pastimes at Bartlett Lake include water skiing, jet skiing and fishing.
---
---

Photo Credit: Jim Trottier
A scenic one-hour drive northwest from Old Town Scottsdale will take you to Lake Pleasant, one of the largest lakes in the area. Lake Pleasant offers more than 50 miles of shoreline and 10,000 acres of clear blue water perfect for boating, house boating, sailing, water skiing, jet skiing and fishing. Twelve species of fish are stocked in Lake Pleasant, including large-mouth, white and striped bass; bluegill, tilapia and crappie.
---
---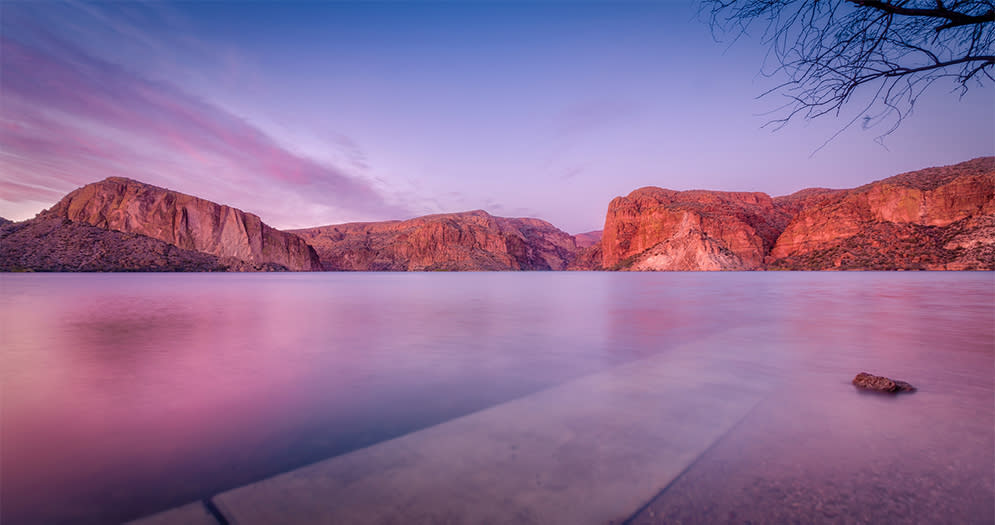 Photo Credit:  CEBImagery
Canyon Lake, located an easy one-hour drive from Old Town, offers spectacular views of red-rock canyon walls and unusual rock formations. This lake lies in the Superstition Mountain Wilderness area and is the gateway to the Apache Trail, which leads to both Apache Lake and Roosevelt Lake. Recreational options include scenic hiking around the shore, as well as well as boating, water skiing, fishing, and jet skiing. For a real treat, take the Dolly Steamboat cruise and listen as your captain narrates the legends and lore of the mysterious Superstition Mountains.
---
---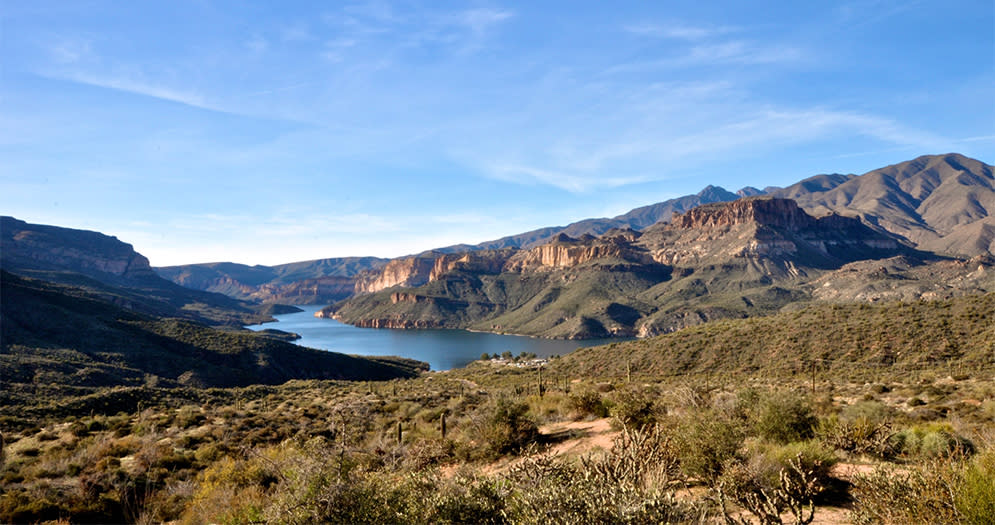 Photo Credit: Geoff Livingston
Just up the picturesque Apache Trail from Canyon Lake is Apache Lake. High canyon walls and deep mountain valleys accent one of the most beautiful landscapes in Arizona. There are several miles of dirt road leading to Apache Lake, but it is still accessible to most passenger cars. Though small, this lake is a spectacular site for boating, fishing, water skiing and hiking. The marina offers pontoon boat rentals for a fun and easy way to explore the lake.
---
---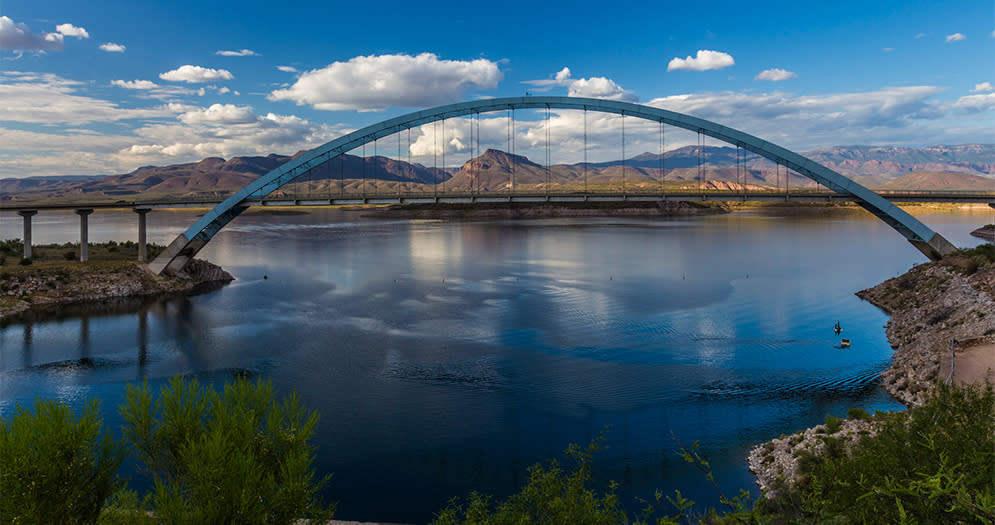 Photo Credit: Fred Moore
Head a little further up the Apache Trail and you'll come to Roosevelt Lake. This 17-mile-long beauty is the largest lake in the Scottsdale area and was formed in 1911 with the construction of Roosevelt Dam on the Salt River. Roosevelt Lake is a favorite of anglers searching for the trophy largemouth bass along with smallmouth bass, channel catfish and crappie. Water-skiing, jet-skiing, swimming and general boating recreation makes Lake Roosevelt a favorite destination among locals and visitors alike. The lake offers full marina amenities and a general store, as well as kayak, ski and pontoon boat rentals.
For guided adventures on Scottsdale's scenic waterways, contact one of our professional adventure outfitters!