When it comes to dining, few destinations can match Scottsdale's muscle of high-low. It's no secret the city presents a wealth of bragworthy experiences, from meticulous concepts to marquee chefs and buzzy independent restaurants. But, fantastic street tacos at midnight? Singular sushi in an off-radar strip mall? Pizza that makes the sacrifice of takeout worth every bite? That's Scottsdale, too.
---
TACOS
---

SPLURGE
Few foods are as universally loved, and often manipulated, as the taco. SumoMaya, the flashy, Mexican-Asian head-turner, casts a wide culinary net with colorful cocktails, a bottomless brunch and a finely tuned menu that pushes boundaries but never strays. Not surprisingly, SumoMaya dishes up stand-out tacos like cochinita pibil, carne asada and the sacred al pastor, a textbook sweet-spicy play – a result of the achiote-marinated, slow-cooked pork and the tenderizing glaze of long-roasted pineapple – that is both celebrated and elevated.

SAVE
There's no valet parking at Tacos Jalisco. There's no conceptual, $30 guacamole. And the curb appeal is all it needs to be: signage and a door. For nearly two decades, Tacos Jalisco has been serving some of the city's best tacos, tortas, fresh salsas and more. Think carne asada with a foolproof chew-to-char ratio, tender carnitas that will make anyone a believer, and, yes, al pastor the way it should be – tangy, fragrant and dripping with goodness.
---
SUSHI
---

SPLURGE
High-end sushi establishments everywhere have been raising the stakes with bold interiors, supersized hand rolls and elaborate orchestrations behind the sushi bar. But sometimes, the fireworks leave more to be desired. This is certainly not the case at Sushi Roku, nestled within Old Town Scottsdale's stylish W Hotel. The street cred here is the fresh, well-sourced and manicured fish and the expert chefs behind the counter. Put the fate of your meal in their steady hands and order one of the signature chef's choice sushi courses – you'll be happy you did.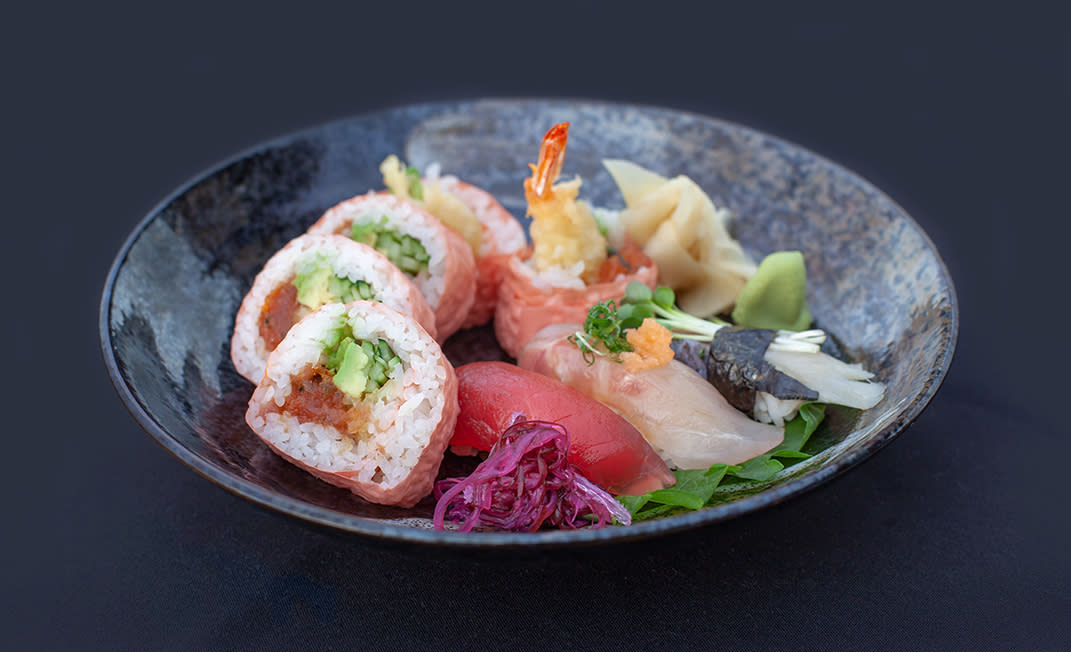 SAVE
The best sushi is a sum beyond simply fish at the peak of its personality – it's the personality behind the bar, the execution and, most of all, that wonderful rice. It all comes together at Hiro Sushi, where the charms of a great neighborhood go-to are only surpassed by the menu. With its impeccable fish and warm hospitality, Hiro is one of those rare gems that hits all the right notes. Trust me – if it's on the specials board behind the sushi bar, order it.
---
PIZZA
---

SPLURGE
Though it's an affordable comfort food at heart, pizza has been elevated to a celebrity status few foods enjoy. At Pomo, one of the few Neapolitan-style pizzerias in Arizona certified as authentic by the Naples-based Verace Pizza Napoletana Association, pizza-making takes on new reverence. Characterized by their crisp-to-chew sourdough crust, top-quality toppings and molten-soft centers that require a strategic tri-fold (or, sure, a knife and fork), Pomo's pies are done expertly – and the crowds are testament to this.

SAVE
An Old Town favorite among those in the know, Crisp has earned a cult-like following for their deceptively simple, exceptionally delicious pizza. As the name implies, these brittle, square-cut pies are as thin and crisp as you'd expect. Known as grandma-style pizza, a breed that originated in New York decades ago and differs from its squared cousins like Sicilian- and Detroit-style by its thinness, these pies have been slowly showing up on menus across the country. A standard menu – think traditional, all-meat, build-your-own, etc. – belies just how surprisingly good Crisp's pizzas are.
Craving more? Check out more splurge-or-save options in our Visitors Guide! Click here to download.